TABLE OF CONTENTS
A.

 GS1 Related




B.

 GS2 Related


POLITY AND GOVERNANCE
1.#MeToo: time limit on filing complaints likely to be relaxed
INTERNATIONAL RELATIONS
1.Donald Trump renews threat of declaring emergency
2.U.S. President promises changes to H-1B visas


C.

 GS3 Related


ENVIRONMENT
1. SC lifts stay on stalled Chardham projects
SCIENCE AND TECHNOLOGY
1. ISRO cranks up Gaganyaan project
2. China's moon rover prepares for a rough ride
INTERNAL SECURITY
1. 8 people from India have joined Al Qaeda wing: NIA


D.

 GS4 Related




E.

 Editorials


1. No freedom without equality at Sabarimala (Issue concerning Temple entry of women into Sabarimala)
2. Hurrying through a legislation (10 per cent reservation in government jobs and educational institutions to "economically weaker" sections in the General category.)


F.

 Tidbits


1.AI beats doctors at detecting early stage cervical cancer
2.'Oceans are heating up at a fast pace'
3.Cycling helps user, economy: study


G.

 Prelims Facts


1.Centre signs pact with 5 States on Renuka dam


H.

 UPSC Prelims Practice Questions




I.

UPSC Mains Practice Questions



Nothing here for today!!!
Category: POLITY AND GOVERNANCE
1. #MeToo: time limit on filing complaints likely to be relaxed
Context
A government sub-committee formed in the wake of the #MeToo movement to recommend ways to prevent sexual harassment at workplace is likely to propose waiving the three-month time limit for victims to file complaints as laid down under the law.
The Committee is also likely to propose that members of Internal Committees be treated on a par with "public servants" as defined under Section 21 of the Indian Penal Code so that they have immunity from prosecution. "It will ensure that the members don't get entangled in court cases," the source said.
Background
The Centre has recently established a Group of Ministers to recommend measures to effectively implement the law against sexual harassment at the workplace and to strengthen the legal and institutional framework in response to the #MeToo campaign.
Home Minister Rajnath Singh will head the GoM, which includes Minister for Road Transport and Highways Nitin Gadkari, Defence Minister Nirmala Sitharaman and Women and Child Development Minister Maneka Gandhi.
The GoM will come up with a comprehensive plan within three months and devise ways to ensure its time-bound implementation, an official statement said.
Minister of State for External Affairs M.J. Akbar had resigned recently after several journalists accused him of misconduct and harassment when they worked with him in different media organisations.
#MeToo movement
The Me Too movement (or #MeToo movement), with many local and international alternatives, is a movement against sexual harassment and sexual assault.
#MeToo spread virally in October 2017 as a hashtag used on social media in an attempt to demonstrate the widespread prevalence of sexual assault and harassment, especially in the workplace.
It followed soon after the sexual misconduct allegations against Harvey Weinstein.
Tarana Burke, an American social activist and community organizer, began using the phrase "Me Too" as early as 2006, and the phrase was later popularized by American actress Alyssa Milano, on Twitter in 2017.
Milano encouraged victims of sexual harassment to tweet about it and "give people a sense of the magnitude of the problem".
This was met with success that included but was not limited to high-profile posts from several American celebrities, including Gwyneth Paltrow, Ashley Judd, Jennifer Lawrence, and Uma Thurman.
Sexual Harassment of Women at Workplace (Prevention, Prohibition and Redressal) Act 2013
This act was enacted in April 2013 as India's first law dealing with the protection of women against sexual harassment at workplace.
Some important features of this act are as follows
This Act aimed to provide every woman, irrespective of her age or employment status, a safe and secure working environment free from all forms of harassment.
This Act covered both the organized and unorganized sectors in India. The statute applied to all government bodies, private and public sector organizations, non-governmental organizations, organizations carrying out commercial, vocational, educational, entertainment, industrial, financial activities, hospitals etc.
This Act defined 'sexual harassment' in line with the Supreme Court's definition in the Vishaka Judgment.
The Act extended the meaning of the word sexual harassment to include "presence or occurrence of circumstances of implied or explicit promise of preferential treatment in employment, threat of detrimental treatment in employment, threat about present or future employment, interference with work or creating an intimidating or offensive or hostile work environment, or humiliating treatment likely to affect the lady employee's health or safety could also amount to sexual harassment".
The Act also introduced the concept of 'extended workplace' since sexual harassment is not always confined to the primary place of employment. Therefore, the Act defined 'workplace' to include any place visited by the employee arising out of or during the course of employment, including transportation provided by the employer for the purpose of commuting to and from the place of employment.
The Act provided for the establishment of Internal Complaints Committee (ICC) at each and every office or branches of the organization employing 10 or more employees, in order to provide a forum for filing complaints to facilitate fast redressal of the grievances pertaining to sexual harassment.
It also provided for the establishment of local complaints committee (LCC) at the district level by the Government to investigate and redress complaints of sexual harassment of the unorganized sector or from those establishments where the ICC has not been constituted for the reason being, it having less than 10 employees.
Category: INTERNATIONAL RELATIONS
1. Donald Trump renews threat of declaring emergency
Context
President Donald Trump has again threatened to declare a national emergency along the border with Mexico as he seeks funding for a wall.
Such a declaration, almost certain to be challenged in court, would in theory allow Mr. Trump to sidestep Congress and divert money from military projects toward construction of the wall that has been a core focus of his nationalist campaign.
Background of the issue
Since his swearing-in as President, Trump is wasting no time in enforcing his numerous campaign promises. One such order is the use of federal resources to construct a Mexican border wall.
The border with Mexico is roughly 1,900 miles long and spans fours state: California, Arizona, New Mexico and Texas.
Trump's thinking is that a giant wall dividing Mexico and the United States will restrict illegal immigrants' entry into the country, as he feels the border patrol as it currently stands is weak and letting too many, as he puts it, "rapists" onto American soil.
Currently 652 miles of the 1,954-mile U.S. Mexico border has some amalgamation of walls, fences and other barriers. In areas closest to cities the wall has multiple layers. The wall is the weakest in more desolate areas and in some areas there is no wall at all. This is frequently because the terrain already provides a natural barrier, such as the widest parts of the Rio Grande River or steep mountain ranges.
Analysts believe the majority (possibly vast majority) of illegal immigrants enter America by air. There are two kinds of illegal immigration. President Trump's rhetoric focuses on "entries without inspection." But most illegal immigrants actually arrive in America with a visa – and then simply don't leave. These are called "overstays."
Also, the states where illegal immigration is growing are not on the Mexican border. The states with rising illegal immigration are Washington, Pennsylvania, New Jersey, Virginia, Massachusetts and Louisiana. Texas, New Mexico and Arizona have seen no significant, measurable increase in illegal immigrants. And California, Nevada, Illinois, Alabama, Georgia and South Carolina have seen their illegal immigrant population decline.
A border wall does not address the growth of illegal immigrants, as to the extent illegal immigrants are working in the U.S. they are clearly not in the border states.
Besides, the number of illegal immigrants living in the U.S. is actually declining. There are more Mexicans returning to live in Mexico than are illegally entering the U.S. Between 2009 and 2014 over 1 million illegal Mexican immigrants willingly returned to Mexico where working conditions had improved and they could be with family.
Americans also seem divided by the wall. According to a poll 47% of voters support building a wall, with 45% against. Critics say the wall proposal is pointless because, among other things, most drugs smuggled into the United States pass through legal entry points and are not transported through the desert.
The US-Mexico border region is a delicate ecosystem with regular animal and bird migrations moving between the north and south of the American continent. A number of species need to cross the border to mate with their genetically different cousins, including the endangered North American jaguar and black bears, which would be threatened without being able to mate with Mexican bears.
If the main intention is to stop illegal border immigrants into the U.S., the best (and least costly) policy would be to cooperate with Mexico to capture these immigrants as they flee Central America and find a solution for either housing them in Mexico or returning them to their country of origin. It is ridiculous to expect Mexico to pay for a wall when it is not Mexico's citizens creating the purported illegal immigration problem on the border.
If the administration would like to stop illegal immigration the best way is to help Mexico create more high-paying jobs (say with a trade deal like NAFTA) so they don't come to America, and those in America simply choose to go to Mexico.
2.U.S. President promises changes to H-1B visas
Context
S. President Donald Trump said on Friday he is planning changes to the H-1B programme that grants temporarily visas to highly educated immigrants who work in specialty occupations such as technology or medicine
"H1-B (sic) holders in the United States can rest assured that changes are soon coming which will bring both simplicity and certainty to your stay, including a potential path to citizenship," Mr. Trump said on Twitter. "We want to encourage talented and highly skilled people to pursue career options in the U.S."
Trump, who has sought to limit legal immigration, in April 2017 ordered a reform of the U.S. visa programme to benefit educated and highly skilled workers.
Few important US Visas
H-1B Visa
The H-1B category is an expedient and lawful method to bring foreign-born professionals temporarily to the United States, and therefore one of the most widely sought after visa classifications for employment in the United States.
The H-1B is a non-immigrant visa in the United States; it allows U.S. employers to temporarily employ foreign workers in specialty occupations.
H-4 visa is a work permit issued to the spouses of H1-B visa holders under a special order by the previous Obama administration.
H-4 visa allows work permits for spouses who otherwise could not be employed without waiting for their spouses to receive permanent resident status, a process that can take a decade or longer.
H-2B Visa
The H-2B visa nonimmigrant program permits employers to hire foreign workers to come temporarily to the United States and perform temporary nonagricultural services or labor on a one-time, seasonal, peakload or intermittent basis.
L-1 Visa
The L-1 visa facilitates the temporary transfer of foreign worker in the managerial, executive or specialized knowledge category to the U.S. to continue employment with an office of the same employer, its parent branch, subsidiary or affiliate.
L-1 visa is a temporary non-immigrant visa that allows L-2 visa for the spouse and minor unmarried children under 21 years of age. L-1 visa holder is known as intra-company transferee.
Even though L-1 visa was initially made for large multinational companies to transfer their employees to the U.S., it provides small or start-up companies abroad to expand their business and services to the U.S.
1.SC lifts stay on stalled Chardham projects
Context
The Supreme Court on Friday lifted its stay on certain stalled projects under the government's ambitious Chardham development plan, which proposes to provide all-weather connectivity to the four holy towns of Uttarakhand.
The court said the stay will however continue on those projects which are yet to begin under the plan till the environment clearance is taken by the authorities.
Background
The project was opposed by some NGOs and local residents of Uttarakhand saying the construction work would damage the environment and disturb the ecological balance.
They contended that EIA clearance was not taken before the construction. Their plea, however, was rejected by the National Green Tribunal which held that the statutory EIA under the Environment Protection Act was not required in view of exemption granted through notification issued in 2013.
Challenging the order of the tribunal, NGO 'Citizens for Green Doon' approached the Supreme Court contending that ongoing work was "blatantly illegal" and the debris generated during construction was being directly thrown along the slopes next to the road which slides down directly into the rivers.
After hearing both sides, a bench of Justices RF Nariman and Vineet Saran passed the order saying work on ongoing projects must continue but stayed the tribunal's order which held that EIA was not required. The court said new projects would have to pass the drill and get EIA clearance.
Chardham project
The project involves developing and widening 900-km of national highways connecting the holy Hindu pilgrimage sites of; Badrinath, Kedarnath, Gangotri, and Yamunotri at an estimated cost of Rs.12,000 crores.
Notably, these four ancient pilgrimages sites in Uttarakhand are known as Chota Char Dham to differentiate them from the bigger circuit of modern day Char Dham sites namely Badrinath, Dwarka, Puri and Rameswaram.
The project objective is to provide roads with paved shoulders, make provisions for landslide mitigation and other road safety measures, which will provide all weather road connectivity for pilgrims and for movement of defence forces.
The highway will be called Char Dham Mahamarg(Char Dham Highway) and the highway construction project will be called as Char Dham Mahamarg Vikas Pariyojana (Char Dham Highway Development Project).
The roads will be widened from 12m to 24m and the project will involve construction of tunnels, bypasses, bridges, subways and viaducts.
Category:SCIENCE AND TECHNOLOGY
1.ISRO cranks up Gaganyaan project
Context
The Indian Space Research Organisation (ISRO) on Friday said work on 'Gaganyaan', the project to send a manned mission to space by 2022, would start soon at the newly created Human Space Flight Centre (HSFC).
Sivan also announced the appointment of Unnikrishnan Nair — who led ISRO's Advanced Space Transportation Programme at the Vikram Sarabhai Space Centre (VSSC) and has already worked in the area as the director of the Human Space Flight Project — as the director of the new centre.
ISRO's announcement of the new centre and the naming of its head comes about five months after the government first unveiled plans to send a manned mission to space.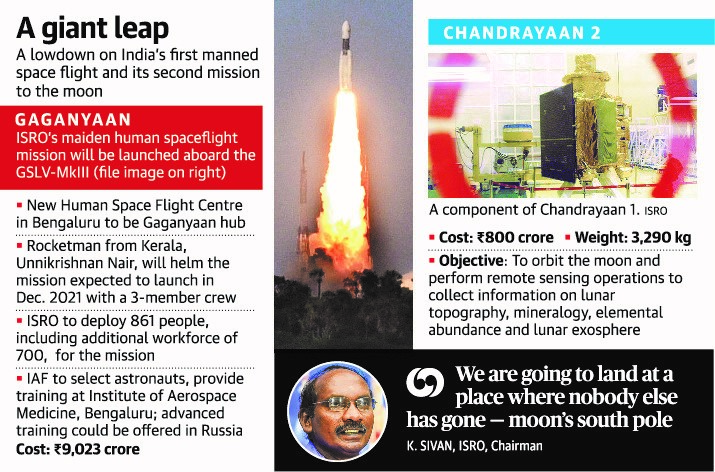 Gaganyaan
Gaganyaan is an Indian crewed orbital spacecraft intended to be the basis of the Indian human spaceflight program.
The spacecraft is being designed to carry three people, and a planned upgraded version will be equipped with rendezvous and docking capability.
In its maiden crewed mission, Indian Space Research Organization's largely autonomous 3.7-tonne capsule will orbit the Earth at 400 km (250 mi) altitude for up to seven days with a three-person crew on board.
The crewed vehicle is planned to be launched on ISRO's GSLV Mk III in 2022. This HAL-manufactured crew module had its first uncrewed experimental flight in 2014.
Challenges
A manned space mission is very different from all other missions that ISRO has so far completed.
In terms of complexity and ambition, even the missions to the Moon (Chandrayaan) and Mars (Mangalyaan) are nowhere in comparison.
For a manned mission, the key distinguishing capabilities that ISRO has had to develop include the ability to bring the spacecraft back to Earth after flight, building a spacecraft in which astronauts can live in Earth-like conditions in space
Over the years, ISRO has successfully tested many of the technologies that are required. However, many other challenging ones are still to be developed and tested.
2.China's moon rover prepares for a rough ride
Context
China on Friday hailed its historic mission to the far side of the moon as a "complete success" so far but said new challenges await its rover as it explores rugged terrain.
The Chang'e-4 probe — named after a moon goddess — made the world's first soft landing on the moon's "dark side" on January 3, a major step in China's ambitions to become a space superpower.
The mission sent the first panoramic image of its landing site on Friday, showing the grey moonscape it is exploring and the track marks left by the rover in the lunar soil.
Chang'e-4 lunar probe
China's Chang'e-4 – a first probe ever to explore the dark side of the Moon, marking another milestone in its ambitious space programme
The Moon is tidally locked to Earth, rotating at the same rate that it orbits our planet, so the far side is never visible from Earth. The probe, the Chang'e-4, has made the first-ever soft landing on the far side of the Moon. Previous spacecraft have seen the far side of the Moon, but none has landed on it.
The far side of the moon known as 'South Pole-Aitken Basin' still remains a mystery among space scientists and by sending a probe there, China will outdo the historical achievements of the US and USSR.
Chang'e 4 is the fourth mission in the country's lunar mission series which is being named after the Chinese moon goddess.
The tasks of the Chang'e-4 probe include low-frequency radio astronomical observation, surveying the terrain and landforms, detecting the mineral composition, and measuring the neutron radiation and neutral atoms to study the environment on the far side of the moon.
1.8 people from India have joined Al Qaeda wing: NIA
Context
Around eight men from Kerala and Karnataka are said to have joined Jabat Al-Nusra, a former Al Qaeda outfit, in Syria, a National Investigation Agency (NIA) official said.
The NIA has registered a case against the suspects and begun investigations. This is the first time that the agency has filed a case against Indians for joining a terrorist outfit other than the Islamic State in Syria.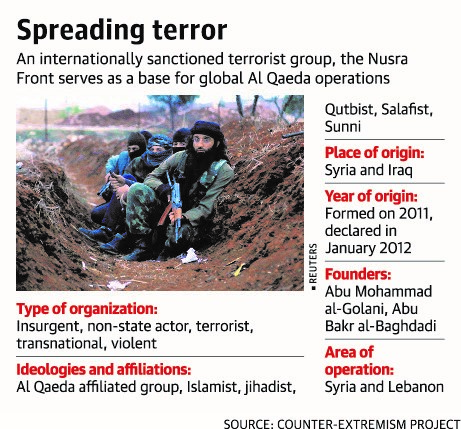 National Investigation Agency (NIA)
National Investigation Agency (NIA) is a central agency founded by the Indian Government to combat terror in India. It is the dedicated Central Counter Terrorism Law Enforcement Agency.
The organization deals with terror related crimes across states without special permission from the states.
The Agency came into survival with the enactment of the National Investigation Agency Act 2008 by the Parliament of India.
Its objectives are:
To set the standards of excellence in counter terrorism and other national security related investigations.
It strives towards developing a highly trained, partnership oriented workforce to excel in its objective to set excellent standards in counter terrorism and national security investigations.
It also acts as deterrence for existing and potential terrorist groups/individuals.
It aims to develop as a storehouse of all terrorist related information
Nothing here for today!!!
Category:POLITY AND GOVERNANCE
1.No freedom without equality at Sabarimala (Issue concerning Temple entry of women into Sabarimala)
Note to Students: The issue concerning temple entry of women into the sacred Sabarimala shrine of Kerala has been in the news for quite sometime now. In this article, the writer, besides giving different perspectives on the issue, highlights the role played by the architect of our Constitution, Babasaheb Dr Bhimrao Ramji Ambedkar and his role in the Mahad Satyagraha. This article will touch upon all these diverse points.  
A Note on the Mahad Satyagraha:
In 1926, the Municipal Board of Mahad, Maharashtra passed orders to throw open the famous tank of Mahad city to all communities. It is important to note that earlier, untouchables were not allowed to use water from Mahad tank.

It was the high caste Hindus who opposed this order of the Municipal Board.

In response, Ambedkar organised a conference of ten thousand untouchable delegates at Mahad on March 20, 1927 to support the decision of the Municipal Board.

Ambedkar, in his presidential address, stressed the necessity of rooting out ideas of highness or lowness and inculcating self-elevation through self-help, self-respect and self-knowledge.

After the conference, all delegates marched to the tank and asserted their right to drink and take water from the tank.

A Satyagrah Conference was organised at Mahad on December 25, 1925 which demanded that Hindu society should be organised on the basis of equality and absence of casteism.
The Mahad Satyagraha was first collective protest of untouchables under the leadership of Dr. Bhim Rao Ambedkar.

It is important to note that this movement gave confidence to the untouchables to fight against social disability.

Every year, March 20 is observed as Social Empowerment day in India to commemorate the Mahad Satyagraha.

Experts point out that Ambedkar's Mahad satyagraha had two chapters, on March 19-20, 1927 and on December 25, 1927.

As a matter of fact, the symbolism of mass drinking of the water, with Ambedkar himself taking the first sip, was akin to an act of civil disobedience.

Both were carefully planned, peaceful and disciplined protests, and yet were violently disrupted. Mobs, rioters and police colluded to attack and disperse the Mahar satyagrahis; the local British administration ended up siding with the Hindu hardliners under the guise of not wanting to hurt the religious sentiments of this socially dominant and politically powerful group.
Editorial Analysis:
Experts point out that at that time, Ambedkar's efforts were focussed on claiming that the tank was a public resource and drawing water from it was a basic human right for 'Untouchables' as much as for others.

He was not interested in entering the Veereshwar Temple nearby.

However, he did play a role in temple entry satyagrahas at the Parvati Temple in Pune in 1929 and the Kalaram Temple in Nasik from 1930 to 1934.

All these campaigns ultimately failed:

upper castes pushed back using Brahmin strictures of adhikar (entitlement) and bahishkar (exclusion), arguments from private property, outright physical violence, as well as the law and order machinery of the colonial state to keep Dalits out.

Adding insult to injury, first they performed purification rituals, then they obtained stay orders from government authorities, and later, they filed legal cases. At no point did they hesitate to use tactics of intimidation.

It is important to note that at Mahad, Ambedkar endorsed the Gandhian language of satyagraha.
Ambedkar was inspired by a recent struggle in the princely state of Travancore, where the reformists T.K. Madhavan and K.P. Kesava Menon led a movement in 1924 to allow the extremely stigmatised castes of Ezhavas and Pulayas to worship at a Shiva Temple in Vaikom.

In historian Ramachandra Guha's telling, it was a rare moment in modern India's history when progressive and dissenting voices, from distinct political streams and different regional backgrounds, rose together as one.

However, a decade later, Ambedkar was disgusted by the resilience of caste discrimination, terminally alienated from Gandhi on the question of Untouchability, and disillusioned about the political efficacy of satyagraha.

At the end of his tether, in Yeola outside Nasik in October 1935 Ambedkar declared that he was born a Hindu but would not die one.

It is important to note that

Ambedkar abandoned the logic of his own earlier position on tank and temple entry, and decided instead that he did not want any part of a religious system and its attendant social structure that would simply never let go hierarchical and discriminatory principles to affirm the claim for equality, dignity and respect for all.
Different discriminations
It is important to note that in today's India, Article 14 of the Constitution guarantees equality, and the Supreme Court verdict of September 2018 further reiterates that females of any age have the right to perform the 41-day pilgrimage and worship at the Sabarimala shrine.

Fittingly, as the arc of the moral universe bends towards justice, it is precisely Ambedkar's momentous intervention in our life as a nation that gives us an egalitarian Constitution and a strong judiciary.

Ambedkar did not have these institutions to back him up during his own shattering struggle against caste, but he ensured that Untouchability was outlawed, and that equal citizenship and fundamental rights — regardless of gender or community — were enshrined in the charter document of the Indian Republic.

Experts point out that the historic precedent of Vaikom, together with the gains of decades of progressive politics in postcolonial Kerala, make the resurgence of religious orthodoxy, caste mentality and misogynistic patriarchy at Sabarimala hard to swallow.

Experts further point out that the 5-million strong, 620 km "Wall of Women" on New Year's Day saw Kerala's women asking for the right to worship Ayyappa like their male counterparts.

An important question arises: Was this wall in 2019 like the "Walk on Mahad" in 1927? Yes, in a certain sense. Ambedkar's procession leading thousands of Mahars on March 20, 1927 gave "a new turn to the history of India", wrote R.B. More, the main organiser of the Mahad satyagraha.

As a matter of fact, thirty years later, in Nagpur in October 1956, Ambedkar led half a million Dalits to convert to Buddhism. He wanted them to leave behind their Hindu identity and with it the caste system that discriminated against them.

It is important to note that women — whether in Kerala or elsewhere — cannot "convert" en masse out of their religious background because of aspects of patriarchal tradition that oppress them qua women.

Further, gender and caste are both definitely grounds of discrimination in Hindu society, but they do not occasion similar responses from those who are at the receiving end.

Some experts point out that Hindus who disagree with caste can embrace Buddhism, emulating Ambedkar's example, but what are women supposed to do?

India's feminist movement, Kerala's long engagement with Communism and the verdict of the Supreme Court all offer different avenues to women seeking justice at Sabarimala.

However, a radical resort to Ambedkarite religious conversion does not seem to make sense in this situation.
Concluding Remarks
Freedom of religion means the freedom to practise and pursue one's own religion, not the freedom to undermine the fundamental rights of others.

Nor does freedom of religion warrant contravening the writ of the Supreme Court, which explicitly grants women the right to worship at Sabarimala.

Hinduism as a faith is capacious, inherently diverse and continually evolving, with strong themes of self-criticism, self-correction and self-improvement written into it.

This is particularly true in southern India, where inspiring figures like Andal and Nandanar, Chokhamela and Kanakadasa, Basavanna and Akka Mahadevi, Ayyankali and Narayana Guru challenged the bounds of orthodoxy, broke the rules of caste and gender, and triggered popular movements of reform and renaissance over centuries.

Fellow citizens of all religious persuasions are as much the heirs of these dissenting, progressive and indeed provocative traditions from the deep past, as they are the children of a modern-day enlightenment brought about by Gandhi and Ambedkar.

Finally, we owe it to ourselves as democratic Indians to throw open the doors of the Ayyappa Temple to all those who wish to enter and worship there.
2.Hurrying through a legislation (10 per cent reservation in government jobs and educational institutions to "economically weaker" sections in the General category.)
Note to Students:
In the following sections, we cover the recent development where the Lok Sabha passed a landmark bill providing 10 per cent reservation in government jobs and educational institutions to "economically weaker" sections in the General category.

We combine the perspectives from three articles, namely, "Quota questions" that was published by The Hindu on 9th January, 2019 and "A solution in search of a problem" that was published by The Hindu on 11th January, 2019 and "Hurrying through a legislation", published by The Hindu on 12th January, 2019.
Context
The Lok Sabha passed a landmark bill providing 10 per cent

reservation in government jobs and educational institutions to "economically weaker" sections in the General category

.
Current Status
A nine-judge Constitutional Bench of the Supreme Court had in the

Indira Sawhney case capped the reservation at 50%.

It had struck down a provision that earmarked 10% for the economically backward on the ground that economic criteria cannot be the sole basis to determine backwardness.

The Constitution provides

only for reservation based on social and educational backwardness

, such additional quota would need legislative action, including Constitutional amendments.

Articles 15 and 16 of the Constitution will have to be amended for implementation of the decision
124th Constitution Amendment Bill
It will provide 10% reservation to economically backward sections in the general category

The Bill will also cover those from the Muslim, Sikh, Christian, Buddhist and other minority communities.

The quota will be over and above the existing 50% reservation to Scheduled Castes, Scheduled Tribes and Other Backward Classes (OBC).

Those who have an annual salary of less than Rs. 8 lakh per year and possess less than 5 acres of land will be able to avail reservation in educational institutions and jobs.

The quota will be available to only those economically backward poor people not availing the benefit of reservation as of now, who have a residential house below 1,000 square feet, a residential plot below 100 square yards in a notified municipality, residential plot below 200 square yards in non-notified municipality area.
Concerns
If the Supreme Court indeed agrees to lift the 50% cap, all States of India can extend the quantum of reservation and

"upper castes" will stand to lose in State services and merit will be the casualty

.

If the Supreme Court rejects the idea of breaching the 50% cap, Economically Weaker Section (EWS) quotas can be provided

only by eating into the SC, ST and OBC quota pie, which will have social and political implications

.
It violates Equality Principle
There have been issues where the quotas were increased by State governments exceeding the 50% limit thereby offending the equality norm.

In Nagaraj (2006), a Constitution Bench ruled that

equality is part of the basic structure of the Constitution

.

It said the 50% ceiling, among other things,

was a constitutional requirement without which the structure of equality of opportunity would collapse

. There has been a string of judgments against reservations that breach the 50% limit.
Lack of data on representation
Another question is whether

reservations can go to a section that is already adequately represented

in public employment.

It is

not clear if the government has quantifiable data

to show that people from lower income groups are under-represented in its service.

Reservations have been

traditionally provided to undo historical injustice and social exclusion

suffered over a period of time, and the question is whether they should be extended to those with social and educational capital solely on the basis of what they earn.
A Closer Look:
Finally, it is important to note that if the EWS is treated as a category just like the SC, ST and OBC, a large chunk of general category candidates will apply for just 10% seats and the cut-offs can rise.
While ideally the non-reserved 40% open seats should be open seats based on merit, there are complexities here too.

For example, the UPSC accepts a reserved candidate in the civil services examination making it in the general merit list as general only if she has not benefited from reservation in the preliminary, mains, service choice (if one gets a better service, say IAS or IPS, due to reservation, one is counted as reserved irrespective of one's overall rank) and State cadre choice (if a reserved candidate is in the general merit list but is getting a cadre of her choice as a reserved candidate, she is counted as reserved), say bureaucrats. So, many who are above the general cut-off may still occupy this 10% quota, as they get a better service or cadre in it.

Currently, it remains to be seen whether this initiative from the Government would stand the test of judicial scrutiny- the courts would now need to check whether it is violative of Article 15 and Article 16 of the Indian Constitution.

Some experts have opined that if the number of demands for implementing reforms is any guide, India's reservation system is clearly in disarray. They further point out that it is unlikely that the recently passed Constitution (124th Amendment) Bill, 2019, creating a 10% quota for the economically weaker sections (EWS), will serve as anything more than a band-aid.

Given the deep inequalities prevalent in access to education and jobs based on caste and socio-economic status, affirmative action (or positive discrimination) makes a lot of sense. However, the system that was put in place during the early years of the Republic deserves serious re-evaluation in an era when technology has paved the way for deploying a better equipped arsenal.
Not Excluding Anyone:
The Bill promises 10% reservation to individuals classified as economically backward.
However, while a number of criteria were discussed in the parliamentary debate, the Bill is quite silent on this. Assuming that among the criteria discussed in Parliament, those that are currently applied to the definition of the Other Backward Classes (OBC) creamy layer are the ones to be used, it is not clear how useful they would be.
While the OBC creamy layer has been created to exclude people who are clearly well off, the EWS quota, in contrast, is expected to focus on the poor. One of the criteria — the income threshold of Rs. 8 lakh per annum — has been mentioned.
The National Sample Survey (NSS) of 2011-12 shows that the annual per capita expenditure for 99% of households falls under this threshold, even when we take inflation into account.
Similarly, as per the India Human Development Survey (IHDS), the annual household incomes of 98% of households are less than Rs. 8 lakh. Even if we apply all the other criteria for exclusion (e.g. amount of land owned and size of home), the Bill would still cover over 95% of the households. So, who are we excluding? Almost no one.

While the benefits of the EWS quota are likely to be minimal, the cost may be higher than one anticipates. First, it is important to remember that general category jobs are open to everyone, including Scheduled Caste (SC), Scheduled Tribe (ST) and OBC individuals.

Thus, by removing 10% jobs from the "open" category, it reduces the opportunities for currently reserved groups. Hence, this is by no means a win-win situation. This may be particularly problematic for OBCs since OBC reservation is limited to 27% of the seats whereas the OBC population is at least 40% of the population, possibly more. Thus, this move is almost certain to result in calls for greater OBC reservation, particularly if a constitutional amendment to increase the proportion of reserved seats from 50% to 60% is already being adopted.
Getting caste certificates
Second, actual implementation of the EWS quota could be challenging. Few non-SC/ST/OBC individuals have a caste certificate. A large number of SC/ST/OBC households report difficulties in obtaining these certificates. How would an individual practically lay claim to this status?
Third, in an era when skill demands are rapidly outpacing supply of candidates in specialised fields, the EWS quota increases the constraints. If a university advertises for an associate professor for quantum physics under the EWS quota and the only suitable candidate happens to be from an OBC category, she could not be hired.

Experts point out that these challenges occur for all positions under specifically reserved categories and we have chosen to live with these difficulties in the interest of the greater good of equity. However, there is little benefit to be derived from the EWS quota.
Redesigning reservations
Arguably, the greatest cost of this amendment lies in the foregone opportunity to develop an enhanced and more effective reservation policy so that we can genuinely see an end to the entrenched inequalities in Indian society in the medium term. We have gotten so used to business as usual that we make no effort to sharpen our focus and look for more effective solutions, solutions that would make reservations redundant in 50 years.
If we were to redesign from scratch, what would an effective affirmative action policy look like? If the goal is to help as many people as possible, we are facing a serious challenge. On the one hand, 50% reservation looks very large; in the grand scheme of India's population it is a blunt and at times ineffective instrument.
The following statistics from the Union Public Service Commission provide a sobering view of ground realities. In 2014, only 0.14% applicants to the UPSC were selected. Moreover, the general category and OBCs have the highest success rate, about 0.17%, and SCs have the lowest, about 0.08%. This may be because of the perception that it is easier for SCs to be recruited via the reserved quota and this may have led to a large number of SCs taking the civil services examination. One might say that many of these candidates are not qualified for these jobs. However, if we look at the candidates who made it past the preliminary examination (providing preliminary quality assurance), the picture is equally grim.
Only about 8% of the candidates who took the main examination succeeded. Here the success rate is 8.2-8.3% for SC and ST candidates, 9.9% for OBCs and 7.8% for the general category. This suggests that in spite of the grievances of upper castes, reserved category applicants are not hugely advantaged.
The above statistics tell us that in spite of reservations, a vast proportion of reserved category applicants do not find a place via the UPSC examination.

Some experts suspect statistics from other fields may tell a similar story. This implies that if we expect reservations to cure the ills of Indian society, we may have a long wait.
Spreading the benefits:
Hence, experts suggest that we must think about alternative strategies.

One strategy may be to try and spread the benefits of reservations as widely as possible within the existing framework and ensure that individuals use their reserved category status only once in their lifetime. This would require that anyone using reservations to obtain a benefit such as college admission must register his/her Aadhaar number and she would be ineligible to use reservations for another benefit (e.g. a job) in the future. This would require no changes to the basic framework but spread the benefits more broadly within the reserved category allowing a larger number of families to seek upward mobility.

A second strategy might be to recognise that future economic growth in India is going to come from the private sector and entrepreneurship. In order to ensure that all Indians, regardless of caste, class and religion, are able to partake in economic growth, we must focus on basic skills. We have focused on admission to prestigious colleges and government jobs, but little attention is directed to social inequality in the quality of elementary schooling. The IHDS shows that among children aged 8-11, 68% of the forward caste children can read at Class 1 level while the proportion is far lower for OBCs (56%), SCs (45%) and STs (40%). This suggests that we need to focus on reducing inequalities where they first emerge, within primary schools.

Lastly, the challenge we face is that our mindset is so driven by the reservation system that was developed in a different era that we have not had the time or the inclination to think about its success or to examine possible modifications
Editorial Analysis:
Experts have opined that the process by which the Parliament ended the penultimate session of this Lok Sabha, with both Houses passing the Constitution (124th Amendment) Bill, 2019, that enables 10% reservation in education and employment for economically weaker sections, illustrates the collective failure of parliamentarians to review the government's proposals and hold it to account.
Perspective on the Rules of Procedure of the Lok Sabha:
The rules of procedure of the Lok Sabha require every Bill to be circulated at least two days ahead of introduction. This is to give time for MPs to read the Bill and discuss it (or make objections) when the vote on the motion to introduce the Bill is taken up.

Experts point out that this Bill was not circulated, even on Tuesday morning (8th Jan, 2019).

At 11 a.m., when unstarred questions are tabled, one question concerned whether the government was "exploring the scope of providing reservation for poor candidates from forward communities for education and employment" and the details. The Ministry categorically denied that there was any such proposal under consideration. Then at 12.46 p.m., the Bill was introduced, with copies having been circulated to MPs a few minutes earlier.
The usual practice is to refer Bills to the respective standing committee of Parliament. This step allows MPs to solicit public feedback and interact with experts before forming their recommendations. In the case of this Constitution Amendment — clearly one with far-reaching implications — this scrutiny mechanism was bypassed.
The debate started around 5 p.m., just a few hours MPs had been given a copy. The debate ended around 10 p.m.
Experts also point out that in the meanwhile, the Rajya Sabha hardly functioned that day due to repeated disruptions.
Finally, the chair adjourned the House till the next day — the first official indication that the sitting was extended by a day. The next day (Wednesday) 9th January 2019, the Rajya Sabha took up consideration of the Bill around 2 p.m. and ended the debate just past 10 p.m.

A motion was moved by some members to refer the Bill to a select committee, but this motion was defeated by a wide margin, and the Bill was then passed.

Further, it is important to note that the Bill was not circulated ahead of being introduced, it was not examined by a committee, there was hardly any time between its introduction and final discussion. Barring a few small parties, none of the larger Opposition parties asked for the Bill to be carefully considered by a parliamentary committee — even in the Rajya Sabha where they might have been able to muster the numbers to ensure this.
The British Contrast
We should contrast the events seen in Parliament with the incidents in the British Parliament the same day (Wednesday) 9th January 2019, when the Speaker ensured parliamentary supremacy over the government.

A member of the ruling Conservative Party wanted to move an amendment to set a deadline for the Prime Minister to put forward new plans if she loses the Brexit vote next week.

When the government objected that such amendments to set the business of the government in the House can be moved only by a Minister, the Speaker differed. He said that every member had a right to move an amendment. The motion was won by 308 votes to 297.

This case highlights three important ways in which the British Parliament works better than ours. First, the absence of an anti-defection law, so that each MP can vote her conscience. Note that the motion that put the government in a spot was moved by a former attorney general and a member of the ruling party. Second, it is known exactly how each MP voted. In India, most votes (other than Constitution Amendments that need a two-thirds majority to pass) are through voice votes — just 7% of other Bills had a recorded vote over the last 10 years. Third, the Speaker insisted on the supremacy of Parliament, and allowed a motion against the wishes of the government. Unlike in India, the independence of the Speaker is secured in the U.K. as no party contests against the Speaker in the next general election.

Parliament has a central role to secure the interest of citizens. It is the primary body of accountability that translates the wishes and aspirations of citizens into appropriate laws and policies.
Concluding Remarks:
However, the Parliament in India often falls short of these goals due to some structural reasons.

These include the anti-defection law (that restrains MPs from voting according to their conscience), lack of recorded voting as a norm (which reduces the accountability of the MP as voters don't know which way they voted on each issue), party affiliation of the Speaker (making her dependent on the party leadership for re-election prospects), frequent bypassing of committees (just 25% of Bills have been referred to committees in this Lok Sabha), insufficient time and research support to examine Bills, and the lack of a calendar (Parliament is held at the convenience of the government).

We need to address each of these issues to strengthen Parliament and protect our democracy.
1. AI beats doctors at detecting early stage cervical cancer
Artificial intelligence may be poised to wipe out cervical cancer, after a study showed on Thursday that computer algorithms can detect pre-cancerous lesions far better than trained experts or conventional screening tests.
According to the World Health Organization, cervical cancer is the fourth most frequent cancer in women with an estimated 570,000 new cases globally in 2018.
Despite major advances in screening and vaccination, which can prevent the spread of human papillomavirus which causes most cases of cervical cancer, those gains have mainly benefited women in rich nations.
Some 266,000 women died of cervical cancer globally in 2012, 90% of them in low-and middle-income nations, according to the WHO.
"Cervical cancer is now a disease of poverty, of low resources," said senior author Mark Schiffman, a Washington-based doctor, who has been searching for a cure to cervical cancer for 35 years.
"We are trying to find ways that are extremely cheap, extremely easy but very accurate, so that we can attack cervical cancer by vaccine and also a bit later through a simple technique that is cell-phone based or something like it," Mr. Schiffman said.
The AI technique, called automated visual evaluation, found precancerous cells with 91% accuracy, according to a report published in the Journal of the National Cancer Institute.
In comparison, a human expert review found 69% of pre-cancers, while conventional lab tests like Pap smears found 71%.
2. 'Oceans are heating up at a fast pace'
The world's oceans are heating up at an accelerating pace as global warming threatens a diverse range of marine life and a major food supply for the planet, researchers said on Thursday.
The findings in the U.S. journal Science, led by the Chinese Academy of Sciences, debunk previous reports that suggested a so-called pause in global warming in recent years.
The latest technology shows no such hiatus ever existed, raising new concerns about the pace of climate change and its effect on the planet's main buffer — the oceans.
"Ocean heating is a very important indicator of climate change, and we have robust evidence that it is warming more rapidly than we thought," said co-author Zeke Hausfather, from the University of California, Berkeley.
About 93% of excess heat — trapped around the Earth by greenhouse gases that come from the burning of fossil fuels — accumulates in the world's oceans.
The latest report relied on four studies, published between 2014 and 2017, that gave more precise estimates of past trends in ocean heat, allowing scientists to update past research and hone predictions for the future.
A key factor in the more accurate numbers is an ocean monitoring fleet called Argo, which includes nearly 4,000 floating robots that "drift throughout the world's oceans to measure its temperature, pH, salinity and other bits of information," said the report.
3. Cycling helps user, economy: study
Cycling for short distance trips can yield an annual benefit of ₹8 trillion to the economy, and cycling regularly for an average distance of 3.5 km for just 120 days can help avoid 4,756 premature deaths, says an analysis by The Energy Resources Institute (Teri).
Even though cycle sales have risen only 1% in a decade — as opposed to a 9% rise in cars and two-wheelers — cyclists in cities constitute nearly 40% of those who travel more than 21 km for work. That's around the same as those who commute a similar distance by car, says findings from the 2011 Census, which were used in the study to analyse cycling trends in India.
"A significant number of people may be compelled to bicycle to work because they can't afford alternatives," said Megha Kumar, one of the researchers involved in the study. More than half of India uses "non-motorised" forms of transport, such as walking and cycling, to travel to work, followed by two-wheelers (18%) and buses (16%), the report notes.
Substituting just half the short distance work trips, which are typically undertaken by two-wheelers and cars, with cycles, could result in massive savings — about ₹27 billion from fuel expenditure and 0.35 Million Tonnes of Oil Equivalent (MTOE) in terms of energy, the researchers calculated.
The report, which was funded by the All India Cycle Manufacturers Association, said the government should reduce Goods and Services Tax (GST) on cycles that cost less than ₹5,000; promote manufacturing of bicycles, and "discourage" personal motorised vehicles through congestion charges, increased cost of parking, and a "pollution tax."
1.. Centre signs pact with 5 States on Renuka dam
Context
The Centre has signed an agreement with Chief Ministers of five States — Uttar Pradesh, Rajasthan, Uttarakhand, Delhi, Himachal Pradesh — to restart construction of the Renuka multipurpose dam project in the Upper Yamuna Basin.
Speaking at a press briefing on Friday, Union Water Resources Minister Nitin Gadkari said that there is enough water available in the country but the real issue is effective water management.
Terming the signing of agreement for Renuka dam project a "historic" moment, he said that the government will "try to get the Cabinet approval" as soon as possible.
The Renuka Multipurpose Dam Project
The Renuka dam project has been conceived as a storage project on the Giri river (a tributary of the Yamuna) in Sirmaur district of Himachal Pradesh. The project envisages making a 148-metre-high dam for supplying water to Delhi and other basin States. It will also generate 40 MW of power.
After the construction of the dam, the flow of the Giri river will increase by about 110%, which will help meet the drinking water needs of Delhi and other basin States.
Water from the Renuka dam will be used by U.P., Haryana and National Capital Territory of Delhi from Hathnikund barrage, by the NCT of Delhi from Wazirabad barrage and by U.P., Haryana and Rajasthan from the Okhla barrage.
The origins of the project in fact go back to May 1994, when the governments of Himachal Pradesh, Delhi, Haryana, Uttar Pradesh, and Rajasthan signed a memorandum of understanding (MOU) for the utilisation and allocation of the waters of the upper Yamuna River which included the Renuka storage dam to be constructed in Sirmour district of HP.
The project was scheduled for completion by November 2014. The project construction was stayed by the National Environment Appellate Authority/National Green Tribunal in 2010-11 due to objections on the Environment Clearance granted to the project.
H. Practice Questions for UPSC Prelims Exam
Question 1. Consider the following statements:

There is largest gap between the 0° latitude and 1° latitude.
Latitude is the angular measurement of the point on the earth from Prime Meridian.
Which of the above statement(s) is/are correct?
Only 1
Only 2
Both 1 and 2
None of the above
See
Question 2. Which of the following steps are used for contractionary monetary policy?
Increasing Cash Reserve Ratio
Increasing Repo Rate
Decreasing Statutory Liquidity Ratio
Select the correct answer using the codes given below:
Only 1 and 3
Only 1 and 2
Only 2 and 3
Only 3
See
Question 3. The demand for money is likely to:
Increase with increase in income levels of the population
Decrease with increase in income levels of the population
Increase with increase in interest rate in the economy
Decrease with increase in interest rate in the economy
Select the correct answer using the codes given below:
Only 1 and 4
Only 2 and 3
Only 1 and 3
Only 2 and 4
See
I. Practice Questions for UPSC Mains Exam
National Clean Air Programme (NCAP) has to adopt appropriate approaches for small and big cities according to their dominant pollution profile while several strategies may remain uniform. Discuss (12.5 Marks; 200 words)
India is ranked at 41in the recently released Democracy Index 2018. It is still classified as a 'flawed democracy' according to the index. Analyse the recent report in the context of India's performance. (12.5 Marks; 200 words)
See previous CNA