TABLE OF CONTENTS
A. 

GS1 Related




B. 

GS2 Related


POLITY AND GOVERNANCE
1. Sabarimala review hearing awaits Justice Malhotra's return
2. SC to take 'in-chamber' decision on Article 35A plea
3. Mekedatu dam plan violates Supreme Court verdict: T.N.


C. 

GS3 Related 


ECONOMY
1. Centre's debt-to-GDP falls, States' rises
HEALTH
1. States put on high alert as swine flu cases spike across the country
2. Yellow Fever Vaccine


D. 

GS4 Related 




E. 

Editorials


GEOGRAPHY 
1. India stares at water scarcity
ENVIRONMENT AND ECOLOGY
1. Buried in the sands (Draft Coastal Regulation Zone (CRZ) Notification, 2018)


F. 

Tidbits


1. Pune-Secunderabad Shatabdi is India's cleanest train
2. China carries out overhaul of military
3. Labelling theory


G. 

Prelims Facts


1. ILO urges universal labour guarantee


H. 

UPSC Prelims Practice Questions




I. 

UPSC Mains practice Questions



A. GS1 Related
 There is nothing from here for today!!
B. GS2 Related
Category: POLITY AND GOVERNANCE
1. Sabarimala review hearing awaits Justice Malhotra's return
Context
Chief Justice of India Ranjan Gogoi on Tuesday told petitioners seeking a review of the court's September 28 judgment revoking the bar on women of menstrual age from entering the Sabarimala temple that a date for hearing their petitions would be fixed after consulting Justice Indu Malhotra, a member of the Bench who is now on medical leave.
Details of the issue
A five-judge Bench led by the Chief Justice, which was earlier scheduled to hear the review petitions on Tuesday, did not assemble as Justice Malhotra was on leave.
Justice Malhotra had delivered the lone dissent in the five-judge Constitution Bench's majority judgment on September 28. The judgment had declared the exclusion, based solely on the menstrual status of women, a smear on individual dignity. It said the bar amounted to "treating women as the children of a lesser God."
Justice Malhotra had declared the prohibition on women aged between 10 and 50 an "essential practice." The judge had held that imposing the court's morality on a religion would negate the freedom to practise religion according to one's faith and beliefs. The dissenting judgment has since then become a rallying point for the review petitioners.
Review Petition
The word "Review" in legal parlance connotes a judicial re-examination of the case. Therefore, in order to rectify an error and prevent the gross miscarriage of justice, a provision for review has been laid down under the Section 114 of the Code of Civil Procedure which gives a substantive right of review.
Any party aggrieved by an order or judgment may apply for reviewing the said order or judgment to the same court.
It can be filed where no appeal is preferred or in case there is no provision for appeal. Review Petition is a discretionary right of the court. The grounds for review are limited. The review is filed in the same court.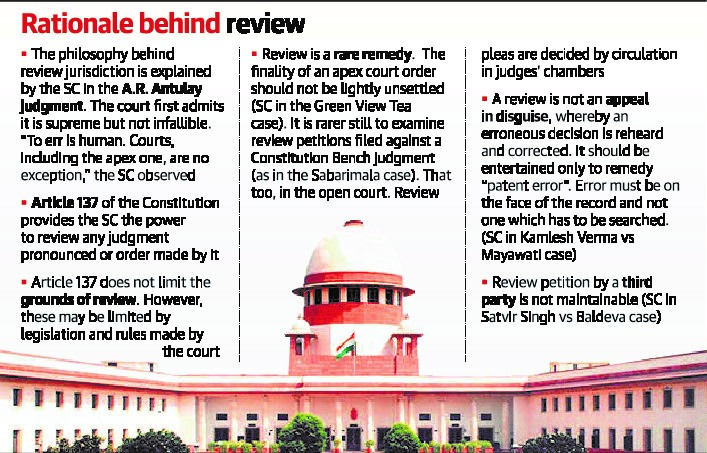 2. SC to take 'in-chamber' decision on Article 35A plea
Context
The Supreme Court on Tuesday said it will be taking an "in-chamber" decision on the listing of petitions challenging the constitutional validity of Article 35-A, which provides special rights and privileges to permanent residents of Jammu and Kashmir.
The oral observation came from a Bench led by Chief Justice of India Ranjan Gogoi in response to an oral mentioning for early hearing of the petitions.
The three-judge Bench will decide whether or not to refer the issue to the Constitution Bench.
What is Article 35A?
The heading of Article 35A reads: "saving of laws with respect to permanent residents and their rights".
The laws granting special rights to permanent residents would not be deemed a violation of the fundamental rights of other citizens.
Arguments against Article 35A
The 'classification' created by Article 35A has to be tested on the principle of equality as it treats non-permanent residents of J&K as 'second-class' citizens.
Such persons are not eligible for employment under the State government and are also debarred from contesting elections.
Meritorious students are denied scholarships and they cannot even seek redress in any court of law.
Further, the issues of refugees who migrated to J&K during Partition are still not treated as 'State subjects' under the J&K Constitution.
It was inserted unconstitutionally, bypassing Article 368 which empowers only Parliament to amend the Constitution.
The laws enacted in pursuance of Article 35A are ultra vires of the fundamental rights conferred by Part III of the Constitution, especially, and not limited to, Articles 14 (right to equality) and 21 (protection of life).
Arguments in favour of Legality of Article 35A
Article 370 (1) (d) empowers the President of India to extend with requisite exceptions and modifications the other provisions of the Indian Constitution to J&K as may be necessary.
The Delhi Agreement of 1952 followed Article 370. According to the Clause 2 of the agreement, the State Legislature of J&K was given power to make laws for conferring special rights and privileges on the 'state subjects'.
Article 35A follows the Instrument of Accession and the guarantee given to the State of J&K that the State's autonomy will not be disturbed.
Himachal Pradesh and Uttarakhand and such other states also have laws which say that no outsider can buy land.
3. Mekedatu dam plan violates Supreme Court verdict: T.N.
Context
The proposed construction of the Mekedatu reservoir on Cauvery river by Karnataka is an attempt to impound the uncontrolled flows in the intermediate catchment areas and is violative of the decisions of the Supreme Court and the Cauvery Tribunal, Tamil Nadu told the Supreme Court on Tuesday.
What is Mekedatu dispute?
Karnataka intends to build a reservoir across river Cauvery near Mekedatu in Kanakapura taluk of Ramanagara District. It was first proposed along with Shivanasamudra hydro power project at Shimsa in 2003 with an intention to use the water for a hydro power station and supply drinking water to Bengaluru city.
However, Tamil Nadu objected saying Karnataka had not sought prior permission for the project. Its argument was that the project would affect the flow of Cauvery water to Tamil Nadu.
Related Organisation – The Central Water Commission (CWC)
It is a premier Technical Organization of India in the field of Water Resources and is presently functioning as an attached office of the Ministry of Water Resources, River Development and Ganga Rejuvenation, Government of India.
The Commission is entrusted with the general responsibilities of initiating, coordinating and furthering in consultation of the State Governments concerned, schemes for control, conservation and utilization of water resources throughout the country, for purpose of Flood Control, Irrigation, Navigation, Drinking Water Supply and Water Power Development.
Central Water Commission CWC is headed by a Chairman, with the status of Ex-Officio Secretary to the Government of India.
C. GS3 Related
1. Centre's debt-to-GDP falls, States' rises
Context
While the Centre is moving in the right direction in terms of meeting the N.K. Singh Committee recommendations on public debt, the States are moving in the opposite direction, data released by the government show.
According to the Status Paper on Government Debt for 2017-18, the Centre's total debt as a percentage of GDP reduced to 46.5% in 2017-18 from 47.5% as of March 31, 2014. The total debt of the States, however, has been rising over this period, to 24% in 2017-18, and is estimated to be 24.3% in 2018-19.
Recommendations of the NK Singh (FRBM Review) Committee
The FRBM Review Committee headed by former Revenue Secretary, NK Singh was appointed by the government to review the implementation of FRBM.  In its report submitted in January 2017, titled, 'The Committee in its Responsible Growth: A Debt and Fiscal Framework for 21st Century India', the Committee suggested that a rule based fiscal policy by limiting government debt, fiscal deficit and revenue deficits to certain targets is good for fiscal consolidation in India.
The N.K. Singh-headed FRBM (Fiscal Responsibility and Budget Management) Review Committee report had recommended the ratio to be 40% for the Centre and 20% for the States, respectively, by 2023.
It said that the 60% consolidated Central and State debt limit was consistent with international best practices, and was an essential parameter to attract a better rating from the credit ratings agencies.
A fiscal deficit of 2.5% of GDP (gross domestic product) by financial year 2022-23.
It has also recommended certain strict 'escape clauses' which will allow the government deviate from the fiscal road map by 0.5% for any given year.
It suggested the setting up of a 'fiscal council', an independent body which will be tasked with monitoring the government's fiscal announcements for any given year. It will provide its own forecasts and analysis for the same as well as advise the finance ministry on triggering the escape clauses.
To ensure these escape clauses are not misused by the government, the panel said they have been defined very narrowly and specifically. The escape clauses are proposed for overriding consideration of national security like acts of war, calamities of national proportion and collapse of agriculture, etc.,
They can be invoked by the Centre after formal consultations and advice of the fiscal council. It also provided that it should be accompanied by a clear commitment to return to the original fiscal target in the ensuing fiscal year.
The panel's report also says that the focus of policymakers should be on reducing primary deficit rather than fiscal deficit.
1. States put on high alert as swine flu cases spike across the country
Context
With 49 swine flu deaths and 1,694 cases reported in just one fortnight from January 1-13 as per data released by the Integrated Disease Surveillance Programme (IDSP), several States are on alert.
Rajasthan alone has reported 31 deaths in this period with other instances being reported from Delhi, Gujarat, Punjab, Haryana, Uttar Prdaesh, Andhra Pradesh, Tamil Nadu and Telangana.
While the Rajasthan health department has reported that the number of cases in the State has crossed 1,000 with more than 200 people having died in the past 13 months, the Union Health Ministry has said that there is no cause for panic and that the situation is being closely monitored.
Swine Flu (H1N1)
Swine influenza, also called pig influenza, swine flu, hog flu and pig flu, is an infection caused by any one of several types of swine influenza viruses. Swine influenza virus is any strain of the influenza family of viruses that is endemic in pigs.
Influenza A (H1N1) virus is the subtype of influenza A virus that is the most common cause of human influenza.
It is an orthomyxovirus that contains the glycoproteins haemagglutinin and neuraminidase. For this reason, they are described as H1N1, H1N2 etc. depending on the type of H or N antigens they express with metabolic synergy. Haemagglutinin causes red blood cells to clump together and binds the virus to the infected cell. Neuraminidase is a type of glycoside hydrolase enzyme which helps to move the virus particles through the infected cell and assist in budding from the host cells.
Some strains of H1N1 are endemic in humans and cause a small fraction of all influenza-like illness and a small fraction of all seasonal influenza. Other strains of H1N1 are endemic in pigs (swine influenza) and in birds (avian influenza).
H1N1 influenza (or swine flu) is a highly contagious acute respiratory disease of pigs caused by type A influenza virus that regularly causes outbreaks of influenza in pigs. Swine flu viruses do not normally infect humans. However, sporadic human infections with swine flu have occurred.
Most commonly, these cases occur in people with direct exposure to pigs (e.g., children near pigs at a fair or workers in the swine industry). However, there have been cases of human-to-human spread of swine flu.
Context
The death of Prof Martin Gore, 67, former medical director of the Royal Marsden Hospital in the UK and a renowned cancer specialist, on January 10 has shocked the medical fraternity because it came after a routine yellow fever vaccination. It re-ignited a controversy over vaccines around the world.
Is vaccine compulsory?
Yellow fever spreads through mosquitoes. It is often associated with jaundice, hence the name yellow.
It leads to death in a significant proportion of patients, which is why the vaccine is often compulsory before travelling to any of the yellow fever-endemic countries in parts of Africa, and Central and South America.
How safe is the vaccine?
Known as 17D, the vaccine is generally considered safe. The World Health Organization (WHO) says: "Yellow fever is prevented by an extremely effective vaccine, which is safe and affordable. A single dose… is sufficient to confer sustained immunity and life-long protection against yellow fever disease."
There are, however, reports in medical literature about multisystem organ failure following vaccination. In 2001, doctors from Glan Clwyd District General Hospital reported such a case in The Lancet. There are many other reports available of individual patients who died of complications after yellow fever vaccination, or of even yellow fever after vaccination.
What are the risks?
The Centers for Disease Control & Prevention (CDC), Atlanta says that while the risk of the vaccine causing serious harm or death is "extremely low", there are complications that may arise.
Among mild problems associated with the vaccine are fever with aches, soreness, redness or swelling where the shot was given.
These occur in up to 1 person out of 4. They usually begin soon after the shot, and can last up to a week, CDC says. A severe allergic reaction can occur in 1 person in 55,000. A severe nervous system reaction in 1 in 125,000 and a life-threatening illness with organ failure can happen in 1 person in 250,000. More than half in the last group die.
With such risks, why go for vaccination?
There is evidence available in public health that vaccines provide return for investment — the resources spent on vaccines are more than recovered in the resources saved by the mortality and morbidity that is prevented throughout the lifetime of an individual. Nevertheless, vaccine hesitancy is on the rise.
Many vaccines introduce a pathogen inside the body. For example, the yellow fever vaccine is a live, weakened yellow fever virus. Because it is live, the body responds to it the same way as in a full-blown infection.
This ensures that the body knows the vulnerabilities of that virus for the rest of the person's life. Thus, whenever an invasion happens, blood cells that retain the memory of that virus immediately work towards defeating the nascent invasion much before it can go on to become a full-blown infection.
Is there resistance to vaccines in India?
Vaccine hesitancy is a growing problem the world over. It surfaces periodically. Last week, Delhi High Court underlined the importance of parental consent in vaccines given to children in school.
Although the diphtheria vaccine is among the oldest in the Universal Immunisation Programme (UIP), the disease caused the death of 24 children in Delhi in September 2018, and 27 in Nuh district (Haryana) in December.
D. GS4 Related
There is nothing from here for today!!
E. Editorials
1. India stares at water scarcity
Note to Students:
Although this article focuses on the issue concerning water scarcity, it is important for aspirants to look at the larger dimension of agrarian distress, and certain measures which have been taken in the past to alleviate the same.  
What's in the news?:
Experts have opined that in the run up to the general elections this year, 2019, something is already upon us which is going to coincide with the elections. A drought.
Certain Measures taken by the Government to alleviate farmer distress:
The Government of India realizes that there is a need to exploit the digital technologies to map the natural resources vis-à-vis compatible agricultural systems. Indian space research revolution has provided us with enormous opportunities to achieve this goal to develop spatial and temporal maps. This will help agri-enterprise planning with minimized risk.

Based on the matrix of natural resource base and socio-economic status of the farmers, clusters of the farmers could be identified as target clientele and tailor-made solutions could be provided to them for enhanced livelihood opportunities.

Establishment of agri-infrastructure at clusters of villages for primary and secondary value addition will help the farmers earn more returns for their produce. It would be a worthwhile proposition to rope in the industry to procure the produce at MSP, process at the cluster level and market them.

Further, if the appropriate crop planning is followed, then the processing industry can also be sustained with constant supply of raw material. Even farmers could be made stakeholders in these processing industries to make them responsible for proper running of the units.

It is important to note that the government on its part has launched several flagship schemes like Pradhan Mantri Fasal Bhima Yojana, Pradhan Mantri Krishi Sinchayi Yojana and Paramparagat Krishi Vikas Yojana (to improve the organic farming practices).  There is a vast scope for organic agri-produce as more and more people globally are becoming health conscious. These opportunities also could be utilized.

The Government has been constantly addressing the marketing related issues and one of the innovative schemes has been 'eNational Agricultural Market (eNAM)'.

There is also vast scope for enhancing the profits of farmers through horticultural produce such as vegetables, fruits and flowers. However, due to their perishable nature, there is a need for establishment of cold-storage chain. Turmeric and ginger farmers in Northern Telangana region could benefit from cold storage chain systems and reduce distress sale of these produce.

The extension agencies too must adopt the novel communication methods and ensure successful translation of research knowledge to the farm. In this effort, not only State and Central Departments but also voluntary organizations have a major role to play.

Lastly, despite all the efforts in agriculture sector, if corresponding improvements are not brought in agri-enterprises sector, the benefits may not be sustainable.

Hence, supporting industrial policies are also required at both the State and Central levels so that both agriculture and industry go hand in hand.

Like IT parks and Pharma parks, Agri-parks should be promoted to address the deep-rooted agrarian crisis in a holistic manner. Startups in agriculture sector also should be promoted.
Focus on Maharashtra:
It is also important to note that Maharashtra has experienced hydrological and agricultural drought during the years 2012 to 2016.

The situation has been worst in Vidarbha and Marathwada regions with unfortunate incidence of suicides by farmers.

Also other Drought Prone Areas (DPA) in rest of Maharashtra have experienced distress in the recent years. Agriculture in Marathwada and Vidarbha regions is mainly rain fed. Further, ground water availability beyond rainy season in not adequate due to typical basaltic formation.

Thus creation of surface water sources will help in sustainable agriculture and addressing agrarian distress in these areas.
Editorial Analysis:
Experts have opined that when droughts and elections intersect, it is extremely uncomfortable to leaders.

They point out that public awareness, nudged and prodded by public discussions on meteorological data and media reportage, has kept droughts from deepening into famines in our country.

When we look at certain facts, we realize that the actual deficit last monsoon (2018) was modest — barely 10%. However, the post-monsoon rainfall (October to December, 2018) or PMR as it is called by meteorologists has registered a 44% deficit. This national average deficit conceals shortages in some regions where it is much higher. In Marathwada, according to the IMD, the deficit is 84%, in Vidarbha, 88%.

Experts have pointed out that years of policy-driven, corporate-driven water transfers from rural to urban, agriculture to industry, poor to rich and so on have made our country-side chronically water-scarce. Certain critics opine that urban India does not realise this well enough.

Experts have pointed out that whoever becomes Prime Minister will do well to appoint a commission like the Farmers' Commission, which Dr. M.S. Swaminathan headed, to advise him or her on how water scarce India, all of India, needs to face drought, and give that Commission time to complete its study, make its recommendations not just to government but to all Indians.

Experts have opined that the failure of rains this time is so serious that 'drought' now means not just a farm crisis but a national crisis that will affect towns and cities no less than villages.

In conclusion, addressing the deepening drought, agrarian distress and water-management are critical not just for our governments to survive but for us to survive our governments.
Category: ENVIRONMENT AND ECOLOGY
1. Buried in the sands (Draft Coastal Regulation Zone (CRZ) Notification, 2018)
Brief Historical Note:  
CRZ regulations were first introduced in 1991 and subsequently revised in 2011. A coastal hazard line was established taking into account natural disasters including the 2004 Indian Ocean tsunami.

While the 2011 notification recognised that there were areas of high erosion and vulnerability along the coast, few attempts were made to develop this hazard line scientifically or transparently across the country to regulate development.

One amendment, in July 2018, removed the hazard line from the main regulation without consulting the public. In the new 2018 notification, as well, all reference to a hazard line has been removed and is replaced with a fixed setback line.

Some areas along the coast, for example, experience very high storm surges, but will not get the protection they deserve. Formerly (in the 2011 version), the CRZ extended up to a minimum of 500 m and up to the area of the 'hazard line' if it was found to be beyond 500 m. By removing the hazard line altogether, the new notification maintains a uniform CRZ of 500 m from the high tide line. Except for the most ecologically sensitive areas (CRZ-I) and water areas (CRZ-IV), for which any development clearance requires MoEFCC approval, State governments will be responsible for regulating urban and rural coastal areas (CRZ-II and III).

The CRZ for land adjoining creeks and backwaters is reduced from 100 to 50 m. CRZ 2018 relaxes important restrictions and permits construction in urban CRZ zones and densely populated rural coastal areas. Rural areas have been bifurcated, with greater allowances, ironically, for more populated areas. The greatest number of relaxations has been accorded to hotels, resorts and the tourism sector.
Classification of CRZ:
Classification of the CRZ – For the purpose of conserving and protecting the coastal areas and marine waters, the CRZ area shall be classified as follows, namely:-
CRZ-I

areas are environmentally most critical and shall be further classified as under: (a)

CRZ-I A:


CRZ-I A shall constitute the following ecologically sensitive areas and the geomorphological features which play a role in the maintaining the integrity of the coast viz.: (i) Mangroves. In case mangrove area is more than 1000 sq. mts, a buffer of 50meters along the mangroves shall be provided and such area shall also constitute CRZ –I A. (ii) Corals and coral reefs; (iii) Sand Dunes; (iv) Biologically active Mudflats; (v) National parks, marine parks, sanctuaries, reserve forests, wildlife habitats and other protected areas under the provisions of Wild Life (Protection) Act, the Forest (Conservation) Act or Environment (Protection) Act; including Biosphere Reserves; (vi) Salt Marshes; (vii) Turtle nesting grounds; (viii) Horse shoe crabs habitats; (ix) Sea grass beds; (x) Nesting grounds of birds; (xi) Areas or structures of archaeological importance and heritage sites.




(b)

CRZ-I B:


The intertidal zone i.e. the area between Low Tide Line and High Tide Line shall constitute the CRZ-I B.

CRZ-II:

CRZ-II shall constitute the developed land areas up to or close to the shoreline, within the existing municipal limits or in other existing legally designated urban areas, which are substantially built-up with a ratio of built up plots to that of total plots being more than 50% and have been provided with drainage and approach roads and other infrastructural facilities, such as water supply and sewerage mains etc.
CRZ-III:
Land areas that are relatively undisturbed (viz rural areas etc) and those do not fall under CRZ-II, shall constitute CRZ –III. CRZ-III shall be further classified into following categories:
a) CRZ-III A
b) CRZ-III B
CRZ- IV:
The CRZ – IV shall constitute the water area and shall be further classified as under:
a) CRZ- IV A:  The water area and the sea bed area between the Low Tide Line up to twelve (12) nautical miles on the seaward side shall constitute CRZ-IV A.
b) CRZ- IV B:  CRZ-IV B areas shall include the water area and the bed area between LTL at the bank of the tidal influenced water body to the LTL on the opposite side of the bank, extending from the mouth of the water body at the sea up to the influence of tide, i.e., salinity of five parts per thousand (ppt) during the driest season of the year.
Prohibited activities within CRZ:

The following activities shall be prohibited, in general, within the entire CRZ. Exceptions to these and other permissible/ regulated activities in specific CRZ categories viz. CRZ-I, II, III & IV, shall however be governed by the provisions under para 5 of this Notification. (i) Setting up of new industries and expansion of existing industries, operations or processes. (ii) Manufacture or handling of oil, storage or disposal of hazardous substances as specified in the notification of Ministry of Environment, Forest & Climate Change. (iii) Setting up of new fish processing units. (iv) Land reclamation, bunding or disturbing the natural course of seawater (v) Discharge of untreated waste and effluents from industries, cities or towns and other human settlements. (vi) Dumping of city or town wastes including construction debris, industrial solid wastes, fly ash for the purpose of land filling. (vii) Port and harbour projects in high eroding stretches of the coast. (viii) Mining of sand, rocks and other sub-strata materials. (ix) Dressing or altering active sand dunes. (x) In order to safeguard the aquatic system and marine life, disposal of plastic into the coastal waters shall be prohibited. Adequate measures for management and disposal of plastic materials shall be undertaken in the CRZ.
Editorial Analysis:
In late December 2019, the government approved the Draft Coastal Regulation Zone (CRZ) Notification, 2018, which had been earlier circulated by the Ministry of Environment, Forests and Climate Change (MoEFCC).

It is important to note that the CRZ consists of designated areas along the coast that are regulated by the government.

The government introduced the new CRZ 2018 notification as a promise of a 'better life' for coastal communities that would add value to the country's economy

.

Various recommendations to the draft from research think tanks and coastal community groups during the year were largely ignored and consultation appears to have been limited to select government bodies and departments.
Boost to business:

Big hotels, restaurants, houses, coastal highways and small and large port facilities can now be built closer to the shoreline. Increased coastal tourism translates into further destruction of lagoons, marshland and other coastal ecosystems and their services.

In fact, a limited study of the Tamil Nadu coastal districts from 2009 found that lakhs of crores of public investment, ecosystems and land are at risk from a one metre rise in average sea levels.

The cyclones Ockhi and Vardah are fresh in people's memories and so is the experience of loss of life and property.

These frequent weather-related coastal vulnerabilities are, however, omitted in the CRZ 2018, which moved the concept of vulnerability and the hazard line from being at the heart of the regulatory mechanism to an optional appendage in the law applicable for a vaguely worded section on 'disaster management'.

The document trims the list of restricted activities in the ecologically sensitive CRZ-I areas and erases baselines.

These include original baselines of what constituted this coastal zone (where it begins and ends, based on high water marks), what makes for a violation and further, what action should be taken for violations thus far and in future.

Meanwhile, shorelines are already eroding due to sand mining controlled by mafias and building of seawalls along the coast.



Concluding Remarks:
At the recent international climate meeting at Katowice (COP24), when the U.S., Saudi Arabia and Russia refused to "accept" the special 1.5 degrees report from the Intergovernmental Panel on Climate Change (IPCC), India and other developing countries rightly protested that these countries were placing the world at risk.

That report called for the world to prepare for severe impacts from climate change if average global temperature was to rise above 1.5º Celsius.

The effects from rising seas are already visible and will worsen as temperature rises. Countries need to prepare for an increase in the frequency and intensity of very severe storms and accompanying effects on their coasts.

It is important to note that an earlier 2018 study published in Nature Climate Change deduced that, among all countries of the world, India would experience the worst social and economic impacts from climate change.

Experts have pointed out that the CRZ notification from the Cabinet, however, now reads as a rejection of the IPCC's science and anticipated impacts from climate change, including the 1.5º Celsius report.

Further, experts have pointed out that it is not clear whose interests are being heard in this CRZ notification.

This environmental legislation has seen repeated fiddling with its provisions (the 1991 version saw about 25 amendments) and regular overhauls (the 2018 version makes for three fresh re-introductions of this law).

Critics opine that little of this activity from the MoEFCC has been towards improving or implementing the law, but rather to reduce regulatory oversight.

The regulation now moves into another era, while existing deadlines to identify violations and phase out sewage and waste disposal and make wholesome management plans lapse.

The legal mechanisms and innovations that entered the CRZ lexicon in the wake of the 2004 tsunami and coastal vulnerabilities to climate change have been deleted from the CRZ 2018.

In conclusion, critics have pointed out that in one fell swoop, about two decades of deliberation and action to secure the coasts for the nation's citizens has been erased.
F. Tidbits
1. Pune-Secunderabad Shatabdi is India's cleanest train
The results of the first-ever 'Total Cleanliness Survey' of the Railways are now out, and the winners are North Western Railway (NWR), which topped the zonal rankings in the 'Premium' category trains, and Southern Railway, which came out on top in the 'Other than Premium' category' trains.
The cleanliness survey covered 209 trains and was conducted by the Indian Railway Catering and Tourism Corporation (IRCTC) through two professional agencies. The survey's stated aim was to assess the progress of the 'Swachh Rail-Swachh Bharat' mission and promote healthy competition among trains.
While the NWR recorded an average score of 860 out of 1,000 in the 'Premium' category, South Central Railway finished at the bottom with an average score of 658. Southern Railway topped the 'Other than Premium' category', recording the highest average score of 736 among the 16 railway zones, while the East Central Railway was the dirtiest in this group, with an average score of 572.
The 'Premium' trains included the Rajdhani, Shatabdi, Duronto, Tejas and Gatiman while Sampark Kranti, Intercity, Jan Shatabdi and other Mail and Express trains were grouped under the 'Other than Premium' category.
Opinion of on-board passengers was sought on the state of toilets, housekeeping, linen and general cleanliness, with the rating options ranging from 1 to 5.
2. China carries out overhaul of military
China is on course to overhaul its military by pumping in technology and cutting down personnel, to enable its leaner armed forces to project power far beyond their borders.
The Xinhua news agency reported that for the first time, the Army now absorbs less than half of the total personnel in the Chinese armed forces.
Beijing is also modernising its nuclear deterrent, based on a triad of long range missiles, bombers that can deliver atomic weapons, and nuclear submarines. The size of China's Type 094 nuclear submarines, which entered service in 2010, is expected to climb to eight by 2020.
The Xinhua report signalled that the Navy, Air Force, rocket force and strategic support force, which handle areas such as cyber warfare, comprise more than half of China's armed forces. Besides, the entire chain of command in the People's Liberation Army has been changed to enable integrated warfare of all combat units, steered by a joint operational chief of staff.
This refers to a theory of social behaviour which states that the behaviour of human beings is influenced significantly by the way other members in society label them.
It has been used to explain a variety of social behaviour among groups, including deviant criminal behaviour.
According to this theory, individuals who are labelled as criminals by society, for instance, may be more likely to engage in criminal activities simply due to such social labelling.
By the same logic, positive labelling by society can influence individuals to exhibit positive behaviour.
G. Prelims Facts
1. ILO urges universal labour guarantee
Context
In a report on the 'Future of Work', released in Geneva on Tuesday to mark its centenary, the International Labour Organisation (ILO) warned that "without decisive action we will be sleepwalking into a world that widens inequality, increases uncertainty and reinforces exclusion, with destructive political, social and economic repercussions."
Highlights of the Report
Around the world, 190 million people are unemployed, while 300 million workers live in extreme poverty, according to the ILO. Wage gaps are growing at a time of declining wage growth.
Two-thirds of jobs in the developing world are susceptible to automation, and only 15% of households in emerging countries have Internet access.
Implementing the Paris Climate Agenda could create 24 million new jobs, but it could still be brutal to the 6 million workers expected to lose their jobs in the transition to a greener economy.
International Labour Organization
The International Labour Organization (ILO) was founded in 1919, its Constitution forming part of the Treaty of Versailles. The ILO became the first specialised agency of the UN in 1946.
The ILO is the only 'tripartite' (shared by or involving three parties) UN agency. It brings together representatives of governments, employers and workers to jointly shape policies and programmes. This unique arrangement gives the ILO an edge in incorporating 'real world' knowledge about employment and work.
The ILO is devoted to advancing opportunities for women and men to obtain decent and productive work in conditions of freedom, equity, security and human dignity.
The ILO helps to advance the creation of decent jobs and the kinds of economic and working conditions that give working people and business people a stake in lasting peace, prosperity and progress.
Principle Strategic Objectives
To promote and realize standards and fundamental principles and rights at work
To create greater opportunities for women and men to secure decent employment;
To enhance the coverage and effectiveness of social protection for all
To strengthen tripartism and social dialogue.
H. UPSC Prelims Practice Questions
Question 1. Consider the following statement regarding Financial Action Task Force (FATF). 

It was established in 1989 during the G-20 Summit in Paris (France) to combat the growing problem of money laundering.
FATF does not deal with terrorism financing.
Which of the above statement(s) is/are correct?
1 only
2 only
Both 1 and 2 only
Neither 1 and 2
See
Question 2. Consider the following statements 
Assertion (A): Repayment of loan is a part of capital expenditure of government budget
Reason (R): Repayment of loans reduces liability of the government
Choose an option that correctly describes the relation between assertion and reason:
Both A and R are true and R is the correct explanation of A
Both A and R are true but R is not the correct explanation of A
A is true but R is false
A is false but R is true
See
Question 3. Consider the following statements 
Assertion (A): Increased savings does not always lead to higher investments
Reason (R): Equality between savings and investments gives equilibrium level of income
Choose an option that correctly describes the relation between assertion and reason:
Both A and R are true and R is the correct explanation of A
Both A and R are true but R is not the correct explanation of A
A is true but R is false
A is false but R is true
See
I. UPSC Mains Practice Questions
1. Despite progress made over the last 25 years in India-ASEAN ties, there remains immense scope for further growth in the relationship. Examine (12.5 Marks; 200 words)
2. Recently the Punjab Assembly has issued notice to Sukhpal Singh Khaira, Former rebel AAP leader and MLA from Bholath, for disqualification under the 10th Schedule of the Constitution. In this context discuss the main features of India's anti-defection law. (12.5 Marks; 200 words)
See previous CNA