TABLE OF CONTENTS
A. 

GS1 Related




B. 

GS2 Related


POLITY AND GOVERNANCE
1. SC refuses to stay amendments to SC/ST Act
INTERNATIONAL ISSUES
1. Maduro rallies support of military


C. 

GS3 Related


ENVIRONMENT
1. 18 Indian institutions to study nitrogen pollution
2. NGT seeks report on solid waste management
3. Hope for Kerala in Bandipur deadlock


D. 

GS4 Related




E. 

Editorials


SCIENCE AND TECHNOLOGY
1. Season's worst (Periodic outbreaks of influenza)
2. Are we undermining our scientific temper?
ENVIRONMENT AND ECOLOGY
1. Clean energy push


F. 

Tidbits


1. TRAI firm on rolling out new DTH tariffs from February 1
2. India, South Africa to revise 22-year-old Strategic Partnership
3. Ashok Chakra for Lance Naik Nazir Ahmad Wani
4. Dubai start-up summit opens doors for Indian entrepreneurs


G. 

Prelims Facts


1. Sri Lankan farmers battle powerful worm
2. ISRO tastes first success of 2019


H. 

UPSC Prelims Practice Questions




I. 

UPSC Mains practice Questions



A. GS1 Related
  There is nothing from here for today!!
B. GS2 Related
Category: POLITY AND GOVERNANCE
1. SC refuses to stay amendments to SC/ST Act
Context
The Supreme Court on Thursday refused to stay the Scheduled Castes and Scheduled Tribes (Prevention of Atrocities) Amendment Act, 2018, that nullified a judgment that diluted the stringent provisions of the law to protect Dalits.
Background
On March 20, 2018 the Supreme Court issued a slew of guidelines to protect people against arbitrary arrests under the Act, directing that public servants could be arrested only with the written permission of their appointing authority, while in the case of private employees, the Senior Superintendent of Police concerned should allow it.
A preliminary inquiry should be conducted before the FIR was registered to check if the case fell within the ambit of the Act, and whether it was frivolous or motivated, the court ruled.
The ruling was greeted by a storm of protest from Dalit groups, which said the order diluted the law. However, the court refused to stay its ruling, leading to the demand from Dalit groups that the government introduce an ordinance or an Amendment Bill to restore the provisions.
The government brought in the amendments, arguing that the Scheduled Castes and the Scheduled Tribes still faced social stigma, poverty and humiliation.
The 2018 Act nullified a March 20 judgment of the court, which allowed anticipatory bail to those booked for committing atrocities against members of these communities.
In August, several petitions were filed against the amendments. The lead petitioner, advocate Prithvi Raj Chauhan, even called the amendments a "blunder" and a violation of the fundamental right to equality and personal liberty. But the court refused to stay them.
 About SC/ST Act 1989
The SC/ST Act lists 22 offences relating to various patterns or behaviours inflicting criminal offences and breaking the self-respect and esteem of the scheduled castes and tribes community. This includes denial of economic, democratic and social rights, discrimination, exploitation and abuse of the legal process.
According to the SC/ST Act, the protection is provided from social disabilities such as denial of access to certain places and to use customary passage, personal atrocities like forceful drinking or eating of inedible food sexual exploitation, injury etc, atrocities affecting properties, malicious prosecution, political disabilities and economic exploitation.
For speedy trial, Section 14 of the SC/ST Act provides for a Court of Session to be a Special Court to try offences under this Act in each district.
The prime objective of the SC/ST Act is to deliver justice to marginalised through proactive efforts, giving them a life of dignity, self-esteem and a life without fear, violence or suppression from the dominant castes.
Category: INTERNATIONAL ISSUES
1. Maduro rallies support of military
Maduro rallies support of military
Context
Venezuelan leader Nicolás Maduro prepared to rally his military supporters on Thursday as the U.S. and key allies backed a challenge from his leading rival who declared himself "acting President".
The announcement by Juan Guaido, 35, head of Venezuela's Opposition-led legislature, came amid a fresh wave of deadly street clashes on Wednesday. He declared himself acting leader of the oil-rich nation, which has lurched into economic chaos and violence under Mr. Maduro, 56.
Background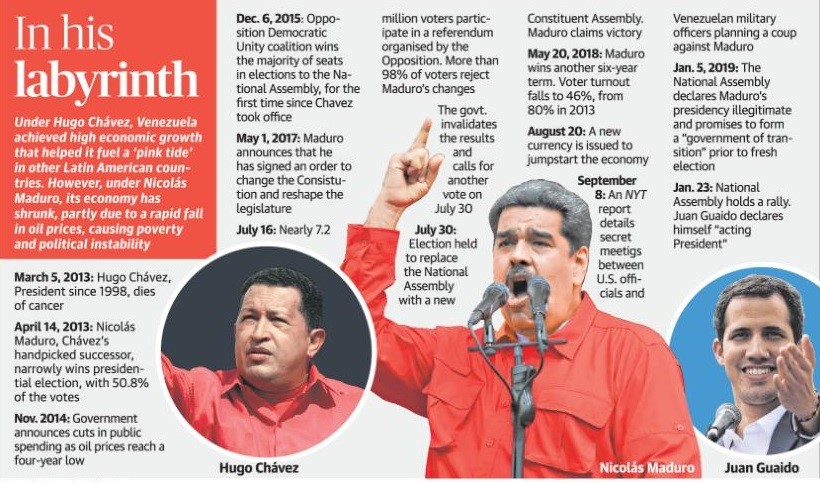 What's happening in Venezuela now?
Thousands of Venezuelans, mobilized by a young, fresh-faced opposition politician named Juan Guaidó, have taken to the streets in a massive movement against President Nicolás Maduro.
Venezuela has for several years faced a devastating economic collapse that has created a humanitarian crisis and caused millions to flee the country. Maduro, a socialist dictator, has overseen much of that collapse. He was reelected last May, but many citizens and international observers claim the process was rigged and that his presidency is a sham.
Juan Guaidó claims that Maduro's rule is thus illegitimate. He says that according to the country's constitution, he, as the head of the National Assembly (the country's legislative body), is now the rightful, albeit temporary, president of the country — not Maduro. He doesn't plan to hold on to the presidency indefinitely, he says, and will call for new elections in the future.
President Donald Trump, along with a number of other world leaders, has now officially recognized Guaidó as the country's legitimate ruler — and Maduro has retaliated by severing diplomatic ties with the US. Experts caution that the situation could escalate into a dangerous political showdown.
The Socialist government responded by warning that the top military leadership would come out "in support of the constitutional President", Defence Minister Vladimir Padrino Lopez said. He added the military would show "backing for the sovereignty" of Venezuela.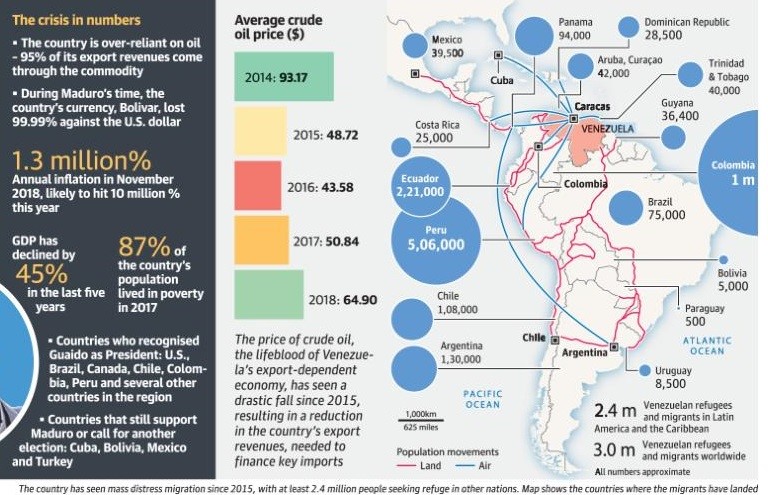 C. GS3 Related
1. 18 Indian institutions to study nitrogen pollution
Context
Eighteen research institutions in India are among a group of 50 institutions — called the South Asian Nitrogen Hub (SANH) — in the United Kingdom and South Asia that have secured £20 million (about ₹200 crore) from the U.K. government to assess and study the quantum and impact of "nitrogen pollution" in South Asia.
While nitrogen is the dominant gas in the atmosphere, it is inert and doesn't react. However, when it is released as part of compounds from agriculture, sewage and biological waste, nitrogen is considered "reactive", and may pollute and even exert a potent greenhouse gas (heat trapping) effect.
A note on Nitrogen Pollution
Nitrogen is an inert gas that's necessary for life. But we're changing it into forms that are harmful, overloading the environment with it, and throwing the natural nitrogen cycle out of whack.
Nitrogen compounds running off farmland have led to water pollution problems around the world, while nitrogen emissions from industry, agriculture and vehicles make a big contribution to air pollution.
Over 80% of the nitrogen in soil is not utilised by humans. While over four-fifths of the nitrogen is used to feed livestock, only about six per cent reaches humans in case of non-vegetarian diet, as compared to the 20% that reaches the plate of a vegetarian.
Nitrogen becomes a pollutant when it escapes into the environment and reacts with other organic compounds. It is either released into the atmosphere, gets dissolved in water sources such as rivers, lakes or groundwater, or remains in the soil.
While it might lead to favourable growth of species that can utilise this nutrient, nitrogen as a pollutant is often detrimental to the environment and health.
According to the World Health Organization, nitrate-contaminated drinking water can cause reduced blood function, cancer and endemic goiters. Surplus inputs of nitrogen compounds have been found to cause soil acidification. The lowering pH, as a result of the acidification, can lead to nutrient disorders and increased toxicity in plants. It may also affect natural soil decomposition.
It creates of harmful algal blooms and dead zones in our waterways and oceans; the algae produce toxins which are harmful to human and aquatic organisms (and indirectly affects fisheries and biodiversity in coastal areas)
Over 10 million people in Europe are potentially exposed to drinking water with nitrate concentrations above recommended levels. This can have an adverse effect on human health.
Excessive nitrogen fertiliser application contributes to soil nutrient depletion. As the world needs to feed an ever growing population loss of arable land is major global problem.
The release of Nitrous Oxide is essentially a greenhouse gas which is harmful to the environment.
2. NGT seeks a report on solid waste management
Context
Concerned over the lack of action pertaining to the compliance of solid waste management across the country, the National Green Tribunal (NGT) has summoned the Chief Secretaries of all States and Union Territories from March 1 onwards.
A Bench headed by Justice Adarsh Kumar Goel has directed the Chief Secretaries to be present before the tribunal with status reports of action taken and the subsequent measures to be adopted. "It is high time stern measures are taken not only by those in charge of administering law themselves but also by educating and involving public at large," the Bench said.
Solid Waste
Solid waste encompasses the following waste components:
Construction and demolition waste – wastes generated in construction of new buildings, renovation and demolition work.
Plastic waste– includes polythene bags, plastic bottles etc
Biomedical waste – wastes involved in diagnosis, treatment and immunization such as human and animal anatomical waste, treatment apparatus such as needles and syringes and cytotoxic drugs.
Hazardous waste– wastes that cause immediate danger to exposed individuals or environment.
E-waste – includes discarded computer monitors, motherboards, cathode ray tubes (CRTs), printed circuit board (PCB), mobile phones and chargers, compact discs, headphones etc.
Solid Waste Management
It is a term that is used to refer to the process of collecting and treating solid wastes. It also includes solutions for recycling items that do not belong to garbage or trash.
Issues and Challenges in India's SWM
With rapid urbanisation, there is substantial increase in solid waste generation which has strained the Solid Waste Management System
Most Urban local bodies in India struggle to provide efficient waste management services due to financial problems, lack of infrastructure and technology
Though solid waste management rules mandate source segregation of wastes, it has largely not been followed. Due to improper segregation of waste, much of recyclability of waste is lost.
Most of the municipal authorities deposit solid waste at open dump sites without any leachates treatment. These sites emanate foul smell and is breeding grounds for pests and insects causing disease. Liquid seeping out of waste pollutes groundwater and poses a serious threat to health and environment. Further, these landfill sites are also responsible for air pollution.
Most of the funds for solid waste management is allotted to collection and transportation, with very less left for processing or resource recovery and disposal. Also many waste-to-energy plants are non-operational.
The waste management sector in India is constituted primarily of the informal workers who come from the urban poor. The rag pickers, who are instrumental in waste recycling, are highly vulnerable to health damages owing to poor work conditions.
Apathy on the part of management and also poor community participation is a major constraint in solid waste management in India
3. Hope for Kerala in Bandipur deadlock
Context
The difference of opinion between the Ministry of Environment and the Ministry of Road Transport and Highways over the proposal to construct elevated roads through sections of the Bandipur Tiger Reserve has given a sliver of hope to the Kerala government to tackle the night traffic ban on National Highway 766.
The contention between the two Central Ministries on the issue, in which Kerala and Karnataka have stakes, had led the Supreme Court to ask the Centre to arrive at a consensus within six weeks.
Details of the issue
The Ministry of Environment, Forest and Climate Change has not concurred with the project for an elevated 5 km road over Bandipur while the Ministry of Road Transport and Highways is willing to construct five elevated sections, of which four will be in Bandipur and one in Wayanad.
Now, the five-member panel appointed by the Supreme Court will have to intervene to secure a joint statement of the two Ministries before the apex court, T.M. Rasheed, convener, Nilgiri-Wayanad National Railway Action Committee, which has filed an appeal in the Supreme Court in this regard.
The nine-year-old ban on traffic through Bandipur between 9 p.m. and 6 a.m. is getting more complicated with an increase in vehicles plying via the highway connecting Kozhikode to Mysuru during daytime.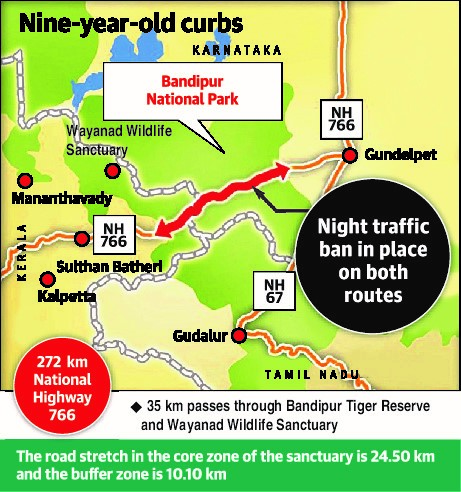 Bandipur National Park
It is tagged as one of the most beautiful and the well-managed national parks of India.
It is situated amidst the picturesque surroundings of the towering Western Ghats Mountains on the Mysore-Ooty highway in Karnataka.
It creates the India's biggest biosphere reserve popularly known as the 'Nilgiri Biosphere Reserve. This national Park occupies a special place in India's efforts towards Eco-conservation.
Bandipur also has a sizable number of Tigers. Other natural inhabitants of this lovely park are gaur (a type of bull), sambhar, chital, mouse deer, four-horned antelope, wild dogs, wild boar, jackal, sloth bear, panther, Malabar squirrel, porcupines and the black-knapped hare. Birds like jungle fowl and green pigeon are also found here.
Initially Maharaja of the Kingdom of Mysore created a sanctuary of 90 km2 (35 sq mi) in 1931 and named it the Venugopala Wildlife Park.
The Bandipur Tiger Reserve was established under Project Tiger in 1973 by adding nearly 800 km2 (310 sq mi) to the Venugopala Wildlife Park.
The park has a variety of biomes including dry deciduous forests, moist deciduous forests and scrublands.
The park is surrounded by the Kabini River in the north and the Moyar River in the south while the Nugu River runs through the park.
Wayanad Wildlife Sanctuary
Wayanad Wildlife Sanctuary is an animal sanctuary in Wayanad, Kerala. It is bounded by protected area network of Nagarhole and Bandipur of Karnataka and by Mudumalai of Tamil Nadu.
Established in 1973, the sanctuary is now an integral part of the Nilgiri Biosphere Reserve.
Vegetation – It is part of the Deccan Plateau and the vegetation is predominantly of the south Indian moist deciduous teak forests. Also, the sanctuary has pastures of the west-coast semi-evergreen trees. The wildlife sanctuary comes under Project Elephant.
Wayanad district has the largest population of Adivasi in Kerala. Scheduled tribes here include Paniyas, Kurumas, Adiyans, Kurichiyas, Ooralis and Kattunaikkans.
Wayanad Wildlife Sanctuary is one of the safest havens for different species of vultures like the White-rumped Vultures and the Red-headed Vultures.
Chrysilla vollupe – Recently,a rare spider Chrysilla vollupe was rediscovered after 150 years, which was believed to be extinct. The Spider belongs to the family of jumping spider (Salticidae).The spider has eight black eyes.
D. GS4 Related
  There is nothing from here for today!!
E. Editorials
Category: SCIENCE AND TECHNOLOGY
1. Season's worst (Periodic outbreaks of influenza)
Editorial Analysis:
Experts have pointed out that seasonal influenza poses a significant public health challenge for India every year.
As a matter of fact, the spurt in infections during the first two weeks of 2019 cries out for an effective plan to contain it. Rajasthan for example, which had a big case load last year, 2018, is the worst-affected State in the current season, with 768 cases and 31 deaths as of January 13, 2019.
There have been peaks in the country over the past six years, with the number of cases recorded by the Integrated Disease Surveillance Programme soaring to 42,592 and the death toll touching 2,990 in 2015.
Experts point out that with better understanding of the nature of active viruses and the availability of a quadrivalent vaccine, State governments have no excuse for failing to sharply reduce the spread.
In the year 2018, the Union Ministry of Health and Family Welfare deputed teams to assist Rajasthan in containing the outbreak. It is pertinent to ask what preventive measures were put in place based on the experience.
Large-scale vaccination covering high- risk groups such as health workers, people with lung, kidney, liver and heart disease, diabetics and the elderly could reduce the impact of the viruses in States such as Rajasthan, Maharashtra, Gujarat, Telangana and the National Capital Region, all of which had a large number of cases three years ago.
The Way Forward:
A universal preventive programme should be considered at least for the future.
Last year, 2018, the Union Health Ministry put out an advisory on the right vaccine to protect against a known set of viruses, such as Influenza A H1N1, H3N2 and Influenza B.
Yet, most public health programmes are not prepared for a mass adoption of the vaccine. Non-availability of sufficient doses of quadrivalent vaccine as well as profiteering on the demand have not been addressed.
It is important to note that if a vaccine has proven efficacy in reducing the burden of seasonal influenza, it must be made part of the public health system.
An umbrella scheme such as Ayushman Bharat can easily provide it to everyone using public and private institutions.
Further, campaigns to educate the public through mass media ahead of the season, especially on respiratory etiquette and risk reduction, can help cut transmission.
At the same time, upgrading existing vaccines requires a consistent effort to track viral mutations that take place periodically, and communicate the information to researchers through open access databases.
There are 41 Virus Research Diagnostic Laboratories in India and they can study the nature of infections to provide genetic insights to peer scientists. This can help develop vaccines and remedies.
Lastly, when it comes to treatment, the availability of anti-viral drugs such as Oseltamivir in the public health system should be ensured.
Seasonal influenza will, according to the WHO, continue to resurface.
Thus, India must prepare for it with a comprehensive programme that covers all the States.
2. Are we undermining our scientific temper?
Brief Note on the Indian Science Congress:
The Indian Science Congress Association (ISCA) owes its origin to the foresight and initiative of two British Chemists, namely, Professor J. L. Simonsen and Professor P.S. MacMahon.
It occurred to them that scientific research in India might be stimulated if an annual meeting of research workers somewhat on the lines of the British Association for the Advancement of Science could be arranged.
Objectives:
To advance and promote the cause of science in India
To hold an annual congress at a suitable place in India
To publish such proceedings, journals, transactions and other publications as may be considered desirable.
To secure and manage funds and endowments for the promotion of Science, including the rights of disposing of or selling all or any portion of the properties of the Association.
To do and perform any or all other acts, matters and things as are conducive to, or incidental to, or necessary for, the above objects
The first meeting of the Congress was held from January 15-17, 1914 at the premises of the Asiatic Society, Calcutta, with the Honourable Justice Sir Asutosh Mukherjee, the then Vice-Chancellor of the Calcutta University, as President. One hundred and five scientists from different parts of India and abroad attended and the papers numbering 35 were divided into six sections-Botany, Chemistry, Ethnography, Geology, Physics, Zoology under six Sectional Presidents.
From this modest beginning with hundred and five members and thirty five papers communicated for reading at the first session, ISCA has grown into a strong fraternity with more than sixty thousand members till to date.
The number of papers communicated for reading has risen to nearly two thousand. Upto 2000 there were Sixteen sections,two committees and six forums, namely Sections- Agricultural Sciences, Anthropology & Archaeology, Biochemistry, Biophysics & Molecular Biology, Botany, Chemistry, Computer Sciences, Earth System Sciences, Engineering sciences, Material Sciences, Mathematics, Medical & Veterinary Sciences, Physics, Physiology, Psychology & Educational Sciences, Statistics, Zoology, Entomology & Fisheries; Committees-Home Sciences, Science & Society; Forums-Communication & Information Science, Environmental Sciences, Forensic Science, Science Education, Science for School Students and Women & Science.
Editorial Analysis:
Experts point out that there was much angst earlier in the month of January 2019, about the disgraceful remarks that have been over the last few years at the Indian Science Congress (ISC) meetings, to the point where even the organisers felt the need to take a stand.
This is unfortunate because the ISC has traditionally been a forum for scientists from all parts of the country to present their work. It is a forum where research that is grounded in rationality has always been given a hearing, even if it did not make it to peer-reviewed journals.
Some critics point out that the vast majority of Indian educational institutes actively discourage learning, not to mention research, and the ISC is the only venue where scientists meet their peers and get affirmation of their work. They further assert that it is truly a shame that a handful have brought disrepute to the entire Indian science community, particularly to those at less favoured institutes who, if nothing else, spread scientific temper through their own actions to the broader community.
A Look at Nehru and Scientific Temper:
The broader question to be answered here is whether the nation is undermining its scientific temper.
The British understood that scientific temper would result in a questioning of their rule and preferred to keep their subjects subservient.
It was only after Independence that the need for scientific temper was considered to be important. It was even felt that scientific temper should be protected as a fundamental duty. For Jawaharlal Nehru, scientific temper did not mean that everyone had to study science; rather, it was a way of thinking, a way to break the hold of superstitions by applying rationality and thought.
Perspective on Superstitions
Experts have opined that those educated in the best institutes in the country never lost their superstitions. They studied modern science, used modern devices, achieved material prosperity and yet held the most regressive views.
Further, 'God-men' catering to the educated middle class have used the power of the media and social media to spread their superstitions and broadcast messages that should have been laughed at by those at the kindergarten level.
Experts have opined that it is now not only acceptable but fashionable for public figures to utter scientific nonsense.
We have instances where the Vice Chancellor of Andhra University, who represents the academics of not just his university but the country, feels no shame in talking about test tube babies in India's ancient history at the ISC.
Critics have also made an observation that scientific temper has come under a shadow of doubt.
Category: ENVIRONMENT AND ECOLOGY
Note to Students:
This article is taken from "The Hindu BusinessLine".
Editorial Analysis:
Climate change has made its space in international policy debates since the last few years.
It presents a difficult situation for emerging economies like India, where industrialisation is necessary to create additional jobs for the increasing number of unemployed youth.
Further, in India, coal is a major contributor to power generation and the transport sector, both public and private, is largely dependent on fossil fuels.
This dependence on fossils not only affects the country's balance of payment but also exposes it to price volatility and supply constraints resulting from adverse global developments.
Among the fast growing nations, India is struggling with high pollution levels and increasing carbon footprints. Global warming, climate change, increasing carbon footprint, and greater dependence on fossil fuels have compelled India to increasingly adopt and promote renewable energy.
National Solar Mission, as a part of National Action Plan on Climate Change (NAPCC), was launched in 2010. In 2015, India revised its renewable energy targets significantly upwards to 175 GW by the year 2022.
During the Paris convention, India announced Intended Nationally Determined Contribution (INDC) and pledged that renewable energy would contribute to 30 per cent of India's energy mix by 2030.
Renewable energy contribution to India's energy mix has reached 10 per cent and is increasing.
Solar and wind power, once considered costly, have now become affordable energy sources.
It is important to note that renewables are no doubt the future energy source for India, but they cannot replace fossils in the near term because of obvious reasons like sun's energy is not available 24 hours a day, solar and wind generation are highly unpredictable and technological innovation is yet to develop an efficient solution to store power generated from renewable energy sources.
Though technological advancements are under way for efficient storage solutions, which will certainly revolutionise the renewable energy sector globally, dependence on fossils can only be reduced by gradually.
Currently, 85-90 per cent solar modules for deployment in India are sourced from China, Taiwan, Singapore and Malaysia due to cheaper imports and are thus vulnerable to global factors. It is largely felt that any adverse change in policy by these countries could derail the ambitious solar targets of India as it does not have its domestic manufacturing industry that can come to the rescue in case of large-scale interruptions.
India's domestic cell-manufacturing capacity is 3.1 GW, of which, 1.3 GW is operational. Similarly, module manufacturing capacity is 9.1 GW, of which, 6 GW is operational as against the target of adding at least 20 GW of capacity every year for the next four years.
Domestic manufacturers are unable to compete with Chinese counterparts due to lack of complete value chain and ecosystem for manufacturing in India, which has led to higher costs and dependence on protection from the government for their very existence and survival. The domestic manufacturing sector is bleeding after India lost a case before the WTO pursuant to which it had to scrap tenders under DCR (domestic content requirement) category.
Concluding Remarks:
The time has come for India to take a stand on whether it prefers short-term benefits of cheaper imports or focus on a long term robust plan to develop end-to-end manufacturing support for its domestic sector.
F. Tidbits
1. TRAI firm on rolling out new DTH tariffs from February 1
Even though only 40% customers have registered their channel choices under the new tariff guidelines that kick in from February 1, Telecom Regulatory Authority of India (TRAI) Chairman R.S. Sharma on Thursday expressed confidence that service providers would be able get options from all their subscribers within a week.
He added that the regulator was unlikely to extend the February 1, 2019 deadline, as there had been no request from stakeholders. "We have been regularly meeting the stakeholders and everybody is on the same page. In fact, some of the organisations — the News Broadcasters Association (NBA), the Indian broadcasting Foundation (IBF) and the All India Digital Cable Federation (AIDCF) — have given us in writing that we should not extend the deadline," he said.
Sharma stressed that the new regulation — which makes it mandatory for the service provider to offer every channel on a la carte basis, for the first time — will ensure that customers pay only for the channels they watch and know the price of the channel.
"This is the only transaction where the customer or the purchaser is not given the products he/she wants to purchase. The customer is simply given a bundle of products and he/she doesn't even know the price of these products. Is there any industry or any commercial transaction where this happens?" he asked.
The TRAI Chairman said the move would not only bring down litigation in the sector but would also encourage people to invest in good quality content.
On Thursday, the TRAI issued a show-cause notice to DTH operator Tata Sky for allegedly failing to provide its customers the option to choose channels in compliance with the new tariff norms.
2. India, South Africa to revise 22-year-old Strategic Partnership
India and South Africa will update their Strategic Partnership by agreeing on a comprehensive "roadmap" on the way ahead, as well as relaxing visa restrictions, when South African President Cyril Ramaphosa meets with Prime Minister Narendra Modi on Friday.
Ramaphosa will be in India as the chief guest at the Republic Day parade on January 26, and and will be accompanied by nine Ministers and a 50-member business delegation.
The Strategic Partnership between India and South Africa, called the Red Fort Declaration, was signed in March 1997 by the then South African President Nelson Mandela and former PM H.D. Deve Gowda.
Officials said all aspects the partnership would be reviewed and updated with a three-year plan of action on security cooperation, trade and investment, tourism, harnessing the 'blue economy', maritime cooperation, agriculture, science and technology projects.
The two sides are also expected to explore new defence deals in the backdrop of the lifting of a 13-year old ban on South African defence firm Denel that was barred from doing business in India since 2005. Denel was finally removed from the blacklist in September 2018 after the Central Bureau of Investigation filed a closure report and the Supreme Court subsequently dismissed corruption charges against the company.
The decision to take Denel off the blacklist was made after Mr. Ramaphosa made a personal intervention on the issue during his meeting with Prime Minister Narendra Modi in Johannesburg last July
3. Ashok Chakra for Lance Naik Nazir Ahmad Wani
Lance Naik Nazir Ahmad Wani has been posthumously awarded 'Ashok Chakra', India's highest peace time gallantry award for his role in a counter-insurgency operation in Kashmir last year. He is Kashmir's first Ashok Chakra awardee and was also awarded Sena Medal for gallantry twice in 2007 and 2018 for his acts of valour.
The award will be presented by President Ram Nath Kovind to Lance Naik Wani's wife Mahajabeen at the Republic Day parade on Saturday.
On November 25, 2018 Lance Naik Wani was taking part in a counter terrorist operation against six terrorists in Hirapur village near Batgund in Kashmir. Under intense hail of bullets from the terrorists he eliminated the district commander of the Lashkar-e-Taiba (LeT) and one foreign terrorist in an act of raw courage.
A resident of Cheki Ashmuji of Kulgam district Jammu and Kashmir, he joined the Army's 162 Infantry Battalion (Territorial Army) in Jammu and Kashmir Light Infantry in 2004. His courage got recognition with the Sena Medal for Gallantry in 2007. The 2018 Sena Medal was given for eliminating one terrorist from a very close distance, the Army stated.
To fight the onslaught of Pakistan supported terrorist outfits, he operated with Rashtriya Rifles units in Kashmir, the Army statement said, and added, "Throughout his active life he always willingly faced grave potential threats and was a source of inspiration for others."
4. Dubai start-up summit opens doors for Indian entrepreneurs
For the first time, Indian entrepreneurs will be able to pitch their ventures to the rich investors of the Gulf region, among others, with the Dubai AIM Startups opening its doors for Indian start-ups to participate.
While UAE has been hosting the annual investment meeting for few years now, this will be the first time that Indian start-ups will get an opportunity to participate in the international summit, to be held in Dubai in April.
Incidentally, Dubai AIM Startups is one of the biggest start-up investment event in the region organised by the UAE's Ministry of Economy.
The road shows for Indian start-ups would be held January 23 onwards across 15 cities, wherein start-ups can pitch their ventures. The finals would be held in Mumbai with the winners getting a chance to participate in AIM Startup 2019.
The India leg of the summit will be organised by Grex, an Indian start-up listing platform, which has connected with various ecosystem partners like IIT campuses, incubators, accelerators and various state government projects like Kerala Start-up Mission, for the event.
Meanwhile, some domestic venture capital funds have also joined the initiative and are looking at possible investment opportunities through the competition for start-ups.
G. Prelims Facts
1. Sri Lankan farmers battle powerful worm
Context
After coping with successive droughts in the past few years, Sri Lanka's maize farmers are now battling a tiny but powerful enemy – the fall armyworm.
Dominating headlines in Sri Lankan media, the fall armyworm has acquired the local name sena (army) worm, as it comes in big groups and attacks crops, particularly maize.
Maize is among the top seasonal crops produced in Sri Lanka, harvested in the island's two seasons of cultivation — the 'Maha' and 'Yala', linked to the two monsoons.
An insect that is known to be native to tropical and subtropical regions of the Americas, according to the Food and Agriculture Organisation, the species is said to have travelled east to other tropical regions. In recent months, fall armyworm infestations were reported in different parts of India, including Telangana, Karnataka, Tamil Nadu, West Bengal and Gujarat.
Fall Armyworm (spodoptera frugiperda)
It is an Agricultural pest. Basically, it is a Maize Pest i.e., It prefers maize, but can feed on 80 species of plants, including rice, sorghum, millet, sugarcane, and cotton.
This pest is native to Americas. FAW arrived in Africa in 2016. Since then it has spread to 44 African countries. India's tropical climate could allow the pest to thrive.
It can be controlled with insecticides, through natural enemies, or by inter-cropping. (Insecticides like lambda-cyhalothrin, natural predators like coccinellid beetles, fungal species like nomuraea rileyi also infects this worm).
Intercropping is a multiple cropping practices involving growing two or more crops in proximity. The most common goal of intercropping is to produce a greater yield on a given piece of land by making use of resources or ecological processes that would otherwise not be utilized by a single crop.
It is an invasive species. An invasive species can be any kind of living organism—an amphibian (like the cane toad), plant, insect, fish, fungus, bacteria, or even an organism's seeds or eggs—that is not native to an ecosystem and causes harm. They can harm the environment, the economy, or even human health. It can also be called as alien species.
Another remarkable trait of the larva is that they practice cannibalism. Cannibalism is the act of one individual of a species consuming all or part of another individual of the same species as food.
2. ISRO tastes first success of 2019
Context
Under a starry night and a waning gibbous moon, ISRO's PSLV C-44 broke the silence over a brimming Pulicat lake as it lifted off from Satish Dhawan Space Centre, SHAR, to successfully place into orbit a military satellite, Microsat-R.
Details of the launch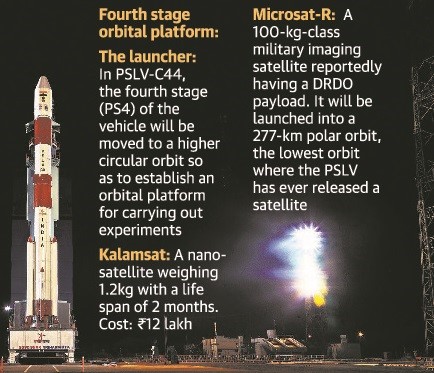 H. UPSC Prelims Practice Questions
Question 1. Consider the following statements regarding Article 13 

A constitutional amendment is not a law and hence cannot be challenged
The term "law" as mentioned in Article 13 includes permanent laws enacted by the Parliament only
Which of the above statement(s) is/are correct?
Only 1
Only 2
Both 1 and 2
None of the above
See
Question 2. Consider the following statements
Anti-Defection Law was introduced by 52nd Constitution Amendment Act, 1985, by adding 10th Schedule in the Constitution of India.
Anti-Defection Law was never amended again.
Which of the above statement(s) is/are correct?
Only 1
Only 2
Both 1 and 2
None of the above
See
Question 3. The following statements represent which of the following committee?
Its functions are semi-judicial in nature.
It examines the cases of breach of privileges of the House and its members and recommends appropriate actions.
The Lok Sabha Committee had 15 members and the Rajya Sabha Committee has 10 members.
Ethics Committee
Committee of Privileges
Committee on Petition
Rules Committee
See
I. UPSC Mains Practice Questions
During the last 18 years, India has earned goodwill cutting across Afghanistan's geographies and ethnicities. India has supported institution building and shown that its interests coincide with the idea of a stable, secure, independent and peaceful Afghanistan. In this context write a note on the India-Afghanistan relation in the contemporary times with special emphasis on the impact of America's withdrawal from Afghanistan. (15 Marks; 250 words)
CRISPR has made gene editing cheap, easy and accessible. No doubt CRISPR is a revolutionary gene-editing tool, but it's not without risk. Discuss (10 Marks; 150 words)
See previous CNA