TABLE OF CONTENTS
A. 

GS1 Related




B. 

GS2 Related


POLITY AND GOVERNANCE
1. SC to hear petition on Bhopal gas leak payout
2. Job on compassionate grounds not a right: SC


C. 

GS3 Related 


ENVIRONMENT
1. 'India can't handle more big cats'
HEALTH
1. Non-communicable diseases top killers: WHO


D. 

GS4 Related


PROBITY IN GOVERNANCE
1. Process to bring accountability law to start soon in Rajasthan


E. 

Editorials


POLITY AND GOVERNANCE
1. Capable even if disabled  (Disability Rights)
2. Shot in the arm (Insolvency and Bankruptcy Code)
INDIAN ECONOMY
1. Investment over subsidies
2. Think differently about healthcare


F. 

Tidbits


1. Plea challenges 'Hindu prayers' in KVs
2. SC seeks count of detained foreigners
3. GM chickens may lay 'cheaper medicines'
4. Another side of #MeToo: fear of mentoring women
5. 'World's loneliest duck' Trevor dies on tiny Niue
6. New Delhi superbug gene reaches the Arctic
7. 'A.P. Buddhist remains date back to Satavahana period'


G. 

Prelims Facts




H. 

UPSC Prelims Practice Questions




I. 

UPSC Mains practice Questions

 
A. GS1 Related
 There is nothing from here for today!!
B. GS2 Related
Category: POLITY AND GOVERNANCE
1. SC to hear petition on Bhopal gas leak payout
Context
The Supreme Court on Monday decided to examine in April a curative petition by the government for more compensation to the victims of the Bhopal gas tragedy, over and above the $470 million paid by Union Carbide.
Bhopal Gas Tragedy
The tragedy unfolded in Bhopal on the intervening night of December 2 and 3, 1984, when the highly dangerous and toxic gas, Methyl Isocyanate, escaped from the Union Carbide India Limited (UCIL). It resulted in the death of 5,295 humans and injuries to 5,68,292 persons, besides a loss of livestock and property of 5,478 persons.
There was a leakage in the water pipe and as result water entered into methyl iso cyanide(MIC) tank. Also refrigeration system was not working to cool MIC and prevent chemical reaction. Due to this, exothermic reaction took place releasing large amount of heat and the volume of gas increased and a cloud of gases phosgene, carbon monoxide and MIC started coming out.
As it was very spontaneous, it spread rapidly and soon a very dense cloud was formed over the city of Bhopal exposing half a million people.
Curative petition
The concept of Curative petition was evolved by the Supreme Court of India in the matter of Rupa Ashok Hurra vs. Ashok Hurra and Anr (2002) where the question was whether an aggrieved person is entitled to any relief against the final judgement/order of the Supreme Court, after dismissal of a review petition.
The Supreme Court in the said case held that in order to prevent abuse of its process and to cure gross miscarriage of justice, it may reconsider its judgements in exercise of its inherent powers.
For this purpose the Court has devised what has been termed as a "curative" petition. In the Curative petition, the petitioner is required to aver specifically that the grounds mentioned therein had been taken in the review petition filed earlier and that it was dismissed by circulation.
This has to be certified by a senior advocate. The Curative petition is then circulated to the three senior most judges and the judges who delivered the impugned judgement, if available. No time limit is given for filing Curative petition.
2. Job on compassionate grounds not a right: SC
Context
The Supreme Court has reiterated that the policy of compassionate appointment in public service is not a right, but a benefit held out by the state to rescue the family of an employee, who died in harness, from penury.
Background of the case
The court was hearing an appeal filed by Shashi Kumar, whose father, an employee with the horticulture department in Himachal Pradesh, died suddenly.
Kumar applied for compassionate appointment, but the State government wrote back saying that the income certificate does not contain the family pension amount received. The State government argued in the High Court that the information about the family pension was required to calculate the financial status of the family and whether it was in need of compassionate appointment. The High Court ruled in favour of Mr. Kumar, following which, the State moved the Supreme Court.
The Supreme Court set aside the High Court decision, reasoning that the scheme must take into account the welfare measures provided by the government, including the family pension.
Compassionate Appointment
The compassionate appointment is an exception to the general rule that appointment to any public post in the service of the state has to be made on the basis of principles which accord with Articles 14 and 16 of the Constitution.
Dependants of a deceased employee of the state are made eligible by virtue of the policy on compassionate appointment. The basis of the policy is that it recognises that a family of a deceased employee may be placed in a position of financial hardship upon the untimely death of the employee while in service.
It was the "immediacy of the need" which furnishes the basis for the state to allow the benefit of compassionate appointment. Where the authority finds that the financial and other circumstances of the family are such that in the absence of immediate assistance, it would be reduced to being indigent, an application from a dependent member of the family could be considered.
C. GS3 Related
1. 'India can't handle more big cats'
Context
While conservation efforts are aimed at increasing the tiger count in India, global experts and officials in the government suggest that India must also prepare for a new challenge — of reaching the limits of its management capacity.
Officially, India had 2,226 tigers as of 2014. An ongoing census is expected to reveal an update to these numbers. But Rajesh Gopal, head of the Global Tiger Forum, said that India's current capacity to host tigers ranged from 2,500-3,000 tigers. Moreover, said another official, 25-35% of India's tigers now lived outside protected reserves.
With dwindling core forests as well as the shrinking of tiger corridors (strips of land that allow tigers to move unfettered across diverse habitat), officials said there were several challenges — alongside the traditional challenges of poaching and man-animal conflict — to India's success at tiger conservation. Recent attempts at translocating tigers to unpopulated reserves, such as Satkosia in Orissa, have ended badly, with one of the tigers dying.

National Tiger Conservation Authority    
NTCA is a statutory body under the Union Ministry of Environment, Forest and Climate change.
It was provided statutory status by the Wild Life (Protection) Amendment Act, 2006 which had amended Wild Life (Protection) Act, 1972.
It addresses the administrative as well as ecological concerns for conserving tigers, by providing a statutory basis for protection of tiger reserves.
It also provides strengthened institutional mechanisms for the protection of ecologically sensitive areas and endangered species.
It ensures enforcing of guidelines for tiger conservation and monitoring compliance of the same.
It also places motivated and trained officers having good track record as Field Directors of tiger reserves.
Related Concept – Project Tiger
Launched in 1973, it aims at conserving India's national animal i.e. Tiger. Currently there are 50 tiger reserves
The tiger reserves are constituted on a core/buffer strategy. The core areas have the legal status of a national park or a sanctuary, whereas the buffer or peripheral areas are a mix of forest and non-forest land, managed as a multiple use area.
The Project Tiger aims to foster an exclusive tiger agenda in the core areas of tiger reserves, with an inclusive people oriented agenda in the buffer.
It is a Centrally Sponsored Scheme of the Ministry of Environment, Forests and Climate Change providing central assistance to the tiger States for tiger conservation in designated tiger reserves.
The National Tiger Conservation Authority (NTCA) is a statutory body of the Ministry, with an overarching supervisory / coordination role, performing functions as provided in the Wildlife (Protection) Act, 1972.
Wild tigers are found in 18 States in India. The All India tiger estimation is carried out once in every four years.
1. Non-communicable diseases top killers: WHO
Context
Non-communicable diseases (NCDs) — mainly cardiovascular diseases, chronic respiratory diseases, diabetes and cancer — continue to be the top killers in the South-East Asia Region, claiming 8.5 million lives each year, according to the World Health Organisation (WHO).
Highlights of report
Containing the NCDs has been listed by the WHO as its health goal for this year along with reducing mortality related to air pollution and climate change, global influenza pandemic etc.
"One third of these deaths are premature and occur before the age of 70, affecting economically productive individuals. The four 'major' NCDs are caused, to a large extent, by four modifiable behavioural risk factors: tobacco use, unhealthy diet, insufficient physical activity and harmful use of alcohol. The NCDs disproportionately affect the poor, impoverish families, and place a growing burden on health care systems," noted the WHO.
Non-communicable diseases such as diabetes, cancer and heart disease, are collectively responsible for over 70% of all deaths worldwide, or 41 million people. These include 15 million people dying prematurely, aged between 30 and 69.
Solutions
K.K. Aggarwal, former president of the Indian Medical Association, said: "A study conducted world-wide has noted that consuming fibre and whole grains can reduce health risks from non-communicable diseases such as heart disease.
The paper published in The Lancet indicates that eating fibre-rich foods reduces the incidence of coronary heart disease, stroke, type 2 diabetes and colorectal cancer by 16% to 24%. A higher fibre intake is also associated with lower bodyweight, systolic blood pressure and total cholesterol when compared with lower intake.
Doctors then recommend — eat less and enjoy your food by eating slowly, fill half your plate with fruits and vegetables, avoid oversized portions which causes weight gain, at least half of your grains should be whole grains, limit consumption of food high in trans fats.
D. GS4 Related
Category: PROBITY IN GOVERNANCE
1. Process to bring accountability law to start soon in Rajasthan
Context
The process to bring legislation on social accountability, which will ensure better delivery of public goods and services and make officials accountable, will start shortly in Rajasthan after a protracted campaign by civil rights groups. The Congress government in the State will also strengthen the public grievances redressal system.
Details of the issue
The Mazdoor Kisan Shakti Sangthan (MKSS), led by social activist and Magsaysay Award winner Aruna Roy, has proposed a draft Bill to the State government. The Bill has been divided into sections such as transparency in governance, citizens' participation in governance, accountability in delivery of services, decentralisation of the process and establishment of an independent grievance redressal structure.
Gehlot said social audit of the government's functioning would be an important aspect of the new legislation. He called upon the non-government organisations to play a bigger role in making the administration accountable to people, while affirming that empowering the NGOs would bring pressure on the government right from the Pradhans of panchayat samitis to the top officers.
Nikhil Dey of MKSS said the draft Bill's provisions were based on best practices in the country and were an extension of the Right to Information.
Social Audit
Social audit is where information is to be proactively shared amongst people. They can, in turn, "performance audit" a service or programme.
It involves people in planning, implementation and evaluation phases. Sharing information, recording comments and acting on findings are the processes involved.
Social Audit is an independent evaluation of the performance of an organisation as it relates to the attainment of its social goals. It is an instrument of social accountability of an organisation.
Social Audit of administration means understanding the administrative system and its internal dynamics from the angle of what they mean for the vast majority of the people, who are not essentially a part of the State or its machinery or the ruling class of the day, for whom they are meant to work.
Objectives of Social Audit
Accurate identification of requirements
Prioritization of developmental activities as per requirements
Proper utilization of funds
Conformity of the developmental activity with the stated goals
Quality of service
Key areas of Social Audit
Ethics – what the organisation's policies are? whether or not they are being upheld or undermined by the enterprise's day-to-day activities.
Staffing – how the enterprise rewards, trains and develops its staff, as well as the way in which the enterprise ensures that it is non-discriminatory, fair and equitable to everyone working there.
Environment – the enterprise's policies relating to caring for the environment, waste management and disposal, and damage reduction, and whether or not the enterprise is adhering to these policies.
Human rights – how it ensures that it does not violate human rights, or deal, trade with or support any organisation that violates human rights.
Community – the organisation's policies relating to the local community, and community involvement; these policies might, for example, cover community partnerships or community projects, and checks will be made during the social audit to ensure that agreements are being upheld.
Society – the organisation's policies relating to society as a whole, and the way in which the enterprise seeks to improve or benefit society.
Compliance – how the organisation complies with statutory and legal requirements, such as health and safety, employment law, environmental law, criminal law and, of course, financial and tax laws.
E. Editorials
Category: POLITY AND GOVERNANCE
1. Capable even if disabled (Disability Rights)
Editorial Analysis:
A Critical View of the Honourable Supreme Court's recent ruling:
Critics have opined that in India, the Supreme Court's recent ruling, in V. Surendra Mohan v. Union of India, has to be regarded as one of the darkest in India's disability rights movement.

The Court had to rule on the legality of the Tamil Nadu government's policy of reserving the post of civil judge only for people whose percentage of blindness does not exceed 40-50%, resulting in the exclusion of the applicant who was 70% blind.
What did the Court observe?  
The Court held that the government's decision was rational and reasonable.

The Court ruled that a judicial officer has to possess a reasonable amount of sight and hearing to discharge her functions.

Further, the Court accepted the claim that impaired vision makes it impossible to perform the functions required of judicial officers, such as assessing the demeanour of witnesses and reading and analysing evidence. It also accepted that asking a blind judicial officer to perform such administrative functions as recording dying declarations and conducting inquiries can result in avoidable complications.
Discussion Points that this judgement raises:
Firstly, the view that a totally blind person cannot thrive as a judge is belied by several examples of successful judges who are blind.

One is former South African Constitutional Court judge Zak Yacoob, who has repudiated the notion that one needs to be sighted to assess a witness's demeanour as being nonsensical, to U.S. Court of Appeals DC Circuit judge David S. Tatel, who thinks that it is neither fair nor accurate to impose low expectations on what blind lawyers can do.

There is also former San Diego County Court judge David zumowski, who has described the view that a blind person lacks the wherewithal to become a judge as an unfair characterisation, to Yousaf Saleem who, last year, became Pakistan's first blind civil judge.

Second, how, some contend, can a blind person be reasonably expected to thrive as a judge without being excessively dependent and inefficient? However, as the Supreme Court itself noted in 2017,

"A lawyer can be just as effective in a wheelchair, as long as she has access to the courtroom and the legal library, as well as to whatever other places and material or equipment that are necessary for her to do her job well."

Critics have also pointed out that those voicing such a statement of cynicism might find it equally hard to imagine how a blind person can write an article for The Hindu,  or study computer science, as many blind Indians have done or be a successful civil servant, as Beno Zephine N.L. is.

Third, critics assert that it is simply unacceptable to condemn disabled legal professionals, possessing the intellectual wherewithal to be a judge, to the status of outcasts only because the judges delivering the judgment in this case appear simply not to have bothered to notice the competence of the millions of disabled people who inhabit this world.

As Judge Szumowski asks Indian judges, "if you went blind while on the bench, and were able to efficiently discharge your responsibility before this, how would you feel if told that you can no longer continue as a judge, even if you are able to perform your functions with some amount of retraining and adaptive tech?"
Concluding Remarks:
In conclusion, it bears noting that "there is a distinct exhortatory dimension to be recognised in deciding whether an adjustment to assist a disabled person to overcome the disadvantage that she or he has in comparison to an able-bodied person is reasonable."

Lastly, if we are to be truly committed towards ensuring that the constitutional promise of equality is fully realised, we must not lack the ability to pay the price of making reasonable accommodations.
2. Shot in the arm (Insolvency and Bankruptcy Code)
Larger Background:
The 'Insolvency and Bankruptcy Code, 2016' is considered as the biggest economic reform next only to GST. The Lok Sabha had earlier passed the Bill on 5th May, 2016.

In India, the legal and institutional machinery for dealing with debt default has not been in line with global standards. The recovery action by creditors, either through the Contract Act or through special laws such as the Recovery of Debts Due to Banks and Financial Institutions Act, 1993 and the Securitisation and Reconstruction of Financial Assets and Enforcement of Security Interest Act, 2002, has not had desired outcomes. Similarly, action through the Sick Industrial Companies (Special Provisions) Act, 1985 and the winding up provisions of the Companies Act, 1956 have neither been able to aid recovery for lenders nor aid restructuring of firms. Laws dealing with individual insolvency, the Presidential Towns insolvency Act, 1909 and the Provincial Insolvency Act. 1920, are almost a century old. This has hampered the confidence of the lender. When lenders are unconfident, debt access for borrowers is diminished. This reflects in the state of the credit markets in India. Secured credit by banks is the largest component of the credit market in India.

The law aims to consolidate the laws relating to insolvency of companies and limited liability entities (including limited liability partnerships and other entities with limited liability), unlimited liability partnerships and individuals, presently contained in a number of legislations, into a single legislation.
Such consolidation will provide for a greater clarity in law and facilitate the application of consistent and coherent provisions to different stakeholders affected by business failure or inability to pay debt.
The salient features of the law are as follows:
i- Clear, coherent and speedy process for early identification of financial distress and resolution of companies and limited liability entities if the underlying business is found to be viable.
ii- Two distinct processes for resolution of individuals, namely- "Fresh Start" and "Insolvency Resolution".
iii- Debt Recovery Tribunal and National Company Law Tribunal to act as Adjudicating Authority and deal with the cases related to insolvency, liquidation and bankruptcy process in respect of individuals and unlimited partnership firms and in respect of companies and limited liabilities entities respectively.
iv- Establishment of an Insolvency and Bankruptcy Board of India to exercise regulatory oversight over insolvency professionals, insolvency professional agencies and information utilities.
v- Insolvency professionals would handle the commercial aspects of insolvency resolution process. Insolvency professional agencies will develop professional standards, code of ethics and be first level regulator for insolvency professionals members leading to development of a competitive industry for such professionals.
vi- Information utilities would collect, collate, authenticate and disseminate financial information to be used in insolvency, liquidation and bankruptcy proceedings.
vii- Enabling provisions to deal with cross border insolvency.
Editorial Analysis:
The recent Supreme Court's judgment upholding the validity of the Insolvency and Bankruptcy Code 2016 (IBC) in its "entirety" could have a major impact on the country's economic landscape.

Experts have pointed out that the fledgling IBC has been severely tested in the two years since its enactment, with the Centre being forced to amend a couple of its provisions in order to plug some loopholes that enabled defaulting borrowers to challenge the legislation.

Any law of this nature that takes over businesses and assets from defaulters and empowers lenders to change the management is bound to face legal challenges. Borrowers were never going to take the IBC lying down, and that is exactly what happened; over the last two years, they have challenged various aspects of the law in tribunals and courts. In the event, the apex court's stamp of approval on the entire Code is a strong signal to borrowers and banks even as it brings a sense of relief to the Centre, which has been watching one of its better economic initiatives being stifled by vested interests.
Challenges mounted against the IBC:
One of the major challenges mounted against the IBC was by operational creditors, who are owed money by the company in the normal course of operations for supply of goods and services.

In the payment waterfall prescribed under Section 53 of the IBC in the event of liquidation of the company or its sale to another entity, their dues rank below those of financial creditors, workmen and employees.

This was challenged by the operational creditors, who wanted equal treatment with financial creditors in the waterfall mechanism. Several landmark cases that were referred to the National Company Law Tribunal under the IBC remain stuck there, including that of the high-profile Essar Steel, as a result of its operational creditors seeking equal treatment.

With the Supreme Court now ruling that there are "intelligible differentia" between operational and financial creditors, an avenue that defaulters used to stymie proceedings has been closed.

It is important to note that repayment of financial debt by borrowers infuses capital into the economy as lenders can on-lend the money that has been repaid to other entrepreneurs, thus aiding economic activity, the judges observed.

The apex court has also clarified that a mere relationship with an ineligible person cannot disqualify someone from becoming a bidder for a troubled asset. It has to be proved that such a person is "connected" with the business activity of the resolution applicant.
Concluding Remarks:
The court used strong words: "…[T]he experiment conducted in enacting the Code is proving to be largely successful. The defaulter's paradise is lost."

Experts opine that this constitutes a clear signal of its backing for the IBC which, despite all the challenges that it has faced, has been successful in sending a message to recalcitrant defaulters that there can be no more business-as-usual when they default.
Editorial Analysis:
Some experts have opined that we are witnessing something akin to lobbying for a universal basic income whereby every Indian citizen gets money paid into their bank account.

A recent proposal published in the print media is presented also as a solution to the current agrarian impasse. It argues for the removal of all agricultural subsidies, which range from fertilizer subsidies to those on interest, water and power, and distributing the saving among most of the rural population.

To its authors, this scheme presents itself as addressing 'rural' and not just 'farm' distress.

It is important to note that in the effort of evaluating what is being proposed as a way out of the present agrarian crisis, it would be useful to understand what defines it and to recognise the originally intended role for the agricultural subsidy.
Clarifying a few Fundamentals:
At its core, the agrarian crisis is a case of agricultural activity not yielding enough returns for a section of the farming population.

It is important to note that the farming population is a group that is facing a declining farm size due to partitioning across generations.

As this population grows, the process of fragmentation of the family farm will continue, with succeeding generations staring at a shrinking pie.
Certain solutions:
There are two solutions to this problem.

One is the obvious one of enabling some members of each household to shift out of farming. The other is to reconfigure public expenditure on agriculture to raise the yield of land.

Experts believe that it is the latter which would serve both objectives.

A reconfiguration of public policy is needed to replace agricultural subsidies by capital formation or 'investment'.
Concluding Remarks:
It is important to note that for three and a half decades now, subsidies have progressively replaced public investment for agriculture.

As a matter of fact, having once been less than half that of investment it is now five times as large. Evidence points strongly to a case for moving some distance back.

The impact of public investment on both the yield of land and rural poverty, encompassing a cohort wider than farmers, is far greater than that of fertilizer, electricity, irrigation and interest rate subsidy.

This crucial finding is due to the Sino-Indian team of economists Shenggen Fan, Ashok Gulati and Sukhadeo Thorat. In their study, the investments found most valuable were "educational" and on rural roads.

The agricultural subsidies that are now found wasteful were designed with a purpose. The plan was to place agricultural production on a sound footing. It envisioned raising the yield of land, which works to generate rising output without inflation and with reasonable profit.

The price of food has historically been high for Indians at the bottom of the income distribution. This has held back industrialisation and the desirable shifting of population away from farming to other activities.

Lastly, even a total elimination of subsidies to enable this transformation via public investment may not be such a bad thing.

However, eliminating them merely to implement a universal basic income would be unwise
2. Think differently about healthcare
Editorial Analysis:
In India, public health and health services have been synonymous. This integration has dwarfed the growth of a comprehensive public health system, which is critical to overcome some of the systemic challenges in healthcare.

Experts have opined that a stark increase in population growth, along with rising life expectancy, provides the burden of chronic diseases.
Tackling this requires an interdisciplinary approach. An individual-centric approach within healthcare centres does little to promote well-being in the community.

Seat belt laws, regulations around food and drug safety, and policies for tobacco and substance use as well as climate change and clean energy are all intrinsic to health, but they are not necessarily the responsibilities of healthcare services.

Some experts have opined that as most nations realise the vitality of a robust public health system, India lacks a comprehensive model that isn't subservient to healthcare services.
A different curriculum
Some critics have opined that India's public health workforce come from an estimated 51 colleges that offer a graduate programme in public health. This number is lower at the undergraduate level. In stark contrast, 238 universities offer a Master of Public Health (MPH) degree in the U.S.

In addition to the quantitative problem, India also has a diversity problem.

It is important to note that a diverse student population is necessary to create an interdisciplinary workforce.

The 2017 Gorakhpur tragedy in Uttar Pradesh, the 2018 Majerhat bridge collapse in Kolkata, air pollution in Delhi and the Punjab narcotics crisis are all public health tragedies.

In all these cases, the quality of healthcare services is critical to prevent morbidity and mortality. However, a well organised public health system with supporting infrastructure strives to prevent catastrophic events like this.

Public health tracks range from research, global health, health communication, urban planning, health policy, environmental science, behavioural sciences, healthcare management, financing, and behavioural economics.

In the U.S., it is routine for public health graduates to come from engineering, social work, medicine, finance, law, architecture, and anthropology. This diversity is further enhanced by a curriculum that enables graduates to become key stakeholders in the health system. Hence, strong academic programmes are critical to harness the potential that students from various disciplines will prospectively bring to MPH training.

Investments in health and social services tend to take precedence over public health expenditure. While benefits from population-level investments are usually long term but sustained, they tend to accrue much later than the tenure of most politicians. This is often cited to be a reason for reluctance in investing in public health as opposed to other health and social services.

This is not only specific to India; most national health systems struggle with this conundrum. A recent systematic review on Return on Investment (ROI) in public health looked at health promotion, legislation, social determinants, and health protection.

They opine that a $1 investment in the taxation of sugary beverages can yield returns of $55 in the long term. Another study showed a $9 ROI for every dollar spent on early childhood health, while tobacco prevention programmes yield a 1,900% ROI for every dollar spent.

The impact of saving valuable revenue through prevention is indispensable for growing economies like India.
Problem of health literacy
Legislation is often shaped by public perception. While it is ideal for legislation to be informed by research, it is rarely the case. It is health literacy through health communication that shapes this perception. Health communication, an integral arm of public health, aims to disseminate critical information to improve the health literacy of the population.

The World Health Organisation calls for efforts to improve health literacy, which is an independent determinant of better health outcome.

It is important to note that data from the U.S. show that close to half of Americans lack the necessary knowledge to act on health information and one-third of Europeans have problems with health literacy.

Further, India certainly has a serious problem with health literacy and it is the responsibility of public health professionals to close this gap.

Equally important is a system of evaluating national programmes. While some fail due to the internal validity of the intervention itself, many fail from improper implementation. Programme planning, implementation and evaluation matrices will distinguish formative and outcome evaluation, so valuable time and money can be saved.

The public health system looks at the social ecology and determinants focusing on optimising wellness.

Healthcare services, on the other hand, primarily focus on preventing morbidity and mortality.

Experts believe that a comprehensive healthcare system will seamlessly bridge the two.
A council for public health:
A central body along the lines of a council for public health may be envisaged to synergistically work with agencies such as the public works department, the narcotics bureau, water management, food safety, sanitation, urban and rural planning, housing and infrastructure to promote population-level health.

In many ways, these agencies serve to bring in many facets of existing State and federal agencies and force them to see through the lens of public health.
Concluding Remarks:
The proposed council for public health should also work closely with academic institutions to develop curriculum and provide license and accreditation to schools to promote interdisciplinary curriculum in public health.

As international health systems are combating rising healthcare costs, there is an impending need to systematically make healthcare inclusive to all.

While the proposed, comprehensive insurance programme Ayushman Bharat caters to a subset of the population, systemic reforms in public health will shift the entire population to better health.

Regulatory challenges force governments to deploy cost-effective solutions while ethical challenges to create equitable services concerns all of India.

With the infusion of technology driving costs on the secondary and tertiary end, it is going to be paramount for India to reinvigorate its public health system to maximise prevention. India's public health system can no longer function within the shadow of its health services.
F. Tidbits
1. Plea challenges 'Hindu prayers' in KVs
The Supreme Court on Monday referred to a Constitution Bench a plea questioning a revised education code followed by the Central government-run, 1,125-strong Kendriya Vidyalaya schools, which compels students to recite Sanskrit and Hindi verses with folded palms and closed eyes during morning assemblies or face public humiliation in front of the entire school.
Details of the issue
A Bench led by Justice Rohinton Nariman found that the petition raises an important issue where a secular state, which is supposed to have no religion, is compelling students drawn from diverse faiths, beliefs, minority communities and many who may be coming from agnostic, sceptisist and rationalist family backgrounds, to recite a prayer which is "based on Hindu religion", under threat of punishment.
The Supreme Court had issued notice to the Centre on the petition filed by Veenayak Shah, who is represented by advocates Satya Mitra and Pallavi Sharma, in January last year.
The petition said the revised education code of the Kendriya Vidyalayas violates Articles 19 (right to freedom of speech and expression) and Article 28(1), which prohibits the state from providing any religious instruction in an educational institution run on public funds. The petition said the common prayer amounted to "religious instruction".
Kendriya Vidyalayas function under the aegis of the Ministry Of Human Resource Development. The Union Minister is the Chairman. The schools, which have been in existence for over 50 years, constitute one of world's largest chain of educational institutions spread over regions with diverse languages, culture and traditions.
The petition pointed to Article 92 of the revised code, which mandates that "all students irrespective of their faith and belief, have to compulsorily attend the morning assembly and recite the prayer. All the teachers share the collective responsibility of supervising the assembly and making sure that every student folds his/her hands, closes his/her eyes and recites the prayer without fail. Any student failing to do so is punished and humiliated in front of the entire school".
The petition said it is constitutionally impermissible to impose the prayer on students of other faiths and beliefs. Besides, the practice is an obstacle to fostering a scientific temperament among the students as the "whole idea of God and religious faith is given immense priority and the same is instilled as a thought process among the students".
2. SC seeks count of detained foreigners
The Supreme Court on Monday directed the Centre to provide it details of the number of foreigners lodged in detention centres in Assam. A Bench led by Chief Justice of India Ranjan Gogoi sought the number of functioning detention centres, the status of pending cases against the detainees before the Foreigners' Tribunal, the period of their detention and so on.
Details of the issue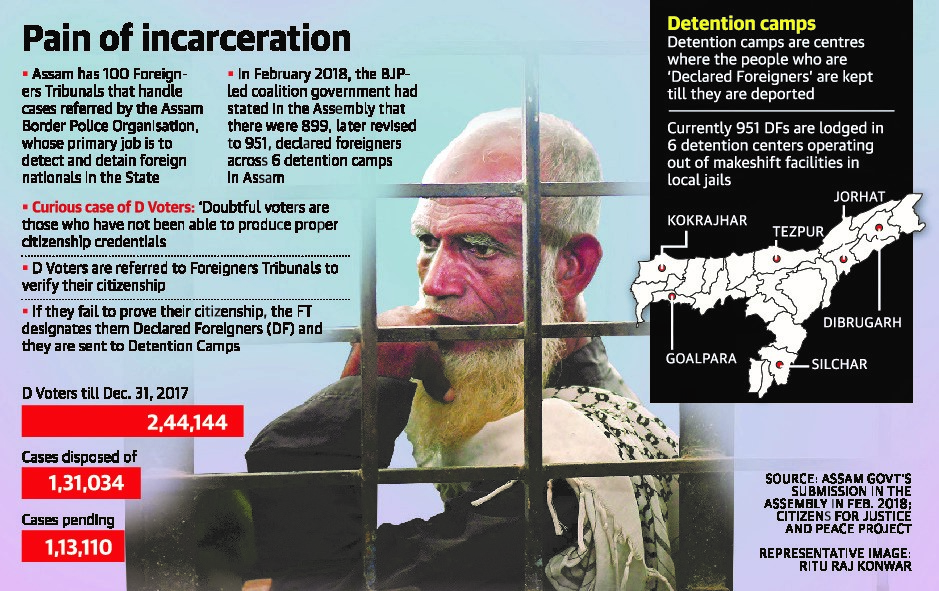 The Bench, which included Justice Sanjiv Khanna, asked Solicitor-General Tushar Mehta to provide details of the number of persons who were declared foreigners and deported till date. It sought year-wise details of foreigners who had illegally entered India in the past decade.
The information has to be provided by February 19, the next date of hearing in the court. On November 5 last year, the government informed the court about the framing of new guidelines for keeping foreign nationals in detention centres across the country. Mr. Mehta had then submitted that tenders were invited by the Assam government for the setting up of a new detention centre in Goalpara and the work was expected to be completed using pre-fab technology by August 31, 2019.
In September, the court admitted the petition filed by Harsh Mander, who, speaking through his lawyer Prashant Bhushan, compared the situation of families languishing in detention centres with the family separation policy imposed on illegal immigrants in the U.S. by the Trump administration.
The Bench had then sought responses from the Centre and the Assam government on the plight of families which languish in the State's six detention centres as "declared foreigners," separated from each other and their children.
3. GM chickens may lay 'cheaper medicines'
Genetically modified chickens that produce human proteins in their eggs can offer a cost-effective method of manufacturing drugs widely used for treating cancer and other diseases, a study has found.
The research, which initially focused on producing high quality proteins for use in scientific research, found the drugs work at least as well as the same proteins produced using existing methods.
According to researchers from the University of Edinburgh in the U.K., high quantities of the proteins can be recovered from each egg using a simple purification system and there are no adverse effects on the chickens themselves, which lay eggs as normal.
The findings, published in the journal BMC Biotechnology, provide sound evidence for using chickens as a cheap method of producing high quality drugs for use in research studies and, potentially one day, in patients.
This new approach is different because the therapeutic proteins are encoded in the chicken's DNA and produced as part of the egg white.
4. Another side of #MeToo: fear of mentoring women
Men attending the annual meeting of the World Economic Forum in Davos, Switzerland, this year were worried about a lot of things. A global economic slowdown. Threats to cybersecurity. Populism. War. And, several acknowledged at the meeting this past week, mentoring women in the #MeToo era.
"I now think twice about spending one-on-one time with a young female colleague," said one American finance executive, speaking on the condition of anonymity because the issue is "just too sensitive."
In one unintended consequence of the #MeToo movement, executives and analysts say, companies seeking to minimise the risk of sexual harassment or misconduct appear to be simply minimising contact between female employees and senior male executives, effectively depriving the women of valuable mentorship and exposure.
Last February, two online surveys by Lean In and SurveyMonkey on the effects of #MeToo in the workplace found that almost half of male managers were uncomfortable engaging in one or more common work activities with women, such as working one on one or socialising.
One in six male managers was uncomfortable mentoring a female colleague, according to the studies, which together surveyed nearly 9,000 adults employed in the U.S.
Pat Milligan, who leads research on female leadership at consulting firm Mercer and advises multinational companies on gender and diversity issues, said many of her clients had voiced concerns over saying or doing "the wrong thing" since #MeToo drew broad international attention.
5. 'World's loneliest duck' Trevor dies on tiny Niue
A lone duck named Trevor that lived on the tiny Pacific island nation of Niue has died, officials say, sparking an outpouring of grief from as far away as New Zealand.
Niue, a tiny speck of land, lies around 2,400 km northeast of New Zealand.
One of the world's biggest coral islands, Niue does not have natural ponds or wetlands, so when Trevor turned up a year ago he was believed to have blown in from New Zealand with a storm. He quickly settled down in a large puddle near a road that the Niue fire service later topped up with water.
He became so famous locally that when the New Zealand Herald's deputy political editor Claire Trevett visited the island nation, she found he had been incorporated into street directions. "Someone said, 'Turn right past the duck' and then the whole story came out, the only duck on Niue," she said. He was later dubbed the "world's loneliest duck" for his solitary existence.
Trevor Mallard, the speaker of New Zealand's House of Representatives after whom the late duck was named, offered his condolences. "Deepest sympathy to the people of Niue from the Parliament of New Zealand," Mr. Mallard wrote on the duck's Facebook page.
6. New Delhi superbug gene reaches the Arctic
In a significant find in the global spread of multi-drug resistant (MDR) bacteria, scientists have found a "superbug" gene — first detected in over a decade back — in one of the last "pristine" places on Earth that is some 12,870 km away.
Soil samples taken in Svalbard — a Norwegian archipelago between mainland Norway and the North Pole — have now confirmed the spread of blaNDM-1 (called New Delhi Metallo-beta-lactamase-1) into the High Arctic.
Carried in the gut of animals and people, the new research said that blaNDM-1 and other ARGs were found in Arctic soils that were likely spread through the faecal matter of birds, other wildlife and human visitors to the area.
7. 'A.P. Buddhist remains date back to Satavahana period'
The Department of Archaeology and Museums has found Buddhist remains under the 'garbhagriha' (sanctum sanctorum) of Sivalayam at Kondaveedu fort. The remains date back to later Satavahana period — 1st to 2nd century A.D.
The department has taken up conservation and restoration of two temples — Sivalayam and Lakshmi Narasimha Swamy temple — in the fort recently.
The department officials found the remains during the process of dismantling the temple for reconstruction. A petal design on railing piece, stupa, pillar etc were unearthed from the site.
Department of Archaeology and Museums Commissioner G. Vani Mohan says the discovery of the 'Buddhist remains' push back the hoary past of the historic Kondaveedu fort to the Satavahana period.
Now the history of Kondaveedu fort has to be rewritten as it goes back to the Satavahana period. The study and conservation of the 'Buddhist remains' are under way. Much more interesting facts would come to light when the exercise was done.
One small fragment of Brahmi Inscription was found in the stupa remains. Based on this inscriptional evidence, it emphasises that Buddhism existed on Kondaveedu fort from Satavahana period. It has eight letters i.e.. 'gha ra kha tha sa a thae vaa.'
G. Prelims Facts
 There is nothing from here for today!!
H. UPSC Prelims Practice Questions
Question 1. Consider the following Assertion (A) and Reason (R) provided for it 

Assertion (A): Satellite used to operate satellite phones are generally found in low earth orbit
Reason (R): Satellites in the low earth orbit are stationary with respect to any point on earth and thus simplify the operation of antenna.
Which of the following is correct relation between Assertion and Reason?
Both A and R are true and R is the correct explanation of A
Both A and R are true and R is not correct explanation of A
A is true but R is false
A is false but R is true
See
Question 2. India had launched Cartosat-2 series of satellites for earth observation purposes. In which of
 the following orbits were the satellites placed?
Low Earth Orbit
Middle Earth Orbit
Geo- Synchronous Orbit
Geo- Stationary Orbit
See
Question 3. Consider the following statements regarding communication satellite orbit:
Communication satellite is always put in geo- stationary orbit
Geo- stationary orbit relieves the need of constant movement of antenna along with the movement of satellite
Choose the correct answer from the codes given below:
Only 1
Only 2
Both 1 and 2
None of the above
See
I. UPSC Mains Practice Questions
Government is not only the biggest litigator but also the greatest threat to the abuse of power. Judicial review as a concept is supposed to control the government and keep it in check. Discuss the statement in the context of India. (12.5 Marks; 200 words)
In trade wars, the objective is not to settle a dispute; it is to win the battle. The WTO dispute settlement mechanism is not a world trade court. The process remains political and diplomatic. Examine the statement (12.5 Marks; 200 words)
See previous CNA