TABLE OF CONTENTS
A. 

GS1 Related




B. 

GS2 Related


POLITY AND GOVERNANCE
1. Why no experts on RTI panels, asks SC
2. Decision put off on Institutes of Eminence
INTERNATIONAL RELATIONS
1. U.S. imposes sanctions on Venezuelan oil firm


C. 

GS3 Related 


ENVIRONMENT
1. 139 polluted cities not on clean air plan: report
2. 'Sterlite plant has polluted groundwater, Uppar river'
SCIENCE AND TECHNOLOGY
1. Rajasthan Zika strain is endemic to Asia, says new study


D. 

GS4 Related 




E. 

Editorials


INDIAN HISTORY (MODERN INDIAN HISTORY)
1. Gandhi and the Socratic art of dying
INDIAN ECONOMY
1. Think universal basic capital
2. Angel tax quagmire


F. 

Tidbits


1. Unfunded liabilities


G. 

Prelims Facts


1. Success for golden langur breeding project in Assam


H. 

UPSC Prelims Practice Questions




I. 

UPSC Mains practice Questions



A. GS1 Related
  There is nothing from here for today!!
B. GS2 Related
Category: POLITY AND GOVERNANCE
1. Why no experts on RTI panels, asks SC
Context
The Supreme Court had asked why Right to Information bodies, especially the apex forum of Central Information Commission (CIC), were almost completely manned by bureaucrats.
Justice A.K. Sikri, who led a Bench comprising Justice S. Abdul Nazeer, pointed out that the Right to Information Act of 2005 mandates that people with a range of experience and from various fields should serve as information commissioners.
Justice Sikri pointed out that out of 280 applications received for the post of information commissioners at the CIC recently, 14 were shortlisted, and they were almost all bureaucrats.
Central Information Commission (CIC)
CIC was established in 2005 by Central Government under provisions of Right to Information (RTI) Act (2005).
The Chief Information Commissioner heads the Central Information Commission.
The general superintendence, direction and management of affairs of Commission are vested in Chief Information Commissioner who is assisted by Information Commissioners.
CIC hears appeals from information-seekers who have not been satisfied by the public authority, and also addresses major issues concerning the RTI Act.
CIC submits annual report to Union government on the implementation of the provisions of RTI Act.
The central government inturn places this report before each house of Parliament.
The Chief Information Commissioner and Information Commissioners are appointed by the President on the recommendation of a committee consisting of – The Prime Minister, who shall be the Chairperson of the committee; the Leader of Opposition in the Lok Sabha; a Union Cabinet Minister to be nominated by the Prime Minister.
Functions and Powers of CIC
It can order inquiry into any matter if there are reasonable grounds.
It can secure compliance of its decisions from the public authority.
It can recommend steps to be taken for promoting such conformity, if public authority does not conform to provisions of RTI Act.
It receives and inquires into a complaint from
It examines any record which is under control of the public authority and which may be withheld from it on any grounds during the enquiry. While inquiring, it has powers of civil court
2. Decision put off on Institutes of Eminence
Context
The University Grants Commission has deferred a decision on which institutions should be granted the prestigious Institutes of Eminence tag as an expert committee has recommended more names than the government scheme allowed for.
The expert committee recommended 30 names, 15 in each category. But the government scheme said to select ten in each category [of public and private institutions]
It is not just a question of naming institutions, but there is also a ₹1,000 crore grant [for the public institutions]. So UGC decided to refer back to the government, whether they want to expand the scheme
Background
The empowered expert committee headed by former Chief Election Commissioner N. Gopalaswami had initially recommended 11 institutions for the tag in July 2018.
Of those, the Centre had actually bestowed the tag on six institutions, three public — IIT Delhi, IIT Bombay and IISc Bangalore – and three private — BITS Pilani, Manipal University, and the yet-to-open Jio University.
In December, the committee recommended 19 more names, taking the total list to 30.
Institutes of Eminence Scheme
The institutes of eminence scheme under the Union Human Resource Development (HRD) ministry aims to project Indian institutes to global recognition
The 20 selected institutes will enjoy complete academic and administrative autonomy.
The government will run 10 of these and they will receive special funding.
Only higher education institutions currently placed in the top 500 of global rankings or top 50 of the National Institutional Ranking Framework (NIRF) are eligible to apply for the eminence tag.
The private Institutions of Eminence can also come up as greenfield ventures provided the sponsoring organisation submits a convincing perspective plan for 15 years.
The scheme is aimed at developing world-class institutions which would put India on the global education map.
Institutions were offered greater autonomy and freedom to decide fees, course durations and structures.
The 10 selected public institutions would also receive a grant of ₹1000 crore, while the 10 private institutions would not receive any financial assistance.
Category: INTERNATIONAL RELATIONS
1. U.S. imposes sanctions on Venezuelan oil firm
Context
The Donald Trump administration had imposed sweeping sanctions on Venezuelan state-owned oil firm PDVSA, aimed at severely curbing the OPEC member's crude exports to the U.S. and at pressuring socialist President Nicolás Maduro to step down.
Russia, a close ally of Venezuela, denounced the move as illegal interference in Venezuela's affairs and said the curbs meant Venezuela would probably have problems servicing its $3.15 billion sovereign debt to Moscow.
Background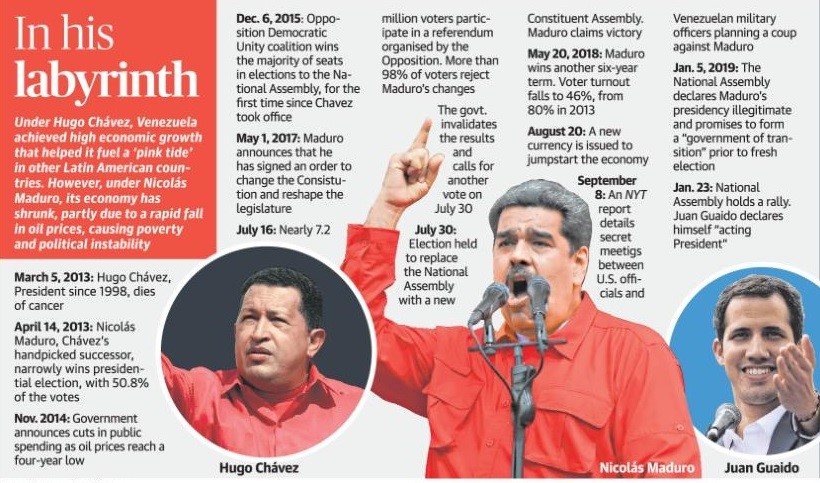 What's happening in Venezuela now?
Venezuela has for several years faced a devastating economic collapse that has created a humanitarian crisis and caused millions to flee the country. Maduro, a socialist dictator, has overseen much of that collapse. He was reelected last May, but many citizens and international observers claim the process was rigged and that his presidency is a sham.
Juan Guaidó claims that Maduro's rule is thus illegitimate. He says that according to the country's constitution, he, as the head of the National Assembly (the country's legislative body), is now the rightful, albeit temporary, president of the country — not Maduro. He doesn't plan to hold on to the presidency indefinitely, he says, and will call for new elections in the future.
President Donald Trump, along with a number of other world leaders, has now officially recognized Guaidó as the country's legitimate ruler — and Maduro has retaliated by severing diplomatic ties with the US. Experts caution that the situation could escalate into a dangerous political showdown.
The Socialist government responded by warning that the top military leadership would come out "in support of the constitutional President", Defence Minister Vladimir Padrino Lopez said. He added the military would show "backing for the sovereignty" of Venezuela.
C. GS3 Related
1. 139 polluted cities not on clean air plan: report
There are 139 Indian cities that breach air pollution standards but are not included in the Centre's National Clean Air Programme (NCAP), says a report by Greenpeace.
The NCAP was launched by the government earlier this month and is a ₹300 crore initiative to reduce particulate matter (PM) pollution by 20-30% in at least 102 cities by 2024.
Highlights of the Report
Airpocalypse III, as the Greenpeace report is titled, analyses air pollution data of 313 cities and towns for the year 2017.
Of these 313 cities, 241 (77%) had PM10 levels beyond the National Ambient Air Quality Standards (NAAQS). These specify upper limits to a range of airborne chemicals and compounds.
While 102 of these cities were included in the NCAP, the remaining 139 cities were left out. That's because the government's list of 102 cities relied on average pollution data until 2015, whereas Airpocalypse III used data updated up to 2017.
Even if the NCAP were to able to reduce pollution by 30% by 2024, 153 cities would still be left with pollution levels exceeding the NAAQS.
Of the 139 cities that have not been included in the non-attainment list under the NCAP, there are several cities that have a population of more than 1 million, and PM levels (recorded in 2017) above NAAQS.
These include: Ranchi, Dhanbad (Jharkhand); Jabalpur (Madhya Pradesh); Chennai, Madurai (Tamil Nadu); Meerut (Uttar Pradesh); Pimpri-Chindwar, Thane, (Maharashtra); Surat, Rajkot, Vadodara (Gujarat); and Howrah (West Bengal).
National Clean Air Programme (NCAP)
The Centre has launched the programme to reduce particulate matter (PM) pollution by 20-30% in at least 102 cities by 2024.
It is envisaged as a scheme to provide the States and the Centre with a framework to combat air pollution.
The objectives of the initiative
Overcome the deficits of the ongoing government initiatives targeted towards air pollution control
Expand existing air quality monitoring network by – increasing number of existing manual and continuous monitoring stations and introducing rural monitoring stations, identifying alternative technology for real-time monitoring network and
Strengthening the capabilities of existing monitoring stations to measure Particulate matter (PM) 2.5 concentration.
Devise air quality management plans for the cities calls for detailed source apportionment (identification of pollution sources) studies for each city
Constitute a high-level apex committee and working group under the Indian Council of Medical Research and the MoEF&CC;
Set up an Air Information Centre that would analyse and disseminate monitored data; a technology assessment cell for evaluation of new pollution prevention and control technologies; and an Air Quality Forecasting system.
2. 'Sterlite plant has polluted groundwater, Uppar river'
Context
Pollutants have wormed their way from the Thoothukudi Sterlite copper plant into the ground water and the nearby Uppar river, the Tamil Nadu Pollution Control Board (TNPCB) told the Supreme Court.
The court is hearing the appeal filed by the Tamil Nadu government that the NGT failed to consider the entire gamut of data, documents and evidence before directing the Board to pass fresh orders of renewal of consent and issue authorisation to Vedanta to handle hazardous substances.
The State argued that the tribunal went outside the four walls of the statute governing its functions to appoint the Justice Aggarwala Committee to prepare a report in the case. It said the NGT was not a constitutional court liked the Supreme Court to employ unbridled powers to constitute a committee like that.
Arguments of the TNPCB
It was a "scientific certainty" that the plant was the cause of contamination with pollutants entering the stream and impeding the flow of the river.
The ground water contains total dissolved solids (TDS) more than 20 to 40 times the permissible limit.
The National Green Tribunal, by setting up a committee led by former High Court Chief Justice Tarun Aggarwala to examine the Vedanta appeals, ended up delegating its adjudicatory powers. "Adjudicatory powers cannot be delegated". The onus was on Vedanta to prove that the plant was not the source of pollution.
The case flouts long-embedded environmental norms and principles like that of sustainable development, inter-generational equity, precautionary principle and the polluter pays principle.
Sterlite Copper
Sterlite Copper is a copper smelting unit and is a subsidiary of the London-based Vedanta Group. Sterlite produces non-ferrous metals like copper, aluminium and zinc, along with chemicals such as sulphuric acid and phosporic acid.
The plant in Thoothukudi is one of two copper plants in the country, the other one being in Silvassa, Daman & Diu.
The copper unit in Tuticorin has the capacity to produce 400,000 tonnes of copper cathode a year.
The company plans to double its production, increasing it up to 800,000 tonnes of copper cathode per year.
Why are the residents protesting against the copper production unit?
Residents have been protesting for the immediate closure of the unit since February of last year. They allege that the pollution generated by the unit has contaminated the water bodies in the region, claiming that they are facing severe health problems.
Environmental activists have also expressed concern since copper smelting leads to various kinds of pollution and they must be located far away from the residential areas.
Sterlite Copper's response to the protest
Responding to the allegations against it, the company said that the plant has received necessary permits and has not violated any norms.
The company had offered to open its gates for people to see for themselves than believe rumours and half-truths.
However, the offer was turned down by activists insisting that it was not what happened inside the factory, but the environmental damage caused by it.
Category: SCIENCE AND TECHNOLOGY
1. Rajasthan Zika strain is endemic to Asia, says new study
Context
National Institute of Virology paper contradicts Health Ministry release that suggested Brazilian like strain had entered India
The Zika virus that infected 159 people in an outbreak in Rajasthan last year, could have been circulating in India for several years and is endemic to Asia, according to a new study published in the journal Infection, Genetics and Evolution.
The study, led by authors from Pune's National Institute of Virology (NIV), an institute under the Indian Council of Medical Research (ICMR), is the first to sequence full Zika virus genomes from India.
Zika Virus
Zika virus is the virus that causes the infection known as zika fever or zika virus disease.
The virus is a member of the Flaviviridae virus family and the genus Flavivirus.
It was named 'zika' because the virus was isolated for the first time in the Zika Forest which is in Uganda.
The zika virus is related to the yellow fever, dengue, West Nile and the Japanese encephalitis viruses.
The zika virus, because it is a Flavivirus, is icosahedral and enveloped. It has a single-stranded and non-segmented, positive-sense RNA genome. It belongs to the Spondweni sero group.
D. GS4 Related
  There is nothing from here for today!!
E. Editorials
Category: INDIAN HISTORY (MODERN INDIAN HISTORY)
1. Gandhi and the Socratic art of dying
Larger Background:
It was on 30 January 1948 Mahatma succumbed to the bullets while he was on his way to the daily prayers. Though he left us physically, his teachings, numerous experiments in his personal life, politics and philosophy is fresh among the minds of  people in India and other countries of the world.
Why is he remembered in every nook and corners of the world? What aspects of his philosophy are attractive enough to lure youngsters into Gandhian fold? His life has become a model for those who are keen to practice the non violence at various levels among individuals and governments.
The first thing that one remembers Mahatma Gandhi is that of a thin bespectacled man clad  with one piece of cloth walking confidently with his stick or sitting quietly in front of Charkha spinning. This simplicity is the signature of his living and teachings.
The most important aspect of his life is that there was no difference between what he taught and what he practiced. Therefore he said "be the change you want to see in the world", which literally means that instead of dreaming or speaking about the change, it must begin from the individual.
One of the foundations of his thought was non violence. It was not just at the philosophical and mental level, but to be put into practice at personal and community levels in everyday life. It was not just a hollow principle to be followed by fellow human beings, but it meant to respect other creatures in nature like insects and animals.
Though he is remembered as a great leader to put the tools of non violent into use as a political strategy to win independence from the British rule, he felt that this needs to be part of common man's life to end exploitation among the family and in the society.
Gandhi was the first modern pacifist, and he coined the word Pacifism, which means non violent opposition to war, militarism and violence. This is also known as 'Satyagraha", one of the main tools that led to winning the independence from colonial rule.
To achieve this he asked for practice forgiveness instead of spreading hate. He said that "forgiveness is the attribute of the strong and those who are weak can never forgive". Therefore he respected even his enemies, and appealed to the goodwill present among the enemies and gradually was able to win them with his persuasion. That is the reason for many British people were supporting Gandhi despite British Raj being the staunch enemy.
There was no hatred in his mind against his detractors or those who criticised his ideas and acts. For him taking revenge is like spreading the poison, to practice an eye for eye would make the whole world blind.
His life was an experiment with truth and non violence in which he was constantly learning form situations and people. His quote is "live as if you die tomorrow and learn as if you were to live forever".  He learnt from his mistakes, improving on his strategies and making his ideas more effective.
It is a phenomenal feat that he wrote 55000 pages, which is produced in 100 volumes of collected works by the government of India. We need to remember that he wrote this by hand, when there were no computers.
In remembering Gandhi the present government is trying to put his ideas into practice. The launching of the cleanliness campaign under the banner of Swach Bharat Ahiyaan(SBA)is inspired by his idea.
Thus, Gandhi is alive through his ideas both at national and international levels.
At national level the launching of non violent Chipko – Appiko Movement to protect the forest resources was inspired by Gandhi's ideas and led by Sarvodaya leaders like Padma Vibhushan Shri Sunderlal Bahuguna.
At international level Nelson Mandela followed Gandhi's philosophy to end the apartheid rule in South Africa. Similarly, Martin Luther King Jr in USA and many other practiced non violence are carrying forward their struggles for justice.
It will be appropriate to recall his words on the death anniversary" So long as my faith burns bright, as I hope it will , even if I stand alone, I shall be alive in the grave and what is more speaking form it".
Editorial Analysis:
Today is the 71st anniversary of Gandhi's death. His assassination was a great shock. But, strangely, his death unified those in India who had lost faith in non-violent co-existence. As Nehru said, "the urgent need of the hour is for all of us to function as closely and co-operatively as possible."
As a matter of fact, Gandhi's death taught everyone about the worth of civic friendship and social solidarity. Gandhi himself was well aware of this, long before his return to India and his rise as the non-violent leader of the Indian independence movement. For example, in a letter to his nephew on January 29, 1909, he wrote, "I may have to meet death in South Africa at the hands of my countrymen… If that happens you should rejoice. It will unite the Hindus and Mussalmans… The enemies of the community are constantly making efforts against such a unity. In such a great endeavour, someone will have to sacrifice his life."
It is interesting, how Gandhi, all through his life, talked about his death with a great deal of openness and with no sanctimony. It is as if for him the fundamental philosophical question — 'should I live or die; to be or not to be'? — had already found its answer in the idea of self-sacrifice.
An intertwining
In the Gandhian philosophy of resistance, we can find the intertwining of non-violence and exemplary suffering. Perhaps, self-sacrifice is the closest we come to ethical dying, in the sense that it is a principled leave-taking from life; an abandonment of one's petty preoccupations in order to see things more clearly. As such, there is a process of learning in the Gandhian act of self-suffering.
For Socrates, to philosophise was to learn how to die. In the same way, for Gandhi, the practice of non-violence began with an act of self-sacrifice and the courage of dying for truth.
Socrates inspired Gandhi on the importance of self-sacrifice and the art of dying at a time when the latter was developing his idea of satyagraha in South Africa. Gandhi referred to Socrates as a "Soldier of Truth" (satyavir) who had the willingness to fight unto death for his cause. His portrayal of Socrates as a satyagrahi and a moral hero went hand in hand with the affirmation of the courage and audacity of a non-violent warrior in the face of life-threatening danger. Consequently, for Gandhi, there was a close link between the use of non-violence and the art of dying, in the same manner that cowardice was sharply related to the practice of violence.
Socratic aspects
Gandhi remained a Socratic dissenter all his life. Though not a philosopher, Gandhi admired moral and political philosophers, who, as a manner of Socrates, were ready to struggle for the truth. Like Socrates, Gandhi was neither a mystic nor a hermit.
He was a practitioner of dissident citizenship.
Gandhi considered Socrates' civic action as a source of virtue and moral strength. He affirmed: "We pray to God, and want our readers also to pray, that they, and we too, may have the moral strength which enabled Socrates to follow virtue to the end and to embrace death as if it were his beloved. We advise everyone to turn his mind again and again to Socrates' words and conduct."
Gandhi's approach to death exemplified another Socratic aspect: courage. Gandhi believed that when fighting injustice, the actor must not only have the courage of his/her opinions but also be ready to give his/her life for the cause. As George Woodcock says, "the idea of perishing for a cause, for other men, for a village even, occurs more frequently in Gandhi's writings as time goes on. He had always held that satyagraha implied the willingness to accept not only suffering but also death for the sake of a principle."
Gandhi's dedication to justice in the face of death was an example of his courageous attitude of mind as a Socratic gadfly. Further, one can find in Gandhi a readiness to raise the matter of dying as public policy. This is a state of mind which we can find as the background motto of Gandhi's political and intellectual life. Indeed, for Gandhi, the art of dying was very often a public act and an act of publicising one's will to be free.
There is something revealing in the parallel that Gandhi established between the struggle for freedom and the art of dying.
In a speech at a meeting of the Congress in Bombay in August 1942, he invited his fellow freedom fighters to follow a new mantra: "Here is a mantra, a short one, that I give to you. You may imprint it on your hearts and let every breath of yours give expression to it. The mantra is 'Do or Die.' We shall either free India or die in the attempt; we shall not live to see the perpetuation of our slavery… He who loses his life will gain it, he who will seek to save it shall lose it. Freedom is not for the coward or the faint-hearted."
Concluding Remarks:
Note here both the conviction in Gandhi that no other decision but dying was possible if the declaration of freedom was unachieved. Unsurprisingly, straightforward and honest. Which brings us back to January 30, 1948 when Mahatma Gandhi fell to the bullets of Nathuram Godse. One can understand this event as a variety of the Sophoclean saying: "Call no man happy until he is dead." Like it or not, it seems that for Gandhi, to be human was to have the capacity, at each and every moment, to confront death as fulfillment of a Socratic life.
1. Think universal basic capital
Editorial Analysis:
Experts have opined that India's GDP is growing quite well, though there are disputes about whether it grew faster under the present or previous governments.

There can be no dispute though that India needs to do much better to improve overall human development, in which it continues to be compared with countries in Sub-Saharan Africa.

Even its poorer sub-continental neighbours are improving health and education faster. Benefits of India's economic growth must trickle down much faster to people at the bottom of the pyramid: to poorer farmers, landless rural labour, and hundreds of millions of workers living on the edge in low-paying, 'flexible' forms of employment with no social security.

Economists seem to be offering three solutions to the economy's structural problems. One, that there is no problem. Two, more privatisation. And, three, a universal basic income (UBI) to be provided by the state.
More ground to be covered
Many economists are juggling with statistics to prove that the Indian economy is doing quite well. It is providing enough jobs, they say. And, statistically, poverty has reduced a lot. However, even these economists admit that a lot more must be done to improve education and health care, and to address the persistent informality and small scale of enterprises that are providing most of the employment in the country.

An ideological solution, accompanied with evidence that the government is unable to provide them, is more privatisation of public services.

As U.S. President Ronald Reagan said, government is not the solution, it is the problem. However, the private sector is structurally not designed to provide affordable public services equitably.

It is important to note that Milton Friedman, who too is often cited, said, the business of business must be only business. Businesses must be run with a profit motive. They cannot take on the burden of subsidising citizens who cannot pay for their services.
Disruption and basic income
Structural forces within the global economy have been driving down wages and creating insecure employment while increasing the mobility of capital and increasing incomes from ownership of capital.

Thomas Piketty and Oxfam have also drawn attention to increasing economic inequalities around the world. 'Industry 4.0', which has not yet spread too far, is expected to worsen these problems.

An economic consequence of declining growth of wage incomes will be reduction of consumption. Which will create problems for owners of capital and automated Industry 4.0 production systems. For, who will buy all the material and services that these systems will produce?

Therefore, some experts have opined that the UBI has appeared as a silver bullet solution. It will be an income provided to everybody by the very state that the capitalists say should get out of their way, and to whom they are unwilling to pay more taxes.

The beauty of a 'universal' basic income, its proponents say, is that it avoids messy political questions about who deserves assistance. It also side-steps the challenge of actually providing the services required: education, health, food, etc. Just give the people cash: let them buy what they need.

However, if the cash will not provide citizens with good quality and affordable education and health, because neither the government nor the private sector is able or willing to, this will not solve the basic human development problems that must be solved.
QUBRI (quasi-universal basic rural income):
It is important to note that some economists who were proponents of UBI, such as Arvind Subramanian, the former Chief Economic Adviser to the Government, have begun to dilute their simplistic concept of UBI to make it financially and politically feasible.

They propose a QUBRI (quasi-universal basic rural income), targeted only at poorer people in the rural areas. Their scheme is no longer universal.

First, it will exclude the not-so-poor in rural areas as morally it should. Political questions about who should be included will have to be addressed. Second, it will not cover the masses of urban poor working for low and uncertain wages.

Therefore, some other schemes will have to be drawn up for the urban sector, and entitlement and measurement issues will have to be addressed for these schemes too.

It is important to note that all the schemes, rural and urban, could be cash transfer schemes, which Aadhar and the digitisation of financial services will facilitate.

However, this still begs the question about how to provide good quality public services for people to buy.

Some experts have opined that a simplistic UBI will not solve the fundamental problems of the economy.

An unavoidable solution to fix India's fundamental problems is the strengthening of institutions of the state to deliver the services the state must (public safety, justice, and basic education and health), which should be available to all citizens regardless of their ability to pay for them.

The institutions of the state must be strengthened also to regulate delivery of services by the private sector and ensure fair competition in the market. The building of state institutions, to deliver and to regulate, will require stronger management, administrative, and political capabilities, not better economists.
Economic inequality matters
Some economists say that inequality does not matter so long as poverty is being reduced. In fact, some even say that inequality is necessary to reduce poverty. So long as the people have bread, why should they complain if the rich are eating more cake, they imply. However, economic inequality does matter because it increases social and political inequalities. Those with more wealth change the rules of the game to protect and increase their wealth and power. Thus, opportunities for progress become unequal. This is why economic inequality must be reduced to create a more just society.

In the present economic system, people at the top can make more profits by driving down prices and wages for people at the bottom. They may then recycle a small portion of their profits back as philanthropy, or corporate social responsibility. Or, if they were willing to, which they are not, pay the state more taxes to provide services, and even a UBI, to people at the bottom. Tiny enterprises have very little clout compared with large capitalist enterprises; and individual workers have little power compared with their employers. Therefore, terms of trade remain unfair for small enterprises, and terms of employment unfair for unorganised workers. The solution is the aggregation of the small into larger associations, cooperatives, and unions. Aggregations of small producers, and unions of workers, can negotiate for more fair terms.
The Way Forward:
A better solution to structural inequality than UBI is universal basic capital, or UBC, which has begun to pop up in international policy circles.

In this alternative approach, people own the wealth they generate as shareholders of their collective enterprises. Amul, SEWA, Grameen, and others have shown a way. Some economists go further and also propose a 'dividend' for all citizens, by providing them a share of initial public offerings on the stock market, especially from companies that use 'public assets', such as publicly funded research, or environmental resources.

To conclude, three better solutions to create more equitable growth than the ones on offer are: one, focus on building state capacity beginning with implementation of the recommendations of the Second Administrative Reforms Commission. Two, strengthen the missing middle-level institutions for aggregation of tiny enterprises and representation of workers. Three, the creativity of economists could be better applied to developing ideas for UBC than UBI.
Larger Background:
Angel tax is a term used to refer to the income tax payable on capital raised by unlisted companies via issue of shares where the share price is seen in excess of the fair market value of the shares sold.
The excess realisation is treated as income and taxed accordingly.
The tax was introduced in the 2012 Union Budget by then finance minister Pranab Mukherjee to arrest laundering of funds. It has come to be called angel tax since it largely impacts angel investments in startups.
Editorial Analysis:
Experts have pointed out that the recent developments on the levy of an angel tax follows a pattern established by more illustrious Sections of the Income Tax Act — a hazily-worded provision, tax notices being received misinterpreting the provision, and protests resulting in the issue of a clarificatory Notification that provides some relief but doesn't resolve the issue once and for all.
Section 56(2)(viib) of the Income Tax Act (the angel tax Section), seeks to tax the difference between the fair market value and the face value of shares received by a company.
While this appears simple and logical, an Explanation to the Section that attempts to define fair market value ends up with a definition that would probably not qualify to be called a definition — higher of the value as may be determined in accordance with such method as may be prescribed or as may be substantiated by the Company to the Assessing Officer.
The entire angel tax issue can be attributed to this Explanation — such method as may be prescribed could mean any value in the absence of specific prescriptions.
The possibility of companies substantiating their valuation to an Assessing Officer is a no-brainer as companies would attempt to substantiate their valuation on Excel Sheets while Assessing Officers would look for valuation guidance in the Income Tax Act/Rules (both of which don't provide any guidance).
A Note on the DIPP Notification:
As protests from a bunch of start-ups grew, the Department of Industrial Policy and Promotion (DIPP) came out with a Notification that does away with the need to obtain an approval from an Inter-Ministerial Board and the need for a Valuation Report from a merchant banker.
The DIPP Notification states that it would apply only to start-ups with paid-in capital and share premium not exceeding Rs. 10 crore. Also investors/proposed investors should have returned income of Rs. 50 lakh or more for the financial year preceding the year of investment/proposed investment, and a net worth exceeding Rs. 2 crore or the amount of investment proposed, whichever is higher. Section 56(2)(viib) is applicable to a company — in attempting to link the numbers declared in the investors' tax returns to this Section, the CBDT is stepping into unwanted territory.
Investors would be wary of providing this data to start-ups which could delay the funding process. Investors normally invest in a basket of start-ups to ensure that the losses on their investments which a majority of start-ups are bound to incur are made up by the profits from a couple of multi-bagger start-ups. Such investors would be in a dilemma whether they meet the criteria or not.
While the Notification can solve some of the issues being faced by start-ups, it is not a holistic solution. Since this has been issued by the DIPP, it would apply only to start-ups that are registered with DIPP as a part of the Start-up India initiative.
Concluding Remarks:
There are a large number of mom-and-pop start-ups that would not have registered with the DIPP. Some of these could get funding in excess of Rs.10 crore and could still have to face valuation notices from the Tax Department.
Since the issue of angel tax emanates from an Explanation to a Section in the Income Tax Act, a clarificatory Notification should come from the CBDT that applies to the entire population of start-ups.
Experts have suggested that the CBDT should also amend ICDS Standards and bring them on par with Ind AS Accounting Standards which have some definition of fair value. Till such time, experts suggest that the implementation of the angel tax section should be deferred.
F. Tidbits
This refers to any future debt obligation for which no proper provision has been made in the present.
A company that promises to pay pension to its employees in the future, for instance, will generally have to set aside sufficient funds in the present in order to be able to fund its future obligation.
While companies and governments are mandated by law to show unfunded liabilities as a liability on their balance sheets, accounting tricks may be used to hide the true size of such liability.
It is believed that the actual debt load of many governments in the developed world could be many times higher if unfunded liabilities were properly taken into account.
G. Prelims Facts
1. Success for golden langur breeding project in Assam
Assam Environment and Forest Minister Parimal Shuklabaidya had announced the success of the Golden Langur Conservation Breeding Programme in the State.
The golden langur conservation project was undertaken at the Assam State Zoo in Guwahati during the 2011-12 fiscal.
Funded by the Central Zoo Authority, an isolated and undisturbed site within the zoo was chosen to provide a natural habitat for the primates with a golden coat endemic to Assam.
In April 2018, the zoo authorities shifted a pair of golden langurs — Bolin and Lovely — from the display enclosure to the isolated site. Lovely gave birth to a female infant on December 26.
The golden langur (Trachypithecus geei) is currently endangered.
Apart from a 60 square mile area in north-western Assam, small populations are found in Bhutan and Tripura.
H. UPSC Prelims Practice Questions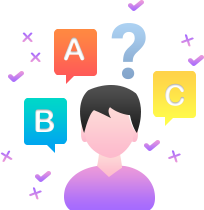 Test Your UPSC Preparation With BYJU'S Daily Current Affairs Quiz
Select the correct answer and click on the "Finish" button Check your score and explanations at the end of the quiz
Follow BYJU'S for all UPSC 2021 information and free study materials
0
out of
0
are Unattempted
I. UPSC Mains Practice Questions
NCAP is the first ever effort in the country to frame a national framework for air quality management with a time-bound reduction target. Discuss the key features of the National Clean Air Programme (NCAP) (10 Marks; 150 words)
Roll out of 5G technologies will help in increasing GDP, creating employment and digitizing the economy. Discuss the statement in the context of India (12.5 Marks; 200 words)
See previous CNA