TABLE OF CONTENTS
A. 

GS1 Related




B. 

GS2 Related


POLITY AND GOVERNANCE
1. Land acquisition: Centre seeks Constitution Bench
2. 'Mere sloganeering cannot invite sedition'


C. 

GS3 Related 


ENVIRONMENT
1. Study says cow urine may be adding to global warming


D. 

GS4 Related


1. ICICI Bank sacks Chanda Kochhar


E. 

Editorials


INTERNATIONAL RELATIONS
1. Stormy weather awaits India in 2019
2. India-South Africa relations
INDIAN ECONOMY
1. Gold rush


F. 

Tidbits


1. Sanitary pad vending machines reach Telangana govt. schools
2. Biopolymer research to focus on new products
3. SC begins automatic listing of fresh cases
4. Beveridge curve


G. 

Prelims Facts


1. Transparency International's index on corruption - 2018


H. 

UPSC Prelims Practice Questions




I. 

UPSC Mains practice Questions



A. GS1 Related
 There is nothing from here for today!!
B. GS2 Related
Category: POLITY AND GOVERNANCE
1. Land acquisition: Centre seeks Constitution Bench
Context
Chief Justice of India Ranjan Gogoi has agreed to look into an oral request from the Centre to set up a Constitution Bench for expeditious disposal of issues relating to amendments in the Land Acquisition Act.
Background
Last year, the court issued notice to Tamil Nadu, Gujarat, Andhra Pradesh, Telangana and Jharkhand on the amendments to their States' land acquisition laws to the extent that consent of farmers or land owners was not required before their land was acquired for projects like industrial corridors, expressways, highways, etc.
Petitioners like activist Medha Patkar, represented by advocate Prashant Bhushan, had said the States allowed land acquisitions without social impact assessment, participation of representative local bodies in social impact assessment study, expert appraisal processes, public hearing, objections.
The petitions alleged that the amendments violate the "core spirit" of the Right to Fair Compensation and Transparency in Land Acquisition Rehabilitation and Resettlement Act of 2013.
Key features of the Right to Fair Compensation and Transparency in Land Acquisition Rehabilitation and Resettlement Act of 2013
Public purpose: The Act shall apply when land is acquired for 'public purpose'. This includes land acquisition for defence purposes, infrastructure development, housing for the poor, etc.
Consent: Consent is not required for government projects. Private projects require the consent of at least 80% land owners. Public-private partnership projects require the consent of at least 70% land owners.
Social Impact Assessment (SIA): Conducting an SIA is mandatory for all acquisition cases except irrigation projects where an Environmental Impact Assessment has already been done or those cases exempted under the urgency provision.
Compensation: Compensation for land shall be two to four times the market value of land in rural areas and two times the market value of land in urban areas.
Rehabilitation and Resettlement (R&R): R&R will be given to all affected families, including land owners, and families whose livelihood is primarily dependent on the acquired land. R&R must be provided in case land is purchased (not acquired) by a private company, when the area to be purchased is more than that specified by the state.
The provisions of this act shall not apply to acquisitions under 16 existing legislations including the Special Economic Zones Act, 2005, the Atomic Energy Act, 1962, the Railways Act, 1989, etc.
One interesting feature is that, in case land is further sold without any development, 20% of such incremental profit in every case shall accrue to people from whom land was acquired.
2. 'Mere sloganeering cannot invite sedition'
Context
The Supreme Court has ruled that sedition can only be invoked when a seditious comment results in violence, former Law Commission chairman B.S. Chauhan has said, adding that the court in its various judgments has reiterated that mere sloganeering could not invite the charge.
Sedition Law
Section 124A of the IPC defines sedition – Whoever by words either spoken or written or by signs or by visible representation or otherwise brings or attempts to bring into hatred or contempt, the government established by law; or
Whoever by the above means excites or attempts to excite disaffection towards the government established by law, has committed the offence of sedition.
According to the law, disaffection includes disloyalty and all feelings of enmity. However, disapprobation of the measures or administrative action of the government to obtain their alteration by lawful means is not an offence.
Sedition attracts imprisonment from three years to life.
Details of the issue
The Assam police had on January 10 registered a case of sedition against scholar Hiren Gohain, 80, for allegedly having said at a public meeting that a demand for sovereignty might arise if the Centre ignored the voices of the Assamese people opposed to the Citizenship (Amendment) Bill, 2016.
Similar cases were filed against Akhil Gogoi, leader of the Krishak Mukti Sangram Samiti, and activist-journalist Manjit Mahanta, who were protesting against the Bill that seeks to provide citizenship to non-Muslims from Pakistan, Afghanistan and Bangladesh who came to India on or before December 31, 2014.
The 21st Law Commission, the Centre's topmost advisory body on legal reform, headed by Mr. Chauhan had last year published a consultation paper recommending that it was time to rethink or even repeal the provision on sedition (Section 124A) from the Indian Penal Code. He demitted office on September 1, 2018, and a new Law Commission has not been constituted since then.
Asked about the JNU sedition case, Mr. Chauhan told that it all depended on what was argued before the court. "The court may refuse to file charges as sloganeering has been held not to invite sedition by the Supreme Court," he said.
The sedition had earlier been scrapped by the Punjab and Haryana High Court and the Allahabad High Court.
Mr. Chauhan said in 1962 the Supreme Court had, however, upheld the law.
"The SC has always said that unless violence follows, charge of sedition should not be invoked. We were of the opinion that charges of sedition cannot necessarily be framed in every case," he said.
As per the Centre's reply to Parliament, during 2014-2015 as many as 112 cases of sedition were registered across the country and 36 people were charge-sheeted. However, police secured convictions in only two cases during the period.
C. GS3 Related
1. A study says cow urine may be adding to global warming
Context
The urine from the ruminant is a source of nitrous oxide emissions (N2O), a gas that is 300 times more powerful than carbon dioxide.
Details of the study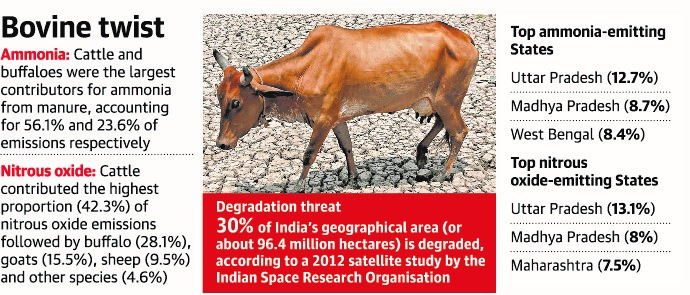 Most times, when cow urine is used in degraded pastures, which are also seen in vast tracts of land in India, N2O emissions are tripled, says a study conducted in Colombia, Argentina, Brazil, Nicaragua, Trinidad and Tobago, and published in the latest edition of the peer-reviewed Scientific Reports.
The cattle and livestock are a significant source of methane, a greenhouse gas, and therefore a contributor to global warming, is well-known. However, the role of cow urine is less understood.
Dung and urine are commonly mixed together for manure in Indian fields. Since, India also hosts the world's largest livestock population, as well as significant tracts of degraded land, the findings may have a bearing on nitrogen emissions from Indian fields.
A 2012 satellite study by the Indian Space Research Organisation (ISRO) said that about 30% of India's geographical area (or about 96.4 million hectares) is degraded.
Degraded pastures not only affect food security and the livelihood of farmers today, but affect the livelihood of future farmers because they emit more gases that cause global warming
Degraded grasslands emitted more N2O than healthy pastures because the vegetation in the latter took up some of the reactive nitrogen compounds and only the leftovers were emitted.
D. GS4 Related
1. ICICI Bank sacks Chanda Kochhar
Context
The ICICI Bank has decided to terminate the contract of former managing director and CEO Chanda Kochhar after the B.N. Srikrishna panel found that she violated the bank's code of conduct.
Details of the issue
In June last year, the bank formed the one-member panel, assisted by a law firm, to look into the allegations of conflict of interest against Ms. Kochhar in relation to a loan given to Videocon Industries.
According to a bank statement, the Srikrishna panel report concluded that primarily on account of ineffectively dealing with conflict of interest and due disclosure or recusal requirements, Ms. Kochhar was in violation of the ICICI Bank Code of Conduct, its framework for dealing with conflict of interest and fiduciary duties, and in terms of applicable Indian laws, rules and regulations.
"The Enquiry Report also concluded that her lack of diligence … when considered that the bank's processes were dependent solely on the directors discharging their fiduciary duty to recuse themselves and avoid conflict, implies that the bank's processes were rendered ineffective by her approach to such disclosures and avoidance of conflict," the bank said.
Kochhar, who assumed charge as MD and CEO on May 1, 2009, resigned in October last year
Conflict of Interest
A conflict of interest is a situation in which an individual has competing interests or loyalties.  Conflicts of interest involve dual relationships; one person in a position in one relationship and a relationship in another situation. A conflict of interest can exist in many different situations.
The easiest way to explain the concept of conflict of interest is by using some examples:
With a public official whose personal interests conflict with his/her professional position
With a person who has a position of authority in one organization that conflicts with his or her interests in another organization
With a person who has conflicting responsibilities.
Types of activities that can create a possible conflict of interest include
Nepotism is the practice of giving favors to relatives and close friends, often by hiring them.
Self-dealing is a situation in which someone in a position of responsibility in an organization has outside conflicting interests and acts in their own interest rather than the interest of the organization.
These activities in themselves create the conditions for a conflict of interest, but not wrongdoing or criminal activity.  In the private (non-governmental) sector, most organizations have policies and procedures that don't allow a conflict of interest, to avoid a potential problem before it occurs.
E. Editorials
Category: INTERNATIONAL RELATIONS
1. Stormy weather awaits India in 2019
Editorial Analysis:
Experts point out that as India prepares for the general election this year, all signs point to 2019 being a difficult year.

Whether this would directly impact the poll outcome is uncertain, but the country needs to remain alert to unexpected developments.

It is important to note that as we enter 2019, the world outlook looks gloomy. Global disorder is the dominant imperative. A global leadership vacuum is leading to chaos concerning rules governing the international order. U.S. President Donald Trump's utterances and actions are provoking strong counter-reactions, especially from China and Russia.

As a matter of fact, U.S. Vice President Mike Pence's attack on China, in October 2018, has signalled, according to many world leaders, the beginning of a new Cold War. Mr. Trump has threatened to pull out of a major arms control treaty with Russia. Russia has also been talking of building stronger deterrence. Some experts opine that Cold War 2 seems for real now.
On different trajectories:
It is important to note that today, nations are working at cross-purposes across the globe.

Currently, Russia is vigorously pursuing its pivot to Asia and for greater influence in Eurasia. It has deepened its partnership with China, and enhanced relations with Japan and South Korea.

As a matter of fact, growing tensions in the Sea of Azov (following Russia's seizure of Ukraine's ships) could well lead to a major conflagration between Russia and the West.

Currently, China is consolidating its position in Asia. In addition to its strategic partnership with Russia, China has mended fences with Japan.

China's Belt and Road Initiative has become the most potent weapon in its armoury, with Vietnam and Japan endorsing this concept. India finds itself increasingly isolated in Asia as a result.

Economic portents during 2018 for most of the world proved highly daunting. The most challenging was the spectre of an all-embracing U.S.-China trade war.

This had triggered highly unsettled conditions, and the situation was further aggravated by signs of a weakening Chinese economy.

Experts have observed that at the beginning of 2019, it is amply evident that politics is conflicting with business across the world. Hence, normal economic calculations are getting disrupted.

A decline in Britain's financial assets and of the pound sterling following Brexit, as well as signs of increasing fragility of China's economy, are newer concerns.

The likelihood of the U.S. moving into a period of slower long-term growth, one that is likely to continue for a fairly long time, is aggravating this situation.

As a consequence, India cannot hope to remain insulated from these trends.
India's ties with Russia, Japan
Coming to India's foreign policy concerns, relations with Russia and Japan could see a reset. The strengthening of the Russia-China strategic relationship and the recent warmth in China-Japan relations could impact India's relations with both countries. Notwithstanding the warmth displayed in public by the leaders of India and Russia, and India and Japan, the character of our relations with these two countries could undergo a change. To what extent, is yet to be seen. What is evident, however, is that India will need to expend a great deal of its diplomatic capital to ensure that relations do not decline to any considerable extent.

Managing relations with China will be India's top priority. India-China relations are marked by a surface calm, but this masks an intrinsic struggle for influence in Asia and even beyond. The Wuhan Spirit, notwithstanding, little has changed as far as India-China relations are concerned, except that there has not been any major Chinese incursion across the disputed India-China border.
China's outreach in the Region:
In 2018, China had initiated certain moves to create a China-Myanmar Economic Corridor on the lines of the China-Pakistan Economic Corridor (CPEC).

The Chinese Navy is also poised to challenge India's position in the Indian Ocean. Chinese submarines already outnumber India's here.

China is also preparing to outflank India by seeking control of the Kyaukpyu Port on the Arakan Coast in Myanmar, and planning a canal (the Kra canal), connecting the Andaman Sea with the Gulf of Thailand. Together with China's existing control over the Gwadar (Pakistan) and Hambantota (Sri Lanka) Ports, if China were to succeed in its attempts, it could give it a stranglehold across the Indian Ocean Region. India's capacity to counter such moves in 2019 appears extremely limited.

Experts have opined that this year could see a further consolidation of the 'all weather friendship' of China-Pakistan. During 2018, Pakistan facilitated China's involvement in Afghanistan (and also succeeded in co-opting Russia to be a party to talks with the Afghan Taliban). The CPEC having weathered quite a few storms in 2018, seems well set to progress this further in 2019.

The prospects of India-Pakistan relations improving on the other hand, are extremely limited. Cross-border terror attacks are likely to continue, as also sponsorship of terror groups like the Lashkar-e-Taiba and the Jaish-e-Mohammed.

Experts believe that where India will face even rougher weather, is in Afghanistan, where the Afghan state is perilously close to imploding.

India has been kept out of talks with the Afghan Taliban by all countries concerned, including the U.S., China, and Russia, apart from Pakistan. This is making India's position here highly invidious.
Certain challenges which India faces:
The outlook for India in the rest of South Asia is also mixed. Towards the end of 2018, India could retrieve its position in the Maldives. It also succeeded in re-establishing its influence in Bhutan.

The return of Sheikh Hasina as Prime Minister after the general elections in Bangladesh has been a welcome relief.

Yet, India will need to work harder in 2019 to check China from weaning away its neighbours, including Nepal as also Bangladesh, with offers of economic and military aid.

India will also need to use all its resources to assist Bangladesh to limit the influence of radical Islamist groups there.

Internal security, for the better part of 2018, remained on a relatively even keel. There were fewer Pakistan-sponsored terror attacks, but this is hardly an index of what lies ahead in 2019. Left extremist violence went up marginally in 2018, but the movement remained circumscribed within a core area in Chhattisgarh, Andhra Pradesh, Maharashtra, Odisha and Jharkhand. Ideologically, the movement has remained vibrant, and in 2019, both ideological and militant aspects will need deft handling.

Experts point out that the more challenging internal security problems will be Kashmir and the Northeast. In 2018, the situation in Kashmir sharply deteriorated, and the year witnessed some of the highest levels of violence since 1989. There was again a sharp spurt in the number of security forces personnel being killed, alongside targeting of their families.

The deadlock between the Jammu and Kashmir administration and militants is unlikely to be resolved. President's rule has made little headway in sorting out the conflict-prone situation. Militant outfits, the JeM and the Hizbul Mujahideen, appear energised by the turn of events and can be expected to become still more active.

More educated locals are joining militant ranks. Disclaimers notwithstanding, the presence of the Islamic State is also in evidence. The consequences of this as far as 2019 is concerned could be considerable.

The other major internal security threat that India faces in 2019 is the resurgence of ethnic sub-nationalism in the Northeast. This has been simmering for some time, but now threatens to boil over, following the enactment of the Citizenship (Amendment) Bill. The Bill has given rise to fears that it would drastically alter the status quo in the region. The Amendment has helped unite vast segments of people across the entire Northeast. The divisive potential of the recently enacted Act, will have special resonance in an election year. It will demand sensitive and careful handling in 2019.

Two other issues that kept the nation on the edge in 2018, i.e. farmers' and Dalit unrest, still remain unattended as 2019 begins. Both can ignite fires, specially in an election year. There is little evidence, however, that the causes for the unrest are receiving careful consideration.

Considering the difficult external and internal situation, peace in 2019 may prove elusive. On the diplomatic front, India will need to be more dexterous. The internal situation will require to be dealt with far greater understanding.
2. India-South Africa relations
Editorial Analysis:
Context:
South African President Cyril Ramaphosa was the chief guest for India's Republic Day in 2019

This is the second time a South African leader is Chief Guest at Republic Day — Nelson Mandela was the chief guest in 1995.
Introduction:
President Ramaphosa's visit assumes significance as India celebrates the 150th birth anniversary of Gandhi.

Mr. Ramaphosa related the story of Gandhiji's impact on South Africa, on Mandela, and the way the combined legacy of the two icons moulded the relationship between the two countries. He saw India and South Africa as "two sister countries separated by an ocean, but bound by history."

Mr. Ramaphosa's message was that in view of the rich past of this special relationship, the two nations should strive harder to keep it strong and vibrant.

The president's visit strengthened the people-to-people aspect of the bilateral partnership, and focusing on the implementation of previous agreements signed by the two governments.

According to the official note on India-South Africa relations on the website of India's High Commission in Pretoria, India was the first country to sever trade relations with the apartheid government, and subsequently imposed a complete — diplomatic, commercial, cultural and sports — embargo on South Africa.

India worked consistently to put the issue of apartheid on the agenda of the UN, NAM and other multilateral organizations and for the imposition of comprehensive international sanctions against South Africa. The African National Congress (ANC) maintained a representative office in New Delhi from the 1960s onwards.

India actively worked for the AFRICA Fund to help sustain the struggle through support to the frontline states.
Details:
The focus of engagement was on Implementation as New Delhi and Pretoria had signed a large number of agreements

The visit resulted in finalization of a strategic programme of cooperation aimed at implementation in a time-bound manner.

The specific emphasis in the next three years would be on promoting defence.

Defence cooperation extends to other areas too: maritime security, joint training exercises on sea and land, and provision of training facilities.

The two leaders also witnessed the exchange of two new agreements of cooperation.

These formally linked the Research and Information System for Developing Countries, a policy research institute in Delhi, and two premier South African think tanks — the Institute for Global Dialogue and the South African Institute of International Affairs.

The two sides also expressed concern at the slow pace of UN reforms and committed themselves to securing representation in an expanded UN Security Council to achieve a more representative UN Security Council Membership.
Economic Front:
With the bilateral trade between India and South Africa at $ 10 bn, both are keen on expansion of cooperation in sectors including agro-processing, defence, mining and the financial sector.

Gandhi-Mandela Skills Institute will soon be opened in Pretoria.

They also reiterated their commitment to working together on strengthening cooperation to address fugitive economic offenders.
Concerns:
A continuous process is underway to identify inhibiting factors.

Despite the promotion, bilateral trade and investment are yet to show robust and speedy expansion.

Some of them relate to the small size of the South African economy and its slow rate of growth.

Lack of direct air connectivity and South Africa's rigid business visa regime are seen as discouragements. Mr. Ramaphosa agreed to reform the visa regime.
Multilateral groupings:
India-South Africa cooperation in multilateral groupings came up for a close review, especially the India-Brazil-South Africa (IBSA) forum and the Indian Ocean Rim Association (IORA).

It is important to note that new momentum is being imparted to IBSA, which has been 'displaced' by the larger grouping, BRICS.

There are talks to strengthen the relationship in IBSA.

Prime Minister Narendra Modi and President Ramaphosa agreed on measures to further strengthen IORA. A specific decision was to enhance cooperation to harness the potential of the Blue Economy within the IORA framework.
Diaspora Relationship:
In June 2018, External Affairs Minister Sushma Swaraj's visit to South Africa honoured 25 years of diplomatic relations between the two countries, the 100th birth anniversary of Nelson Mandela, and 125 years of the Pietermaritzburg train incident.
Background:
The close links between India and South Africa from the perspective of migration is well known.

There is vast documentation of historical migrant streams — from the arrival of indentured labourers in Natal in 1860 to the arrival of Indian traders after 1880.

Durban, in particular, is known to host one of the largest concentrations of the Indian diaspora.

Data from the Ministry of External Affairs (MEA) show the population of Overseas Indians in South Africa in December 2018 to be over 1.5 million: 60,000 Non-Resident Indians and 15,00,000 Persons of Indian Origin.
Indian Migration:
Indian migrants are driven to South Africa because of cultural relatedness and the presence of networks from the home country.

In the Gauteng province, Indian migrants first arrive in areas with existing Indian concentrations, such as Fordsburg, Lenasia, and Laudium.

Fordsburg is well known as one of the most vibrant places in Johannesburg, for its iconic Oriental Plaza and variety of street foods, halaal shops and Indian sweetmeats.

This influx of migrant groups has resulted in the exchange of ideas, goods and cultures at a micro neighbourhood/street level
Xenophobia and its concerns:
Even as South African Indians grapple with the idea of India as their homeland, their idea of South Africa as 'home' has given rise to antagonism towards the new Indian migrants.

Furthermore, Indian migrant traders, alongside Chinese traders, have been at the receiving end of xenophobic attacks and violence.

China Malls, the Oriental Plaza and other trading spaces have witnessed violent burglaries and break-ins.

Much of this is driven by hatred stemming from the perception that migrants are taking away the jobs of local South Africans.

The real story, however, is that migrants have made positive contributions to South Africa's economy and society. In fact, cities like Johannesburg are driven by migrants. Yet, this receives little attention in mainstream policy discourse or in bilateral/multilateral relationships.
Recent developments:
Speaking along the sidelines of the African Union Summit in Kigali, Rwanda, in March 2018, President Ramaphosa "urged South Africans to welcome and embrace foreign nationals from the [African] continent"

At the informal meeting of BRICS leaders in Buenos Aires, Prime Minister Narendra Modi spoke of the need for "smooth movement of labourers worldwide" in the context of managing labour relations in global value chains.
Way forward:
Contemporary India and South Africa need to recognise and harness the potential of new migratory flows.

Only then can we realise our true strength as allies in BRICS or IBSA (India, Brazil, South Africa). The emphasis on skill development, South-South cooperation, and people-to-people contact, significant as it is, cannot be delinked from cross-border flows of people, who are rapidly transforming the employment and migration landscape in both countries.

At the same time, free labour mobility on its own is not enough; we need measures to safeguard and uphold labour standards globally.
Red Fort Declaration- India and South Africa:
The Strategic Partnership between India and South Africa was signed in March 1997 by the then South African President Nelson Mandela and former PM H.D. Deve Gowda

Officials said all aspects of the partnership would be reviewed and updated with a three-year plan of action on security cooperation, trade and investment, tourism, harnessing the 'blue economy', maritime cooperation, agriculture, science and technology projects.
1. Gold rush
Editorial Analysis:
It is important to note that the price of gold in the Indian market reached its highest-ever level, hitting the Rs. 33,800 mark in Mumbai on 29th January, 2019 in the midst of increasing demand from buyers and lagging supply in the global market. Having said this, it is not just the rupee that is witnessing a fall in value against gold.

A similar trend has been seen in the price of other major emerging market currencies as well when their worth is measured against the yellow metal.

In fact, many emerging market currencies have already hit, or are quite close to hitting, historic lows against gold.

Against the U.S. dollar, however, gold is still priced well below its all-time high of over $1,500 that was reached in 2012 even as it has shown some appreciation against that currency in the last few months.

The increase in the price of gold worldwide should be seen against the backdrop of rising uncertainties that threaten to derail the global economy.

It is important to note that western central banks have been tightening their monetary policy stances for a while now, leading to increasing fears that this could put an end to the decade-long recovery since the 2008 Global Financial Crisis.

The U.S. Federal Reserve has been at the forefront of the current tightening cycle. The resulting flow of capital from emerging markets to the West has put further pressure on various emerging market currencies.

The rupee, for instance, has depreciated significantly in value against the U.S. dollar in the last year alone.

This probably explains the divergence in the performance of the dollar vis-à-vis other emerging market currencies against gold.

Further, the U.S.-China trade war and the lowered rate of Chinese economic growth have added to fears of a global economic slowdown.

Furthermore, it is important to note that as stock markets around the world continue to trade sideways with increased volatility, investors seeking financial safety have turned to gold and boosted its price.

Many central banks have been trying to hoard gold to restore confidence in their currencies.
Concluding Remarks:
Apart from these short-term influences, there are probably other long-term secular factors at play as the price of gold looks to shoot up towards new highs.

The fall in price after 2012 led to a fall in capital spending by gold miners, which has meant that supply has failed to keep up with growing demand.

This is typical of all commodities that see years of oversupply that lead to a price slump followed by years of under-supply that leads to a jump in prices.

The depreciation in the value of national currencies against gold is also an indication of the increase in inflationary pressures across the globe.

In conclusion, what could put a premature end to gold's rally is the easing of policy by global central banks. While this will restore investor confidence in the global economy, it carries with it risks linked to debt-fuelled growth.
F. Tidbits
1. Sanitary pad vending machines reach Telangana govt. schools
Sanitary pad vending machines, which were earlier limited to corporate offices, has now reached government schools in Telangana, as the exercise of installing them has been taken up by the government. The machines help schoolchildren buy sanitary pads without going to a vendor.
Even today, children feel shy when they buy sanitary pads. Girls hesitate to buy them from medical stores. The vending machines are meant to popularise the use of pads and also make them available at schools for children to access them without any hassle," said Srinivas Chary, director of the Administrative Staff College of India (ASCI).
ASCI has taken up a sanitary mission in collaboration with the district administration in Warangal.
If the vending machines prove to be useful in these schools, they would be introduced at government schools in other districts too, ASCI authorities said.
In India, around 80% of adolescent girls still use cloth or absorbent material like ash during their menstrual cycle, said a report by the National Commission for Women in 2018. The previous year, the commission had also sent its recommendations supporting the installation of such machines, to Ministry of Human Resource Development.
The commission had highlighted that 23% of girls drop out of school owing to non-availability of sanitary products at schools. Apart from schools, the commission had also recommended the installation of machines at colleges and universities.
With this initiative, Telangana could be one of the first States to opt for sanitary pad vending machines in government establishments, the ASCI team said.
2. Biopolymer research to focus on new products
Rajasthan is promoting research in the biopolymer sector with an emphasis on the fabrication of new products and generation of more employment opportunities. The initiative will also be linked with the handicraft industry for extending the benefits to both of them.
State Industries Commissioner Krishna Kant Pathak said here earlier this week that institutions such as the Centre for Skilling and Technical Support in Jaipur and the National Institute of Fashion Technology (NIFT) in Jodhpur could play a significant role in developing the technology and break the monopoly of some countries.
NIFT will establish a gallery exhibiting the textile industry's progress from handlooms to hi-tech machines and development of designs from medieval to modern period. Mr. Pathak said that a testing laboratory for plastic products would be set up and an awareness campaign launched on their utility and standard norms.
3. SC begins an automatic listing of fresh cases
The Supreme Court has launched its new system of automatic listing of fresh cases within three to seven days in a bid to do away with the system of mentioning of matters for urgent listing every day.
Chief Justice of India Ranjan Gogoi had on January 23 said the Supreme Court was devising a mechanism to do away with the process of mentioning of pleas and to ensure automatic listing of fresh cases for hearing soon after being filed.
The new mechanism will come into effect on February 4. The circular further said that final cause list of cases for Monday shall be published/uploaded on the website on prior Friday.
It said the list of business for Friday would be uploaded on Tuesday in the same week.
This refers to a graphical representation that shows the relationship between the unemployment rate (on the horizontal axis) and the job vacancy rate (on the vertical axis) in an economy.
It is named after British economist William Beveridge.
The Beveridge curve usually slopes downwards because times, when there is high job vacancy in an economy, are also marked by relatively low unemployment since companies may actually be actively looking to hire new people.
By the same logic, a low job vacancy rate usually corresponds with high unemployment as companies may not be looking to hire many people in new jobs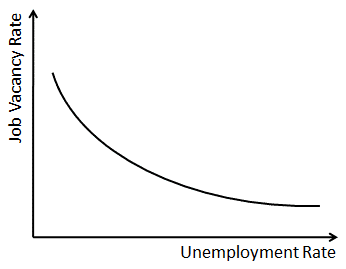 G. Prelims Facts
1. Transparency International's index on corruption – 2018
Context
Transparency International said India had failed to build a specialist anti-corruption infrastructure despite public mobilisation. India ranks 78 among 180 countries in Transparency International's index on corruption in 2018
Highlights of the Report
India improved its ranking and climbed three positions to 78 in a global corruption index, according to the Transparency International's Corruption Perceptions Index (CPI) for 2018.
Denmark topped the index, with 88 points. It was followed by New Zealand, with 87 points and Finland with 85. Sudan was the worst with a score of 10 points, while Somalia and Syria followed it up with 13 points each. Overall, more than two-thirds of the 180 countries scored below 50 in the index, with an average score of only 43. India, with 41 points, was below the average.
"As India gears up for its upcoming elections, we see little significant movement in its CPI score, which moved from 40 in 2017 to 41 in 2018," said the global watchdog.
Neighbours China and Pakistan ranked below India, at 87th and 117th spots, respectively.
For the first time since 2011, the United States dropped out of the top 20 countries on the index. The country lost four points since last year and came in 22nd, scoring 71 points. Along with the Czech Republic and Brazil, the watchdog has listed US as the countries to monitor.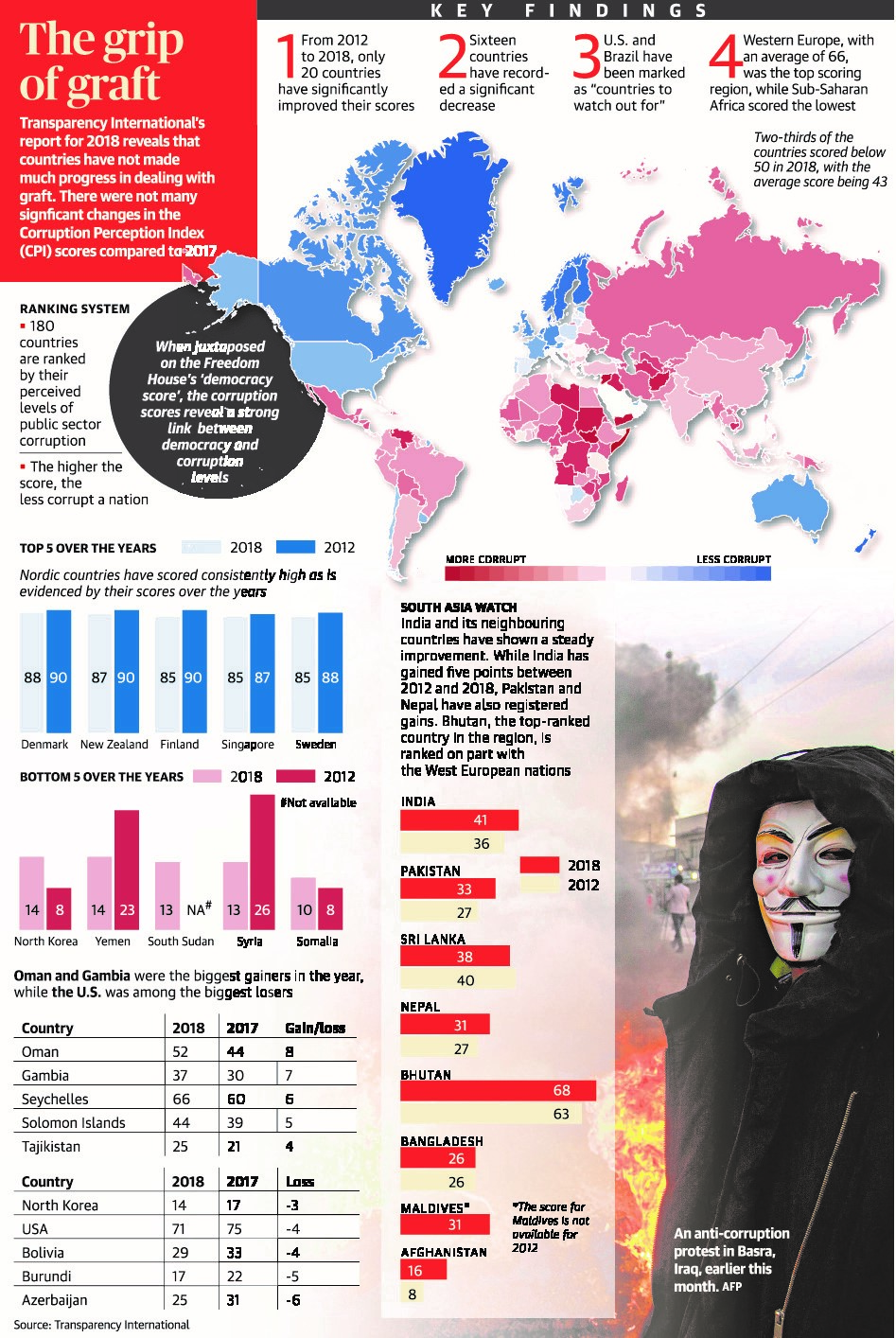 H. UPSC Prelims Practice Questions
Question 1.Consider the following statements regarding Geosynchronous Satellite Launch 
Vehicle Mark II (GSLV Mk II):

This fourth generation launch vehicle is a four stage vehicle with four liquid strap-ons.
The indigenously developed flight proven Cryogenic Upper Stage (CUS) forms the third stage of GSLV Mk II.
Which of the above statement(s) is/are correct?
Only 1
Only 2
Both 1 and 2
None of the above
See
Question 2. Consider the following statements regarding Orion Spacecraft:
It is a human spacecraft for deep-space missions
It is the second such initiative by any country and first initiative of China
Which of the above statement(s) is/are correct?
Only 1
Only 2
Both 1 and 2
None of the above
See
Question 3. Who publishes the Pneumonia and Diarrhea Progress Report? 
WHO
Lancet International
International Vaccine Access Centre
Ministry of Health and Family Welfare
See
I. UPSC Mains Practice Questions
1. India is the world's largest arms importer and given our economic size and talent pool, this is a matter of concern for us. In this context discuss the importance of indigenisation of defence technology. (10 Marks; 150 words)
India may have improved its disease surveillance network, but reducing and limiting disease outbreaks requires several other measures, many lying outside the scope of the healthcare system. Explain (10 Marks; 150 words)
See previous CNA