The UPSC exam preparation is a tiring and demanding ordeal for many IAS aspirants. This is because there are many subjects to learn and each of them has a huge volume of material to be mastered by the candidate. Traditional methods of learning might seem to be inadequate when faced with such a huge and ever-increasing (read current affairs) syllabus. What if there is a proven method which not only reduces your burden while preparing for the exam but is also fun? There is, and it is called MIND MAPPING. This is quite the buzzword now among academicians. Hundreds of students across the world are now employing mind mapping techniques and reaping its many benefits. This article talks about mind mapping and its benefits and also gives an example for you to gain from.
What is mind mapping?
Simply put, mind mapping is a graphical or pictorial representation of a piece of information/concept/idea. It contains a radial or circle in which the keyword or the central idea is written. Then, connections are made by joining this central circle with other circles in each of which are written connecting pieces of information. Basically, a glance at this map should tell you everything you need to know about the central concept. Mind mapping enables you to tell relationships between different concepts.
As and when you read about a topic, prepare a mind map instead of traditional notes. Your brain works in a manner similar to mind mapping.
Benefits of mind mapping
It takes far less time to create than full notes.

It makes revision easier.

Such notes are easier to carry.

You can learn about relationships and connections better this way.

One glance is all it takes to remember the concept.

You can make mind maps for all topics/subjects.

Your recall is faster when you 'see' rather than 'read'.

Making mind maps enhances your creativity.

Addition of new information is easier in mind mapping.

Since information is organized in a meaningful manner, you can avoid the confusion that happens with information overload.
Example for you to use in your IAS preparation:
Modern Indian History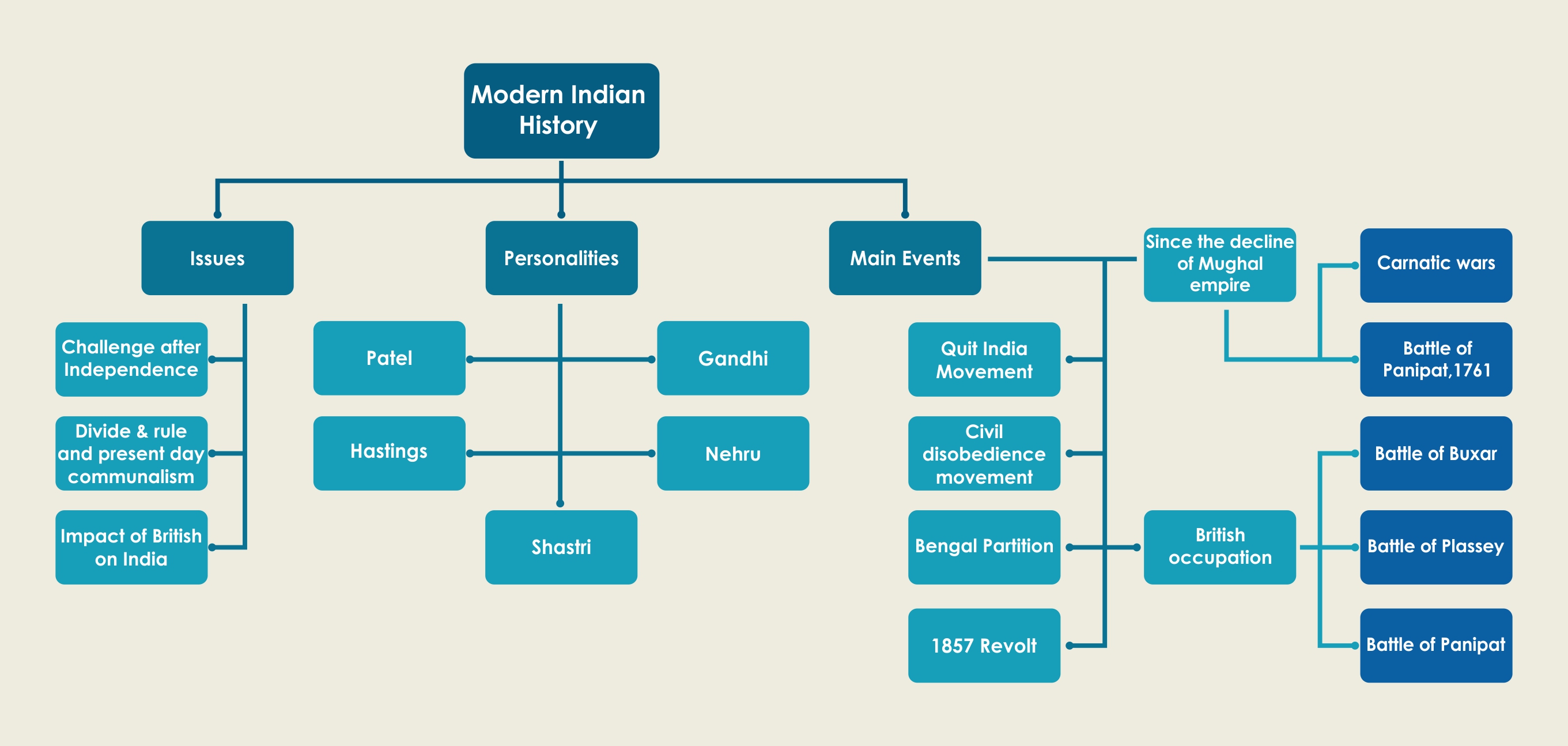 Also, see BYJU'S Infographics section for more.
Visit BYJU'S Website for strategy and articles on free IAS prep and all the latest on UPSC IAS exam.