National Transit Oriented Development (TOD) policy
It enables people to live within walking or cycling distance from transit corridors like the Metros, Monorail and Bus Rapid Transit (BRT) corridors, currently being taken up on a large scale.
TOD promotes integration of land use planning with transportation and infrastructure development to avoid long distance travel in cities through compact development as against the present pattern of unplanned and haphazard urban growth.
TOD Policy also aims at inclusive development by ensuring mixed neighbourhood development in the form of a range of housing choices including affordable housing and ensuring spaces for street vendors.
TOD increases the accessibility of the transit stations by creating pedestrian and Non-Motorised Transport (NMT) friendly infrastructure that benefits large number of people, thereby increasing the ridership of the transit facility and improving the economic and financial viability of the system.
The vision of the policy is threefold:
Enable Transformation: to assist in transformation of cities from private vehicle dependent city to public transport oriented development,
Accessible Public Transport: to promote the usage of public transport by making it accessible, encourage green mobility by encouraging people to walk and cycle and at the same time curb pollution and other negative impacts of motorization.
Compact Walkable Communities: to create livable and affordable communities, which are compact and walkable.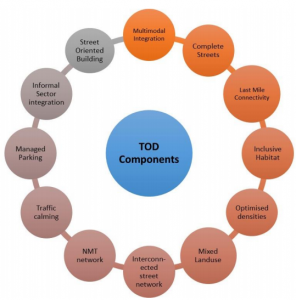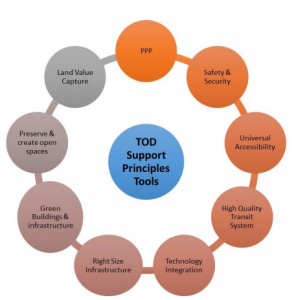 Swachh Survekshan
A 'Swachhata' app has been launched as a grievance redressal platform for any complaints from citizens related to cleanliness.
SBM-Urban has introduced an online educational portal where 135 best practices have been uploaded, in the form of training modules. 40,000 Swachhagrahis have been selected across cities, to work with communities.
Various multimedia campaigns such as Asli Tarakki (to promote toilet usage and construction), Compost Banao Compost Apnao (for promoting production and consumption of city compost), Har din do bin (to promote source segregation of waste), and Swachh Shouchalaya (to promote responsible usage of public toilets) have been launched.
Deendayal Antyodaya Yojana – National Urban Livelihoods Mission
Deendayal Antyodaya Yojana-National Urban Livelihoods Mission (DAY-NULM) is a Centrally sponsored Scheme for reducing the poverty and vulnerability of urban poor households and is under implementation in the States/UTs since April 2014.
The Mission covers all the statutory towns in the country, to be decided by the State/UT as per local need and capability.
The primary target of DAY-NULM is urban poor, including urban homeless and particular emphasis is laid on mobilisation of vulnerable sections of urban population.
Unique Initiatives
A system of ranking of states and cities named as SPARK (Systematic Progressive Analytical Real-time Ranking) has been put in place by the Ministry to infuse competitive spirit amongst the States and cities.
Personalised After-training Rapid Assessment System (PARAS) has been launched by the Ministry to seek feedback regarding skill training directly from the beneficiaries.
Also, mid-term evaluation and impact assessment of the Mission has been initiated.
Memorandum of Understanding has been entered into with UrbanClap for placement of skill-trained candidates in high-demand sectors in sixteen major cities in the country.