With just a few months left for IIT JEE, BYJU'S JEE crash course can boost JEE candidates' exam preparations by promoting a clear conceptual understanding of topics and helping each student to develop adept problem-solving skills to solve all the different types of problems. JEE crash course has been designed to help IIT/NIT aspirants to make the most of the limited time before the final examination.
JEE crash course 2023 is a short-term intensive program to cover the entire syllabus quite effectively. It is designed by our IIT/NIT experts to provide an extra edge over the other students appearing for the examination.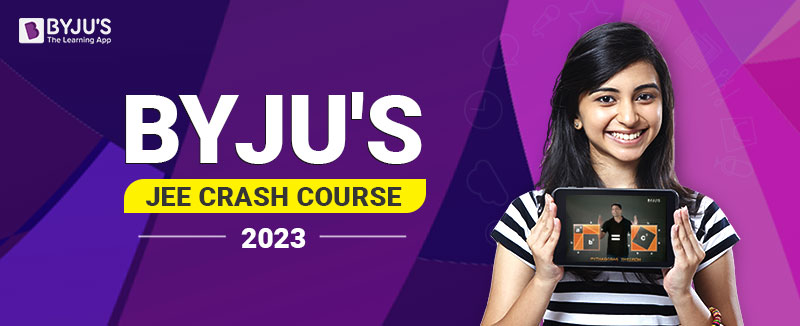 Students can practice problems of all difficulty levels and clarify their doubts on concepts during the course. This will finally help them in brushing up on all the key topics. Aspirants can further assess their strengths and weaknesses through regular practice tests, and after analyzing the detailed results and performance measures, they can work on strengthening their weaker sections.
Generally, in 12th board exams, students are assessed mostly on knowledge about theoretical concepts rather than their application, whereas JEE preparation involves not only knowing the concepts but have a broad knowledge of the application of those concepts. Hence, the standard and level of preparation that is required for JEE are not a part of the school curriculum. Opting for the crash course just after your 12th board exam could further help JEE aspirants to use their knowledge of the concepts and apply them in tackling different problems. Now, this could play a decisive role in performing well in the entrance exam and standing out from the competition.
BYJU'S JEE crash course will not only give students exposure to the JEE examination pattern, but they will also be guided in specific areas that they need to cover in a limited period of time. Besides, students who have acquired the ability to solve problems quickly and accurately will stand a greater chance of cracking the examination.
IIT JEE Crash Course is available for both 11th and 12th standard students. Our course is a short-term course which is usually conducted over a period of 6 to 7 weeks.  Students will find more details about the JEE crash courses below.
JEE Crash Course Key Features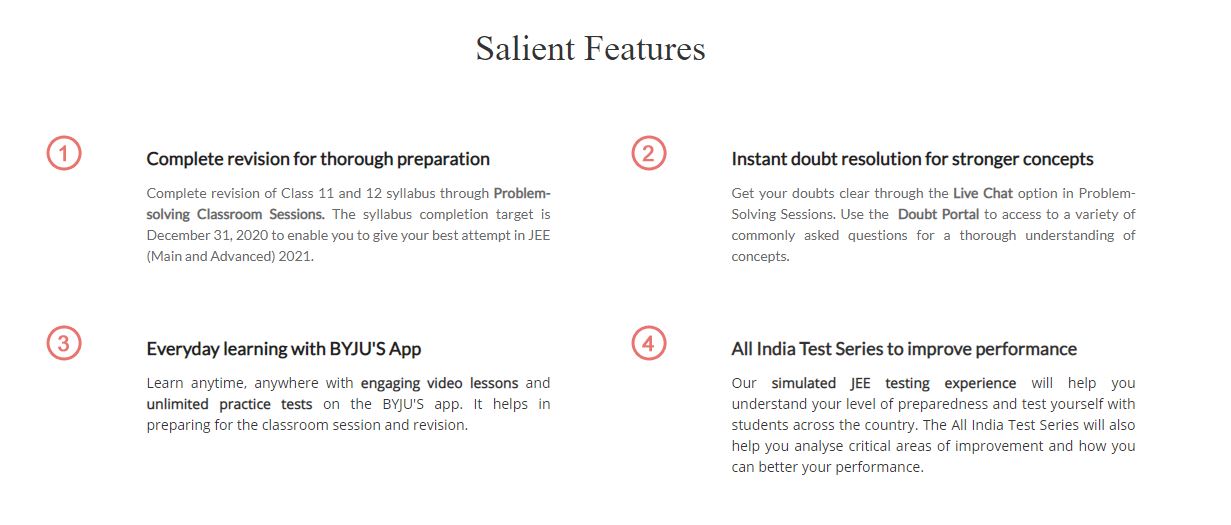 1. It has a pre-planned study model designed by our highly experienced exam experts, and you just need to focus and execute the plan.
2. The proper revisions and practices that you'll be given will create a solid foundation for upcoming exams and will enhance your confidence.
3. You can study any topic as many times as you want, and instead of memorizing, you can visualize the concept that will enable you to remember it for lifelong.
4. There are hundreds of sample papers covering each and every topic from JEE Syllabus. Any topic could be taken up and practised as many times as you wish, thereby allowing you to focus more on your weaker sections.
5. Regular tests will strengthen your exam endurance and time management skills and will put you on the right track to success.
6. IIT JEE Crash course will give you an opportunity to learn unique shortcut techniques for improving your speed, accuracy and time management skills.
7. You don't need to plan your studies as everything is taken care of. All you have to do is to concentrate on your studies and utilize each and every second.
IIT JEE Crash Course Offerings
| | | | | | | | |
| --- | --- | --- | --- | --- | --- | --- | --- |
| 500+ Hours of Study Material | 100+ Hours of Problem-solving | 10+ All India Test Series | Complete Revision of JEE Syllabus Twice | Complete exam coverage – JEE Advanced and JEE Main 2023 | Access JEE Study Materials, Anytime, Anywhere through BYJU'S App | Unlimited Practice | Avail Exciting Scholarships |