JEE Syllabus is one of the most important documents that students should get their hands on and go through during their JEE preparation. The syllabus contains a lot of information including details of the important chapters and topics to focus on, weightage of marks, key objectives of the entire JEE course, reference materials and more. Therefore, getting a complete overview of the IIT JEE syllabus will help candidates to not only study productively but they will be one step ahead in the competition.
Students can access the syllabus of both JEE Main and JEE Advanced exams on this page. We are providing the latest syllabus of IIT JEE 2020 for individual subjects which include Physics, Maths, and Chemistry. The syllabus PDFs can be accessed from the corresponding links provided below.
We have compiled a detailed list of entire IIT JEE syllabus at one place to help students avoid the complexity of navigating through different pages. More significantly, this article gives a broad overview of the JEE Syllabus with additional information highlighting its importance.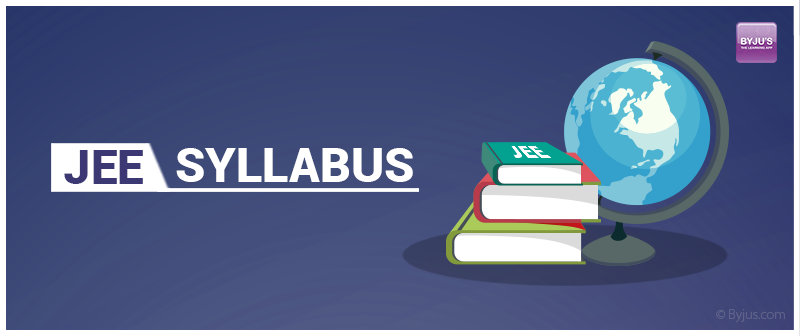 Successful completion of a competitive exam like JEE requires a lot of hard work, diligence, and discipline throughout the preparation process. Following the syllabus is one of the important exercises. Besides, as the JEE syllabus is vast candidates should further develop a suitable timetable so that they can cover all the important topics well before the final day of the exam. Meanwhile, IIT Joint Entrance Exam is one of the toughest competitive exams in the world. Apart from working hard students should be smart and plan everything carefully. They should develop a proper preparation strategy after going through the syllabus of JEE and then study without getting distracted.
In any case, the main purpose of IIT JEE Syllabus is to drive candidates' decision as to what content should be read and prepared for JEE Main and Advanced exams.
The syllabus can be accessed from the given links below:
JEE Main Subject-wise Syllabus
National Testing Authority is the body responsible for conducting JEE Main every year in India. The exam is held twice annually in the months of January and April. It will be conducted via online mode (computer-based test) and consists of three papers. The exam intends to examine the overall intellectual traits of the engineering aspirants and their understanding of certain topics. Reviewing the syllabus will help aspirants to eliminate their wasteful efforts like preparing irrelevant topics leading to the loss of preparation time. Additionally, the syllabus will students to keep themselves strictly aligned with the expectations of IIT JEE from day one. Students can check the subject-wise syllabus of JEE Main 2020 from the links present below.
For the exam, students will need excellent conceptual knowledge along and their application to score well in JEE Main. They should further give equal importance to Physics, Chemistry, and Maths. Analyze their strengths and prepare a suitable study plan.
List of topics from Physics syllabus included in Main but excluded from Advanced Syllabus
| S.No | Units | Description |
| --- | --- | --- |
| 1. | Electromagnetic Waves | Characteristics, Transverse nature, Electromagnetic spectrum, and EM waves – Applications. |
| 2. | Communication Systems | Propagation of Electromagnetic waves, Amplitude Modulation and Frequency Modulation, Communication System Block Diagram of Basic elements, Signals Bandwidth, and transmission medium. |
| 3. | Electronic Devices | A semiconductor diode, Current-Voltage characteristics of forwarding bias, reverse bias and LED, diode and solar cell, photodiode, voltage regulator – Zener diode, diodes as a rectifier, transistor action, junction transistor and transistor characteristics, transistor as a switch, oscillator and amplifier Transistor as a switch, Logic gates. |
List of Chemistry topics included in the syllabus of Main but excluded in Advanced Syllabus
| S.No | Units | Description |
| --- | --- | --- |
| 1. | Cleansing Agents | Soaps, detergents, and cleansing action. |
| 2. | Chemicals in Food | Preservatives and Artificial sweetening agents. |
| 3. | Chemistry in Everyday Life | Medicine Chemicals: tranquilizers, analgesics, disinfectants, antiseptics, antifertility drugs, antimicrobials, antacids, antibiotics, antihistamines. |
List of topics from Mathematics covered in the Main syllabus but excluded in Advanced Syllabus
| S.No | Units | Description |
| --- | --- | --- |
| 1. | Trigonometry | Problems on Heights and Distances |
| 2. | Relations, Functions, and Sets | Representation of Sets, Power set, Algebraic properties of complement and intersection of sets, Union, Relation and its types, Equivalence relations. |
| 3. | Probability and Statistics | Dispersion Measures: Mean and median calculation, Mode, Standard deviation, Mean deviation, and Variance of ungrouped data and grouped data. |
| 4. | Mathematical Reasoning | Logical operations and Statements: or, and, implied by, implies, only if and if statements. Understanding Contradiction, Tautology, Contrapositive, and Converse. |
IIT JEE Advanced Subject-wise Syllabus
Students who qualify JEE Main and are in the top 2,50,000 candidates will be eligible to appear for the final stage of the IIT exam which is JEE Advanced. It is an online exam comprising of 2 papers carrying 180 marks each. IIT JEE syllabus for JEE Advanced 2020 is designed in a way to assess the academic talent of engineering aspirants. The concepts are such that they will test the student's ability to apply and solve problems based on them. Therefore, instead of rote learning and memorization, students are advised to clearly understand the concepts. They can use the syllabus to know which concepts are important from an examination point of view and master them and then develop efficient problem-solving skills. Students can check the topic-wise syllabus from the links given below.
Make sure to go through the syllabus completely and get a better understanding of the exam. Apart from academic excellence, the JEE Advanced 2020 exam is designed to test the analytical skills, situational intelligence, and time management abilities of the students. Given below is the list of topics from Physics, chemistry, and maths that are included in the Advanced syllabus but excluded in Main Syllabus.
Electrochemistry: Conductivity equivalence.
Nuclear Chemistry: Properties of alpha rays, beta rays, and gamma rays, radioactivity, radioactive decay – excluding decay series, nuclei stability w.r.t proton and neutron ratio, carbon dating, fusion and fission reactions in brief.
Thermal Physics: Blackbody radiation, the law of cooling, Absorptive powers, Emmissive powers, Wien's Law of Displacement, Kirchoff's law, and Stefan's Law.
Importance of JEE Syllabus
The first step that candidates should take while preparing for IIT JEE is to understand the syllabus. The syllabus is an important piece of document that can extensively support candidates in clearing their doubts as well as help them learn productively. Typically, the syllabus consists of all the essential instructions and it also lists out all the topics and concepts from which the questions will be set in the final examination.
Against such a backdrop, candidates should at least read the syllabus once instead of ignoring it completely. Knowing the topics that are likely to appear in the exam will help them prepare strongly and even perform well in the exams.
All in all, it will be beneficial in the long run. Simultaneously, knowing the syllabus does not mean just seeing the topics; instead it is about reviewing and analyzing all the topics thoroughly. Nonetheless, some of the key benefits of the syllabus are:
It gives an opportunity to create a well-defined preparation strategy. The syllabus sometimes acts as a guide that can help you move in the right direction.
The syllabus helps in having better control over each candidates' learning. They can choose what to learn.
IIT JEE syllabus gives a fair understanding of important concepts and marking scheme of chapters further enabling them to focus more on the relevant topics.
It helps to understand the question paper format including the types of questions, paper duration and more.
The syllabus also contains details about materials that can enhance candidates learning. Most of the time, the syllabus will also mention reference study materials which candidates can make use of to further expand their knowledge.
Frequently Asked Questions on JEE Syllabus
Is the JEE Main Syllabus same as CBSE Class XII syllabus?
The syllabus of JEE Main will most likely be similar to CBSE Class XII syllabus. The topics and chapters are almost the same.
Will the JEE syllabus be based on Class XI also?
Yes, the JEE syllabus also covers topics from CBSE class 11 standard. Questions are prepared from this syllabus.
Will the syllabus be the same for JEE Main Paper 1 and Paper 2?
No, the syllabus is completely different for Paper 1 and Paper 2.
How important is it to read the syllabus?
Every candidate or aspirant should make it a point to go through or read the JEE syllabus whether it is the JEE Main syllabus or the JEE Advanced one. Going through the syllabus will help them gain valuable insight into the objective of the course, important chapters, and topics, exam pattern, weightage of marks and more. It will also help candidates to develop a strong preparation strategy for the exam.
Where can i get or download the syllabus from?
The syllabus can be easily downloaded from the official website. The exam conducting authority usually releases the JEE syllabus on its website and candidates can easily view them online, take a print out or download it in the form of a PDF.
BYJU'S is also providing the latest information covering IIT JEE 2020 including important exam dates, eligibility criteria, exam pattern, mock test papers, previous year question papers and more. Keep exploring the website for more details.