Your JEE preparation is incomplete without proper revision and practice. While planning your preparation strategy,  dedicate some time just for revisions. Conducting revisions periodically will help you be in touch with the concepts that you may have studied early on. However, you should remember that during this stage you should not be learning new concepts. This is a wrong practice. This time is meant only for brushing up your important concepts, especially formulas. JEE includes subjects such as Maths, Physics and Chemistry that deal with various formulas and theorems. For these, revision is key.
Therefore, while preparing any chapter you can keep a separate notebook or make flashcards for easy reference and quick revision. Furthermore, these study notes should have a comprehensive overview of important topics and should be clear and concise. Remember that flashcards should be used only to revise certain topics instead of studying it. The main idea of a flashcard is to read the heading and immediately recollect the concept behind it.  You can follow some of these tips to write and maintain flashcards:
The main gist of a concept,
Short explanation, if necessary,
Formulas and Diagrams,
Example to aid, if necessary.
In addition to these suggestions, below are some revision tips for JEE Exams that you can follow.
Revision Tips for JEE Main and Advanced
1. Make Use of the Revision Notes and Flashcards Regularly
While revising any unit go through your previously prepared notes. This process will help you to strengthen concepts in your memory and hence, applying them becomes much easier. If you haven't prepared flashcards in past then don't waste time in preparing them now. Although flashcards would've made it easier for recollection, your notes will also suffice.
2. Prepare a Proper Study Time-table and Stick To It
Understand each and every topic included in the JEE Syllabus and accordingly formulate a proper study plan. Schedule all your breaks, sleep cycle and study time in this timetable and make sure you stick to it. Set goals and include it as a part of your schedule. The goals you set could be on a daily or weekly basis depending on your comfort. Set appropriate time limits to practice questions and ensure that it helps in managing time during the actual JEE Exam.
3. At the time of Revision, Don't Focus on Learning Anything New
As mentioned above, your revision time should only be used to revise units that you have already learned. Don't focus on learning any new concept at this time because learning anything new may also weaken your confidence at this stage.
4. Practice ample of Past year's Question papers and Mock Tests:
After studying certain concepts, it is better to practice questions from the past years' question papers. It will help you to test or analyze your preparation level for JEE exams. Solving previous years' question papers will help you gain higher confidence and it also enhances your exam temperament. Don't forget to attempt sample mock tests. These tests should be attempted to know how to manage time and pressure of the actual examination. Therefore, you should set conditions as an ideal to the actual situation with no distractions. Practice several numbers of application-based questions from previous papers.
5. Take Breaks and Ensure a Healthy Sleep Cycle:
Make sure to take enough scheduled breaks and maintain a regular sleep cycle. It is obviously not possible to study for the whole day or night. Since most of the hard work is done by your brain, therefore, you should give it sufficient time to recuperate. Sometimes you will notice that revisiting difficult questions after a break becomes less strenuous. Sufficient rest also keeps you motivated and will make your stay positive during your preparations.7
You can follow these revision tips the next time you sit down to study. These will help you prepare well and be ready for the exams.
Revise Effectively in a Short time for JEE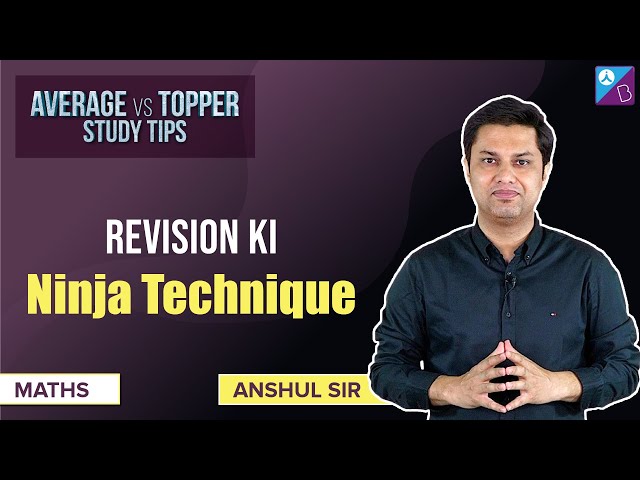 Best Revision Strategy for JEE Mains 2023 Maths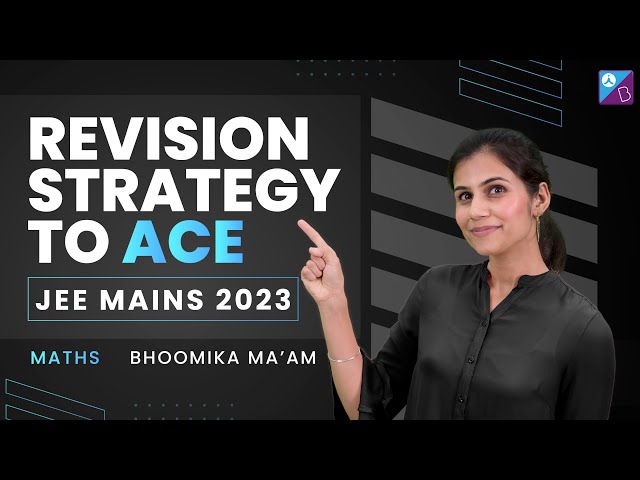 Difficulty Level of JEE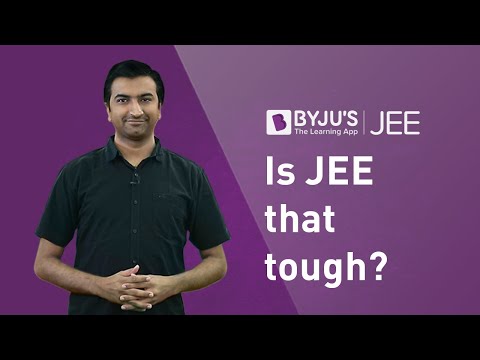 Stay tuned with BYJU'S for more information on JEE syllabus and best books for JEE Mains and Advanced.
Related Links