Every year lakhs of aspirants apply for  JEE exam but only a few manage to crack this competitive exam. Besides, these few students follow different strategies to clear the exam but there are a few basic things that each aspirant must observe regularly. While there are many JEE preparation strategies that each aspirant can stick to, mock tests play an important role in JEE exam preparation.
In this article, we will explain the importance of taking mock tests regularly to ace JEE exams.
JEE Mock Test Benefits
Proper Time Management
Time management is the biggest concern faced by most of the JEE aspirants. It can be a complicated task to solve the entire JEE paper in 3 hours and more importantly to get the right answers. In this scenario, taking mock tests can come in handy. The more mock tests that you attempt, they will help you develop adept problem-solving skills to solve the paper within the given duration. This is also a great way to revise whatever you have studied so far. 
Helps you get Familiar with JEE Paper Pattern
The first important step in your JEE preparation involves getting familiarised with the JEE exam pattern. By taking mock tests and solving previous year question papers, you will get familiar with the pattern of the entrance exam and the question paper including marks weightage given to each chapter and the number of repetitive questions. This will help you to predict the type of questions that you may encounter in the exam.
Self-evaluation
Taking mock tests will help you test your preparation level and evaluate your progress. You can identify your own strengths and weaknesses and work harder on the weak areas until you get it right. This is a great way to avoid mistakes in the actual exam.
Develop Better Speed and Agility
Mock tests help you develop greater speed and agility. JEE exam is all about getting most of the right answers in the given time. The paper always contains complex, easy, and mediocre level questions. Most students get stuck with the complex and mediocre level questions which take up most of their time. Solving mock test papers will give you a lot of practice where you will be working on all types of problems. This will help you solve the paper at a much quicker pace.
Resolves Anxiety Issues
JEE exams which include JEE Main and JEE Advanced can be intimidating for some students. The sheer difficulty level of the exams, competition, pressure to perform well and due to these, some students tend to lose their focus. They sometimes fail to answer the questions even if they know the right answer. This could also happen due to a lack of self-confidence. 
Thus, by getting familiar with the JEE question papers pattern and taking the mock test regularly, students can overcome such issues. 
Many coaching centres provide mock test series which have the actual look and feel of the JEE exam. We advise you to take as many tests as possible and it will definitely help you to build enough confidence.
Click to take the Test: JEE Main Mock Test
Best Mock Test Strategy for JEE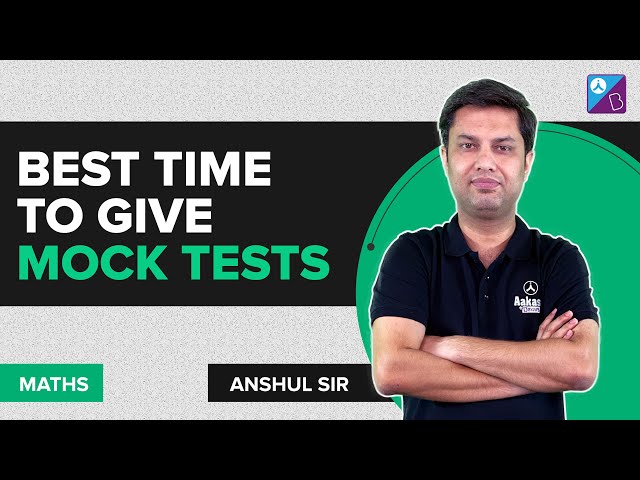 Overview of JEE