Most NEET aspirants often misjudge the challenges that could be encountered in the Chemistry section of NEET. It could either be due to prioritizing the Biology section or devoting more time to solving Physics numericals. Little importance is given to Chemistry, which shows up at the time of exams, which leads to unnecessary fright and hence low scores in the section.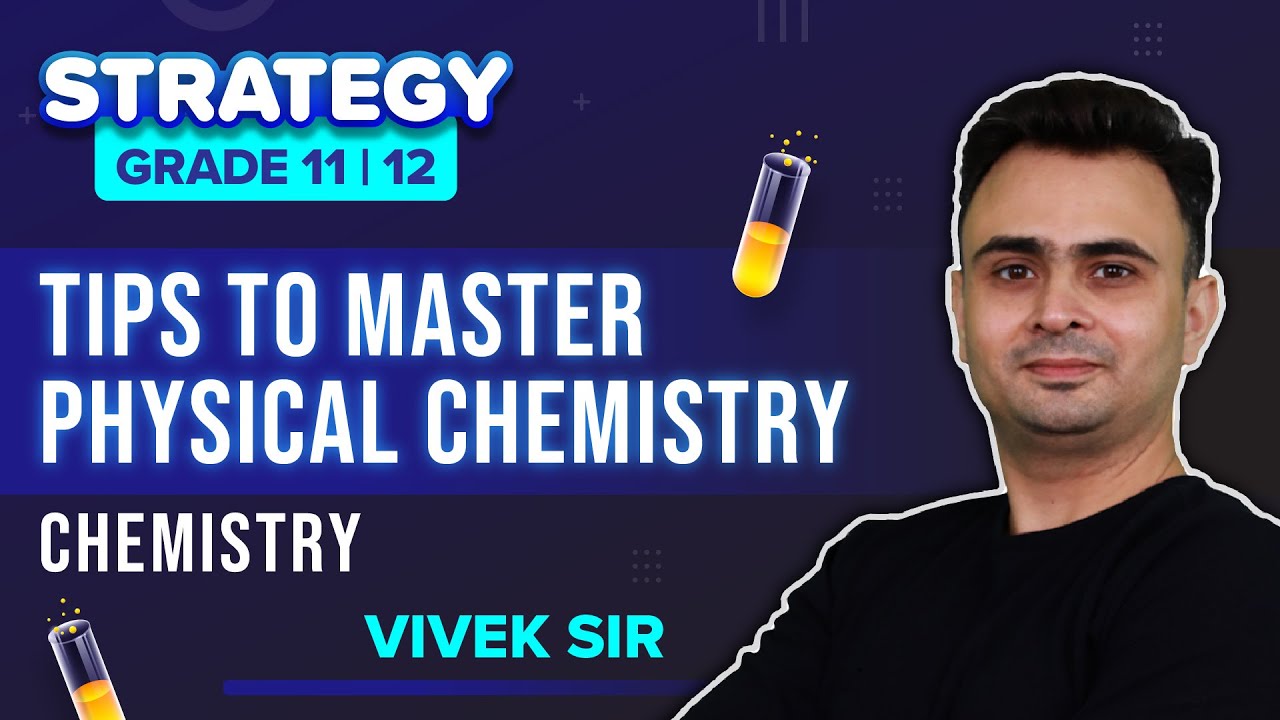 NEET Chemistry section comprises 25% of the question paper. 50 questions out of 200 are asked from Chemistry. Out of these 50 questions (only 45 are to be answered), 15 questions are asked from the Physical chemistry section. Unlike other sections of Chemistry, Physical chemistry involves numericals. The pattern of questions appearing in the Chemistry section is difficult to deduce in comparison to Physics and Biology as it keeps varying. Since Physical chemistry shows most variations compared to other sections, it requires all the more attention. Over the years, however, it has been inferred that theory-based questions for numericals have appeared more often. Such questions can be easily cracked by those who have followed NCERT thoroughly.
Also see: Answer Key of NEET 2022
How To Prepare Physical Chemistry For NEET? – Physical Chemistry Syllabus
The first and foremost step before starting to prepare for this section is the knowledge of NEET Physical Chemistry syllabus. Candidates must understand the syllabus to be able to chalk out a plan. Take a look at the table below, which provides the syllabus of Physical Chemistry for NEET from Class 11 and 12.
NEET Physical Chemistry Syllabus Class 11 and Class 12
| | |
| --- | --- |
| Class 11 | Class 12 |
| Some Basic Concepts of Chemistry | Solid State |
| Structure of Atom | Solutions |
| States of Matter: Gases and Liquids | Electrochemistry |
| Thermodynamics | Chemical Kinetics |
| Equilibrium | Surface Chemistry |
| Redox Reactions | |
Also see: NEET Chemistry Weightage
How To Prepare Physical Chemistry For NEET? – Previous Years' Trends For Physical Chemistry
Preparing for any test is incomplete without understanding the importance of each chapter. This can be deduced from previous years' trends. An analysis of NEET previous years' question papers has revealed the number of questions asked from each of these chapters in Physical chemistry from the year 2006 to 2019. Take a look at the report below:
1. Physical Chemistry – Class 11 – Chapter 1 – Some Basic Concepts of Chemistry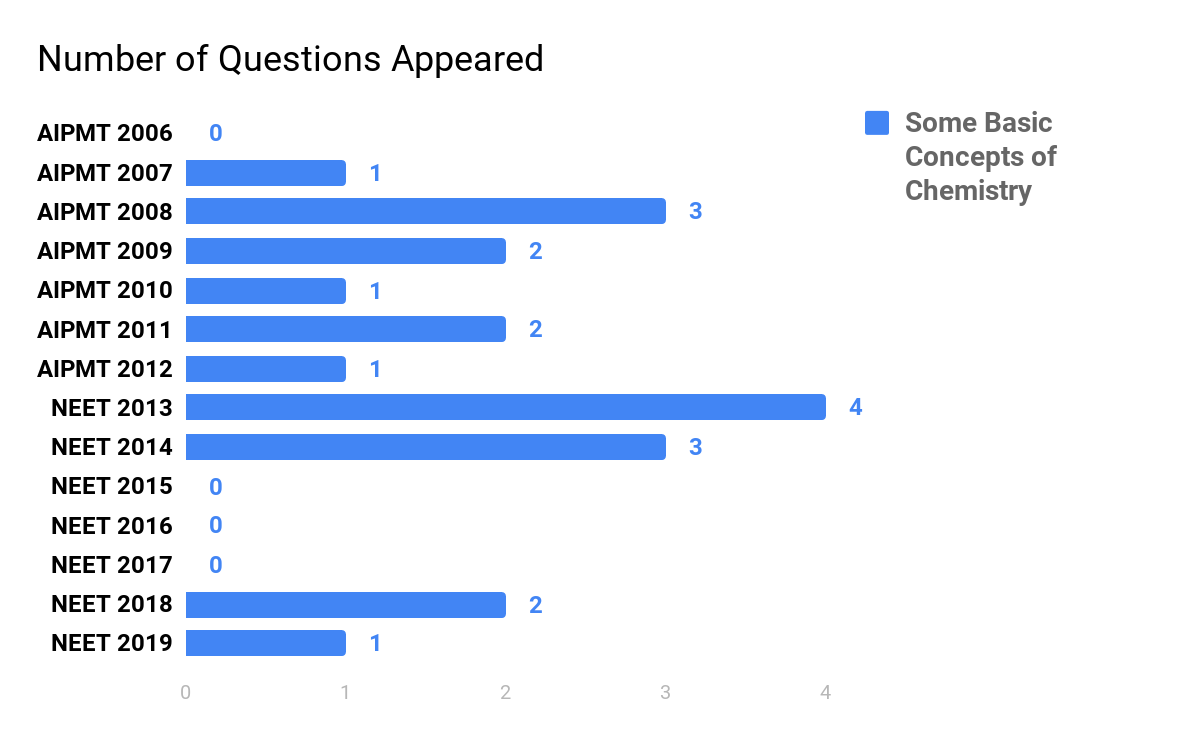 2. Physical Chemistry – Class 11 – Chapter 2 – Structure of an atom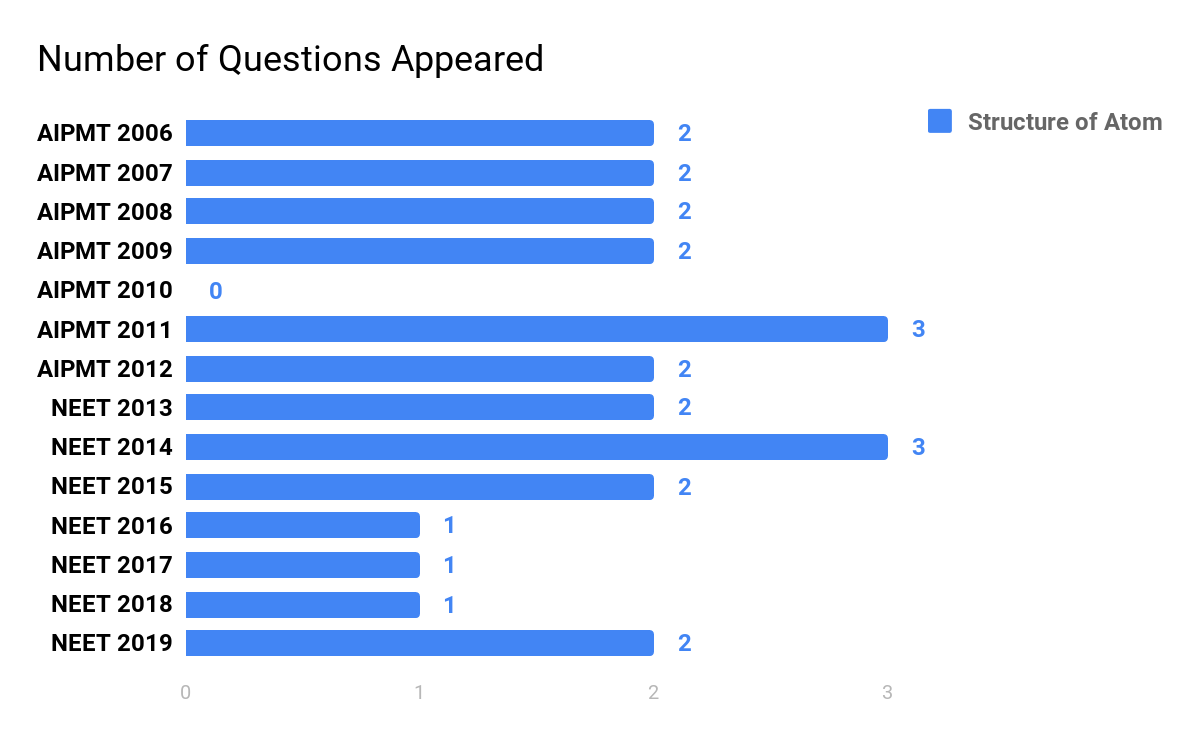 3. Physical Chemistry – Class 11 – Chapter 3 – States of matter: Gases and liquids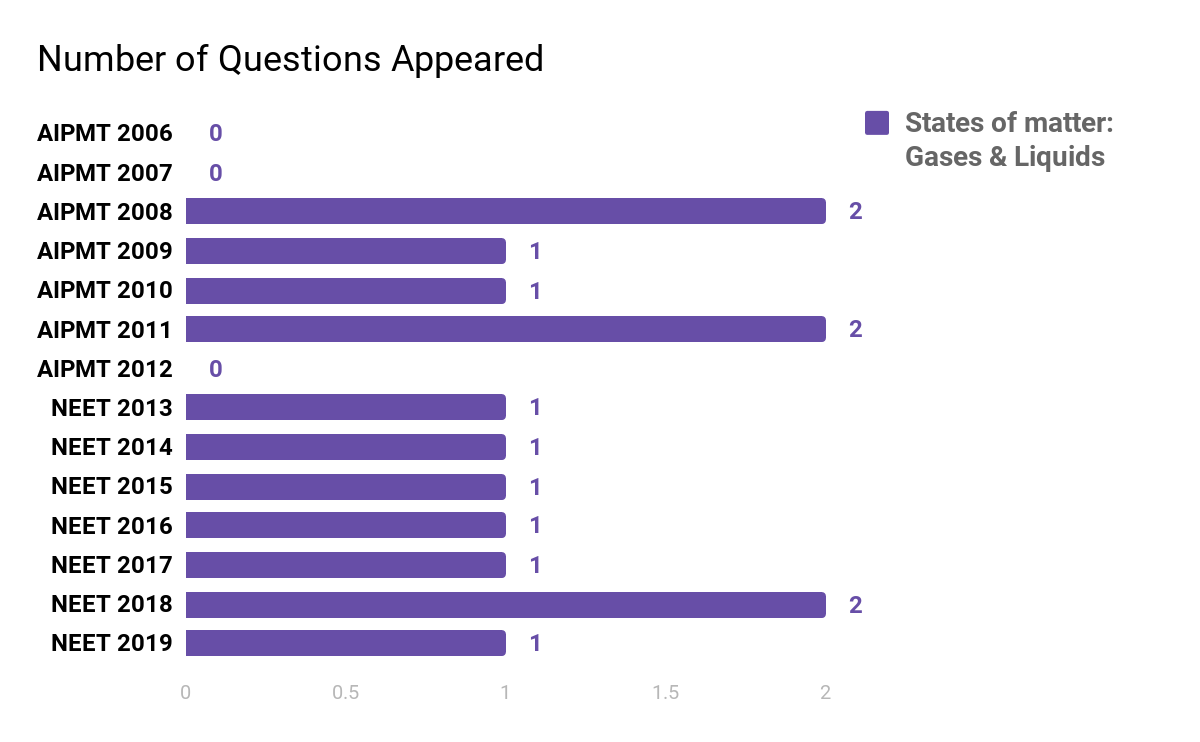 4. Physical Chemistry – Class 11 – Chapter 4 – Thermodynamics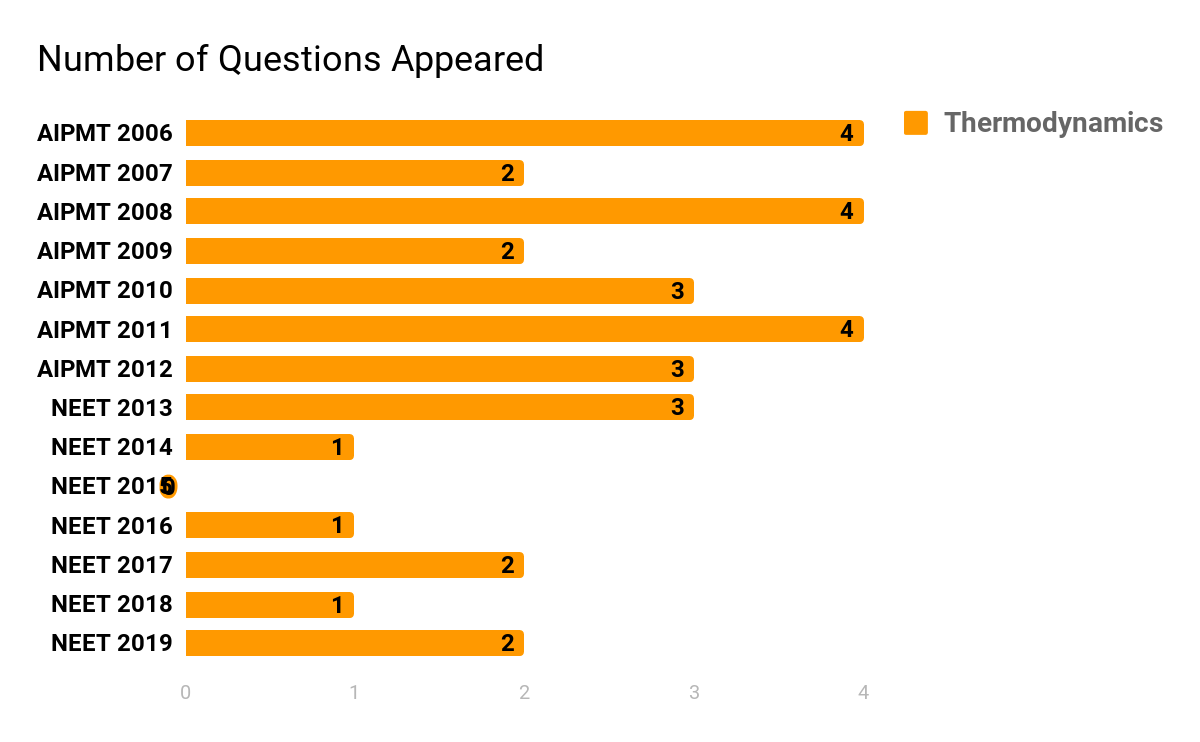 5. Physical Chemistry – Class 11 – Chapter 5 – Equilibrium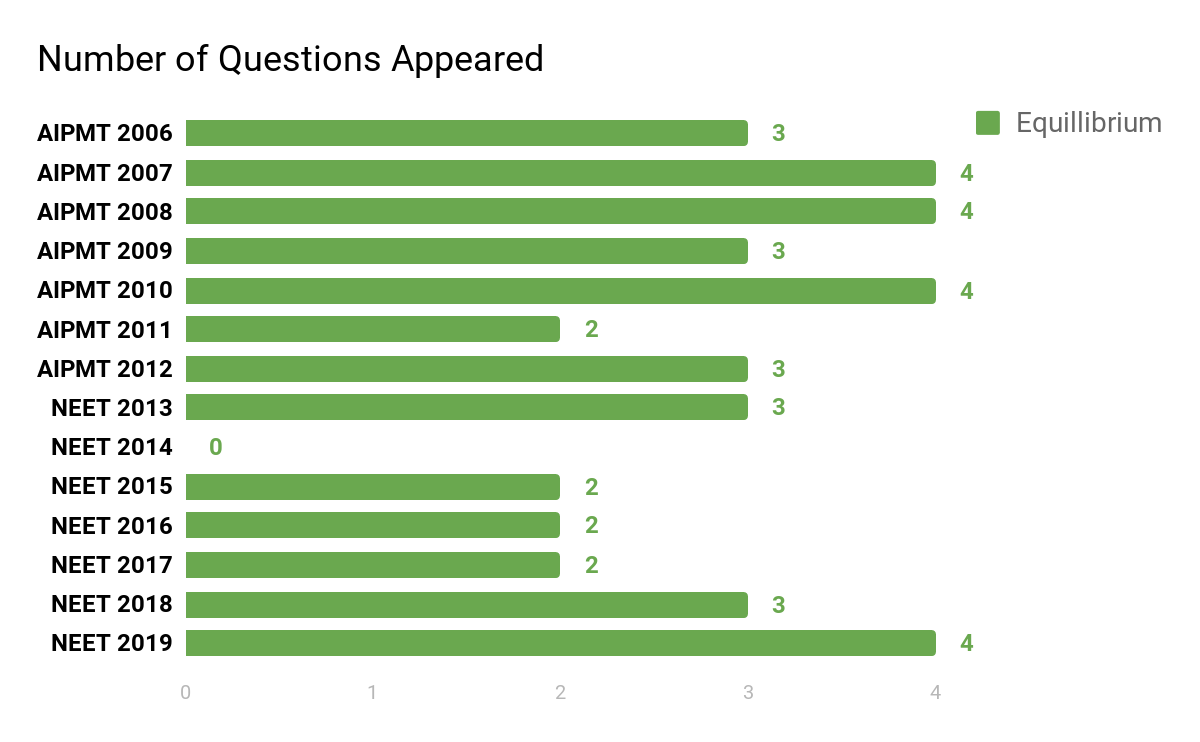 6. Physical Chemistry – Class 11 – Chapter 6 – Redox reactions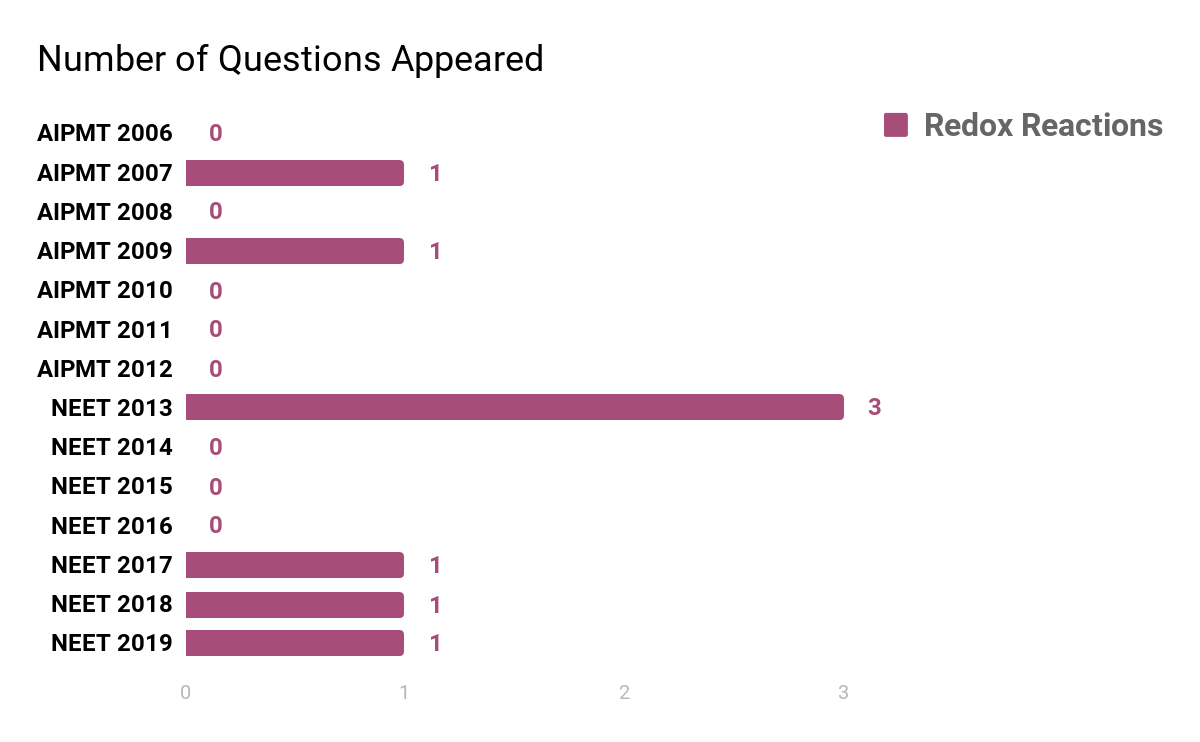 7. Physical Chemistry – Class 12 – Chapter 1 – Solid state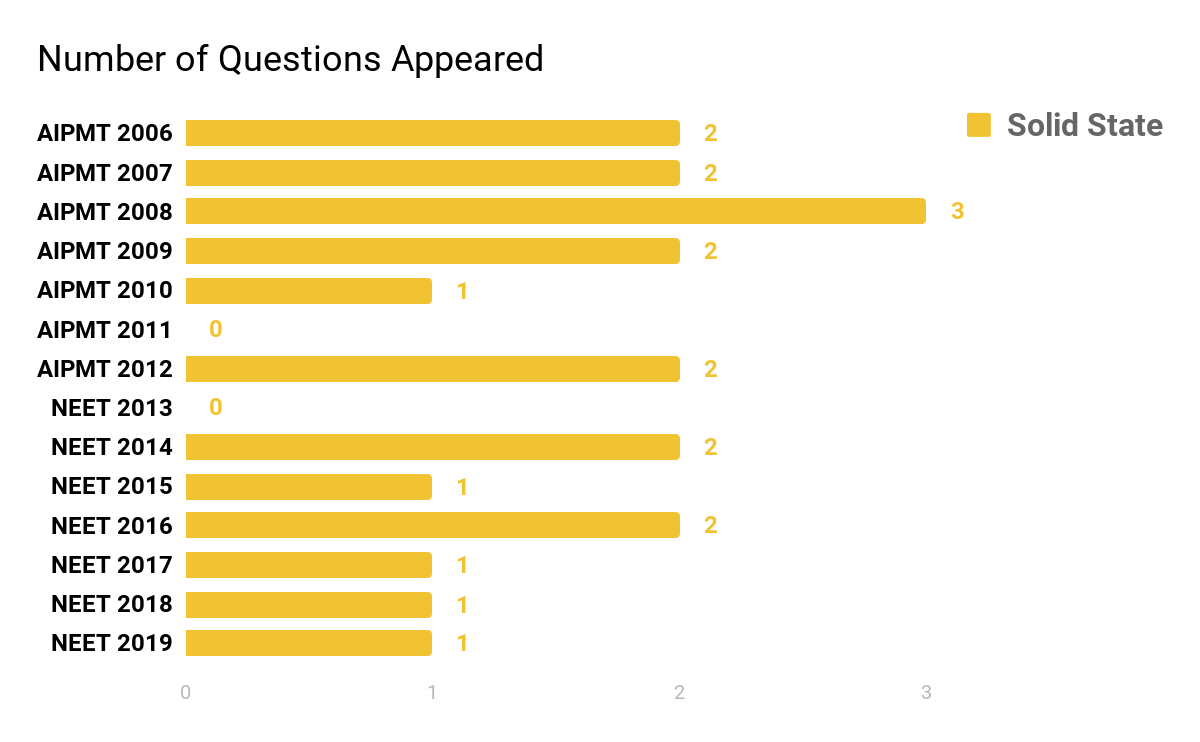 8. Physical Chemistry – Class 12 – Chapter 2 – Solutions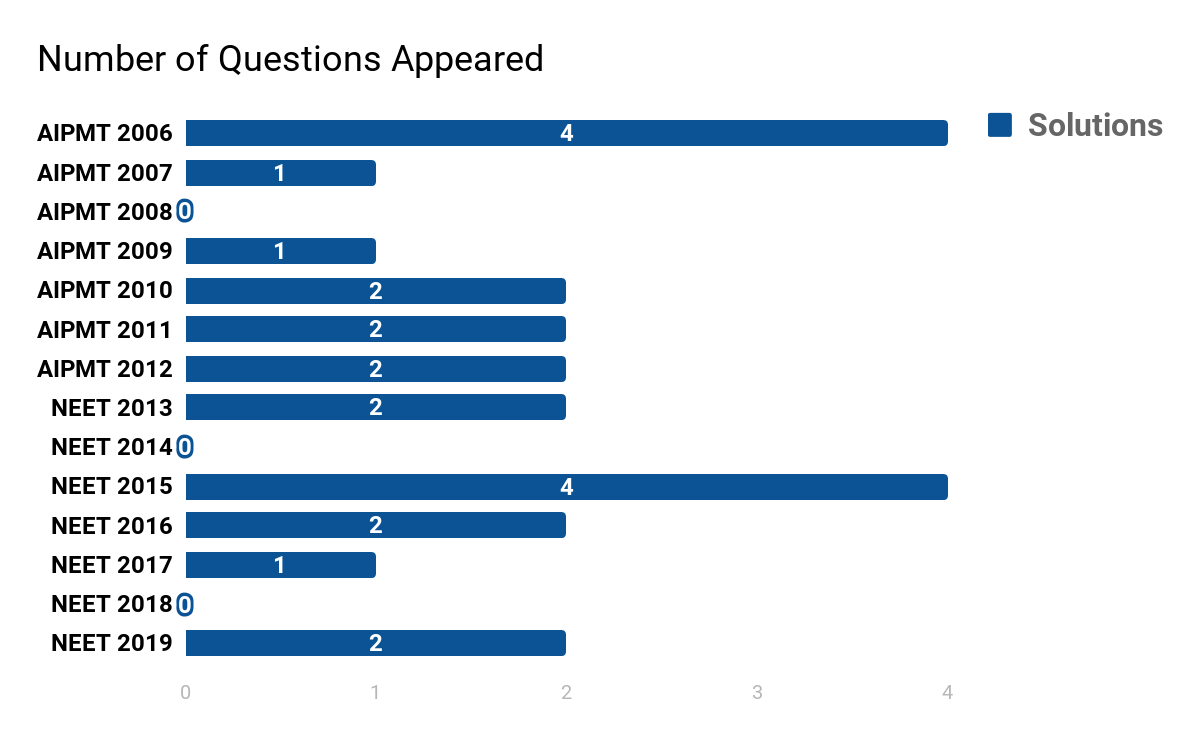 9. Physical Chemistry – Class 12 – Chapter 3 – Electrochemistry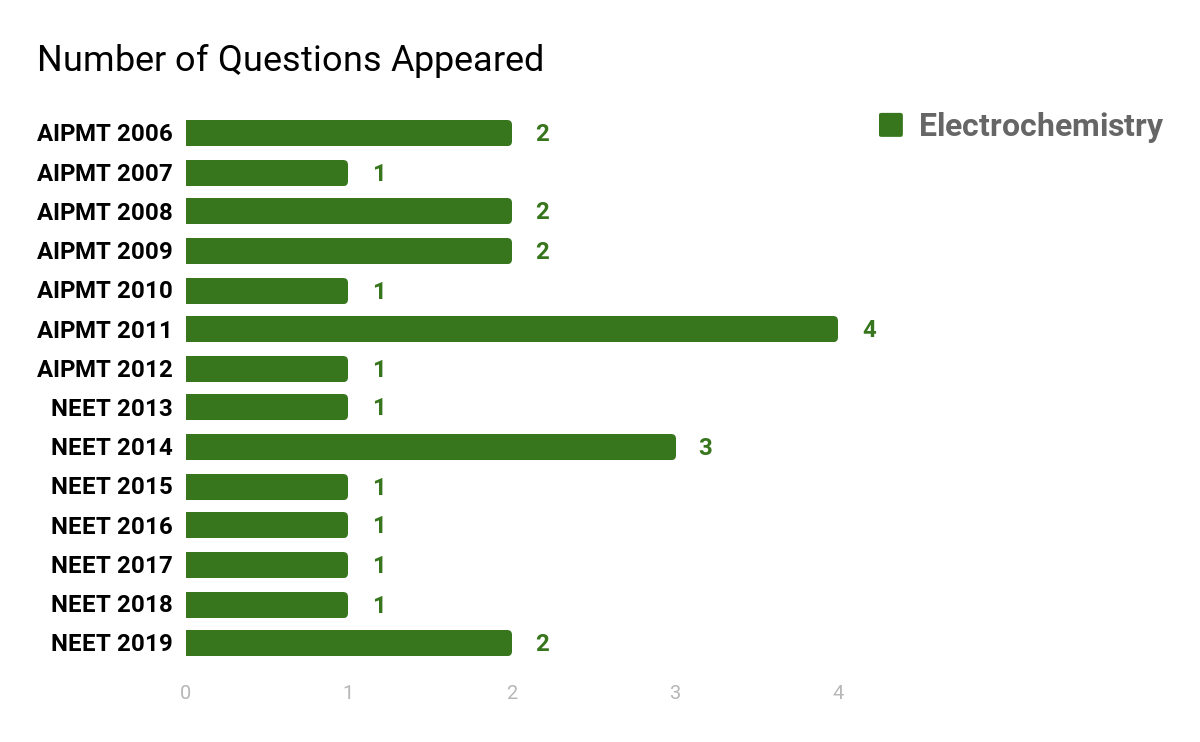 10. Physical Chemistry – Class 12 – Chapter 4 – Chemical Kinetics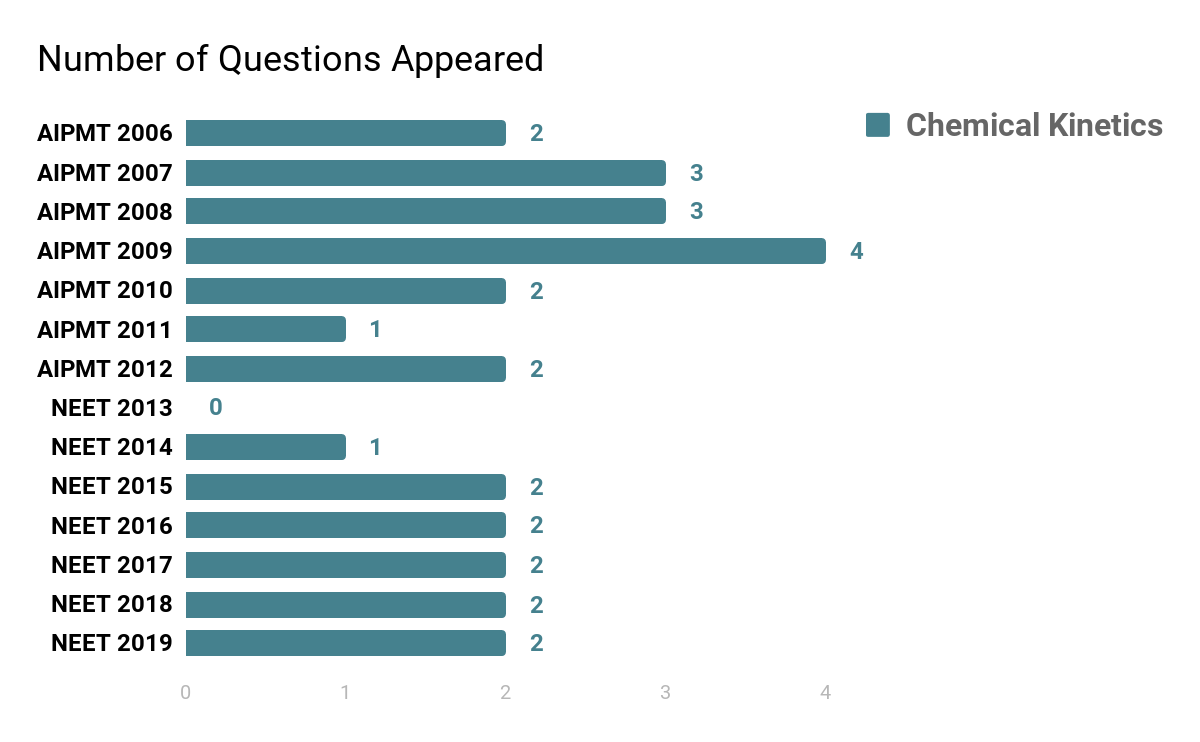 11. Physical Chemistry – Class 12 – Chapter 5 – Surface Chemistry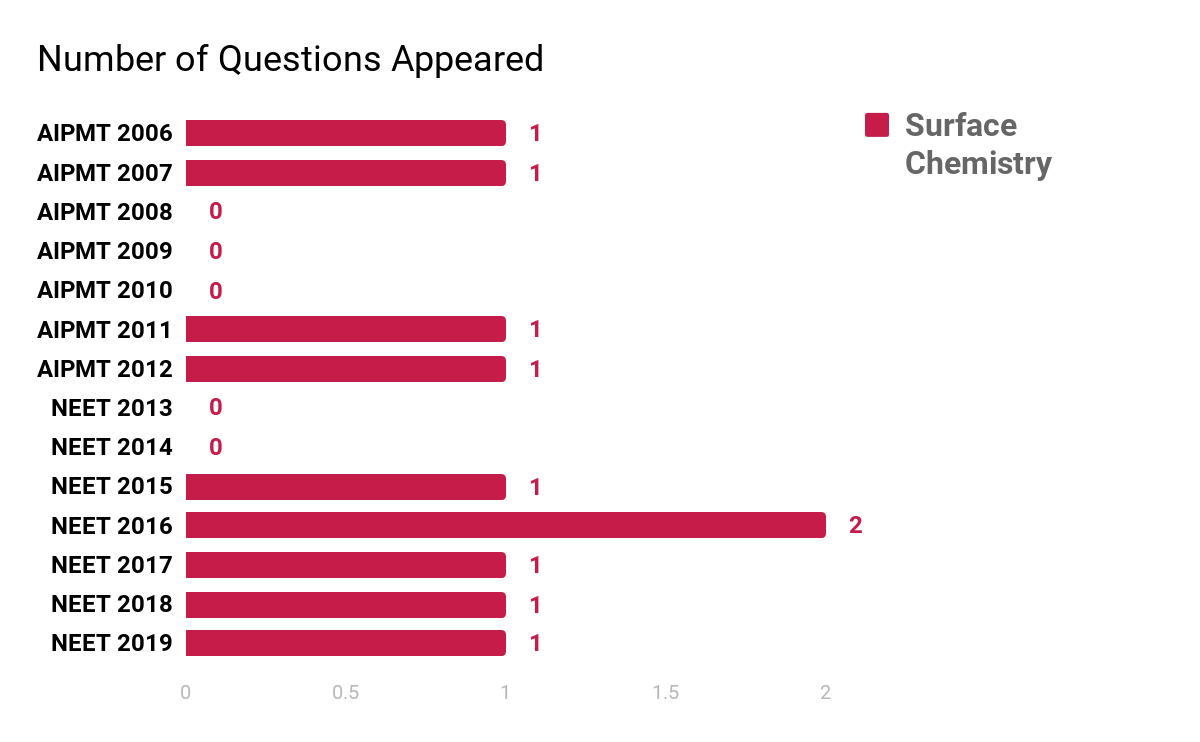 These were the trends from the year 2006 uptil 2019 for NEET Physical Chemistry section for each chapter. With the help of this, one can easily deduce the importance to be given to different chapters provided the number of questions appearing over the years.
How To Prepare Physical Chemistry For NEET? – Key Topics In Physical Chemistry Chapters
As it is, the syllabus of NEET is vast. Knowing important topics in a particular chapter becomes all the more necessary to segregate what is important and what is not. While all of us know what the NEET syllabus is for Chemistry and what is to be studied, what sets apart toppers from other candidates is that they know exactly what not to study. A clear distinction between important and not so important topics sets the path right and clear. So, do not waste your precious time, instead, focus on strengthening important concepts.
The table below provides information on important topics to be covered in each chapter of Physical chemistry, take a look:
Name of the Chapter
Important topics of the Chapter
1. Some basic concepts

Mole concept & Empirical formula
Limiting reagent
Terms of concentration

2. Structure of atom

Quantum numbers
Model of atoms – Bohr's
Heisenberg's uncertainty principle
De Broglie hypothesis

3. States of Matter: Gases and Liquids

Density formula
The Gas laws
Ideal Gas Equation
Intermolecular forces – Van Der Waals gas equation
Packing fractions and ranks
Unit cells and lattices

4. Thermodynamics

All laws of thermodynamics
Isolated system – work
Hess's Law of Constant Heat
Summation
Gibbs Energy and Spontaneity
Entropy and Spontaneity

5. Equilibrium

(nearly 4-5 questions are asked from this unit)

Properties
Equilibrium constants and laws
Factors Affecting Equilibria – Le Ch atelier's principle
The pH scale
Buffer solutions
Ions

6. Redox reactions

All types of redox reactions

7. Solutions

Vapour pressure
Raoult's law, Van't Hoff Factor
Colligative Properties and Determination of Molar Mass
Osmosis and Osmotic Pressure

8. Electrochemistry

Electrochemical cells
Nernst Equation
Electrolysis
Kohlrausch law
Conductivity

9. Chemical Kinetics

Order of a reaction
Molecularity of a reaction
Rate law
First order reaction
Half life of a reaction
Temperature Dependence of the Rate of a Reaction

10. Surface Chemistry

Colloids
Adsorption Isotherms
Properties of Colloidal Solutions – Tyndall effect
Catalysis
Emulsions
Note: These are some key concepts to be covered. However, ensure you cover other topics as well. Questions can be framed from anywhere.
Check more: Chemistry Formulae For NEET
How To Prepare Physical Chemistry For NEET? – Some Important Points
Physical chemistry demands exhaustive practice
Maintain a book exclusively dedicated to formulae and revise from it every day. Let formulae be at fingertips
Stay aligned with the syllabus for Physical chemistry, avoid reading through extra information
Master concepts you know and solve as many questions on it as possible
Resolve previous years' papers and mock tests
Do not devote much time on topics which do not require as much attention. For instance topics like – redox or even mole concept can be covered later on
Cover high-weightage chapters and prioritize them in your preparation
Refer to the best books for NEET
Read and solve NCERT problems, intext examples and exercise questions
This was a brief on how to prepare Physical Chemistry for NEET. Visit us at NEET BYJU'S for more such articles.
Recommended Video: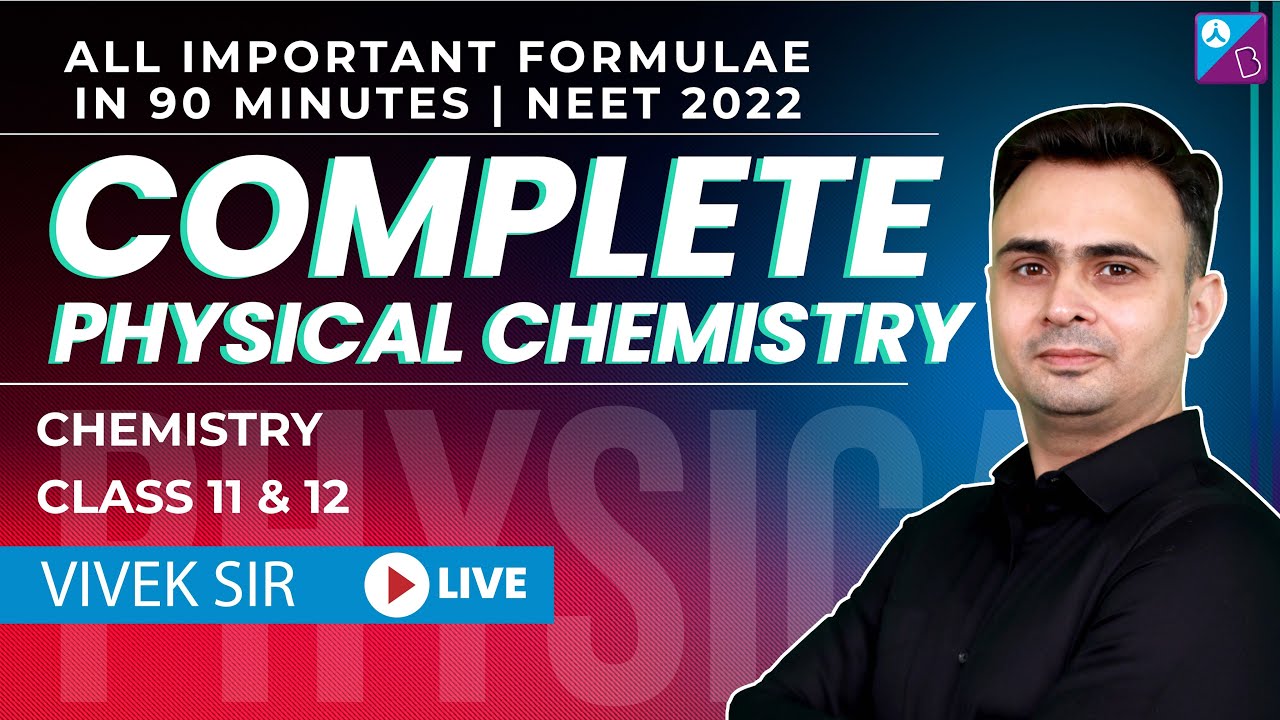 Suggested articles: