In all the pre-medical examinations, Biology, is one of the maximum score holding subject, can promise one certain rank if they have well equipped for AIPMT – 2016. Many of the problems asked from Biology are founded on elementary concepts of NCERT. As both botany and zoology carry equal marks, identical attention is to be paid on the preparation of both.
AIPMT 2016 – Biology Important Areas And Their Weight-age
Evaluating the AIPMT 2015 biology paper puts forward that the level of difficulty for biology has been amplified in current years because of increasing rivalry. The areas carrying decent weight age are – the Human Physiology, Plant Physiology, Cell Biology, Molecular Basis of Inheritance, Ecology, Biomolecules, and Biotechnology.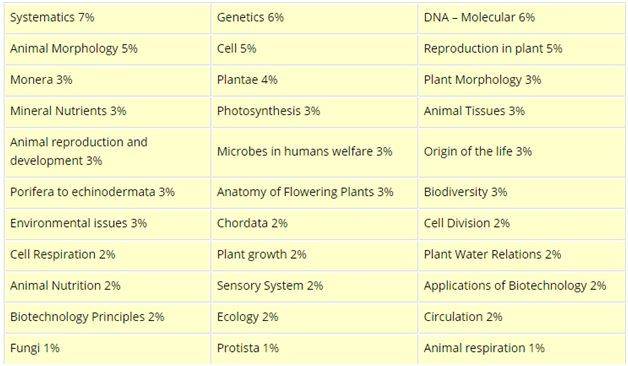 Biology Preparation Assistance
Study the topic an evening before learning it in the classroom. Agreed that it's difficult as it requires time and can often be boring too, but this tip is well-tried and it helps!
With the intention of achieving a good level of groundwork, you must hang onto reading your biology curriculum on a daily basis.
Be sure of studying with the help of NCERT Books For AIPMT. As many questions are based on diagrams do a run through of the diagrams of NCERT.
Crack all the samples given in NCERT. In pre-medical examinations, some complex questions are asked in which the connotation and theory of the problem is altered by swapping few of the words.
The scholar should be acquainted with the weight-age assigned to all the chapters so that he/she can study in view of that. The chapters with high weight-age should be devoted more time.
The topics having good weight-age are – Plant Physiology, the Human Physiology, Cell Biology, Molecular Basis of Inheritance, Ecology, Biotechnology and Biomolecules.So, students must focus on these chapters.
Topics like Plantae and Animalia are slightly confusing. Phylum non-chordata and class levels upto chordate also require regular exercise and review.
To highlight important points in your notebooks,use markers.
Attempt to crack as many online exams as possible because this will aid you to keep a track of your time properly.
Keep your study table clean and consume a lot of water.