Introduction
Palaemon is a genus of shrimp that is found in rivers, lakes and ponds. They are small aquatic crustaceans that have an exoskeleton and ten legs. Because they have ten legs, they belong to the order Decapoda.
Below is a well-labelled diagram of the species Palaemon. Read on to find its classification and basic morphological characteristics.
Classification
| | |
| --- | --- |
| Kingdom | Animalia |
| Phylum | |
| Class | Malacostraca |
| Order | Decapoda |
| Family | Palaemonidae |
| Genus | Palaemon |
Well-Labelled Simple Diagram of Palaemon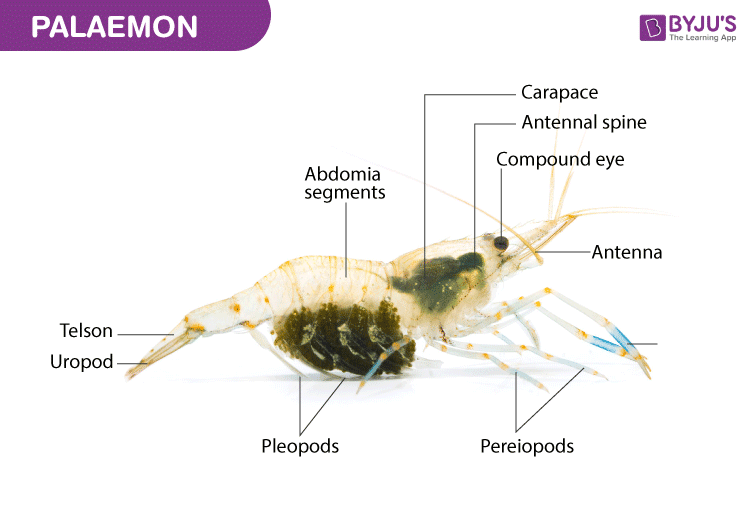 Characteristics
The species Palaemon serratus is commonly known as common prawns.
It is found in the Atlantic ocean, the Black sea and the Mediterranean sea.
They are found on rock cracks at a depth of up to 40m and the organism lives for 3–5 years.
Their population peaks during the autumn season.
Their body is compressed laterally and is covered by a protective layer of chitinous exoskeleton.
The body is divided into an anterior cephalothorax and a posterior abdomen.
The cephalothorax is the fusion of head and thorax segments.
The cephalothorax is covered by a section of the exoskeleton called carapace. The carapace is extended behind the eyes to form a rigid structure called the rostrum.
The rostrum of the serratus species can be differentiated from other Palaemon species as it is curved and bifurcated at the tip.
The pereiopods are five pairs of leg appendages that are used for walking.
The five pleopods are another set of the leg appendages that are known as swimmers.
Telson at the end, also called the tail fan, bears the anus of the organism.
Uropod is the last segment that helps in the movement and locomotion of the organism.
Visit BYJU'S Biology for more information.
Also Read: