General Studies III
Syllabus
Economic development, technology, bio-diversity, environment, security and disaster management.
Approach
General studies Paper is vast like an ocean. No one can entire syllabus before the main examination. But if you can cover the entire syllabus once, then that is an added point which eases the journey to your dream to a civil servant. By narrowing down the syllabus is the only shortcut to cover the entire syllabus within time. By prioritizing the hot topics and solving previous years question paper will help you to narrow down the syllabus.
General studies Paper III has a relation between other papers also. Polity an economy is an actively interacting area in governance. The disaster management environment and geography also go hand in hand. And these are dominated by Current affairs. So, it is very important to analyze current affairs well along with traditional areas.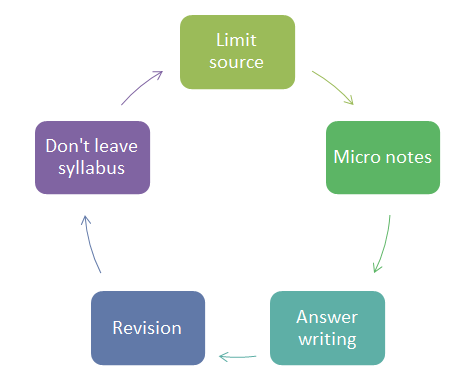 4 things that can be done now is
➜ Be thorough with basic concept
This is the one basic thing we cannot compromise. Without knowing the basic concept candidate cannot write a perfect answer. The basic conceptual ideas can be acquired from NCERT books. That is sufficient for UPSC civil services examination.
➜ Current affairs
Immerse yourself in current affairs. Updating your traditional knowledge with current affairs is very important. Knowing only basic concept or only current affairs would not help you. Both conventional/ traditional area and current affairs should go hand in hand. Candidates should interlink the current affairs with the basic conceptual ideas. This will help on to write high quality and pragmatic answers in the Civil Services Main Examination.
➜ Practice answer writing
Practicing answer writing or constructing an answer is a skill in terms of the UPSC main examination within a time limit. It is highly recommend writing an answer daily to enhance your writing skill. Tackling each question will help you to learn new things every day. Using the new phrases, especially seen economic survey or other government documents will help to construct a perfect answer without any chaos. Candidate can enroll for main test series also to evaluate themselves and to enhance speed also.
➜ Solving previous years questions paper.
Previous year question plays a crucial role especially in the civil service main examination. Once you examine the paper carefully, you can see the pattern, trend and repeated questions also. Solving a UPSC Previous year question paper will help you to understand the exam very well. A thorough writing practice will help the candidate to fetch more marks in UPSC Civil Services Main examination.
Current affairs play an important role, especially in General studies paper III. The base of much current affairs is General studies Paper III especially economy related, environmental and polity related which has a direct correlation and actively linked to economy. So understanding the economy and its basic theories and concepts become almost imperative if you want to give a good answer in current affairs.
This paper is very dynamic because it connects with geography as it deals with the environment and disaster management, it again connect with polity as it actively linked to the economy, 
Overall analysis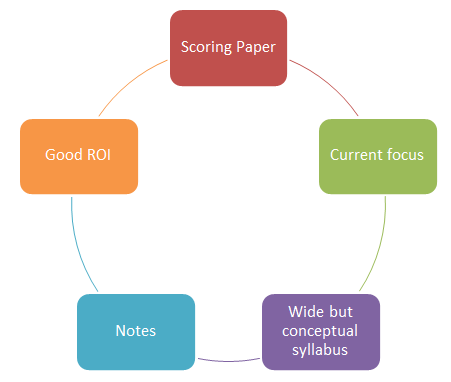 Scoring paper
This is considered as the scoring paper in the Civil Service main examination. But most of them found this a difficult paper as they ignore the current affairs element.  So, it is not optimal on this paper but if you can focus and correlate the syllabus with relevant current affairs this paper is very easy to crack.
Current focus
This paper needs more attention on current focus. Economics, Science & tech and environment are dynamic subject. So it is very important to examine them with current focus. Most of the questions can be likely asked from the current focus areas only.
Wide but conceptual syllabus
Even though it is a wide syllabus, if you are thorough with basic theories and concept you can easily tackle General studies Paper III.
Notes
As the syllabus is conceptual and dominated with current affairs notes will help one make revision easier and to score high in Main examination.
Good return on Investment
The marks you are going to fetch in this paper depend upon the efforts you put on this. Candidate has put relevant and smart effort to tackle the paper.
---
General Studies Paper III Structure
It is vast paper with many diverse topics. These can be broadly classified into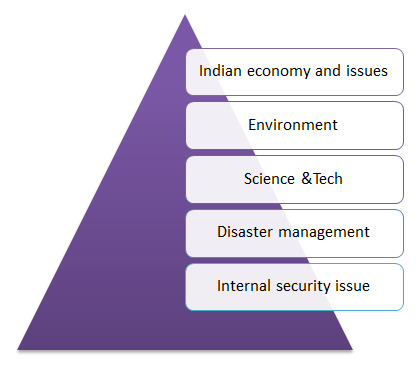 Part 1 is Indian economy and issues related to that. It discusses all the economic concepts, development perspectives. It is very important to understand. As an administrator and policy framers, our aim is to improve the country in all spheres. One should know about the problem, issues etc. if he or she have a sound conceptual clarity then only they can tackle it.
Even though our aim is development of the country and eradicating the core issues we should focus on sustainable development aspect as we the part of the larger system called environment. If one neglects the environmental part, the sustainable development will not take place. A policy maker has to think about not only development but also should consider the role of environment and sustainability. So while writing answers also, a candidate should come up with a balancing answer to convey UPSC that you are concerned about your environment and country's development.
The third one is Science and technology. If you want to overcome the limits imposed by the environment, invest in Science and technology. This will help to push the frontiers that are there. UPSC want to test your technical knowledge here.
Sometimes we cannot control some situation and the nature. But still, there is an aspect of managing the disasters. This is all about how to manage a bad unexpected situation. We cannot avoid the thing, but we can manage.
Internal security is another major issue arose due to the lack of sustainable development. If the policy is not reaching the right destination, people will lose the trust in government and ultimately it would create chaos in society.
Question trend 2016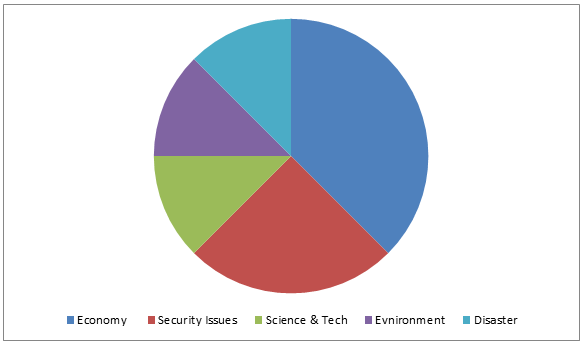 Part 1- Indian economy
---
Economic Growth and Planning: Indian economy and issues relating to planning, mobilization of resources, growth, development and employment.
Focus area
➜ 12th Five year Planning, Need for planning in current scenario, NITI Aayog
➜ Taxation policies of GOI
➜ Growth v/s Development- HDI, Growth engines (Services V/s Industry, Make n India)
➜ Jobless growth- how to address the issue- New initiatives like Skill India etc
➜ Various Government programs
Previous Year Questions:
Direct shift of Indian economy from agriculture to services and reasons behind it.
The nature of economic growth in India in described as jobless growth. Do you agree with this view? Give arguments in favor of your answer. (2015)
Sources
● Std books/ NCERT Class X- understanding economic development
● NCERT Class XI – Indian economic development
● NCERT Class XII- Macro economics
● Economic survey
● Plan document- 12th five year planning, Budget
● EPW and editorial of economic times
● UNDP- HDI report
● Government programme- Indian year books
---
Inclusive growth-IG: Inclusive growth and issues arising from it
Focus area
➜ Definition
➜ Strategies for IG models of inclusive growth
➜ Government initiatives for IG- policy framework
➜ Economic survey, Budget and FYP strategies.
Previous Year Question
Capitalism as a tool for inclusive growth in India.
Comment on the challenges for inclusive growth which include careless and useless manpower in the Indian context. Suggest measures to be taken for facing these challenges. (2016)
Sources
● Economic survey
● Various government programme
● Current affairs and India Year book
---
Budgeting
Focus areas
➜ Different budgetary concepts
➜ Process of Government budgeting with polity concepts
➜ Challenges and salient feature of budget of latest budget.
Previous Year Question
What is meaning of the term tax-expenditure? Taking housing sector as an example, discuss how it influences budgetary policies of the government. (2013)
Women empowerment in India needs gender budgeting. What are the requirements and status of gender budgeting in the Indian context? (2016)
Sources
● Any standard economic book and NCERT
● Byju's economy lectures
● Budget documents, Government of India and Economic survey
---
Agriculture: Crops and farming
Major crops, cropping patterns in various parts of the country, different types of irrigation and irrigation systems storage, transport and marketing of agricultural produce and issues and related constraints; e-technology in the aid of farmers.
Focus areas
➜ Cropping patterns- Distortions due to MSP, Reasons behind cropping patterns, Map based knowledge, Effect of irrigation on cropping patterns
➜ Irrigation – canal well, tank, sprinkler, tube well irrigation- Pros and cons- areas of use
➜ APMC- Model APMC act, Constraints due to APMCs, Solutions, recent changes
➜ E-Tech- Soil health card, scheme, weather forecasting, seeds- HYV, GM Crops, Price discovery mechanisms.
Previous Year Questions
What is allelopathy? Discuss its role in major cropping systems of irrigated agriculture.(2016)
Given the vulnerability of Indian agriculture to vagaries of nature, discuss the need for crop insurance and bring out the salient features of the Pradhan Mantri Fasal Bima Yojana (PMFBY) (2016)
How can the 'Digital India' programme help farmers to improve farm productivity and income? What steps has the Government taken in this regards? (2016)
There is also a point of view that agriculture produce market committees (APMCs) set up under the state acts have not only impeded the development of agriculture but also have been the cause of food inflation in India. Critically examine.
Sources
● NCERT- Class X- geography resources and development
● Economic Survey chapters on APMC, Recent changes and updates
● Majid Hussain and Khullar for Cropping pattern and irrigation
---
Agriculture: Policy Measures
● Issue s related to direct and indirect farm subsidies and minimum support prices.
● Public distribution system0 objectives functioning, limitations, revamping; isues of buffer stocks and food security; Technology missions; economics of animal rearing.
Focus area
➜ Subsidies, MSP and DBT
➜ PDS and PDS reforms – FCI reforms, food security- Shanta kumar reforms committee report
➜ All technology missions
➜ Economics of animal rearing
Previous Year Questions
Food security bill- various apprehensions in its implementation especially WTO concerns
Various agricultural subsidies given at national and state level. Distortions created by agricultural subsidies.
In what way could replacement of price subsidy with Direct Benefit Transfer (DBT) change the scenario of subsidies in India? Discuss.(2015)
Sources
● Economic survey on subsidies and PDS
● Shanta kumar committee report, Current affairs, Tech missions
● India Year book
---
Food Processing
1. Food processing and related industries in India- scope and significance, location, upstream and downstream requirements, supply chain management
Focus area
➜ What is food processing?
➜ Back ward and forward linkages
➜ Scope and significance of food processing industry in India
➜ Success factors
➜ Domestic v/s export market
➜ Government schemes
Sources
● Strategic plan by MOFPI website
● Food processing report
Previous Year Questions
Livestock rearing has a big potential for providing non-farm employment and income in rural areas. Discuss suggesting suitable measures to promote this sector in India.
India needs to strengthen measures to promote the pink revolution in food industry for better nutrition and health. Critically elucidate the statement.
---
7. Land reforms
Focus areas
➜ Historical perspective- full analysis from permanent settlement to recent LARR Act 2013
➜ Objections for the recent changes- ordinance lapsed
➜ Bhoodan movement
Previous Year Questions
Establish the relationship between land reforms, agriculture productivity and elimination of poverty in the Indian economy. Discuss the difficulties in designing and implementation agriculture friendly land reforms in India.
Discuss the role of land reforms in agricultural development. Identify the factors that were responsible for the success of land reforms in India.
Source
● Any std history books for historical perspective – small note on major reforms in India since independence
● NCERT Bipin Chandra
● PIB website for Acts
---
LPG Reforms
Focus Area
➜ Effects of liberalization on the economy, changes in industrial policy and their effects on industrial growth.
Previous Year Questions
Though India has allowed FDI in what is called multi brand retail through JV route in September 2012, the FDI even after a year has not picked up. Discuss the reasons. (2013)
How globalization has led to the reduction of employment in the formal sector of the Indian economy? Is increased informalization detrimental to the development of the country? (2016)
Sources
● Economic survey and recent policy changes
● NCERT
---
Infrastructure
Infrastructure: Energy, Ports, Roads, airports and railways
Focus area and source
➜ Economic survey
➜ India year book
➜ Current affairs
➜ Newly introduced schemes
➜ Railwya – bibke beroy report
➜ Ministry websites
Previous Year Questions
National Urban transport policy aims at moving people rather than moving vehicles. Discuss critically the success of various government strategies in this regard.
What are 'Smart Cities? Examine their relevance for urban development in India. Will it increase rural-urban differences? Give arguments for Smart Villages' in the light of PURA and RURBAN Mission.
---
10. Investment models
Focus areas
➜ Different models and strategies: PPP, BOT, EPC etc.
➜ Need for PPP in India- current focus
Previous Year Questions
● Justify the need for FDI for the development of the Indian economy. Why there is gap between MOUs signed and actual FDIs? Suggest remedial steps to be taken for increasing actual FDIs in India.
● Pros and cons of PPP
Source
● A guide book on PPP infra
● Economic survey
● PPP toolkit
---
Part 2: Environment & Ecology
Pollution and conservation
Conservation, environmental pollution and degradation, environmental impact assessment.
Focus areas
➜ EIA –process and need
➜ Basics of Environment and ecology
➜ Special focus on pollutants and Acts to contain pollution.
➜ Recent rulings of NGT or Supreme Court for environment cases
➜ Climate change, organizations, treaties, India's stand on climate change
➜ Namami gange Programme
Sources
● Current affairs and events are very essential
● Newspaper, Yojana and Kurukshetra
● NIOS, IGNOU material on Environment- Biodiversity
● India Yearbook
● Official site of MoEF for EIA rulings and guidelines
● Standard books on biodiversity
Previous Year Questions
Enumerate the National Water Policy of India. Taking river Ganges as an example, discuss the strategies which may be adopted for river water pollution control and management. What are the legal provisions for management and handling of hazardous wastes in India?
Rehabilitation of human settlements is one of the important environmental impacts which always attract controversy while planning major projects. Discuss the measures suggested for mitigation of this impact while proposing major developmental projects.
---
Part 3: Science & Technology
Aware of developments
Awareness in the fields of Information technology, Space, Computers, robotics, nano-technology, bio-technology and issues relating to intellectual property rights.
Previous Year Questions
India's Traditional Knowledge Digital Library (TKDL) which has a database containing formatted information on more than 2 million medicinal formulations is proving a powerful weapon in the country's fight against erroneous patents. Discuss the pros and cons making this database publicly available under open-source licensing.
In a globalised world, intellectual property rights assume significance and are a source of litigation. Broadly distinguish between the terms – copyrights, patents and trade secrets.
Sources
Current affairs- Newspaper, Science reporter, The Hindu S&T Section)
Standard books for sciences,
NCERT
---
2. Application of Science & Technology
Science and Technology developments and their applications and effects in everyday life.
Applied for helping poor and downtrodden

Public health
Agriculture
Technology linked to education

Mass application

IT
3D printer etc
Daily life
Previous Year Question
● Can free availability of anti biotic without doctor's prescription and its overuse be contributors of drug resistant diseases in India? What are the available mechanism for control and monitoring?
● How does the 3D printing technology work? List out the advantages and disadvantages of the technology.
● What do you understand by fixed dose drug combinations (FDCs)? Discuss their merits and demerits.
---
Indian Achievements
Achievement of India in the field of science and technology, indigenization of technology and developing new technology.
Previous Year Question
Discuss India's achievements in the field of Space Science and Technology. How the application of this technology has helped India in its socio-economic development?
What do you understand by 'Standard Positioning Systems' and 'Protection Positioning Systems' in the GPS era? Discuss the advantages India perceives from its ambitious IRNSS programme employing just seven satellites.
Sources
● IDSA website
● India yearbook
● Current affairs
---
Part 4: Disaster Management
Focus areas
➜ Hazards
● Classification of natural hazards, crisis,
● crisis management strategy
● Manmade disaster
➜ Disaster management
● Institutional arrangements under disaster management Act 2005
● Prevention, Mitigation, Preparedness
● Rescue, Rehabilitation, Reconstruction and recovery.
Previous Year Question
With reference to National Disaster Management Authority (NDMA) guidelines, discuss the measures to be adopted to mitigate the impact of the recent incidents of cloudbursts in many places of Uttarakhand.
The frequency of earthquakes appears to have increased in the Indian subcontinent. However, India's preparedness for mitigating their impact has significant gaps. Discuss various aspects.
Sources
● Disaster Management Act
● 2nd ARC repot on disaster management
● Recent disasters and current affairs
---
Part 5: Security issues
Syllabus
➜ Internal security issue in India
➜ Insurgency and Left wing extremism
➜ Reasons and way forward
➜ Linkage between development and spread of extremism
➜ Role of external state and non-state actors in creating challenge to internal security
➜ Border security and management
➜ Organize crime and terrorism
➜ Security forces in India
Development and extremism
Focus area
● Origin of Naxalism- Causes and spread
● Economic and social conditions in the region- cause and effect analysis
● Government's response- Security, development, rights, governance and other perspectives.
● Possible solutions
● Role of panchayats and grassroots democracy, forest right
● Insurgency in North- East India- linkages with development
● Border security
● Terrorism
● Definition
● Types
Ethno nationalist, Religious, ideology oriented, state sponsored, Nacro terrorism
● Features
Political, violent, psychological angle, identified org, NSA
● Indian Laws and measures
● Solutions
● PMLA linkage and black money
● International action
● ISIS
Previous Year question
"Terrorism is emerging as a competitive industry over the last few decades." Analyze the above statement.
Article 244 of Indian Constitution relates to Administration of Scheduled areas and tribal areas. Analyze the impact of non-implementation of the provisions of fifth schedule on the growth of Left Wing Extremism.
Sources
● Current affairs
● ARC Report
● IDSA
● Byju's video
● Wikipedia
---
National security and the media
Challenges to internal security through communication networks, role of media and social networking sites in internal security challenges.
Focus Area
➜ Communication networks
Propaganda- financing-training- planning- execution
Terrorist acts, drug trafficking , communal violence
➜ Role of media
Unbiased reporting – self regulation- accountable to people
Strategic issues, live coverage and strategic dangers
➜ Social networks
Features and threats
Previous year question
Considering the threats cyberspace poses for the country, India needs a "Digital Armed Force" to prevent crimes. Critically evaluate the National Cyber Security Policy, 2013 outlining the challenges perceived in its effective implementation.
Sources
● Current affairs
---
Cyber security
Focus areas
➜ Computer as a
Target, weapon, Accessory
➜ Cyber crime
Hacking, child porn Malware, virus attack, copy right issues, denial of service.
➜ Cyber attacks
➜ Cyber warfare
➜ Cyber terrorism
➜Cyber security
Budapest convention
Confidentiality, integrity, availability
➜ India's cyber security policy
➜ ICANN and governance
Previous Year question
Use of Internet and social media by non-state actors for subversive activities is a major concern. How these have have misused in the recent past? Suggest effective guidelines to curb the above threat.
Source
● IYB current affairs
---
Black money and money laundering
Focus Area
➜ Definition, process
➜ Why is India vulnerable?
➜ Prevention and laws
➜ International efforts- FATF etc
➜ P-notes and Money laundering, round tripping, tax havens
➜ Black money and PMLA
Previous year question
Money laundering poses a serious threat to country's economic sovereignty. What is its significance for India and what steps are required to be taken to control this menace?
Sources
Borders and security challenges
Focus areas
➜ Issues
Border skirmishes, cross border terrorism, drug and arms trade
Left wing extremism
Specific issues like indo- Bangladesh border and illegal migration
➜ Border management
Border Area Development Programme
➜ Coastal security, maritime and airspace boundary
➜ Western border and migration
Previous Year Question
Border management is a complex task due to difficult terrain and hostile relations with some countries. Elucidate the challenges and strategies for effective border management.
How illegal trans-border migration does pose a threat to India's security? Discuss the strategies to curb this, bring out the factors which give impetus to such migration.
---
7. Organized crime and terrorism linkages
Focus area
● Definition
● Facets
Drug trade; human trafficking, fake currency and corruption
● Characteristics
Continuity, structure, membership, violence, profit motive
● Organized crime and terrorism
Co-existence, co-operation, confluence
Failed states and black hole syndrome