The terms Non-Resident Indian (NRI) and Person of Indian Origin (PIO) are used to describe individuals of Indian birth or descent who live outside the republic of India
Despite this commonality between them, the two terms are fundamentally different from one another.
An NRI is an Indian who is a resident in a foreign country.
A Person of Indian Origin is a designation assigned to foreign nationals with the exceptions of those belonging to Pakistan, Afghanistan, Bangladesh, China, Iran, Bhutan, Sri Lanka and Nepal.
For more 100 Difference Between Articles, visit the linked article.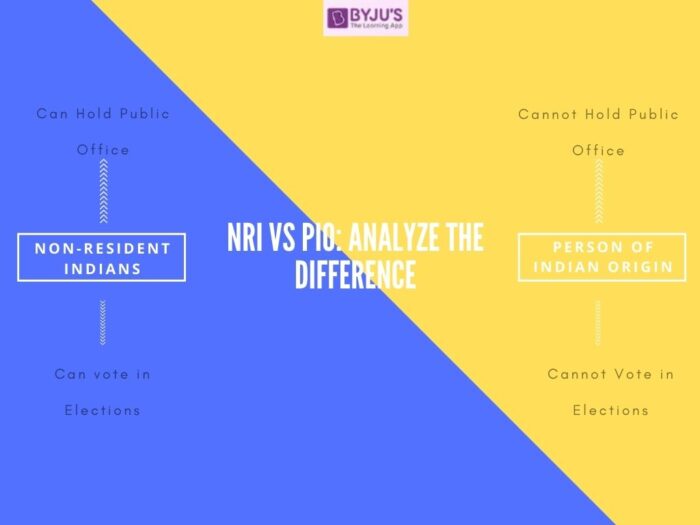 This article will further highlight the difference between an NRI and a PIO within the context of the IAS Exam.
Difference Between Non Resident Indian and Person of Indian Origin
Non Resident Indian (NRI)
Person of Indian Origin (PIO)
Non-Resident Indian are referred to as Indian Diaspora, are the people of Indian birth or descent living outside the Republic of India.

The Persons of Indian Origin are also referred to as Overseas Indians.

The following criteria needs to fulfilled for a PIO designation:

A PIO at any time held an Indian passport
Either of their parents/grandparents/great-grandparents were born and permanently resident in India as defined in Government of India Act, 1935   
He/she is a spouse of a citizen of India or a PIO.

As per the data by the Ministry of External Affairs there are about 30.8 million NRIs outside India.
Roughly the population of PIO is the same as NRIs or thought to be slightly higher than NRIs
To qualify as a resident Indian, an individual should have spent 182 days or more of a financial year in India, or stayed in India for 60 days or more in the year and for a period of 365 days or more in the 4 years preceding the relevant financial year

PIO cardholders do not need a visa if they wish to visit India for up to 15 years from the issuance of a PIO Card.
They can stay for up to 180 days In India without registration to FRRO (Foreigner Regional Registration Office).

NRIs enjoy voting rights in India
PIO Card holders do not have voting rights in India
NRIs are eligible for public offices
PIO card holders are ineligible to hold public office in India
NRIs need not to take permission visit restricted places in India
PIO card holders need to take permission from the Foreigner Regional Registration Office visit restricted places in India
For further readings candidates can refer to the following articles:
Difference Between NRI and PIO:- Download PDF Here
FAQ about Non-Resident Indian (NRI) and Person of Indian Origin (PIO)
Q1
What are the benefits of a Person of Indian Origin (PIO) cardholder?
Apart from the fact that a PIO cardholder doesn't need a visa to visit India, the holder also doesn't require a student or employment visa to enjoy employment or academic opportunities in India. They are provided with separate immigration counters at all International airports.
Q2
What is Know Goa Programme (KGP)?
The government of Indian State Goa organises "Know Goa Programme" (KGP) every year for NRI/PIO youths (in the age group of 18-30 years) whose forefathers have migrated from Goa and are presently residing in overseas. The Ministry of External Affairs also hosts the Delhi and Agra part of KGP. So far, 12 editions of the KGP have been conducted successfully.
Aspirants can find the complete UPSC Syllabus through the linked article. More exam-related preparation materials will be found through the links given below
Related Links