Economy is an important part of the UPSC prelims and mains exams; this series titled 'Economy This Week' has been initiated to address the need to read and analyse economic articles in various business-related newspapers. The round-up of the Economy/Business section news for 6th Mar to 12th Mar 2021 is given below. Business news is essential for IAS exam preparation.
ETW 6th Mar to 12th Mar 2021:- Download PDF Here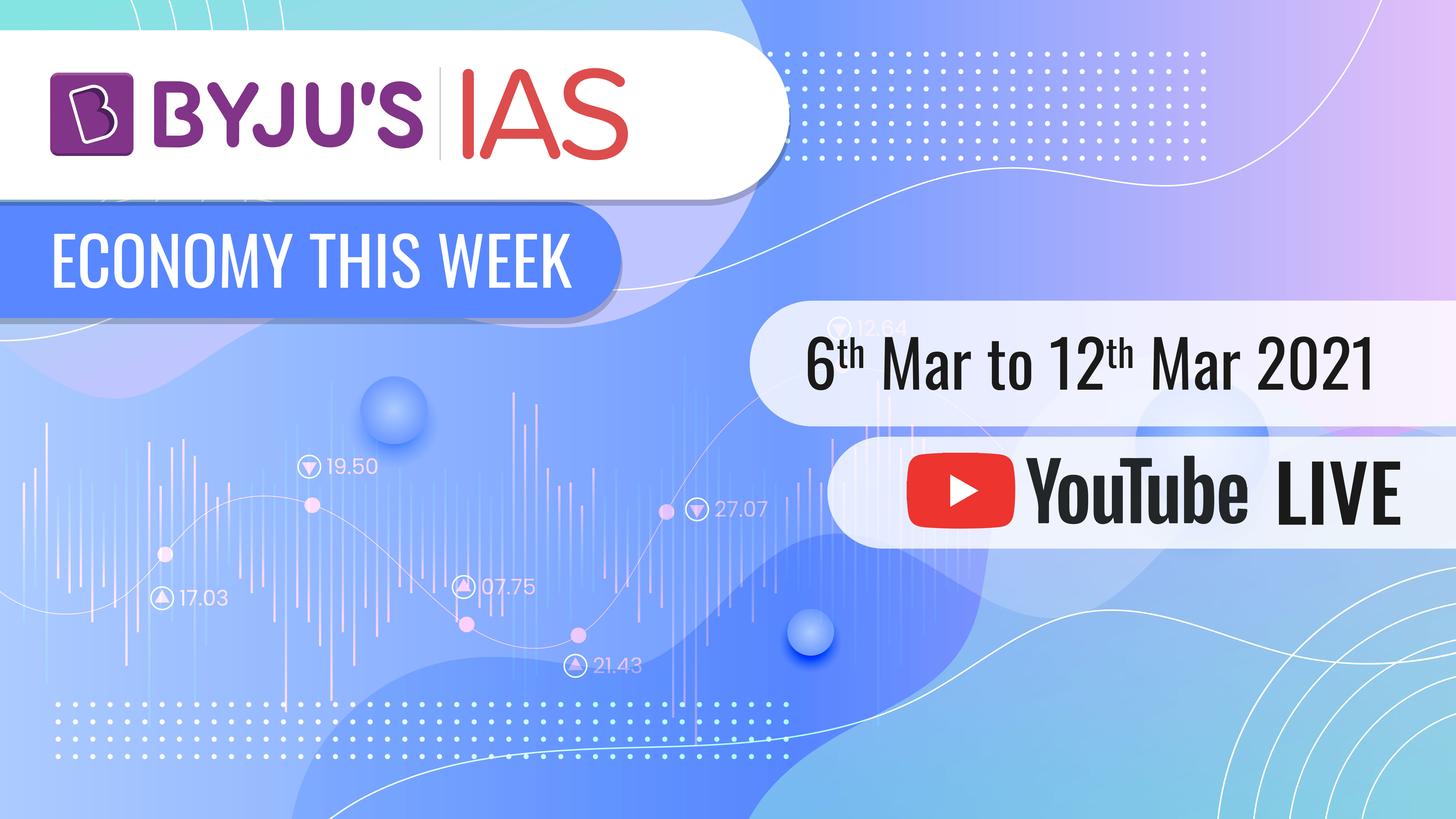 TABLE OF CONTENTS
1. OPEC+ move to hit recovery (TH 6/3/21)
2. Chaos in global shipping (IE 7/3/21)
3. Courts in five countries back Cairn ruling (TH 9/3/21)
4. New Umbrella Entities (NUE) (IE 9/3/21)
5. Labour - Fix slipping LFPR (FE 9/3/21)
6. Govt widens e-invoicing (LM 10/3/21)
7. Solar modules, cells to attract basic customs duty of 40%, 25% (BL 11/3/21)
8. LIC owned IDBI bank exits PCA framework (TH 11/3/21)
9. Now Acme Solar eyes US listing through SPAC route (LM 12/3/21)
10. Bordering nation FDI (IE 10/3/21)
11. US criticises India at WTO (LM 8/3/21)
12. Work on floating solar power plant (TH 11/3/21)

1. OPEC+ move to hit recovery (TH 6/3/21)
The move to oil production by some producers will affect recovery in many countries including India which is the third-largest importer of crude.
The Organisation of the Petroleum Exporting Countries and their allies (OPEC+) have agreed not to increase the supply in April as they are waiting for a recovery in demand after it was hit because of the pandemic.
The crude oil prices have increased after the announcement and are 33% higher this year.
India is concerned that it may affect recovery as it will hurt consumers especially in India who are price sensitive.
India imports about 84% of its oil and relies heavily on West Asia as it imports about three-fifths of its demand.
2. Chaos in global shipping (IE 7/3/21)
The pandemic has disrupted trade, it has driven up shipping costs for goods and has added challenges to the global economic recovery.
At the centre of this are the containers which are used to carry cargo from one country to another.
This spike in demand for the goods has led to a rise in demand for shipping, this has outstripped the number of containers that are available for transportation.
On one hand, some of the containers have been sent to Africa and South America carrying masks and have remained there empty and uncollected, because the shipping carriers have concentrated their vessels on the most popular routes – linking North America and Europe to Asia. And in these ports where the ships have taken goods, they are stuck there for days in floating traffic jams.
These delays are because of the reduced availability of dockworkers and truck drivers because of the pandemic, delaying the handling of cargo.
This has led to a ripple effect on global trade and is affecting trade in other countries.

The cost of transportation has increased and this may result in American grains and soybean becoming costlier in Asia.
There are empty containers lying at the ports of Australia and a shortage at the port of Kolkata, which has forced many of the electronic manufacturers to take their goods to Mumbai port by road (this will add to costs).
3. Courts in five countries back Cairn ruling (TH 9/3/21)
Courts in five countries including the US, UK, France, Canada, Netherlands have given recognition to the arbitration award of $1.4 bn to Cairn Energy PLI.
This opens up to a possibility of Cairn seizing Indian assets in those countries if the Indian govt. doesn't pay up.
The company had moved courts in 9 countries to enforce the arbitration award issued by the Permanent Court of Arbitration (PCA) in the Netherlands.
Cairn has started the process of registering the award in other countries – Singapore, Japan, UAE, etc. This is the first step towards enforcement if the govt does not pay up.
If the govt doesn't pay up then the company can petition for seizing any Indian govt asset such as bank accounts, payments to state-owned entities, airplanes and ships in those jurisdictions to recover the money that is due to it.
The govt has already stated that it will be appealing against the ruling of the PCA.
The tribunal had stated that the matter at stake is whether fiscal measures taken by the state are violating international law or not.
4. New Umbrella Entities (NUE) (IE 9/3/21)
Currently, NPCI (non-profit entity) provides for retail payments such as UPI, AEPS, RuPay, Fastag, etc. Various players have indicated various pitfalls because of only one entity managing all retail payments systems in India.
The financial tech companies are approaching RBI to set up New Umbrella Entities (NUE) for payment systems.
The NUE has been floated by RBI. Under this, there will be the creation of an alternate mechanism to the existing National Payments Corporation of India (NPCI).
NUE:

Will be a non-profit entity that will be setting up and managing new payment systems in the retail space such as ATMs, white-label PoS, Aadhaar based payments and remittance services.
These will also be developing new payment methods, standards and technologies and operate clearing and settlement systems.

Those with three years of experience in the payments segment and controlled by Indian citizens are eligible for this. Foreign investment is also allowed as long as they meet the required guidelines.
5. Labour – Fix slipping LFPR (FE 9/3/21)
The Female Labour Force Participation Rate (FLFPR) has declined from 30.27% in 1990 to 20.8% in 2019 as per the data from the World Bank (WB).
The worst part is that it is steepest in the years where the growth rate is higher i.e. from 2003-04 to 2010-11, which means that the benefits of the growth have not flown equally to men and women in terms of empowerment; the pandemic has likely aggravated this leading to loss of jobs.
The situation is the same both in formal and informal sectors.
The biggest worry is the decline in the FLFPR in rural areas, where the households and women are more vulnerable.
In the case of urban FLFPR, it has stagnated over the years.
One of the reasons could be that the number of women enrolling for higher education has been increasing. Having said so, the absence of a large number of women from the workforce should be a reason for concern for the policymakers.
6. Govt widens e-invoicing (LM 10/3/21)
e-invoicing involves the process of uploading certain key transaction details to the govt website, which will provide a reference number on a real-time basis.

National Informatics Centre (NIC) is the portal that will capture the data and generate a reference number. The data here involves details such as:

Details of the buyer and seller
Technical description of the item/s sold
Sale value
Tax payable

Any invoice that does not follow the e-invoice requirements will not be counted as an e-invoice.
This also means the small businesses will have to get their act together quickly and abide by the new guidelines.

It was compulsory for businesses with ₹ 500 Cr sales from October and later was expanded to cover businesses with at least ₹ 100 Cr sales from January.
The Finance Ministry has widened the scope of e-invoicing requirement from 1st April.
With this, all the Business to Business (B2B) transactions above ₹ 50 Cr (barring certain selected services) will need e-invoicing from the next fiscal.
This has been done to improve the oversight on the transactions and also to improve tax compliance. This will also help in the tax officials getting a better picture of the final sales figure reported by the businesses in their income tax and GST returns; on the other hand, it will reduce the regulatory scrutiny on the businesses.
7. Solar modules, cells to attract basic customs duty of 40%, 25% (BL 11/3/21)
The Ministry of New and Renewable Energy (MNRE) has said that the Ministry of Finance has agreed to impose a basic customs duty of 40% and 25% respectively on importing solar modules and cells starting from April 2022. MNRE has been asking for the imposition for over a year now.
The pandemic has disrupted global trade and has disrupted the imports of solar modules and cells, thereby affecting the solar capacity addition in India.
Considering India's huge solar targets, there is a need to develop domestic solar manufacturing capacity and reduce the dependence on imports so that there are no disruptions to the supply in future.
Earlier the govt had imposed a safeguard duty to promote domestic production.
With this, the cost of production is expected to rise and will translate to a higher price which will be paid by the discoms. Experts have already criticised this as too high.
Another issue here is that with a higher cost, the industries and consumers will ultimately bear the burden of this.
Rather than this, the govt should have provided production subsidies to the domestic manufacturers to help them scale up their capacities.
8. LIC owned IDBI bank exits PCA framework (TH 11/3/21)
RBI has removed IDBI Bank from the regulatory supervision – Prompt Corrective Action framework (PCA)  after almost four years as its financial performance has improved.
It was placed under PCA in May 2017, after it had breached the thresholds for capital adequacy, asset quality (Net NPAs were over 13% in March 2017), return on assets and leverage ratio.
The bank had reported a net loss of ₹ 5763 Cr a year earlier and has reported a net profit of ₹ 378 Cr for the December quarter.
9. Now Acme Solar eyes US listing through SPAC route (LM 12/3/21)
Special Purpose Acquisition Company (SPAC) are the publicly traded shell companies that do not have any commercial operations. These companies help other companies go public through mergers and will help them in skipping the time consuming conventional Initial Public Offering (IPO) route.
SPAC route is being sought by Acme Solar and this comes after ReNew Power announced a merger with Nasdaq listed SPAC RMG Acquisition Corp.
These companies have dropped the idea of the India IPO and are looking at lucrative valuations through the SPAC route amid the increasing focus on Environmental, Social and Governance (ESG) investing.
10. Bordering nation FDI (IE 10/3/21)
The Department for Promotion of Industry and Internal Trade (DPIIT) has clarified that ministries will be taking the final call on whether to allow FDI from neighbouring countries that share a border with India.
The inter-ministerial committee will be looking and monitoring the proposals but will not be approving them.
11. US criticises India at WTO (LM 8/3/21)
The US govt has criticised India at WTO against the policies of protectionism which includes tariff hikes, domestic testing requirements on imports, restrictive rules on e-commerce and cross border data flows.
It comes after the trade relations between both have hit a stumbling block and the trade package that both sides have put together in recent years could be junked in favour of a new one.
Since the last Trade Policy Review (TPR), the average MFN applied tariff rate has increased from 13.5% in 2015 to 17.6% in 2019, this is counter to the objective of getting integrated into global supply chains.
India's arguments are:

India has been taking measures to reduce the tariffs like any other country under WTO.
The tariffs imposed by the govt are within its WTO commitments.

Another complaint of the US is that India has expanded the list of products that will have to undergo conformity assessment only in India. Such orders are mandatory but are not in conformity with international standards. The govt clarification in this regard is that:

Technical regulations rely on international standards.
These are implemented in close consultation with the stakeholders.
These are not discriminatory or create any unwanted regulation which could be termed as trade barriers.
These are applicable to domestic and foreign manufacturers.

The third complaint is that India has got access to service markets of other trading partners and also has benefitted from it but on the other hand, has been implementing barriers such as data localisation requirements. India has stated that member countries should not be forced to bind themselves to internal e-commerce rules, when most of these issues are not understood fully.
12. Work on floating solar power plant (TH 11/3/21)
India's biggest floating solar power plant by generation capacity is being developed by NTPC at Ramagundam in Peddapalli district, Telangana.
It will have an installed capacity of 100 MW and will be commissioned by May-June next year.
ETW 6th Mar to 12th Mar 2021:- Download PDF Here
Download the PPT of the video lecture from the link below:
ETW (6th Mar to 12th Mar 2021):- Download PPT Here
For more business news videos and PDFs, keep visiting the 'Economy This Week' segment regularly.