"A ship in a harbour is safe, but that's not what a ship is built for." – Anonymous
Cracking the UPSC civil services is not a mean feat. It is a very demanding exam what with its huge and extensive syllabus, its three-stage process and the stiff competition involved.  Do you have an IAS dream but are unwilling to tread unchartered waters? Are you chickening out even before you begin? If you are, understand that "Life begins at the end of your comfort zone."
First of all, let us understand the term comfort zone.  It is essentially a mental space which you have formed where you are comfortable with your expected and steady routine. There are no risks here and you know what to expect at every step. You can also perform steadily because of this. This has been established by studies that being in the comfort zone leads to good performance. But what if you want to exceed expectations? What if you want to outperform others and your own previous results? In this case, you need to get out of your comfort zone.
The following diagram illustrates the importance of getting out of your comfort zone at least a bit: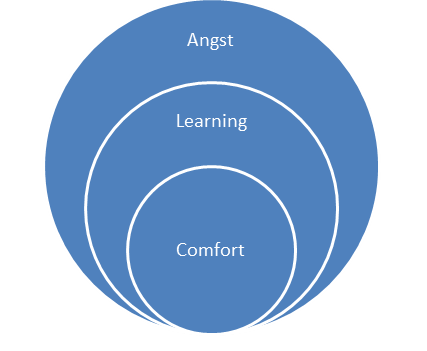 As you can see from the illustration, learning begins when you get out of your comfort zone. Of course, when you start doing this, make sure you take it step by step because otherwise, you may step into a totally new place where you stand to get anxious thus, reducing your performance.
The importance of getting out of your comfort zone for clearing the UPSC exam:
Your productivity will shoot up
It is scientifically established that the right amount of stress can actually increase your productivity.  Without a sense of urgency, people tend to fall into a trap of working just the bare minimum to get by.  So, a bit of uncertainty and unease can actually work in your favour.
You will be at ease with unforeseen situations
When you make leaving your comfort zone a habit, you will be more at ease with doing just that all the time. You will be in the habit of treading difficult paths with aplomb.
You will be better prepared for the IAS interview
The UPSC personality test or interview is a real test of character of a candidate. You may be subject to a stress interview by the UPSC board. In this case, your ability to think on your feet can come to your rescue. This is a habit you can develop if you routinely work outside your comfort zone.
Your creativity will bloom
Another plus to stepping out of your comfort zone is that your creativity will unleash. Being creative requires you to think out of the box and you are forced to do just that when you leave your cushioned seats. Creativity is the key when it comes to distinguishing your answers from your peers in the IAS exams.
You will be better prepared to deal with the life of a civil servant
An IAS/IPS/IFS officer's career is not straightforward. It requires you to face a lot of challenges every day and your capacities and mental toughness will be tested a lot. To be able to stride along that path, you must develop the habit of leaving your comfort zone and face the unexpected.
"If you're not living on the edge, you're taking up too much space." – Lou Whitaker
Visit BYJU'S Website for strategy and articles on free IAS prep and all the latest on UPSC IAS exam.