28 January 1846
Battle of Aliwal
---
What happened?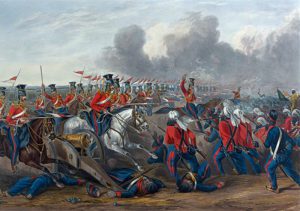 The Battle of Aliwal was fought between the Sikh Khalsa army and the British forces at Aliwal near the Sutlej River in Punjab on 28 January 1846. It resulted in a decisive British victory. Read more about this incident for the IAS exam.
Battle of Aliwal
Maharaja Ranjit Singh had built the Sikh Empire in the early 19th century. He built a strong Khalsa army which was trained in the European manner and was known for its brave and skilled soldiers.
The Sikh Empire was growing in strength and so was the British East India Company at that time in the subcontinent.
However, after Ranjit Singh's demise in 1839, the Sikh Empire started disintegrating and his successors were not as effective in controlling the Khalsa army.
The weakening of the Sikh Empire and the schisms within it led the British to build up their forces along the borders of the Punjab. The British were keen on vanquishing a strong power of the subcontinent and add to their territorial holds.
The First Anglo-Sikh War commenced in 1845 when the Khalsa army crossed the Sutlej River on 11 December and attacked British possessions. The Battle of Aliwal was a part of this war.
Battles were fought at Mudki and Ferozeshah in December that year and the Sikhs were forced to retreat by the English army.
The Khalsa again renewed the war by re-crossing the river. A force was sent commanded by Ranjodh Singh Majithia to attack the British post at Ludhiana Fort and cut off their supply lines.
The British despatched troops under General Sir Harry Smith to counter the attack by Ranjodh Singh's troops. Their forces fought each other at Aliwal on 28 January 1846.
The British troops numbered 12000 and included Indian troops from the Bengal army as well. They had about 32 guns. The Khalsa army had about 20000 men and about 70 guns.
It was a valiantly fought battle by both sides but victory went to the British whose able commander General Smith received a baronetcy for his victory at the Battle of Aliwal.
After this battle, the Khalsa were defeated at the Battle of Sobraon on 10 February 1846. This led to the Treaty of Lahore which was signed in March 1846 and brought an end to the First Anglo-Sikh War.
Also on this day




---