TABLE OF CONTENT
A.

 GS1 Related


Art and Culture
1. Kerala boat races off to colourful start


B.

 GS2 Related


Polity
1. Panel calls for 'light regulation' of NGOs
2. Coming: direct to home coaching for students, IIT aspirants
International Relations
1. PMO, NSA tracking impact of Chinese FDI in South Asia 
2. 122 nations adopt first treaty banning nuclear weapons


C.

 GS3 Related


Economics
1. IMF, World Bank and WTO call for removing trade barriers to boost growth
Science And Technology
1. Cocoa: A tonic for cognition and memory retention
2. Cloud seeding: expensive, but no guarantees
3. Using AI to achieve development goals


D.

 GS4 Related




E. 

Concepts-in-News: Related Concepts to Revise/Learn




F. 

Bills/Acts/Schemes/Orgs in News
G. Practice Questions for UPSC Prelims Exam

UPSC Current Affairs 2017: News Analysis
---
1. Kerala boat races off to colourful start
In news:
Hundreds of oarsmen take part in the Champakulam event, the season's first
History and its cultural significance:
The history of the race dates back to the 15th century when the erstwhile Travancore State was ruled by the Chembakassery dynasty.
The Moolam boat race commemorates an episode associated with the installation of the idol of Lord Krishna at the Ambalappuzha Sri Krishna temple.
The idol was brought from Kurichi near Kottayam by boat.
The boat carrying the idol had a halt at Mappilasseri, a traditional Christian home at Champakulam. It was given a reception by people of all communities and the voyage to Ambalappuzha was marked by festivities.
The annual race falls on Moolam star in the month of Mithunam in the Malayalam calendar. 
---
1. Panel calls for 'light regulation' of NGOs
In news:
A high-power committee appointed by the Central government on the orders of the Supreme Court has recommended several steps to ensure the "light regulation" of non-governmental organisations (NGOs) so as to reduce their harassment.
The committee is headed by S. Vijay Kumar, a former Secretary in the Ministry of Rural Development.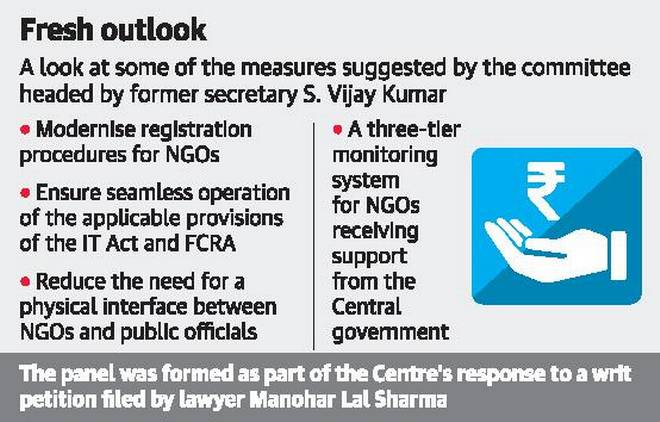 Major recommendations of the Committee:
Registration procedures be modernised so as to facilitate the seamless operation of the applicable provisions of the IT (Income Tax) Act and FCRA (Foreign Contribution Regulation Act) with respect to NGOs, without the need for cumbersome and intrusive processes.
Steps must be taken to "reduce the need for a physical interface between NGOs and public officials acting under the IT Act and the FCRA, along with reduction in mutual distrust and scope for misuse.
The committee has drawn up a framework of guidelines for the accreditation of NGOs, audit of their accounts, and procedures to initiate action for recovering grants in case of misappropriation.
A nodal body to oversee the various interfaces between NGOs and the government, and has recommended that NITI Aayog be vested with the power
It has recommended an overarching legislation with best practices that would replace various State-level and existing Central laws.
Details of NGOs should be available as searchable database information.
2. Coming: direct to home coaching for students, IIT aspirants
Swayam Prabha:
The Union government will formally launch Swayam Prabha — a project for telecasting "high-quality educational programmes" through 32 DTH channels —at a National Convention on Digital Initiatives for Higher Education.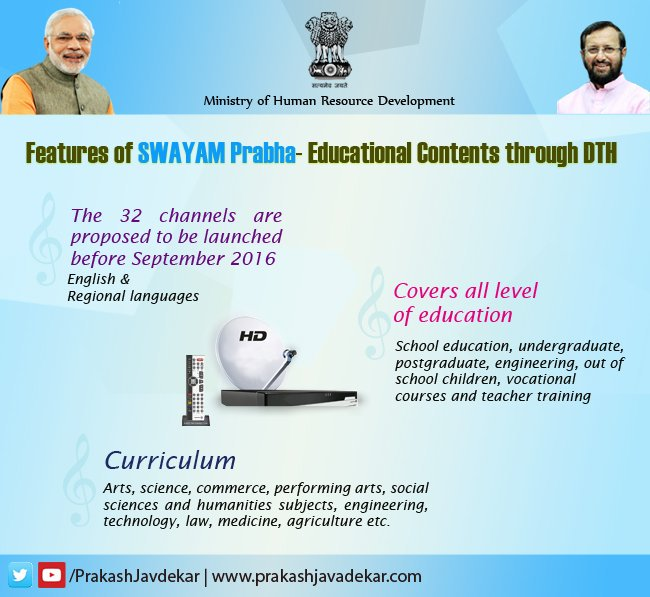 Features:
The project envisages 24X7 access to educational content.
Every day, there will be content of four hours that will be repeated six times, thus covering all 24 hours of the day. This will allow the student to choose a time of his own convenience.
The DTH Channels shall cover the following:
Higher Education: Curriculum-based course contents at post-graduate and under-graduate level covering diverse disciplines such as arts, science, commerce, performing arts, social sciences and humanities, engineering, technology, law, medicine, agriculture, etc.
School education (9-12 levels): modules for teacher's training as well as teaching and learning aids for children of India to help them understand the subjects better and also help them in preparing for competitive examinations for admissions to professional degree programmes.
Curriculum-based courses that can meet the needs of life-long learners of Indian citizens in India and abroad.
Assist students (class 11th & 12th) prepare for competitive exams.
The content would also include IIT-PAL modules, aimed at helping students of Classes 11 and 12 prepare for the IITs by developing a strong conceptual understanding.
Category: INTERNATIONAL RELATIONS
1. PMO, NSA tracking impact of Chinese FDI in South Asia
Context: India's tense border stand-off in Sikkim with China
In news:
The Union Government of India has begun its first ever in-depth assessment of Chinese investments in India's neighbouring countries.
The move has been initiated by the Prime Minister's Office and the National Security Adviser.
Chinese FDI in the Indian subcontinent:
Trends show that there have been an increasing influence of China in the Indian sub-continent and South Asia
Pakistan government data shows that FDI from China jumped from $256.8 million in 2014-15 to $878.8 million in 2016-17 (July-May). 
Chinese investments and threats to India's national security:
The study will analyse the impact of these Chinese investments — including those being made as part of the Belt and Road Initiative (BRI, also known as One Belt One Road or OBOR) — on India's national security.
In addition to assessing the nature and impact of Chinese FDI in Bangladesh, Bhutan, Myanmar, Nepal, Pakistan and Sri Lanka, the study will track Chinese investments in Afghanistan and Maldives too.
The major challenge in the study will be the lack of detailed, country-wise data on overall FDI (year-wise) and Chinese FDI, in particular.
Economic market threats:
Chinese investments in countries like Pakistan could, in turn, set the stage for Pakistan to make inroads into markets in Bangladesh, Sri Lanka and Nepal and challenge the presence of Indian firms in these markets, where India is currently the major player.
The CPEC(China – Pakistan Economic Corridor)/OBOR projects can also better link Pakistan with the Central Asian Republics (CAR) and help the country establish a footprint in those markets
2. 122 nations adopt first treaty banning nuclear weapons
In news:
More than 120 countries approved the first-ever treaty to ban nuclear weapons at a UN meeting boycotted by all nuclear-armed nations.
None of the nine countries known or believed to possess nuclear weapons – the United States, Russia, Britain, China, France, India, Pakistan, North Korea and Israel – is supporting the treaty. Many of their allies also did not attend the meeting.
1. IMF, World Bank and WTO call for removing trade barriers to boost growth
In News
IMF, World Bank and WTO suggested for removing trade barriers and expediting economic reforms to boost global growth and employment, at G-20 Summit
Reason behind low employment
According to all the three organisations, technology is the prime reason for job losses in some regions
Way forward:
Deeper trade integration and supportive domestic policies is required by the leaders of the grouping(G-20)
Deeper trade integration twinned with supportive domestic policies can help boost incomes and accelerate global growth
Basic Information:
Economic or Trade Integration
Economic integration is the unification of economic policies between different states through the partial or full abolition of tariff and non-tariff restrictions on trade taking place among them prior to their integration
This is meant in turn to lead to lower prices for distributors and consumers with the goal of increasing the level of welfare, while leading to an increase of economic productivity of the states
The trade stimulation effects intended by means of economic integration are part of the contemporary economic Theory of the Second Best: where, in theory, the best option is free trade, with free competition and no trade barriers whatsoever
Free trade is treated as an idealistic option, and although realized within certain developed states, economic integration has been thought of as the "second best" option for global trade where barriers to full free trade exist
Category: SCIENCE AND TECHNOLOGY
1. Cocoa: A tonic for cognition and memory retention
Cocoa and health benefits:
Cocoa and chocolates are good for cognition. Of particular interest is a paper
The family of flavonoids (catechins, quercetin, anthocyanidins) present in cocoa not only act as antioxidants and cell protectants just as tea does, but they protect human cognition, counteract cognitive decline and memory loss as well.
Cocoa and cognition: they may protect neurons against damage, reduce inflammation, promote and even generate new connections between nerve cells.
2. Cloud seeding: expensive, but no guarantees
In news:
The Karnataka State government's proposal for cloud seeding is gathering steam even as many meteorologists warn that the costly 'experiment' may end up yielding little.
Basic Information: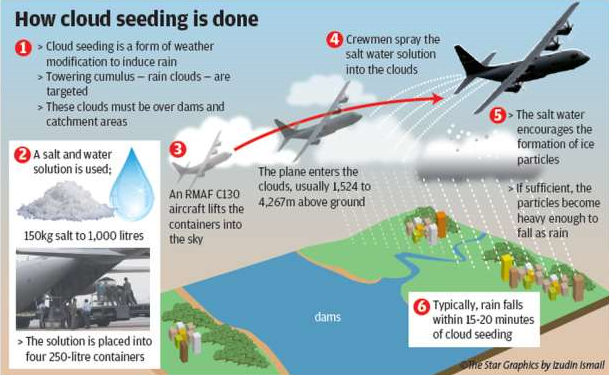 Cloud seeding:
Cloud seeding is a form of weather modification, a way of changing the amount or type of precipitation that falls from clouds, by dispersing substances into the air that serve as cloud condensation or ice nuclei, which alter the microphysical processes within the cloud.
The usual intent is to increase precipitation (rain or snow), but hail and fog suppression are also widely practiced in airports.
The most common chemicals used for cloud seeding include silver iodide, potassium iodide and dry ice (solid carbon dioxide). Liquid propane, which expands into a gas, has also been used.
This can produce ice crystals at higher temperatures than silver iodide. After promising research, the use of hygroscopic materials, such as table salt, is becoming more popular.
3. Using AI to achieve development goals
Context:
 How AI can provide solutions to human and social development challenges?
Health and nutrition
High level of malnutrition and stunted growth in pre-school children in India is alarming
AI-based systems can be used to improve delivery of child nutrition programmes
How AI can help?
AI-based systems collect and examine data about children and track the progress of an individual child in terms of their cognitive development and health.
Image-recognition techniques can help in early identification of stunted growth, epidemics and other health issues.
It assist in diagnosis of problems being faced—from drought to poor sanitation and inadequate supplies
Agriculture
US have used AI to develop "precision farming" practices, which lead to a more efficient use of inputs and higher yields.
How it works?
Sensors gather information about the condition and colour of foliage and soil moisture content.
This information is fed to the system, which determines the amount of water, and fertilizer to be provided.
It also specifies which part of the plant needs to be provided with these inputs.
These systems have reported higher yields and reduction in agricultural inputs.
Education
Learning outcomes of young minds are notoriously poor in our current education system.
AI-based systems can assist students with their learning experience.How?
Changing the form and nature of content to suit the student.
"Smart content" is generated with text summaries, supported with related videos and simulations.
Intelligent tutor systems are an example of the same (see Carnegielearning.com).
MIT's Media Labs has also developed "personal robots" which work and interact with humans as peers.
Some of them are even capable of identifying and correcting misconceptions of a student as they learn the material.
Provides timely feedback to students and teachers.
Concerns about AI?
Expensive today.
Ethical issues of privacy of data, equity and liability of actions.
Nothing here for Today!!!
E. Concepts-in-News: Related Concepts to Revise/Learn
---
Nothing here for Today!!!
F. Bills/Acts/Schemes/Orgs in News
---
Nothing here for Today!!!

G. Practice Questions for UPSC Prelims Exam
---
Question 1: Consider the following statements:
The Moolam boat race commemorates an episode associated with the installation of the idol of Lord Krishna .
The annual Moolam boat race falls on Moolam star in the month of Mithunam in the Malayalam calendar.
Choose the correct Answer.
1 only
2 only
Both 1 and 2
Neither 1 nor 2
See
Question 2: Consider the following statements with reference to Swayam Prabha:
It is a project for telecasting "high-quality educational programmes" through 32 DTH channels.
The project also has teacher training modules in it.
Choose the correct Answer
1 only
2 only
Both 1 and 2
Neither 1 nor 2
See
Question 3: Consider the following statements Chemicals:
Silver Iodide
Potassium nitrite
Potassium nitrate
Solid carbon dioxide
Liquid Carbon dioxide
Liquid propane
The most common chemicals used for cloud seeding is/are?
1 only
1,2,4 and 6
1,4and 6
1,2,3,4,5 and 6
See
Question 4: Which among the following ministry implements a program called  'Swayam 
Prabha'?
Ministry of Information and Broadcasting
Ministry of Human Resource and development
Ministry of Communications
Ministry of Skill development and Entrepreneurship
See
Question 5: The Fair and Remunerative Price (FRP) of sugarcane is approved by the
Cabinet Committee on Economic Affairs
Commission for Agricultural Costs and Prices.
Agricultural Produce Market Committee.
Directorate of Marketing and Inspection, Ministry of Agriculture
See
"Proper Current Affairs preparation is the key to success in the UPSC- Civil Services Examination. We have now launched a comprehensive 'Online Current Affairs Crash Course'. Limited seats available. Click here to Know More."
Practice More: Enroll for India's Largest All-India Test Series