BYJU'S IAS 2020 ALL INDIA UPSC PRELIMS TEST SERIES
Starts on 5th April, 2020
Stay ahead of the crowd
and prepare yourself well enough to crack the most challenging UPSC IAS Prelims exam
with
India's Largest UPSC Prelims Test Series by BYJU'S
FOUR Comprehensive Tests for FREE!

5000+ Candidates Qualified UPSC Prelims
with
BYJU'S ALL INDIA TEST SERIES
BYJU'S IAS 2020 ALL INDIA TEST SERIES
Comprehensive test series designed by India's best UPSC Experts

Take the Online test series at your convenience

Evaluate yourself amongst 20000+ candidates

Attempt tests of UPSC standard, covering every topic relevant for the Prelims exam

Excel in UPSC Prelims through rigorous practice and diligent planning
Stay ahead of your competition and clear the first step towards fulfilling your IAS dream!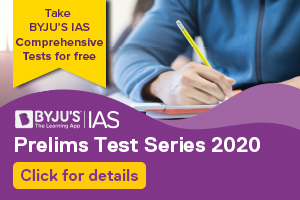 Highlights of the BYJU'S All India UPSC Prelims Test Series
Once a test is released, you can take it anytime during the next 7 days, i.e., until the next test is released in this series.
Comprehensive coverage of the syllabus
Special emphasis on Concept-based questions
Informative and detailed solutions
Simulated tests as per UPSC standards
Questions will follow the latest trend followed by the UPSC
Students shall be provided answers with explanations after each test
Get an All India Rank after the successful completion of a test
We have a track-record of more than 70% of Civil Services Pre questions coming from our UPSC Prelims Test Series and Study Material
You can take four comprehensive UPSC Prelims tests for FREE.
Solution to each test will be uploaded on the website after each test.
Choose "Comprehensive Test 4" in Group while attempting the test
Why should one take UPSC prelims test series?
Enrich your skills
Practice maximum mock question papers

Learn the art of choosing right answer through elimination techniques for Prelims

Enhance your speed and accuracy

Learn new short-cut methods to easily clear CSAT paper

Develop the skills of predicting the most probable questions that may be asked in UPSC Prelims 2020

Acquire time-management skills with constant practice

Get exposure to potential UPSC questions
Expectations from students
Follow the schedule and don't miss the tests.
Prepare thoroughly from the booklets, BYJU'S website for CNA, PIB, and other topics, Webinar, Monthly Magazines, and handouts (PDFs) provided.
Read basic NCERTs and suggested reference books thoroughly for each test.
Engage as widely with the syllabus as possible by referring to other sources like The Hindu, Economic Times, Down to Earth, Yojana, Kurushetra, Science reporter, and so on.
Develop analytical skills and ability to connect various topics to digest significant elements of unpredictability in actual paper if any.
After thoroughly preparing with sources mentioned and attempting all these tests, you will be confident to approach the Prelims 2020 paper and clear the Prelims examination successfully.
Above all, getting a virtual feel of the UPSC Examination will make you stay confident and not get nervous while facing the UPSC Civil Services Prelims exam 2020.
BYJU'S IAS 2020 ALL INDIA TEST SERIES
For Enquiry on UPSC Test Series 2020 : CALL NOW +91 9243500460