The UPSC Mains exam is a completely different ballgame compared to the Prelims. To excel in the IAS mains, candidates need, apart from knowledge and analytical abilities, the know-how to write answers within the prescribed time and space limits. Answer writing is an art and no matter how erudite or how intelligent a candidate is, unless he/she expresses what is expected in the answer booklet, clearing the mains exam will be a rather long shot.
Writing answers in an exam-like setting will help candidates understand the nuances of answer writing such as how to write what exactly is asked, how to limit the words to the prescribed number range, how to highlight important points and keywords, how to augment answers with illustrations wherever necessary, and so on. Candidates will also learn how to prioritise their answer writing, especially when there are choices. This will also give candidates the much-needed writing practice with which the speed of writing can improve; and during the civil services exam, time is always in short supply!
BYJU'S presents the most comprehensive IAS mains test series in the country. Like in the previous years, this year too, candidates can enrol in the much-awaited series and assess their own preparation. With the BYJU'S Mains test series, candidates can evaluate their own exam preparedness and also get ample answer writing practice. The details of the all-inclusive test series 2022 are given in the below tables.
IAS Mains Test Series starts on 4th June 2023
UPSC 2023 MAINS TEST SERIES COURSE HIGHLIGHTS
15 tests including 10 modular and 5 full-length tests (Essay, GS1, GS2, GS3, GS4)
Comprehensive coverage of the UPSC Syllabus
Current Affairs covered from August 2022 to August 2023
Complimentary Current Affairs study material
Detailed evaluation from UPSC Mains Experts
Students can also get precise model answers written by UPSC experts
Both offline and online modes are available (English & Hindi)
On par with UPSC standards with emphasis on analytical questions
First three tests are absolutely free for all!
Check UPSC Mains Syllabus here.
UPSC Mains Test Series 2023 Schedule
The test series starts on 4th June 2023. The schedule of the IAS Test Series for Mains 2023 is mentioned briefly below: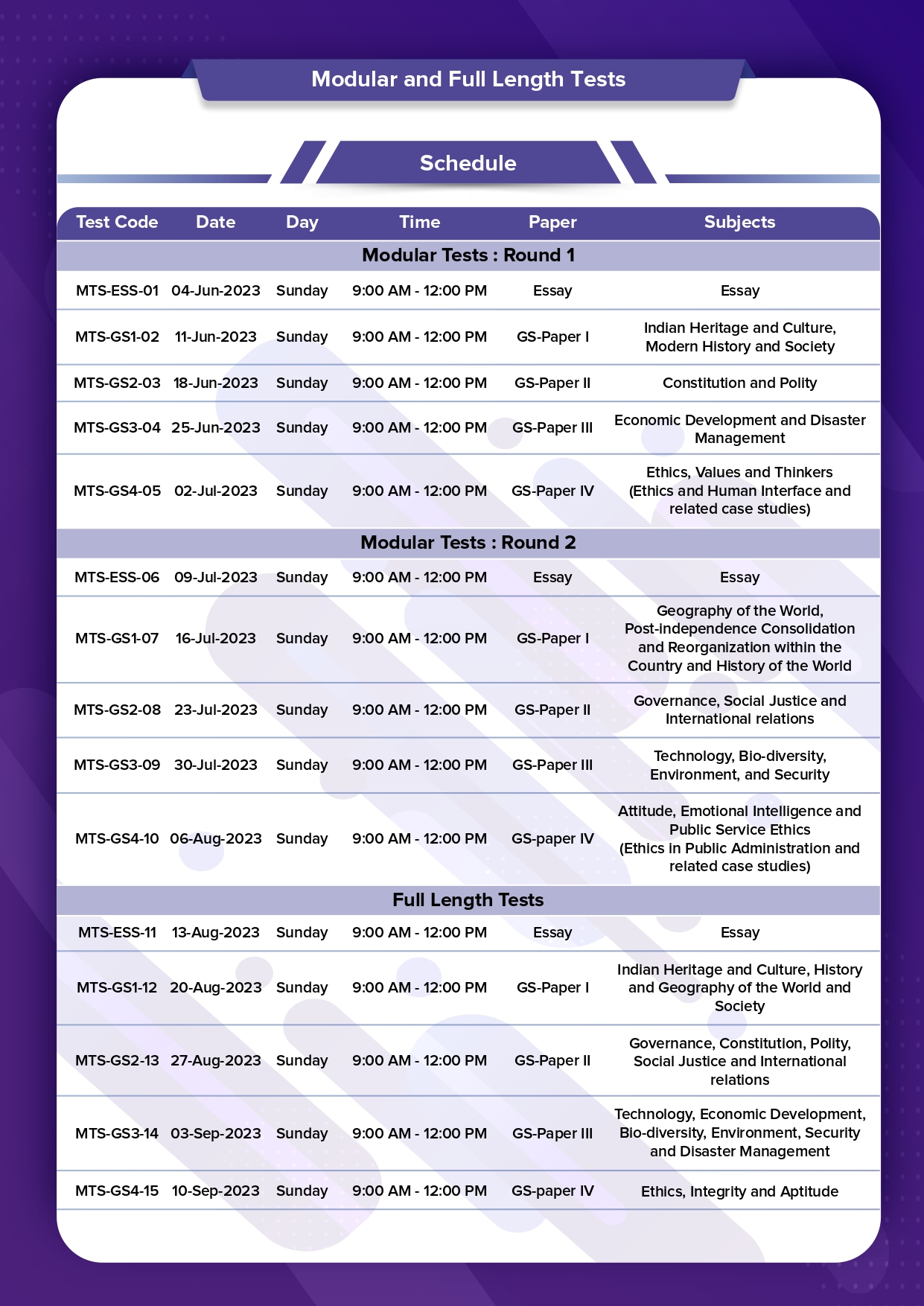 For a detailed schedule, syllabus and course fee, download the Schedule PDF from the link below.
UPSC Mains Test Series 2023 (English):-Download PDF Here
UPSC Mains Test Series is available in Hindi also!
Check details of the UPSC Mains Test Series 2023 (Hindi) here:Download PDF Here