TABLE OF CONTENT
A.

 GS1 Related


Art and Culture
1. Ahmedabad gets world heritage tag


B.

 GS2 Related


Polity
1. Committee formed to study legalities for separate State flag
2. Do what you feel is good for your faith and let others do the same: Chief Justice of India


C.

 GS3 Related


Internal Security
1. Cyberattack link to glitches in RJio, NSE under probe 
2. Ships and planes arrive, it's days of war games 
Science and Technology
1. Curcumin nanoparticles found to shorten TB treatment time
Environment and Ecology
1. Concrete may help curb air pollution


D.

 GS4 Related




E. 

Concepts-in-News: Related Concepts to Revise/Learn




F. 

Bills/Acts/Schemes/Orgs in News
G. Practice Questions for UPSC Prelims Exam

UPSC Current Affairs 2017: News Analysis
---
1. Ahmedabad gets world heritage tag
In news:
The Walled City of Ahmedabad, founded by Sultan Ahmed Shah in the 15th century, has been declared India's first World Heritage City.
The World Heritage Committee (WHC) of UNESCO made the announcement
The UNESCO had preferred Ahmedabad over Delhi and Mumbai.
The 5.5 km walled city area with an approximate population of four lakh, living in century-old wooden residences is regarded as a living heritage.
It has now joined the privileged club of heritage cities like Paris, Cairo, Edinburgh and two cities in the subcontinent, Bhaktpur in Nepal and Galle in Sri Lanka
Ahmedabad
The walled city of Ahmedabad on the eastern banks of Sabarmati river presents a rich architectural heritage from the sultanate period, notably the Bhadra citadel, the walls and gates of the Fort city and numerous mosques and tombs, as well as important Hindu and Jain temples of later periods.
---
1. Committee formed to study legalities for separate State flag
Context: separate flag for Karnataka
In news:
The Karnataka State government has constituted a nine-member committee headed by Principal Secretary, Department of Kannada and Culture, to study and submit a report to the government on the possibility of "designing a separate flag for Karnataka and providing it a statutory standing."
Constitutional and legal position of the State having its own flag:
R. Bommai v/s Union of India (Supreme Court 1994) case verdict:
The Supreme Court has declared that federalism is a basic feature of the Constitution and States are supreme in their sphere.
Inference:
This being the Constitutional position, there is no prohibition in the Constitution for the State to have its own flag. However, the manner in which the State flag is hoisted should not dishonour the national flag. It has to be always below the national flag.
The national flag code specifically authorises use of other flags subject to the regulation by the court. So State flag is not unauthorized.
2. Do what you feel is good for your faith and let others do the same: Chief Justice of India
Context:
A plea was filed before Supreme Court seeking an end to the practice of burning effigy of Ravana on the eve of Dussehra festival.
Supreme Court dismisses the plea upholding Article 25 of the Indian Constitution.
Chief Justice of India J.S. Khehar's Obsevation:
Every person has the right to do what he feels is good for his faith
"This court is not about good or bad. It is about what is legal and what is illegal. You do what you feel is good for your faith and let others do what is good for their faith."
Category: INTERNAL SECURITY AND DEFENSE
1. Cyberattack link to glitches in RJio, NSE under probe
Context:
Last week's attack:
Outage of Airtel network in Delhi 
Data breach of users of Reliance Jio Infocomm
Technical glitch at the National Stock Exchange (NSE)
In news:
India is investigating on a "possible cyber attack."
The Home Ministry is preparing an internal cybersecurity policy as it is required under the national plan.
2016 data breach: In 2016, security codes of around 32 lakh debit cards were breached and several users reported unauthorised transactions from locations in China.
Worrisome dependence on Chinese equipments:
Two years ago various telecom giants had been sensitised by the Government, about the vulnerability of equipment and products imported from China.
Both Airtel and Jio use Chinese equipment.
2. Ships and planes arrive, it's days of war games
Context: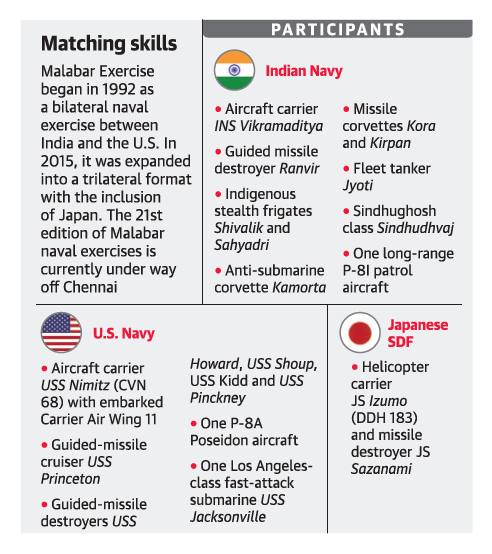 The Malabar Exercise 2017.
Participants: naval forces of India, Japan and the United States.
Exercise not aimed at China
Malabar is not to send a message to any specific country.
The underlying theme of Malabar is to understand each other's standard operating procedures and each other's ways of working better, to enhance camaraderie and bonhomie
S. Navy officer: U.S. participation in the exercises indicated the country's interests in maritime security in the Indo-Asia Pacific region.
Focus Areas:
The thrust of the exercise at sea this year would be on aircraft carrier operations, air defence, anti-submarine warfare (ASW), surface warfare, visit board search and seizure (VBBS), joint manoeuvres and tactical procedures.
Category: SCIENCE AND TECHNOLOGY
1. Curcumin nanoparticles found to shorten TB treatment time
In news
Researchers have found that the basic ingredient of turmeric, when administered in a nanoparticle formulation has several favourable properties in the treatment of tuberculosis in mice
Name of the basic ingredient: Curcumin
The results were published in the journal Frontiers in Immunology
Results of the Research
During the research, regular curcumin was able to drastically reduce liver toxicity induced by TB drug isoniazid
Also, the treatment of TB with isoniazid along with 200 nanometre curcumin nanoparticles led to "dramatically reduced" risk of disease reactivation and reinfection
Because of the increased bioavailability of curcumin, the duration of treatment to achieve complete eradication of the bacteria is reduced significantly
Other positive effects of using 'Curcumin'
Quite often, patients stop taking anti-TB drugs for a few days due to liver toxicity
Since the addition of curcumin reduces liver toxicity there can be better treatment and lesser risk of drug resistance emerging
Category: ENVIRONMENT AND ECOLOGY
1. Concrete may help curb air pollution
In news:
Scientists found that Concrete surfaces can help tackle air pollution as it absorbs sulphur dioxide — a major pollutant.
Importance:
The strategy of using pollution-causing material and turning it into an environmental solution could lead to new thinking in urban design and waste management.
Concrete buildings in urban areas can serve as a kind of sponge adsorbing sulphur dioxide to a high level.
Waste concrete coming from building demolitions can also be used to adsorb these pollutants
Air Pollution menace
According to the WHO, as many as seven million premature deaths of people worldwide may be linked to poor air quality and pollution
Sulphur dioxide emissions are among the most common pollutants into the air globally, with power plants emitting the most sulphur dioxide.
Basic Information:
Sulphur dioxide (SO2) 
It is a toxic gas with a pungent, irritating smell.
The SO2 is hygroscopic, when it is in the atmosphere it reacts with humidity and forms sulphuric and sulphurous aerosol acid that is later part of the so-called acid rain.
Nothing here for Today!!!
E. Concepts-in-News: Related Concepts to Revise/Learn
---
Nothing here for Today!!!
F. Bills/Acts/Schemes/Orgs in News
---
ARTICLE IN NEWS
ABOUT THE ARTICLE
Article 25. Freedom of conscience and free profession, practice and propagation of religion

(1) Subject to public order, morality and health and to the other provisions of this Part, all persons are equally entitled to freedom of conscience and the right freely to profess, practise and propagate religion

(2) Nothing in this article shall affect the operation of any existing law or prevent the State from making any law

(a) regulating or restricting any economic, financial, political or other secular activity which may be associated with religious practice;

(b) providing for social welfare and reform or the throwing open of Hindu religious institutions of a public character to all classes and sections of Hindus Explanation I The wearing and carrying of kirpans shall be deemed to be included in the profession of the Sikh religion Explanation II In sub clause (b) of clause reference to Hindus shall be construed as including a reference to persons professing the Sikh, Jaina or Buddhist religion, and the reference to Hindu religious institutions shall be construed accordingly

G. Practice Questions for UPSC Prelims Exam
---
Question 1: Recently, World Heritage Committee (WHC) of UNESCO declared _______ city 
to be the India's first World Heritage City.
Ahmedabad
Allahabad
Bangalore
Delhi
See
Question 2: Concrete surface helps in tackling air pollution by absorbing
Sulphur dioxide
Suphur oxides
Nitrous oxide
Nitrogen dioxide
See
Question 3: The Malabar Exercise 2017 is a trilateral naval exercise between
India, U.S and Australia
India, U.S and Japan
India, U.S and Sri Lanka
India, U.S and China
See
Question 4: 'AlphaGo' is often seen in news. It refers to
An artificial intelligence program by DeepMind
The European Space Agency's test rover that recently crash-landed on the Martian surface
The mascot for FIFA U-17 2017 World Cup India 2017
A Birdlife project to save certain critically endangered seabirds from going extinct
See
Question 5: Combustible ice consists of which gas?
Methane hydrate
Methyl hydrate
Methyl hydride
Methane hydride
See
"Proper Current Affairs preparation is the key to success in the UPSC- Civil Services Examination. We have now launched a comprehensive 'Online Current Affairs Crash Course'. Limited seats available. Click here to Know More."
Practice More: Enroll for India's Largest All-India Test Series