TABLE OF CONTENT
A.

 GS1 Related


Indian Society
1. Enrolment of Muslims in Bengal varsities abysmally low, says survey


B.

 GS2 Related


Polity
1. Two out of three people lodged in prisons are undertrials: Amnesty
2. Arunachal, Andaman and Nicobar Islands get exemption from SC highway liquor ban 
International Relations
1. India-China trade talks deadlocked 
2. China sends PLA unit to man overseas base
3. Nod for Bangladesh JIN pact


C.

 GS3 Related


Economics
1. Bitcoin trade may come under SEBI
Environment and Ecology
1. Earth facing sixth mass extinction


D.

 GS4 Related




E. 

Concepts-in-News: Related Concepts to Revise/Learn




F. 

Bills/Acts/Schemes/Orgs in News
G. Practice Questions for UPSC Prelims Exam

UPSC Current Affairs 2017: News Analysis
---
1. Enrolment of Muslims in Bengal varsities abysmally low, says survey
In news:
The 6th All India Survey on Higher Education (AISHE) for the year 2015-16 reports:
The percentage of Muslim students in leading State and Central universities of West Bengal is abysmally low.
The report, prepared by the Ministry of Human Resource Development (MoHRD).
No Muslims students in elite institutions – the Presidency University in Kolkata, Visva Bharati in Shantiniketan, the Indian Institute of Technology-Kharagpur, the West Bengal University of Teachers' Training, Education Planning and Administration in Kolkata, the Indian Institute of Information Technology in Kalyani, the Kazi Nazrul University in Asansol, the West Bengal State University in Kolkata, and the Bidhan Chandra Krishi Viswa Vidyalaya in Mohanpur. Amity, a private university
A little over 27% of Bengal's population is Muslim. In nearly all of the State's universities and institutes of higher education, the percentage of Muslims stands between 0 and 3%.
---
1. Two out of three people lodged in prisons are undertrials: Amnesty
In news:
Amnesty International India report highlights:
Two out of three people lodged in the country's prisons are undertrials.
While the system struggles with an occupancy rate of 114%, there has been no change to ensure legal safeguards to prevent excessive pre-trial detention.
The report shows that 29% of undertrials had no formal training and were illiterate.
According to the report, between September 2014 and February 2015, there were over 1.10 lakh instances of undertrials not being produced in courts for hearings. While there is a shortage of personnel to escort undertrials, this figure includes those who were not produced even through video-conferencing.
2. Arunachal, Andaman and Nicobar Islands get exemption from SC highway liquor ban
Context:
Ban on sale of liquor within 500 metres of National and State Highways.
The ban was ordered to prevent drunk driving, one of the major killers plaguing Indian roads.
In news:
The Supreme Court allowed Arunachal Pradesh and Andaman and Nicobar Islands to join the club of Sikkim and Meghalaya, both of which enjoy full exemption from the court's ban on sale of liquor within 500 metres of National and State Highways.
Reason for exemption:

The geographical quirks of Arunachal Pradesh and the islands.
The north-eastern States of Sikkim and Meghalaya got a full exemption from the 500-m no-liquor zone ban after the court took into consideration their hilly terrain and also the fact that 82% of its area was forest land and over 90% of its liquor shops would be closed if the ban was imposed strictly in its original form.
Category: INTERNATIONAL RELATIONS
1. India-China trade talks deadlocked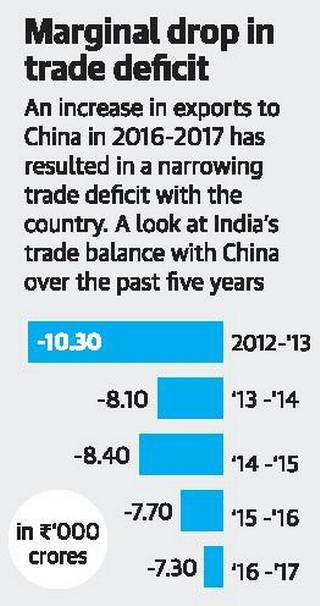 Context: Military standoff in the Doklam area of the India-Bhutan-China tri-junction. 
In news:
Trade talks on issues relating to farm products, between India and China remained deadlocked with neither side willing to offer concessions to end the impasse.
China deferred taking a decision on grant of market access to Indian rice, pomegranate, okra and bovine meat, while India opted to stick to its ban on imports of apple, pear, milk and milk products from China.
Key points:
India has an alarming trade deficit with China
India's goods trade deficit, which had ballooned to $52.7 billion in 2015-16 from just $1.1 billion in 2003-04, eased marginally to $51.1 billion in 2016-17.
2. China sends PLA unit to man overseas base
In news: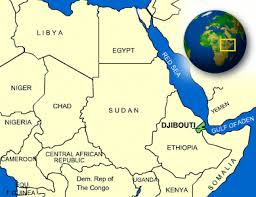 China has dispatched People's Liberation Army (PLA) personnel to man its first overseas military base at Djibouti in the strategic Indian Ocean region, a move likely to spark concerns in the U.S.
It is the first such base being set up by China. The second base is coming up in Gwadar, Pakistan, which links up with China through the $50 billion China-Pakistan Economic Corridor.
The base will ensure China's performance of missions, such as escorting, peace-keeping and humanitarian aid in Africa and West Asia, the report said.
The base will also conduct overseas tasks, including military cooperation, joint exercises, evacuating and protecting overseas Chinese and emergency rescue, as well as jointly maintaining security of international strategic seaways.
3. Nod for Bangladesh JIN pact
In news:
The Cabinet gave its approval for the Joint Interpretative Notes (JIN) on the Agreement between both the nations for the Promotion and Protection of Investments.
The JIN would impart clarity to the interpretation of the existing Agreement between India and Bangladesh for the Promotion and Protection of Investments.
The JIN includes interpretative notes to be jointly adopted for many clauses, including, the definition of investor, definition of investment, exclusion of taxation measures, Fair and Equitable Treatment, National Treatment and Most Favoured Nation treatment, expropriation, essential security interests and Settlement of Disputes between an Investor-and a Contracting Party.
1. Bitcoin trade may come under SEBI
In news:
The government is considering the introduction of a regulatory regime for virtual or crypto currencies, such as Bitcoin, that would enable the levy of the Goods and Services Tax on their sale.
The new regime may possibly bring their trading under the oversight of the stock market regulator, Securities and Exchange Board of India (SEBI).
In India, they are neither legal nor illegal.
Why such a move?
The idea is to treat such currency in a manner similar to gold sold digitally, so that it can be traded on registered exchanges in a bid to "promote" a formal tax base, while keeping a tab on their use for illegal activities such as money laundering, terror funding and drug trafficking.
Crypto-Currency: Crypto-currency is a digital currency which allows transacting parties to remain anonymous while conforming that the transaction is a valid one. It is not owned or controlled by any institution – government or private.
Eg: Bitcoin, Ethereum and Ripple
Category: ENVIRONMENT AND ECOLOGY
1. Earth facing sixth mass extinction
Context: Scientists observed the sixth mass extinction of life on Earth is unfolding more quickly than feared.
In news:
More than 30% of animals with a backbone- fish, birds, amphibians, reptiles and mammals are declining in both range and population,
This is the case of a biological annihilation occurring globally
The mammal species that were monitored have lost at least a third of their original habitat
Several species of mammals, were relatively safe one or two decades ago are now endangered," including cheetahs, lions and giraffes.
Background Information:
Mass extinction: The extinction of a large number of species within a relatively short period of geological time, thought to be due to factors such as a catastrophic global event or widespread environmental change.
How many mass extinctions have there been?
There have been five mass extinctions in Earth's history. Now we're facing a sixth.

1. Ordovician-Silurian mass extinction
2. Late Devonian mass extinction
3. Permian mass extinction
4. Triassic-Jurassic mass extinction
5. Cretaceous-Tertiary mass extinction 
Impact
On an average, two vertebrate species disappear every year.
Tropical regions have seen the highest number of declining species
While fewer species are disappearing in temperate zones, the percentage is just as high or higher.
Reasons for the decline
Habitat loss
Over consumption
Pollution
Invasive species
Disease
Climate change
Poaching of tigers, elephants, rhinos and other large animals prized for their body parts.
Nothing here for Today!!!
E. Concepts-in-News: Related Concepts to Revise/Learn
---
Nothing here for Today!!!
F. Bills/Acts/Schemes/Orgs in News
---
Schemes in News
 About the Schemes
Mission Parivar Vikas

The Union Ministry of Health and Family Welfare is going to launch Mission Parivar Vikas for improved family planning services in 145 High Focus districts in seven states.
The objective of mission is to accelerate access to high quality family planning choices based on information, reliable services and supplies within a rights-based framework.
Family Planning Logistics Management Information System (FP-LMIS) is designed to provide robust information on the demand and distribution of contraceptives to health facilities and ASHAs to strengthen supply chain management

Key features of Mission Parivar Vikas:

These districts are located in the seven high focus states of Uttar Pradesh, Bihar, Rajasthan, Madhya Pradesh, Chhattisgarh, Jharkhand and Assam.
They are having the highest total fertility rates and constitute 44% of the country's population.
They also have a substantial impact on maternal and child health indicators. As about 25 to 30% of maternal deaths and 50% of infant deaths occur in these districts.
The key strategic focus of this initiative will be on improving access to contraceptives through delivering assured services, dovetailing with new promotional schemes.
It will also ensure building capacity (service providers), commodity security, creating an enabling environment along with close monitoring and implementation.

G. Practice Questions for UPSC Prelims Exam
---
Question 1. The Great Red spot is associated with which planet?
Mars
Jupiter
Venus
Uranus
See
Question 2. The "Tsongmo or Changu" lake is located in ___?
Jammu and Kashmir
Sikkim
Himachal Pradesh
Uttarkhand
See
Question 3. Santhara is a religious ritual related to ___?
Jain
Saiva
Sakta
Vaishnava
See
Question 4. Which of the following two countries currently occupy / control the Golan heights?
Egypt & Syria
Turkey & Israel
Israel & Syria
Syria & Turkey
See
Question 5: The power to vote money for public expenditure rests in India with _____.
Lok Sabha
Rajya Sabha
Legislative Assembly
Legislative Council
Choose the correct option from the codes given below:
Only 1 & 2
Only 1 & 3
Only 1, 2 & 3
1, 2, 3 & 4
See
"Proper Current Affairs preparation is the key to success in the UPSC- Civil Services Examination. We have now launched a comprehensive 'Online Current Affairs Crash Course'. Limited seats available. Click here to Know More."
Practice More: Enroll for India's Largest All-India Test Series