TABLE OF CONTENT
A.

 GS1 Related




B.

 GS2 Related


Polity
1. 'Scant respect for NHRC'
2. Give data of C-section and normal deliveries: Maneka
3. Housing For All By 2022: With demand-supply gap shrinking, affordable housing segment 
set to grow 
International Relations
1. U.S. likely to unveil South Asia policy soon
2. Malabar drills aim at giving regional security, says Japan


C.

 GS3 Related


Environment and Ecology
1. Fixing a major piece of the climate puzzle 


D. 

GS4 Related




E. 

Concepts-in-News: Related Concepts to Revise/Learn




F. 

Bills/Acts/Schemes/Orgs in News
G. Practice Questions for UPSC Prelims Exam

UPSC Current Affairs 2017: News Analysis
Nothing here for Today!!!
Basic Information:

In News
In a 26-page judgment, the Supreme Court throws points out that human rights and the National Human Rights Commission have suffered a slow death at the hands of the government and the State authorities.
Neglect and stagnation suffered by the NHRC has imperilled human rights in the nation like in fake encounter' killings of Manipur
Problems faced by NHRC
The NHRC, which had investigated 20 of these deaths, was stonewalled for years by the authorities.
It is actually headed by a former Chief Justice of India or judges of the Supreme Court, had declared its own failure and termed itself a "toothless tiger".
The intention of the NHRC is to more effectively assist the criminal justice delivery system and avoid any factual controversies while respecting human rights.
It is not as if the dignity of only living persons needs to be respected. Even the dignity of the dead must be given due respect.
NHRC's revised guidelines of 2010
It makes magisterial inquiry into every police encounter death
The NHRC has to be informed of every encounter death.
However, these guidelines are given scant respect by the States.
In many States, human rights commissions are obvious in their absence for years.
Basic Information
National hman rights commission
It is autonomous body created by an Act of Parliament.
Headed by a former Chief Justice of India
Authority to grant interim relief
Authority to recommend payment of compensation or damages
The Chairperson and the Members of the Commission are appointed by the President of India, on the recommendations of a Committee consisting of:
The Prime Minister (chairperson)
The Home Minister
The Leader of the Opposition in the Lok Sabha
The Leader of the Opposition in the Rajya Sabha
The Speaker of the Lok Sabha
The Deputy Chairman of the Rajya Sabha
2. Give data of C-section and normal deliveries: Maneka
What is the issue?
To combat the alarming rise in caesarean section operations in India, Union Government is considering audit of private hospitals
They will be asked to display the data of normal and C-section deliveries prominently
Recent step taken by the Women and Child Development (WCD) Ministry
The Ministry has written to Health Ministery asking that it be made mandatory for private hospitals enrolled with the Central Government Health Scheme (CGHS) to display the data of C-section and normal deliveries
The Ministery has further demanded that the Health Ministry direct State governments to conduct periodic audits of private hospitals to ensure unnecessary procedures are not being conducted
Increased cases of C-Section Deliveries
According to the latest data from the National Family Health Survey 2014-15 (NFHS-4), C-section surgeries have doubled over the last decade across India
The NFHS-4 data revealed that Telangana has the highest number of C-section deliveries in the country, with 74.9% babies born this way in private hospitals
Over 40% of the deliveries in Bihar were C-sections, while 58 % of the deliveries in Maharashtra were through C-section procedures
As per World Health Organization guidelines, 10-15% of deliveries being C-sections is considered appropriate
Basic Information
What are C-Section Deliveries?
Caesarean section, also known as C-section or caesarean delivery, is the use of surgery to deliver one or more babies
A caesarean section is often performed when a vaginal delivery would put the baby or mother at risk
This may include obstructed labour, twin pregnancy, high blood pressure in the mother, breech birth, problems with the placenta, umbilical cord or shape of the pelvis, and previous C-section
A trial of vaginal birth in some of these situations, including after C-section, may be possible
Some C-sections are also performed upon request
The World Health Organization recommends that they should be done based on medical need and in many cases they are lifesaving for the mother and baby.
3. Housing For All By 2022: With demand-supply gap shrinking, affordable housing segment set to grow
In News
Demand-Supply gap shrinking
Affordable housing schemes are on a growth curve in 2017
Huge demand in housing segments is being met with increasing supply
Present Scenario
In housing sector, massive demand and massive unsold residential inventory is co-existing
Why: This is the result of pricing mismatch
Governments Efforts under the 'Housing for All by 2022'
The government is collaborating with private builders and developers under a public-private partnership (PPP) model to make 'Housing for All by 2022'
Other efforts by the government
The government has provided 39 per cent higher allocations for affordable housing development vis-à-vis FY17 under the Pradhan Mantri Awas Yojana (PMAY)
It has also extended the Credit Linked Subsidy Scheme to loans of value up to Rs 12 lakh
Government policies like the Real Estate Regulatory Authority (RERA) have infused fresh buyer confidence into the realty sector
The most important decision by government is that it a has granted infrastructure status to affordable housing
Observation of ICRA
According to the ICRA, the affordable housing segment in India is set to grow at a faster pace than the rest of the real estate sector
Also, it will be the key growth driver for the Indian mortgage finance market
Positive things that are coming in the affordable  Housing sector
The segment has lost its "down market" label and become a serious and respectable business sector for developers
It is a given that the demand-supply gap is huge, but the fact is that it is narrowing visibly for the first time in several decades
Category: INTERNATIONAL RELATIONS
1. Fixing a major piece of the climate puzzle
In news:
The Trump administration is likely to unveil its South Asia policy in the coming weeks.
The review is likely to include the United States' position on its relations with India, Pakistan and Afghanistan.
National Defense Authorization Act 2018: The U.S. House of Representatives passed a bill worth about $ 621.5 billion that will enable increased cooperation with India in the defense sector.
2. Malabar drills aim at giving regional security, says Japan
In News:
Trilateral Naval exercise, Malabar 2017
The trilateral Naval exercise, Malabar 2017, involving India, the U.S. and Japan, is strategically very important and meant to maintain the rule of law and maritime security in the region.
It is for safeguarding peace and stability in the Indo-Pacific region" and there could be more exchanges involving ground and air forces and an exchange of personnel in various areas.
Asia-Africa Growth Corridor project
Envisaging an India-Japan collaboration in Africa
For a free and open Indo-Pacific region and to make this region more inter-connected and prosperous.
It is not particularly counter-balancing to some initiative such as China's Belt and Road project,
This initiative is important for prosperity and security of this region
India has vast experience, network in eastern part of Africa and Japan have good technology and financing to support African development.
Japan has been working with Indian officials and businessmen for "a concrete development plan" in Africa.
Recent takeaways
Civil nuclear agreement, signed between the two countries last year, given the Diet's approval.
Japanese investors in India were "very happy" with roll out of the GST.
C. GS3 Related
---
Category: ENVIRONMENT AND ECOLOGY
1. Fixing a major piece of the climate puzzle
In News
Fixing air-conditioning would be the best and more effective solution to climate change
New research indicates that adding improved efficiency in refrigeration and phasing out fluorinated gases used for cooling, as mandated by international agreement, could eliminate a full degree Celsius of warming by 2100
Air-conditioners and Climate change
Hydrofluorocarbons account for about 1 percent of global greenhouse gas emissions, but it is thousands of times as potent as carbon dioxide and may account for up to 19 percent of emissions by 2050 if their manufacture continues unchecked.
India to the Philippines to South Africa, air-conditioners are increasingly a must-have item.
Businesses and homeowners in Asia and Africa are expected to buy about 700 million air-conditioners by 2030, and 1.6 billion by mid -century.
Measures taken
Kigali amendment to the Montreal Protocol.
The landmark 1987 pact designed to close the hole in the ozone layer by banning ozone-depleting coolants called chlorofluorocarbons/CFCs.
The amendment reached last year in the capital of Rwanda binds nations to phase out HFCs, avoiding an estimated half degree Celsius of warming by 2100.
Way forward?
Nations must call for new regulatory policies on manufacturing standards and labeling.
Basic Information
Kigali agreement
Kigali Amendment which amends the 1987 Montreal Protocol aims to phase out Hydrofluorocarbons by the late 2040s.
Under Kigali Amendment, in all 197 countries, including India have agreed to a timeline to reduce the use of HFCs by roughly 85% of their baselines by 2045
The Kigali Agreement for HFCs reduction will be binding on countries from 2019
It also has provisions for penalties for non-compliance
Nothing here for Today!!!
E. Concepts-in-News: Related Concepts to Revise/Learn
---
PRELIMS WORTHY FACTUAL INFORMATION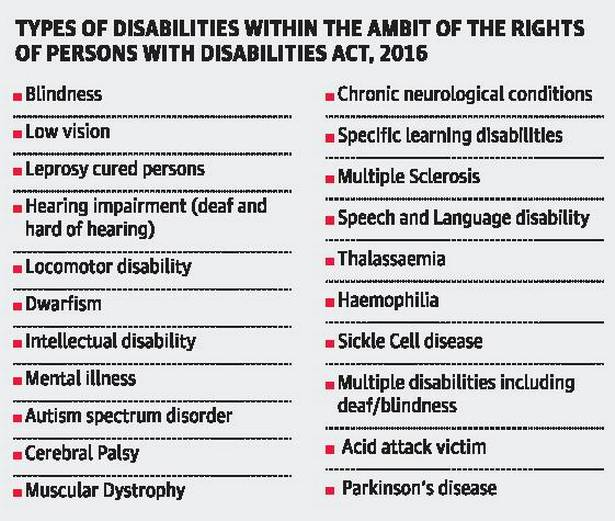 F. Bills/Acts/Schemes/Orgs in News
---
Nothing here for Today!!!
G. Practice Questions for UPSC Prelims Exam
---
Question 1: Consider the following disabilities:
Muscular Dystrophy
Acid Attack Victim
Dwarfism
Which among the following has been identified as disability under The Rights Of Person With Disability Act, 2016
1 only
1 and 3 only
1 and 2 only
1,2 and 3
See
Question 2: The strategic oil- and gas bearing region called "Yamala Peninsula" is located 
in which country?
Russia
Norway
Vietnam
China
See
Question 3: Rajgir Mahotsav is celebrated in _________.
Rajasthan
Bihar
Uttar Pradesh
Madhya Pradesh
See
Question 4: Sangai Festival is celebrated in which among the following states of India?
Assam
Manipur
Bihar
Karnataka
See
Question 5: The "Aichi Targets" are related to ________.
Conservation of Biodiversity
Conservation of Wetlands
Conservation of Coral reefs
Prevention of Plastic use
See
"Proper Current Affairs preparation is the key to success in the UPSC- Civil Services Examination. We have now launched a comprehensive 'Online Current Affairs Crash Course'. Limited seats available. Click here to Know More."
Practice More: Enroll for India's Largest All-India Test Series