TABLE OF CONTENT
A.

 GS1 Related




B.

 GS2 Related


Polity
1. Aadhaar: 9-judge Bench to consider whether privacy is a basic right
2. State legislatures have 'exclusive' powers to enact laws on cattle protection: Govt 
International Relations
1. India set to extradite Bangladeshi national to Britain
2. US asks countries in East and South China Sea to exercise restraint
Health Issues
1. An uphill fight


C.

 GS3 Related


Economics
1. Does a minimum wage kill jobs?
2. After globalisation's promise
Science and Technology
1. Govt. panel to study cow derivatives


D. 

GS4 Related




E. 

Concepts-in-News: Related Concepts to Revise/Learn




F. 

Bills/Acts/Schemes/Orgs in News
G. UPSC Prelims Practice Questions
H. UPSC Mains Practice Questions 

UPSC Current Affairs 2017: News Analysis
Nothing here for Today!!!
1. Aadhaar: 9-judge Bench to consider whether privacy is a basic right
In news: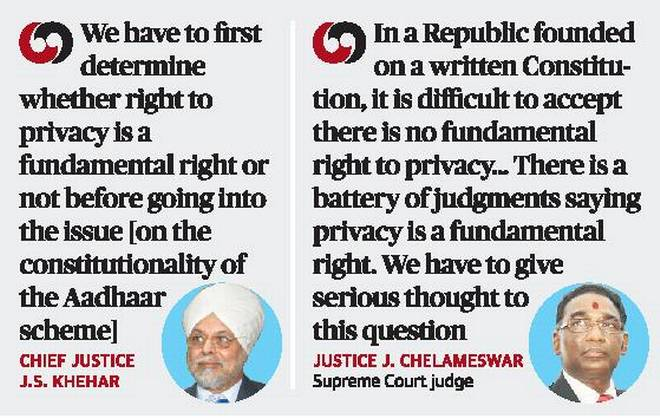 A nine-judge Bench of the Supreme Court will hear the question whether privacy is a fundamental human right and is part of the basic structure of the Constitution.
Petitioner's contention:

The Aadhaar scheme, is a violation of the citizens' right to privacy.
The petitioners have argued that right to privacy is part of Article 21, the right to life, and interspersed in Article 19, though not explicitly stated in the Constitution.

Supreme Court verdicts on right to privacy:

P. Sharma case-1954
the Kharak Singh case verdict of 1962
Both judgments had concluded that privacy was not a fundamental or 'guaranteed' right.
The nine-judge Bench to decide: once and for all whether privacy is negotiable or not.
2. State legislatures have 'exclusive' powers to enact laws on cattle protection: Govt
In news:
State legislatures have "exclusive" powers to enact laws for preservation of cattle, the government told the Rajya Sabha .
Rajasthan High Court vide order dated 31.5.2017 advised that cow should be declared a national animal and directed the state government of Rajasthan to take steps for preservation and conservation of cows and for declaring cow as a national animal.
Key Fact: Under the distribution of legislative powers between Union of India and states under article 246(3) of the Constitution, the preservation of cattle is a matter on which the legislature of the states have exclusive powers to legislate.
Category: INTERNATIONAL RELATIONS
1. India set to extradite Bangladeshi national to Britain
In news:
India is all set to extradite a Bangladeshi national, Mohammad Abdul Shakur, to the U.K., where he is accused of murdering his wife and children ten years ago.
Positive step: This is being seen as another signal of increasing cooperation between the two nations on sensitive, and potentially thorny issues in the home affairs arena.
2. US asks countries in East and South China Sea to exercise restraint
News
The Pentagon has asked countries in East and South China Sea to exercise restraint and avoid indulging in provocative behaviour
It asked not do things that are provocative and to respect each other's sovereignty in their operations
Background
This was due to Chinese H-6 bombers flying over the Bashi Channel and the Miyako Strait several times over the past week
Japan scrambled fighters in response
Chinese Defense Ministry has told Japan that it should get used to it
Protest by China
China had protested when a US Air Force Bomber flew over the South China Sea before G-20 summit in Hamburg, Germany
Category: INTERNATIONAL RELATIONS
Context
The Union Ministry of Health and Family Welfare's plan to eliminate malaria by 2027.
It aims to eradicate the mosquito-borne disease from India three years ahead of the global deadline set by the World Health Organisation (WHO).
New plan approach
It is the country's first time-bound malaria elimination programme since the National Malaria Eradication Programme was aborted in the late 1960s.
Since the 1970s, the thrust of India's anti-malaria programme has been on controlling the disease.
The National Vector and Disease Control Progamme, 2004, the plan's predecessor, too aimed at "controlling" malaria.
There are time-bound targets for all districts, based on their vulnerability to malaria.
The plan lays emphasis on awareness programmes, entomological surveillance and outbreak warning systems — methods that have contributed to eradicating malaria in several parts of the world, including Sri Lanka.
Challenges
Manpower shortage which has virtually crippled a large number of the country's primary health centres.
This shortage not only jeopardises early detection and treatment of the disease, but is also a cause for a large number of cases going unreported.
Under-reporting of malaria makes it difficult to accurately estimate the burden of the disease.
India's Vulnerability to malaria
Malaria parasite has been particularly resilient for centuries.
Plasmodium vivax parasite responsible for almost 50 per cent of India's malaria burden has adapted to anti-malarial drugs.
Way forward
Compared to several other communicable diseases, malaria is not a particularly complex disease. What we need to do is to stop mosquitoes from transmitting the parasite or make the parasite ineffective.
Beefing up indigenous research on the disease
C. GS3 Related
---
1. Does a minimum wage kill jobs?
Context
The Union Cabinet is expected to approve a bill that, mandates a universal minimum wage.
The code empowers the Centre to set a minimum wage to help poor, unskilled workers earn more.
Problems with minimum wage
Economists warned that price floors prevent the available supply of goods from being fully sold.
So, the minimum wage would logically hurt workers by increasing unemployment
Minimum wage and unemployment:
Famous 1993 study by David Card and Alan B. Krueger found that a rise in the minimum wage in New Jersey actually decreased unemployment.
"Seattle's Minimum Wage Experience 2015-16", a 2017 found that since the city raised its minimum wage in 2015, unemployment dropped from 4.3% to 3.3%.
Since then, a flurry of studies has concluded that a minimum wage has either no, or very little, negative effect on employment.
But another paper, found that employment among the youth in Denmark decreased by one-third when they attained the age at which their minimum wage increases by 40%.
The real effect:
The minimum wage increases unemployment, except when it is set below the market price for labour; or only marginally higher, in which case the minimum wage enhances the bargaining power of workers.
But figuring out, and also periodically adjusting, the wage rate at which the worker benefits is often impractical.
Other effects of minimum wage?
Even when it looks like the minimum wage has no negative effect on employment; it can have other unintended effects.
Companies, for example, instead of firing workers, may employ them for fewer hours, which in turn will affect the quality of their services
"Minimum Wage and Restaurant Hygiene Violation", a 2017 paper found that hygiene violations by restaurants increased significantly after a rise in the minimum wage as the restaurants tried to cut down on cleaning-staff expenses.
2. After globalisation's promise
Context
'Hyperglobalisation' has been used to describe the dramatic increase in international trade witnessed for about a decade and a half from the early 1990s up to the global financial crisis of 2008
The imagery intended is one of an increasing connectedness among nations leading to a virtuous cycle of economic expansion
History of Globalisation
Starting some time in the last quarter of the 19th century, for close to 50 years, the world saw an expansion in trade that was actually as great or even greater than during the recently concluded phase
Then had also occurred an unprecedented movement of capital and of people
British capital flowed into building the railways across the world, immigrants moved from Europe to the United States and Asian labour was moved to the sites of deployment of western capital
The phase of high trade starting 1870 came to an end with the First World War and was to revive, slowly, only after the Second
Then, following the collapse of East European communism in the early 1990s, there was a resurgence in global trade
Now even this phase has somewhat abruptly ended with the global financial crisis
Role of technology
19th century globalisation was underpinned by technological advances that facilitated trade
It may as well be said that trade expanded as the demand for goods grew
The slowdown and India
If the world economy is set to grow slowly for the foreseeable future, a premise of much of the economic policy in India since 1991 would have to be replaced
The shift that has taken place is most visible in the IT industry
Now, "bricks and mortar" is no longer something to be spurned and soiling our hands may be part of the business of earning our living for some time to come
What does India need to do?
Recognising the diminished tempo of globalisation, India's economic policymakers must address the growth of the home market
This means increasing the demand for goods and services emanating from within the country
There is a case for cutting the repo rate now, but its effects are doubtful
Way forward
Independently of the 'twin balance sheet problem', Keynesian economics has long recognised that lowering the rate of interest may not do much for private investment if the expected rate of return is depressed
The slowing of both global trade and domestic manufacturing may have had precisely this effect by lowering the long-term expectations held by private investors
Buoying up of flagging demand can be done through public investment
Infrastructure is unique in that spending on it raises aggregate demand and when it actually comes on stream, it raises the productivity of investment elsewhere in the economy
'Roads and bridges' are a metaphor for the public infrastructure that the Indian economy can fruitfully absorb today
Category: SCIENCE AND TECHNOLOGY
1. Govt. panel to study cow derivatives
In News
The government has set up a 19-member panel to carry out scientifically validated research on cow derivatives including its urine, and their benefits
The panel has been named as National Steering Committee
About project
The government has given the project the acronym SVAROP, which stands for Scientific Validation and Research on Panchagavya
The committee will select projects that can help scientifically validate the benefits of panchgavya — the concoction of cow dung, cow urine, milk, curd and ghee — in various spheres such as nutrition, health and agriculture
It is being conducted by the Department of Science and Technology, Department of Biotechnology, and the Council for Scientific and Industrial Research (CSIR) of the Ministry of Science and Technology in collaboration with IIT-Delhi
It will cover five thematic areas including scientific validation of uniqueness of indigenous cows
Nothing here for Today!!!
E. Concepts-in-News: Related Concepts to Revise/Learn
---
F. Bills/Acts/Schemes/Orgs in News
---
Nothing here for Today!!!
G. Practice Questions for UPSC Prelims Exam
---
Question 1. Who has the exclusive right to legislate with respect to matter pertaining to 
"The preservation of cattle"?
Parliament
State legislature
Both A and B
Either A or B
See
Question 2. Miyako Strait is connects ________.
East China sea to Pacific Ocean
South China sea to Pacific ocean
Pacific ocean to Arctic sea
Sea of Japan to Pacific Ocean
See
Question 3. Consider the following statements:
The objective of the National Food Security Mission is to increase production of rice, wheat and pulses only
Production of horticulture crops have outpaced the production of food-grains consistently since 2012-13
Which of the statements above is/are correct?
1 Only
2 Only
Both 1 and 2
Neither 1 nor 2
See
Question 4. 

Recently Lok Sabha passed the Motor Vehicles Amendment bill, the power to 
make such laws by Parliament, is under which list of constitution of India.
Union List
State List
Concurrent List
None of the Above
See
Question 5. India Water Stewardship Network and Alliance for Water Stewardship is a 
network created by
U.N.
W.H.O
WWF
IMF
See
"Proper Current Affairs preparation is the key to success in the UPSC- Civil Services Examination. We have now launched a comprehensive 'Online Current Affairs Crash Course'. Limited seats available. Click here to Know More."
G. UPSC Mains Practice Questions
---
GS Paper II
Examine how Aadhaar's design protects individual's identity and privacy?
GS Paper III
Discuss the effects of minimum wages on employment?
What do you mean by Hyper-globalisation? Discuss how hyper-globalisation has lead to a "virtuous cycle of economic expansion"?
---
Practice More: Enroll for India's Largest All-India Test Series