TABLE OF CONTENT
A.

 GS1 Related




B.

 GS2 Related


POLITY
1. Loan waivers are on you, FM tells States
2. Give us contempt powers to act against those out to sully our image: EC to Govt
INTERNATIONAL RELATIONS
1. Panel to study free movement along Myanmar border


C.

 GS3 Related


ECONOMICS
1. CPI inflation slows to lowest since 2012
SCIENCE AND TECHNOLOGY
1. Harnessing the solar spectrum
ENVIRONMENT AND ECOLOGY
1. Three new sites recognised as biodiversity hotspots in Goa


D. 

GS4 Related




E. 

Concepts-in-News: Related Concepts to Revise/Learn




F. 

Bills/Acts/Schemes/Orgs in News


G. 

Practice Questions for UPSC Prelims Exam

UPSC Current Affairs 2017: News Analysis
A. GS1 Related
Nothing here for Today!!!
B. GS2 Related
1. Loan waivers are on you, FM tells States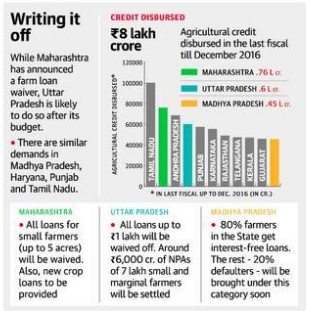 Context:
Agitations led by famers demanding farm loan waiver.
Sates like Maharashtra and Uttar Pradesh announcing waivers.
In news:
Finance Minister Arun Jaitley reiterated that the States going in for farm loan waivers will have to generate funds from their own resources.
There are also demands for waivers in States such as Madhya Pradesh and Haryana, Punjab, and Tamil Nadu.
2. Give us contempt powers to act against those out to sully our image: EC to Govt
Context 
The EC has written to the Law Ministry, seeking powers to act against those questioning the poll panel's credibility through unfounded allegations
EC requirements:
The Commission has sought amendments to the Contempt of Courts Act, 1971
This is to empower it to punish anyone being disobedient or discourteous towards its authority
Examples abroad:
In its letter, the EC has cited examples of its counterparts abroad. For instance, the Election Commission of Pakistan (ECP), can initiate contempt proceedings against anyone sullying its image. This year, the ECP issued a contempt notice to cricketer-turned-politician Imran Khan for accusing the election body of bias in a case of foreign funding.
Reasons for seeking such powers:
The demand is made by the EC by virtue of being a constitutional authority
It is significant against the backdrop of political parties, especially Aam Aadmi Party (AAP), accusing the panel of playing favourites
The Commission has no specific powers to act in such cases
The recent case
Matters came to light when Delhi Chief Minister Arvind Kejriwal questioned election commissioners A K Joti and O P Rawat's impartiality in a media interview
The decision was imperative to protect the credibility of the Commission
Kejriwal, in an interview, had alleged that two of the three election commissioners were close to the ruling dispensation
Basic information:
Contempt power
Contempt of Courts Act gives power to Court to punish anyone who does its contempt
This concept / law was developed in Britain
It spread through colonialism to protect the authority and legitimacy of Court power to punish for contempt provided to Judiciary
Category: INTERNATIONAL RELATIONS
1. Panel to study free movement along Myanmar border
In news:
India-Myanmar: a friendly country, India shares unfenced borders and unhindered movement of people across the border.
India and Myanmar share an unfenced border of 1,643 km
The Union Home Ministry has constituted a committee headed by Rina Mitra, Special Secretary-Internal Security, to examine methods to curb the misuse of free movement along the Myanmar border.
This is the second time a committee is being constituted to study the free movement across the Myanmar border
Free movement and threat to national security:
Free movement regime is being misused by militants and trans-border criminals who smuggle weapons, contraband goods and fake Indian currency notes. Taking advantage of the free-movement regime, occasionally they enter India, commit crimes and escape to their relatively safer hideouts 
R.N. Ravi committee report
In 2015, a high-level committee report submitted by Joint Intelligence Committee (JIC) chief R.N. Ravi suggested changing the "misnomer" related to "free border movement" and asked the government to replicate the model prevalent in villages and areas along the Bangladesh border.
The report has suggested dedicated crossing points in border villages, where policemen would be made in charge of regulating the movement of people.
C. GS3 Related
1. CPI inflation slows to lowest since 2012
In news:
Retail inflation in May, at 2.18%, eased to its lowest level since the Centre began measuring it on a nationwide basis in 2012, driven in large part by cooling food prices, according to a latest government release.
Inflation measured by the Consumer Price Index (CPI) was even slower than the 2.99% seen in April, the previous record low. Within the index, food and beverages category witnessed a contraction of 0.2% in May, compared with a growth of 1.3% in April.
Industrial output expanded by 3.1% in April.
Growth in the Index of Industrial Production (IIP) was spurred by the manufacturing sector within which the tobacco and the pharmaceuticals sectors grew the fastest.
Basic Information:
Index of Industrial Production (IIP)
The Index of Industrial Production (IIP) is an index for India which details out the growth of various sectors in an economy such as mineral mining, electricity and manufacturing.
The all India IIP is a composite indicator that measures the short-term changes in the volume of production of a basket of industrial products during a given period with respect to that in a chosen base period.
It is compiled and published monthly by the Central Statistical Organisation (CSO) six weeks after the reference month ends.
The level of the Index of Industrial Production (IIP) is an abstract number, the magnitude of which represents the status of production in the industrial sector for a given period of time as compared to a reference period of time. The base year was at one time fixed at 1993–94 so that year was assigned an index level of 100.
The current base year is 2011-2012.
The Eight Core Industries comprise nearly 40.27% of the weight of items included in the Index of Industrial Production (IIP). These are Electricity , steel, refinery products, crude oil, coal, cement, natural gas and fertilisers.
Category: SCIENCE AND TECHNOLOGY
1. Harnessing the solar spectrum
In news:
New study and new approach: Using different parts of sunlight's spectrum to produce crops, generate electricity, collect heat and purify water could provide food, energy and water resources for the world's growing population.
The concept works by separating and harvesting the three specific segments of the solar spectrum that are best suited to facilitate the production of food, energy and clean water.
In current practices, much of this spectrum is wasted because all of the sunlight falling on a given spot is used for one purpose: agriculture, energy production or water purification. A typical photovoltaic panel, when installed on farmland, casts a shadow and dramatically reduces plant growth and crop yield from the shadowed area.
The new approach would instead use the same land mass for all three purposes simultaneously through innovative technologies that split the spectrum into three segments and efficiently harvest sunlight.
The proposed photovoltaic designs transmit photons responsible for plant growth while reflecting remaining photons in the solar spectrum to specially designed solar cells that can help generate electricity and collect heat for energy recovery and water purification.
Category: ENVIRONMENT AND ECOLOGY
1. Three new sites recognised as biodiversity hotspots in Goa
In news:
BirdLife International, a conservation organisation, has recognised three new sites in Goa as hotspots for protection.
The sites- Bondla Wildlife Sanctuary, Navelim Wetlands and Netravali Wildlife Sanctuary, have been added to their list of "Important Bird and Biodiversity Areas".
Goa at present has four recognised biodiversity areas: Bhagwan Mahavir Wildlife Sanctuary and Mollem National Park, Carambolim Wetlands, Cotigao Wildlife Sanctuary and Mhadei Wildlife Sanctuary.
Declaring a site as an Important Bird and Biodiversity Area does not ensure that the site gets legal protection or becomes inaccessible to people. Instead BirdLife International encourages national and State governments to recognise the areas as sites of vital importance for conservation of wildlife and to empower local community-based conservation initiatives.
BirdLife International:
BirdLife International (formerly the International Council for Bird Preservation) is a global partnership of conservation organisations that strives to conserve birds, their habitats and global biodiversity, working with people towards sustainability in the use of natural resources. It is the world's largest partnership of conservation organisations, with over 120 partner organisations.
Headquarters: Cambridge, United Kingdom.
BirdLife International is the official Red List authority for birds, for the International Union for Conservation of Nature.
Nothing here for Today!!!
E. Concepts-in-News: Related Concepts to Revise/Learn
F. Bills/Acts/Schemes/Orgs in News
| | |
| --- | --- |
| Bill/Acts/Schemes in News | About the Schemes |
G. Practice Questions for UPSC Prelims Exam
Question 1: Consider the following statements:
Irrawady Dolphin is an oceanic dolphin
IUCN has classified Irrawady Dolphin as Vulnerable in the Red Data List.
Identify the correct statement.
1 only
2 only
Both 1 and 2
Neither 1 nor 2
See
Question 2: Consider the following statements:
Nilgai is the largest Indian Antelope
Nilgai is not inddienous to Indian Subcontinent.
IUCN has classified Nilgai as Vulnerable in the Red Data List.
Identify the correct statement.
1 and 3 only
1 and 2 only
2 and 3 only
1 only
See
Question 3: Consider the following statements:
MIKE stands for Monitroing of Illegal Killing of Emu.
MIKE comes under CITES.
MIKE was started in South Asia in the year 2013
Identify the correct statement.
1 and 3 only
1 and 2 only
2 and 3 only
1 only
See
Question 4: Which country to host 2017 Shanghai Cooperation Organization (SCO)?
Kazakhstan
Uzbekistan
Tajikistan
Kyrgyzstan 
See
Question 5: Baburnama was written in which language?
Para-Mongolic
Chagatai Turkic
Hijazi Arabic
Bahrani Arabic 
See
"Proper Current Affairs preparation is the key to success in the UPSC- Civil Services Examination. We have now launched a comprehensive 'Online Current Affairs Crash Course'. Limited seats available. Click here to Know More."
Practice More: Enroll for India's Largest All-India Test Series