TABLE OF CONTENT
A.

 GS1 Related




B.

 GS2 Related


Polity
1. It's either salary or pension for regulatory body chiefs


C.

 GS3 Related


Economics
1. Nod for Insolvency Bill for financial entities
2. India Aims To Lift 'Doing Business' Ranking
3. India's engineering exports to Doha hit by Qatar crisis
4. Cabinet clears 5% interest subvention for crop loans
Environment and Ecology
1. Ray of hope for Thar's endangered wildlife
2. What's up with Bosphorus?


D. 

GS4 Related




E. 

Concepts-in-News: Related Concepts to Revise/Learn




F. 

Bills/Acts/Schemes/Orgs in News


G. 

Practice Questions for UPSC Prelims Exam

UPSC Current Affairs 2017: News Analysis
A. GS1 Related
Nothing here for Today!!!
B. GS2 Related
1. It's either salary or pension for regulatory body chiefs
In news:
New Centre norms: The chairpersons and members of regulatory bodies to either take salary or pensions.
Existing norms provide that chairpersons and members shall be deemed to have retired from Central or State government service on the date of their appointment to any regulatory authority.
Recent Incidence:
There have been complaints against chairpersons and members of a few regulatory bodies for receiving pension in addition to the salary.
Effect of latest order: such persons will have to face a cut in their salary. The amount of pension will be deducted from their salary
1. Nod for Insolvency Bill for financial entities
In news:
The Union Cabinet approved the introduction of a new Bill to resolve bankruptcy cases affecting financial sector entities, including banks and insurance companies.
The Financial Resolution and Deposit Insurance Bill 2017, when enacted, will have a provision for the setting up of a Resolution Corporation.
Main aim: It aims to limit the use of public money to bail out distressed firms during a financial crisis.
The passage of the Act will also lead to the repealing of the Deposit Insurance and Credit Guarantee Corporation Act, 1961 in order to transfer the deposit insurance powers and responsibilities to the Resolution Corporation.
The Bill seeks to decrease the time and costs involved in resolving distressed financial entities and complements the Insolvency and Bankruptcy Code, 2016 for the insolvency resolution of non-financial entities
2. India Aims To Lift 'Doing Business' Ranking
Context:
World Banks Ease of Doing Business Report: India ranked 130 out of 190 Countries last year.

Starting a business ranking : 155th position
Dealing with construction permits: 185th position 
Focus:
India focusing upon major reforms in the areas such as 'Starting a business' and dealing with construction permits to significantly improve its ranking. 
Measures taken:
SPICe (The simplified Performa for Incorporating a Company Electronically), is the only default application for incorporation of Companies.
SPICe combines five procedures:

Incorporation of a company
Obtaining Director Identification Number
Reservation of Company name
Application for Permanent Account Number
Application for Tax deduction and Collection Account number

Procedure associated with Employee State Insurance Corporation and Employee Fund organization has been made electronic.
3. India's engineering exports to Doha hit by Qatar crisis
Context: Gulf Crisis.
In news:
India's engineering exports to Doha have been hit following sanctions imposed on Qatar by some nations including Saudi Arabia.
The Engineering Export Promotion Council (EEPC) of India said shipments from India were being affected as the Middle East and West Asia trade has a lot of inter-operability between different ports, observing that the banking channels particularly in Doha and some other parts of the region have also been disrupted.
Key Fact:
The Middle East and West Asia are one of the key destinations for Indian engineering exports, accounting for 13 per cent of the country's total engineering exports.
India's major trading partners include the UAE, Oman and Saudi Arabia.
The engineering shipments to the region include products like iron and steel, non-ferrous metals, industrial and electrical machinery.
4. Cabinet clears 5% interest subvention for crop loans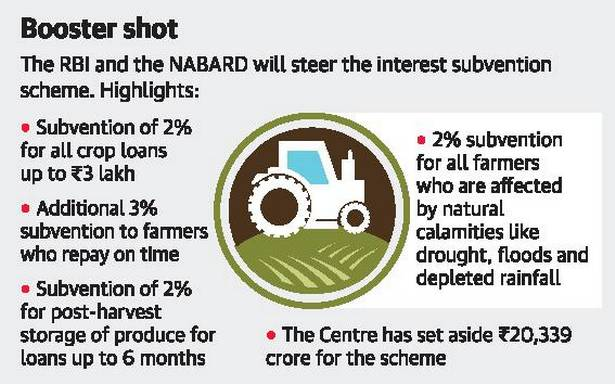 In news:
The Union Cabinet has approved the extension of the interest subvention scheme for farmers to 2017-18.
Short-term crop loans up to ₹3 lakh will receive a subvention of 5% to all prompt payee farmers, effectively reducing the rate for farmers to 4%.
Implementing agency: the National Bank for Agriculture and Rural Development (NABARD) and the Reserve Bank of India.
Farmers unable to repay the short-term crop loans on time will receive an interest subvention of 2%.
Under the scheme, the government will also provide an interest subvention of 2% for small and marginal farmers who would have to borrow at 9% for the post-harvest storage of their produce for loans up to 6 months.
A 2% subvention will also be provided to banks in the case of farmers affected by natural calamities for the first year on the restructured amount.
Background information: The scheme was started in 2006-07, under which farmers are eligible for interest subvention of 2% for crop loans of up to ₹3 lakh.
Scheme objective: The objective of the scheme is to make available at ground level, agricultural credit for short-term crop loans at an affordable rate to give a boost to agricultural productivity and production in the country.
Basic information
Meaning of Interest Subvention:
"Interest subvention" simply means a subsidy offered on interest rates. The word "subvention" simply means subsidy.
In the context of India, interest subvention is mostly in the matter of government lending schemes to promote a particular industry sector. The subsidy helps the loan borrower in not having to pay the total interest amount on a loan amount. Therefore, the government pays part of the interest amount for the borrower, thereby lessening the borrower's overall repayment burden.
1. Ray of hope for Thar's endangered wildlife
In news:
New "rescue wards" in the far-flung rural areas of Jodhpur, Rajasthan: These will provide quick treatment to animals injured in road accidents, dog bites and fights.
This is an attempt to reduce mortality of endangered wildlife in Thar desert.
Key Fact:
With an average of nearly 1,000 injuries a year, the wildlife in Thar desert has witnessed 60% mortality because of lack of transport to the main rescue centre at the Jodhpur zoo. This has led to the depletion of wildlife, mainly chinkaras (Indian gazelles).
Setting up of new rescue wards has given much-needed support to the Bishnoi community of western Rajasthan, which has been in the forefront of wildlife conservation. Bishnois risk their lives to save gazelles from poachers and transport injured animals to Jodhpur.
In news:
There has been a sudden change in the colour- usually blue waters of the to a milky turquoise, of the Bosphorus Strait that divides the continents of Europe and Asia in Turkey's largest city Istanbul.
Reason:
Scientists attribute the change in color to a surge in a species of plankton across the Black Sea.
Surge in numbers of the micro-organism Emiliania huxleyi, also known as Ehux.
Emiliania huxleyi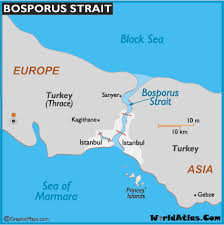 One of the most successful life-forms on the planet, Emiliania huxleyi is a single-celled organism visible only under a microscope.
Its astonishing adaptability enables it to thrive in waters from the equator to the sub-Arctic.
Emiliania huxleyi is a species of coccolithophore (phytoplankton).
This particular organism is plated with white calcium carbonate and, when present in large numbers, tend to turn the water a milky sheen
The Bosphorus
The Bosphorus is a narrow, natural strait and an internationally significant waterway located in northwestern Turkey.
It forms part of the continental boundary between Europe and Asia, and separates Asian Turkey from European Turkey.
The world's narrowest strait used for international navigation, the Bosphorus connects the Black Sea with the Sea of Marmara, and, by extension via the Dardanelles, the Aegean and Mediterranean Seas.
Together with the Dardanelles, the Bosphorus forms the Turkish Straits.
Nothing here for Today!!!
E. Concepts-in-News: Related Concepts to Revise/Learn
Prelims worthy factual information
The National Physical Laboratory (NPL):
NPL is part of the Council of Scientific and Industrial Research
NPL is the host of most accurate clock in India.
NPL is the only agency in India authorized to maintain Indian Standard Time.
F. Bills/Acts/Schemes/Orgs in News
| | |
| --- | --- |
| Bill/Acts/Schemes in News | About the Schemes |
G. Practice Questions for UPSC Prelims Exam
Question 1: Consider the following statements:
Bosphorus Strait that divides the continents of Asia and North America.
Bosphorus Strait is a man made strait.
Choose the correct answer.
1 only
2 only
Both 1 and 2
Neither 1 nor 2
See
Question 2: Consider the following statements:
Emiliania huxleyi is a single-celled organism.
Emiliania huxleyi is plated with white calcium carbonate and, when present in large numbers, tend to turn the water a milky sheen.
Choose the correct answer.
1 only
2 only
Both 1 and 2
Neither 1 nor 2
See
Question 3: Global Burden of Disease report is published by _______.
U.N.H.R.C
U.N.D.P
W.H.O
None of the above
See
Question 4: Ease of doing business report is published by _______.
World Bank
IMF
Asian Development Bank
United Nations Organisation
See
Question 5: Recently Lok Sabha passed the Motor Vehicles Amendment bill, the power to 
make such laws by Parliament, is under which list of constitution of India
Union List
State List
Concurrent List
None of the Above
See
"Proper Current Affairs preparation is the key to success in the UPSC- Civil Services Examination. We have now launched a comprehensive 'Online Current Affairs Crash Course'. Limited seats available. Click here to Know More."
Practice More: Enroll for India's Largest All-India Test Series