TABLE OF CONTENT
A.

 GS1 Related




B.

 GS2 Related


Polity
1. Kasturirangan to head education committee
2. HRD wants skill courses enrolment to be taken into account in GER calculation
International Relations
1. India may ask Myanmar to end ceasefire with NSCN(K)
2. Mexico, India to hold disarmament meet
3. U.S. terms Hizb chief Salahuddin as global terrorist


C.

 GS3 Related


Economics
1. Cabinet to consider proposal for outright sale of Air India
2. Before the colours fade away
3. China shares in MSCI index: what it means
Environment and Ecology
1. At 399 ppm, India matches the world in atmospheric carbon dioxide levels
2. Extreme rainfall and disease outbreaks


D. 

GS4 Related




E. 

Concepts-in-News: Related Concepts to Revise/Learn




F. 

Bills/Acts/Schemes/Orgs in News
G. Practice Questions for UPSC Prelims Exam

UPSC Current Affairs 2017: News Analysis
A. GS1 Related
Nothing here for Today!!!
B. GS2 Related
1. Kasturirangan to head education committee
In news:
Eminent scientist, former Chief of ISRO and Padma Vibhushan Dr. K. Kasturirangan has been appointed Chairman of the committee tasked with preparing the final draft of the National Education Policy.
Members of the committee: The members of the panel are:
Vasudha Kamat- Vice-Chancellor of SNDP University, Mumbai, and educationist
K.J. Alphonse – Retired bureaucrat
Manjul Bhargava – Princeton University Mathematics Professor
Ram Shankar Kureel – Vice-Chancellor of Baba Saheb Ambedkar University of Social Sciences, Mhau, he has written on inclusion of the marginal in mainstream education
T.V. Kattamani – Vice-Chancellor of Tribal University, Amarkantak
K.M. Tripathy from Uttar Pradesh
M.K. Shridhar – Professor of Persian, Guwahati University, Mahzar Asif and CABE member
2. HRD wants skill courses enrolment to be taken into account in GER calculation
In News:
The HRD ministry has proposed to treat long-term skill development courses as higher education for the purpose of calculating the country's Gross Enrolment Ratio (GER)
Age group for which GER is calculated: 18 to 23 years
Current level: The GER for 2015-15 is 24.5 per cent.
Effect on Higher Education Data
The inclusion of skill courses in GER calculation is not expected to bring in significant improvement in higher education data immediately
Because the number of youngsters enrolled in long-term skill courses is small at this moment
Basic Information:
Gross Enrollment Ratio (GER) or Gross Enrollment Index (GEI) is a statistical measure 
used in the education sector and by the UN in its Education Index to determine the 
number of students enrolled in school at several different grade levels (like elementary, 
middle school and high school), and use it to show the ratio of the number of students who 
live in that country to those who qualify for the particular grade level.

The United Nations Educational, Scientific and Cultural Organization(UNESCO), describes 
'Gross Enrolment Ratio' as the total enrolment within a country "in a specific level of 
education, regardless of age, expressed as a percentage of the population in the official
age group corresponding to this level of education
Category: INTERNATIONAL RELATIONS
1. India may ask Myanmar to end ceasefire with NSCN(K)
In news:
India may ask Myanmar to revoke its ceasefire pact with the National Socialist Council of Nagaland-Khaplang (NSCN-K) when Home Secretary Rajiv Mehrishi visits Naypyidaw next month.
Background information: The NSCN-K was banned by India in 2015 for various attacks against its security forces.
During earlier bilateral meetings, India had handed over a list of over 20 insurgent camps operating in Myanmar, a few kilometres from the Indian border. The Myanmar Army has denied the existence of any insurgent camps on its territory.
The NSCN-K has a ceasefire agreement with Myanmar. Govt of India to request the neighboring country to revoke the agreement and hand over its leaders to India. Not only NSCN-K, other insurgent groups are also operating their camps from Myanmar. The insurgent groups have formed a network on both sides of the border, to smuggle arms and form the backbone of anti-India activities
Panel constituted: On June 12, at a meeting in Aizawl, Home Minister Rajnath Singh constituted a committee to examine various methods to curb the misuse of free movement along the Myanmar border, and said that "it was being misused by militants and trans-border criminals who occasionally entered India, committed crimes and escaped to their relatively safer hideouts."
Key fact: India and Myanmar share an unfenced border of 1,643 km adjoining Arunachal Pradesh (520 km), Nagaland (215 km), Manipur (398 km) and Mizoram (510 km) and permit a 'free movement' regime up to 16 km across the border.
2. Mexico, India to hold disarmament meet
In news:
India and Mexico have agreed to hold an important conference on regional and global disarmament.
The meeting would be headed by the Joint Secretary of the disarmament division of the Ministry of External Affairs (MEA) from the Indian side. It was taken up during the seventh meeting of the Mexico-India Joint Commission (JCM) and the fourth round of Foreign Office Consultations held on June 23 in Mexico City.
Background information: The special disarmament meeting is likely to build on the time-tested India-Mexico collaboration on disarmament starting from the 1980s when both countries led the Group of Six, an anti-proliferation group of six countries that tried to contain cold war nuclear rivalry between the U.S. and the USSR.
3. U.S. terms Hizb chief Salahuddin as global terrorist
In news:
U.S. Secretary of Defence James Mattis and Secretary of State Rex Tillerson called on Prime Minister Narendra Modi, setting the stage for his first meeting with President Donald Trump.
The State Department of U.S issued a notification, naming Hizbul Mujahideen (HM) leader Syed Salahuddin a "Specially Designated Global Terrorist (SDGT)."
A statement said Mr. Salahuddin "vowed to block any peaceful resolution to the Kashmir conflict, threatened to train more Kashmiri suicide bombers, and vowed to turn the Kashmir Valley into a graveyard for Indian forces."
C. GS3 Related
1. Cabinet to consider proposal for outright sale of Air India
Context: Privatization of the national carrier.
In news: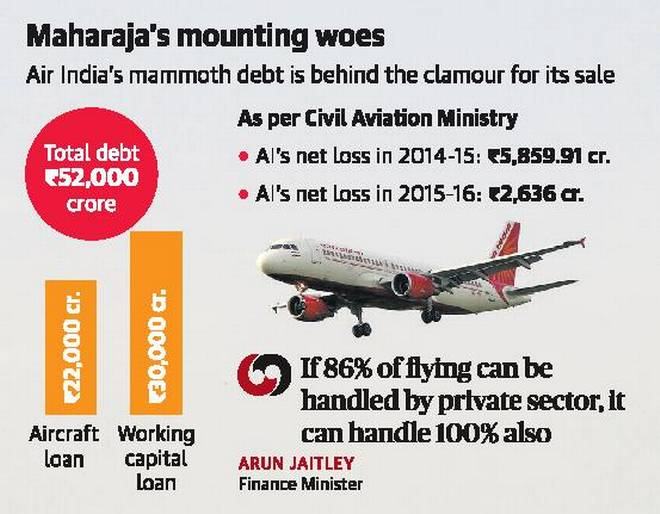 Different opinions:
NITI Aayog and the Finance Ministry: favour of an outright sale of the ailing airline.
Civil Aviation Ministry: government should continues to remain a stakeholder in the national carrier after handing over the management to the private sector.
Union Cabinet: three options available- full 100% sell-off, a 74% stake sale or retaining a 49% share in the airline. Consider the creation of a special purpose vehicle (SPV) to get rid of a major portion of its more than rs. 50,000-crore debt.
Special Purpose Vehicle plan
A major portion of the working capital loan, subsidiaries and prime properties owned by Air India is proposed to be housed in an SPV.
According to the plan, of the airline's over rs. 30,000 crore total working capital loan, rs. 25,000 crore will be earmarked for the SPV.
Air India has a total debt of around rs. 52,000 crore which comprises of rs. 22,000 crore as aircraft loan and the remaining as working capital loan.
The income garnered through sale of assets and subsidiaries will be sufficient to meet the liability of the working capital loan of the SPV.
2. Before the colours fade away
Context:
Possible effects of the GST on the textile industry
Combating international competition, the textile industry is looking to the Centre for help
Concern of Indian Textile Exporters
For an international buyer, quality and reliability are the main attraction point of Indian Textile and Clothing industry
The concern of exporters is that they should not be out-priced by competitors, after the implementation of the GST
 Flat growth in the exports
During 2016-2017, textile and clothing exports increased by a mere 0.9% for the year ended March 2017
Data from Cotton Textiles Export Promotion Council (Texprocil) shows that export of cotton yarn, fabrics and made-ups declined 3.06% in 2016-17 compared with the previous year
Export of man-made yarn, fabric and made-ups also contracted 2.75 %
However, ready-made garment clothing exports rose 2.31% $17.35 billion
India has the second-largest integrated textile manufacturing facility globally, next to China, this low level of exports is a matter of concern
Whereas countries such as Bangladesh and Vietnam have seen exports rising
India's share in Textile Exports Globally
China has 35 % share in the world textile and clothing exports while India, in second position, has a mere 4.89% share
Bangladesh and Vietnam are close behind at 4.62% and 4.05% share respectively
How Indian Textile Sector is competing in a limited Space
Globally, 65% of the textile and clothing consumption is man-made fibre-based and the remaining 35% is cotton based
While 80% of Chinese exports are MMF-based(Man Made Fibre)
But almost 80% of Indian exports are cotton based
Thus, the Indian industry seems to be competing in a limited space
Government Efforts
In 2016, the Union Government had announced a Rs. 6,000 crore special package for the apparel sector
It is a special package for made-ups and a comprehensive scheme for the power loom sector
The Way Forward
The Textile sector needs better road connectivity, operation of vessels to key international destinations
Both the industry and the Government should work towards building the international competitiveness of the overall industry
This requires substantial incentives to strengthen the weaving and processing segments
Industries need to be encouraged to re-invest their profits in the textile value chain rather than investing in other sectors
Policies for the garment sector should look at exporters and domestic players separately
3. China shares in MSCI index: what it means
Context:
Last week, Morgan Stanley Capital International (MSCI), a widely-tracked global index provider, said it would add China's local currency shares, referred to as China 'A' shares, to its benchmark emerging markets index, after three years of having rejected overtures on the same.
What is MSCI?
It is the world's biggest index compiler, with more than $10 trillion in assets benchmarked to its products, with emerging markets alone accounting for $2 trillion.
Why are MSCI indices important?
The indices are closely tracked by global investors. Inclusion in MSCI Inc.'s stock indices opens up investment interest from foreign investors in a particular country and brings a stamp of financial credibility.
What is mainland China and why haven't its shares been featured in the MSCI index so far?
It is an area under the direct jurisdiction of China and excludes special administrative regions of Hong Kong and Macau. Chinese mainland markets were not open to foreign investors.
So, foreign investors hitherto had access to non-mainland shares — those that are traded in the markets of Hong Kong and Macau. The non-mainland shares have been part of the MSCI Emerging Markets Index. China has been working to ease restrictions on foreign investors, influencing MSCI's decision now.
What happens now?
MSCI will add 222 China A shares (shares of large enterprises) starting next year. The stocks, which would represent a weightage of only 0.73% in the benchmark, will be included via a two-phase process in May and August next year.
How will this affect India?
Most experts see only minimal impact on the Indian market in terms of outflows.
However, MSCI has said it is open to adding more China A shares, provided it opens up its equity market further. If China continues to gain more weightage on the index, more money could well flow out of India.
Category: ENVIRONMENT AND ECOLOGY
1. At 399 ppm, India matches the world in atmospheric carbon dioxide levels
In news:
The first-ever picture of atmospheric carbon dioxide concentration over India shows that it is way above the safety mark and in line with what has been observed in other parts of the world.
Since the 1950s, scientists have been measuring the concentration of CO2 in the atmosphere at observatories such as Mauna Loa in Hawaii and since the 1990s, using satellite images.
Beyond 350 molecules
For every million gas molecules in the atmosphere, anything beyond 350 carbon dioxide molecules, is considered unsafe.
These concentrations are likely to trap enough heat to trigger extreme climate events the world over and it would become progressively harder, and costlier, to suck out the excessive CO2.
In 2015, the global average was 400 ppm, according to reports from Mauna Loa.
Levels in India:
In India, that year, according to a report published in the latest issue of Current Science, the average CO2 level was 399 parts per million (ppm).
Cape Rama, a coastal station in Goa, where CO2 levels have been monitored for over a decade, the level shot up to 408 ppm.
The findings, based on readings from the Orbiting Carbon Observatory-2 (OCO-2) — a NASA satellite to monitor the environment — reveal that pockets of Madhya Pradesh, Uttar Pradesh and Himachal Pradesh saw CO2 concentrations hover much higher between 405 ppm and 410 ppm.
Southern India and the western coast saw concentrations between 395 ppm and 400 ppm while the central and northern regions registered between 400 and 405 ppm.
Multiple causes: lack of a CO2 sink, point sources like forest fires or biomass burning or an urban source, and gaseous transport from neighbouring regions based on prevailing weather conditions
Fact: Generally CO2 levels increase slightly during winter due to reduced vegetation
2. Extreme rainfall and disease outbreaks
In news:
In line with rising carbon dioxide concentrations, global temperatures have also rocketed, with 2016 being the hottest year since records were systematically maintained from 1880.
Last year was about 1.1°C warmer than pre-industrial levels. The 2015 Paris Agreement on climate change , hopes to keep the global temperature increase, by the turn of the century, well below 2°C.
Were CO2 levels to rise at present rates, concentrations could touch 500 ppm within 50 years and warm the earth by an unsustainable 3°C.
The India Meteorological Department (IMD) says the country is on an average 0.6° Celsius warmer than a century ago. Summer temperatures across India, according to the IMD, were "above normal" and the summer months of March-May last year were 1.36°C higher than the historical average.
Disease outbreak: The elevated carbon dioxide levels were also linked to increasing instances of extreme rainfall and are likely to cause disease outbreaks. IMD is working on a system to issue 15-day warnings on the likelihood of a malaria or chikungunya outbreak, over different regions.
D. GS4 Related
Nothing here for Today!!!
E. Concepts-in-News: Related Concepts to Revise/Learn
F. Bills/Acts/Schemes/Orgs in News

G. Practice Questions for UPSC Prelims Exam
Question 1: Where is the headquarters of the United Nations Economic and Social Council (ECOSOC)?
Paris
Geneva
Berlin
New York
See
Question 2: Which city hosted the World Summit on Information Society (WSIS) Forum-2017?
Paris
New York
Geneva
Berlin
See
Question 3: What is the theme of the 2017 ASEAN Dengue Day (ADD)?
One vision for dengue-free society
ASEAN unity for a dengue-free community
Dengue: Fight is necessary
United fight against dengue
See
Question 4: What is the India's rank in the 2017 Global Innovation Index (GII)?
60th
36th
54th
75th
See
Question 5: Consider the following statement with reference to Egyptian vultures, which was 
in news recently.
It is the largest among all the vultures.
It is an endangered species as per IUCN's Red data book.
It is also called as white scavengers
Choose the correct answer
1 only
1 and 3 only
2 and 3 only
All are correct
See
"Proper Current Affairs preparation is the key to success in the UPSC- Civil Services Examination. We have now launched a comprehensive 'Online Current Affairs Crash Course'. Limited seats available. Click here to Know More."
Practice More: Enroll for India's Largest All-India Test Series