TABLE OF CONTENT
A.

 GS1 Related




B.

 GS2 Related


Polity
1. U'hand govt approaches SC challenging human status of Ganga, Yamuna
International Relations
1. Indo-U.S. statement focusses on fight against terrorism
2. Faster entry for Indians
3. Netherlands backs UNSC, NSG bids
4. China protests against 'incursion'
5. WHO for use of devices to test multiple diseases


C.

 GS3 Related


Economics
1. Bihar bets big on nuclear power; plans 3,000 MW plant
2. 'Men preferred over women in hiring'
3. 'Few household items may be cheaper on GST'
Internal Security
1. Global wave of cyberattacks affects MNCs
2. Setting up the defence industrial ecosystem


D. 

GS4 Related




E. 

Concepts-in-News: Related Concepts to Revise/Learn




F. 

Bills/Acts/Schemes/Orgs in News
G. Practice Questions for UPSC Prelims Exam

UPSC Current Affairs 2017: News Analysis
A. GS1 Related
Nothing here for Today!!!
B. GS2 Related
1. U'hand govt approaches SC challenging human status of Ganga, Yamuna
Context:
Uttarakhand High Court March 20 order: bestowed on Ganga, Yamuna and their tributaries the status of living human entities and declares the state chief secretary as their local guardian (loco parentis)
The Uttarakhand government has moved the Supreme Court challenging the High Court order granting rivers Ganga, Yamuna and their tributaries the status of living human entities.
The state government has urged the apex court to consider "substantial questions of law" arising from the verdict.
Petition questions:
Whether in case of human casualties in a flood, the affected people can file suit for damages against the chief secretary of the state and whether state government would be liable to bear such financial burden.
The order was passed by the high court in spite of the fact that these rivers and their tributaries pass through different states through the jurisdiction of different governments.
Citing the provisions under item no. 56 of the union list of the 7th Schedule (Article 246) of the Constitution, the petition also says it is the sole constituent right of the Union government to frame out rules for efficacious management of all the inter-state rivers and hence whether or not it will be within the powers of the state of Uttarakhand to declare the river Ganga and Yamuna as legal persons or living entities.
Category: INTERNATIONAL RELATIONS
1. Indo-U.S. statement focusses on fight against terrorism
Context: Visit of Indian Prime Minister to U.S.
In news:
Prime Minister Narendra Modi and U.S. President Donald Trump jointly declared that bilateral ties between India and the U.S. would continue to grow, seeking to dispel notions that the latter's election to the White House on a nationalist agenda might have a negative impact on the relationship.
Modi invited the President's daughter Invaka to lead the U.S. delegation to the Global Entrepreneurship Summit (GES) which India will host later this year.
Important announcement made:
Fight against terrorism as a cornerstone of mutual cooperation between the countries.
Continuing the course on strategic convergence in Asia Pacific, increasing defence trade partnership and added energy as a new thrust area of cooperation.
Sale of Guardian drones, Apache attack helicopters, and C-17 aircraft, defence orders by India for American companies will be nearly $19 billion.
About Global Entrepreneurship Summit (GES):
The summit will promote economic growth, inclusion and opportunities among entrepreneurs from across the world, with a special focus on emerging nations from Africa and Asia. The GES is a personal initiative of US President Barack Obama to bring entrepreneurs from across the globe on one platform.
In news:
India recently signed International Expedited Traveler Initiative Programme with the United States. Also called as Global Entry Programme, this scheme will allow expedited entry into the US to low-risk travellers from India., with India making a formal entry into an American initiative.
The move would facilitate closer business and educational ties between the citizens of India and the U.S.
What is Global Entry Programme?
Global Entry is a US Customs and Border Protection (CBP) program that allows speedy clearance for low-risk travellers upon their arrival in US.
The travellers are pre-approved for the programme after a rigorous background check. In-person interviews are also taken to check the 'low-risk' status of the applicants before the enrollment. Apart from this, the travellers may further be questioned when they enter the United States in case the need arises.
Which countries are members of this programme?
Apart from India, citizens of Colombia, United Kingdom, Germany, Panama, Singapore are eligible to become members of this programme. South Korea and Mexican nationals are also included under Global Entry Programme. Canadian residents can apply for enrollment under this through their membership in NEXUS programme.
3. Netherlands backs UNSC, NSG bids
In news:
Key point: The Netherlands backed India's early entry into the NSG and other multilateral export control regimes, and supported the country's bid for a permanent UN Security Council seat.
4. China protests against 'incursion'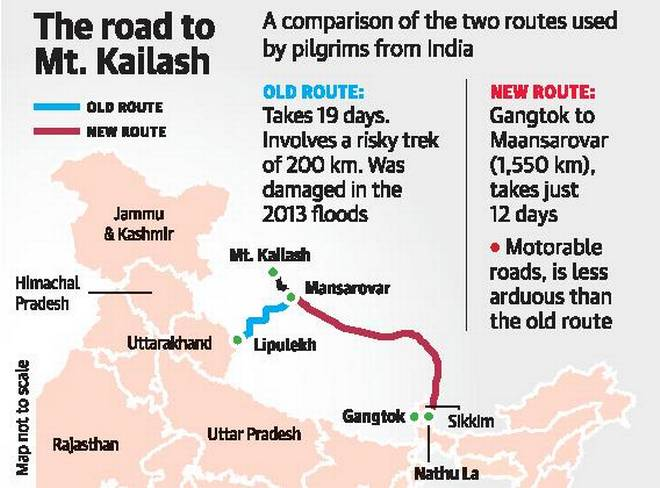 Context:
China confirmed that it had suspended the entry of Indian pilgrims undertaking the Kailash Mansarovar Yatra and lodged a formal protest with New Delhi, following an alleged cross-border incursion by Indian troops.
In news:
Chinese Defence Ministry said in a statement that the occurrence at the frontier was "seriously endangering the peace and stability of the border areas."
Incident took place:
Doka La region along the Sikkim-Bhutan-Tibet tri-junction.
Face-offs between Indian and Chinese troops in this area are rare in recent years.
Chinese Foreign Ministry view:
The area where the border incident took place is undisputed, as it has been delineated and endorsed in the past.
The Sino-Indian border of Sikkim has been delineated by the 1890 Sino-British Treaty on Tibetan Customs. After the independence of India, the Indian government has confirmed this in writing several times, acknowledging that there is no objection to the border between the two sides.
Indian Defence Ministry view: Indian troops recently crossed the border in an attempt to block a road construction in Donglang (Doklam) area by the Chinese.
5. WHO for use of devices to test multiple diseases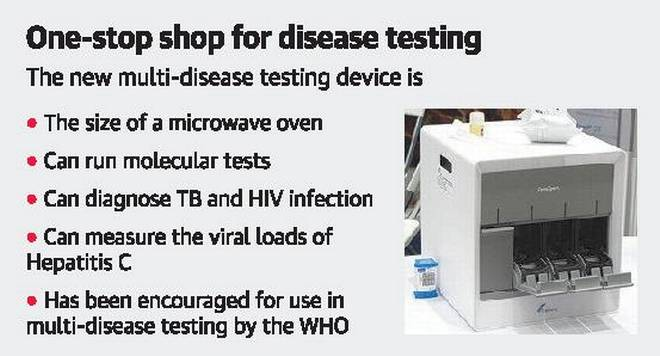 In news:
The World Health Organization (WHO) released new advice to countries, recommending the use of multi-disease testing devices for Tuberculosis, HIV and Hepatitis.
A single device called the GeneXpert can be used to diagnose TB and HIV infections, and quantitatively measure HIV and hepatitis C viral loads.
India recently procured 600 GeneXpert machines for the National Tuberculosis programme.
Advantages:
Multi-disease devices can increase system efficiencies and improve access to testing for patients in need.
Such devices can also help overcome specific challenges in diagnosis and treatment, such as HIV early infant diagnosis and viral load monitoring for both HIV and hepatitis
C. GS3 Related
1. Bihar bets big on nuclear power; plans 3,000 MW plant
Context: In its attempt to become power surplus and increase the share of renewable energy, the Bihar government has planned to set up a nuclear plant
Location: Rajauli in Nawada district.
Capacity: around 3,000 MW capacity.
2. 'Men preferred over women in hiring'
Highlights of Randstad Workmonitor survey:
Reality in corporate hiring: men are preferred to women even if the two are equally qualified.
55% of overall respondents from India indicated that men are favoured over women when two candidates are equally qualified for the same set of responsibilities.
Gender pay gap: 91% of respondents from India believed that both men and women in similar roles were rewarded equally at their workplace, much higher than the global average of 79%.
Promotion: 88% felt that both men and women were equally supported while seeking a promotion
Way forwards: All the corporate and government initiatives are just a start, the real change can happen only when we succeed in addressing the deep-rooted mindsets about the role of women at work.
3. 'Few household items may be cheaper on GST'
In news:
Cheaper: The Goods and Services Tax will make several household commodities like soap cheaper.
How? Household items like soap, which were earlier taxed at 31% combining central and state taxes, will now be in the 18% bracket.
'Equivalence principle': The equivalence principle followed in setting the rates in GST was based on what the rate on a good or service was prior to June 30 combining the centre's excise duty and the states' VAT.
Category: INTERNAL SECURITY – DEFENSE
1. Global wave of cyberattacks affects MNCs
In news:
A global wave of cyberattacks that began in Russia and Ukraine wrought havoc on government and corporate computer systems as it spread to Western Europe and across the Atlantic.
Target: Several multinational companies including U.S. pharmaceutical giant Merck, Russian state oil giant Rosneft, British advertising giant WPP and the French industrial group Saint-Gobain.
"Petrwrap" virus: "Petrwrap", a modified version of the Petya ransomware which hit last year and demanded money from victims in exchange for the return of their data.
'Unprecedented attack': radiation monitoring system at Ukraine's Chernobyl nuclear site has been taken offline after it was targeted in the attack
Basic Information


CERT-In:
The Indian Computer Emergency Response Team (CERT-In) is an office within the Ministry 
of Electronics and Information Technology.

It is the nodal agency to deal with cyber security threats like hacking and phishing.
It strengthens security-related defence of the Indian Internet domain.

A Memorandum of Understanding (MoU) was signed in May, 2016 between Indian Computer 
Emergency Response Team (CERT-In) and Ministry of Cabinet Office, UK.

Earlier CERT-In signed MoUs with counterpart/similar organizations in about 
seven countries - Korea, Canada, Australia, Malaysia, Singapore, Japan and Uzbekistan.

Ministry of External Affairs has also signed MoU with Cyber Security as one of the 
areas of cooperation with Shanghai Cooperation Organization

.



With the MoUs, participating countries can exchange technical information on Cyber attacks,
response to cyber security incidents and find solutions to counter the cyber attacks.

They can also exchange information on prevalent cyber security policies and best practices. 

The MoUs helps to strengthen cyber space of signing countries, capacity building and improving
relationship between them.
2. Setting up the defence industrial ecosystem
Context: India can become self sufficient in Defence Sector
Recent developments:
Recently, Tata Advanced Systems Ltd and US plane-maker Lockheed Martin Corp. have signed an agreement at the Paris Air Show to produce F-16 fighter jets in India
Reliance Defence entered into a strategic partnership with Serbia's Yugoimport for ammunition manufacturing in India
And Reliance Defence joined hands with France's Thales to set up a joint venture that will develop Indian capabilities in radars and high-tech airborne electronics
India's tag of world's largest importer
According to the Stockholm International Peace Research Institute (Sipri), between 2012 and 2016, India was the world's largest importer of major arms
India accounts for 13% of the global total defence equipments(of imports)
India has increased its arms imports by 43% from the 2007-11 period
Steps taken in recent years to remove this tag
In recent years there has been a greater focus on developing indigenous capabilities by India, through technology transfers and joint production projects with international partners
Government is also focusing on the Make in India initiative in the defence sector
The defence manufacturing industry has been open to the private sector from last decade
Several foreign firms are involved in the joint production of weapons systems in India
Government's Target
The target is to source about 70% of India's military needs from domestic sources by 2020
That's approximately how much India imports at the moment
Current Status
The Indian military is still heavily reliant on foreign imports and state-owned defence firms are still the dominant force in the market
Private sector is still finding its right place
What is Strategic Partnership model?
This model was onceptualized by the Dhirendra Singh committee in 2015
In this model, Defence ministry identifies Indian private companies as strategic partners (SPs) to tie up with a few foreign original equipment manufacturers to produce some important military platforms
The way forward
The role of small and medium-scale enterprises (SMEs) needs to be identified with an effective policy
Outside of policy design, the biggest challenge to developing India's defence industry ecosystem is human resource and skill development
This needs to be addressed
D. GS4 Related
Nothing here for Today!!!
E. Concepts-in-News: Related Concepts to Revise/Learn
F. Bills/Acts/Schemes/Orgs in News

G. Practice Questions for UPSC Prelims Exam
Question 1: Consider the following statement with reference to a device Genexpert which 
was in news recently:
Genexpert can run molecular test
It can diagnose TB and HIV infections
The device size is equivalent to that of a microwave oven
Choose the correct statement
1 only
1 and 2only
1 and 3 only
All are correct
See
Question 2: Consider the following statement with reference to Global Entry Programme which 
was in news recently:
India recently signed to join this programme.
This scheme will allow expedited entry into the US to all travellers from India
Choose the correct statement
1 only
2 only
1 and 2 only
Neither 1 nor 2
See
Question 3: Consider the following statement with reference to CERT-In which was in 
news recently:
The Indian Computer Emergency Response Team (CERT-In) is an office within the Ministry of defense.
It is the nodal agency to deal with cyber security threats like hacking and phishing.
Choose the correct statement
1 only
2only
1 and 2 only
Neither 1 nor 2
See
Question 4: Consider the following statement with reference to Global Entrepreneurship 
Summit (GES) which was in news recently:
The GES is a personal initiative of US President Barack Obama to bring entrepreneurs from across the globe on one platform.
The 2017 Global Entrepreneurship Summit (GES) will be hosted by China
Choose the correct statement
1 only
2only
1 and 2 only
Neither 1 nor 2
See
"Proper Current Affairs preparation is the key to success in the UPSC- Civil Services Examination. We have now launched a comprehensive 'Online Current Affairs Crash Course'. Limited seats available. Click here to Know More."
Practice More: Enroll for India's Largest All-India Test Series