TABLE OF CONTENT
A.

 GS1 Related


B.

 GS2 Related


POLITY
1. Rajnath bats for use of simple Hindi
2. India has 31% of world's poor kids: report


C.

 GS3 Related


INTERNAL SECURITY
1. Prithvi-II missile successfully test-fired
2. Army to induct 18 Dhanush artillery guns this year
3. India pulls out of Shangri La dialogue, Defence Minister Arun Jaitley caught up with work
DISASTER MANAGEMENT
1. Odisha may give lessons in disaster preparedness
SCIENCE AND TECHNOLOGY
1. ISRO abuzz over heavy-lift rocket launch on June 5
ENVIRONMENT AND ECOLOGY
1. India to stand by Paris deal


D. 

GS4 Related




E. 

Concepts-in-News: Related Concepts to Revise/Learn




F. 

Bills/Acts/Schemes/Orgs in News


G. 

Practice Questions for UPSC Prelims Exam

UPSC Current Affairs 2017: News Analysis
A. GS1 Related
Nothing here for Today!!!
B. GS2 Related
1. Rajnath bats for use of simple Hindi
In news:
Hindi Advisory Board committee meeting:
Home Minister Rajnath Singh said that government officials should use "simple Hindi" to encourage the spread of language among the masses.
The committee also discussed the issue of non-publication of official documents and reports in the language and stressed the need for its promotion.
Suggestion:
There should be a Hindi logo for "Indian Police Service," and all police officials should have bilingual name badges on their uniform
All official documents and reports be published in Hindi
Recently recommendations of a parliamentary committee on official languages has been accepted by the President.
As many as 110 out of 117 recommendations in the report were accepted by the President.
Options for students to write their exams in Hindi, minimum knowledge of Hindi must for government jobs and mandatory announcements in Hindi at railway stations in non-Hindi speaking States like Tamil Nadu, Karnataka, Andhra Pradesh, Telangana and Kerala.
2. India has 31% of world's poor kids: report
In News:
Highlights of survey-Global Multidimensional Poverty Index [MPI], 2017' by the Oxford Poverty and Human Development Initiative (OPHI)
OPHI is an economic research centre at the Oxford University, led by Professor Sabina Alkire, and the study is based on a survey conducted among 103 countries.
About 31% of the world's "multidimensionally poor" children live in India.
Multidemensionally poor child:
A "multidimensionally poor" child is one who lacks at least one-third of ten indicators, grouped into three dimensions of poverty: health, education and standard of living.
The health dimension comprises indicators such as nutrition, child mortality, and education.
Under standard of living are indicators such as access to cooking fuel, improved sanitation, safe drinking water, electricity, flooring, and asset ownership.
In terms of the number of such multidimensionally poor children as a proportion of the total population, India stood 37th among 103 countries.
Out of India's 217 million (21.7 crore) children, 9% were multidimensionally poor.
More than 528 million (52.8 crore) Indians are poor, which is more people than all the poor people living in Sub-Saharan Africa combined
The average percentage of deprivation in terms of the 10 MPI categories was highest in Sub-Saharan Africa. Sub-Saharan Africa was followed by the region described as the Arab States (53%). South Asia occupied the third spot, with children deprived in 49% of the MPI indicators
What needs to be done?
The global Sustainable Development Goal needs to be given due attention.
Serious efforts to be made to achieve Goal 1 of SDG: the eradication of poverty in all its forms and dimensions.
C. GS3 Related
1. Prithvi-II missile successfully test-fired
In news:
India successfully test-fired its indigenously developed nuclear-capable Prithvi-II missile from a test range in Odisha.
Features:
Surface-to-surface missile
Strike range of 350 km
Capable of carrying 500 kg to 1,000 kg of warheads
Thrusted by liquid propulsion twin engines.
It uses advanced inertial guidance system with manoeuvring trajectory to hit its target with precision and accuracy.
Inducted into Indian armed forces in 2003, the nine-metre tall, single-stage liquid-fuelled Prithvi II is the first missile to have been developed by the DRDO under the Integrated Guided Missile Development Programme.
Basic Information:
Integrated Guided Missile Development Programme:
The Integrated Guided Missile Development Programme (IGMDP) was an Indian Ministry of Defence programme for the research and development of the comprehensive range of missiles.
The programme was managed by the Defence Research and Development Organisation (DRDO) and Ordnance Factories Board in partnership with other Indian government political organisations.
The project started in 1982–83 with popular political support from the successive governments and bestowed under the leadership of Abdul Kalam who oversaw its ending in 2008 after these strategic missiles were successfully developed.
The last major missile developed under the programme was the Agni 3 intermediate-range ballistic missile which was successfully tested its first test on July 9th, 2007.
On 8 January 2008, the DRDO formally announced the successful completion of the IGMDP.
It added that the strategic integrated guided missile programme was completed with its design objectives achieved since most of the missiles in the programme had been developed and inducted by the Indian armed forces.
2. Army to induct 18 Dhanush artillery guns this year
In news: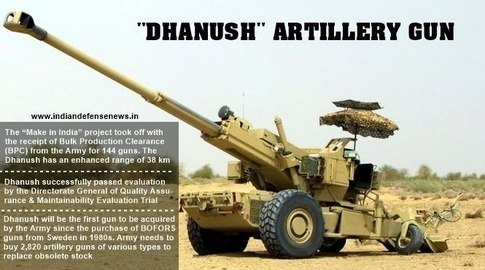 The first regiment of 18 Dhanush artillery guns, the indigenously upgraded variant of the Swedish Bofors guns, is scheduled to be inducted into the Army by the end of the year.
Features:
Dhanush is an upgraded version, based on the original design of the Swedish 155-mm Bofors howitzers, which India procured in the mid-1980s.
It is a 155-mm, 45-calibre gun with a maximum range of 40 km in salvo mode, compared to the 39-calibre, 27-km range of the original guns.
3. India pulls out of Shangri La dialogue, Defence Minister Arun Jaitley caught up with work
In news:
India will once again go unrepresented at a senior level at the prominent Shangri-La Dialogue (SLD), the annual security forum in Singapore that brings together defence ministers, top military officers and experts from the Asia-Pacific region as well as others like the US and Europe.
"Busy schedule" of Arun Jaitley, who handles both the finance and defence portfolios, did not permit him to attend the three-day security forum this weekend.
Criticism:
India does not give adequate importance to military diplomacy in the Asia-Pacific region, especially since SLD is a "Track-1" security forum that allows world leaders to discuss and fashion policy.
1. Odisha may give lessons in disaster preparedness
In news:
Odisha, the country's disaster prone state is credited with pioneering works in the field of disaster management.
Odisha may impart lessons on cyclone preparedness to 14 Pacific island nations that are hit by tropical cyclones at regular intervals.
Odisha has also adopted a "Mission Zero Casualty' policy for all disasters.
Management practices
1999 super cyclone: 10,000 people lost their life.
Odisha then on wards has continuously added to its manpower and infrastructure needed for disaster preparedness.
Practice:
Micro-level preparedness: When a cyclone is forecast to hit the Odisha coast, emphasis is laid on micro-level preparedness, besides macro-planning.
Even at the village level, disaster machinery prepare a list of pregnant women and the differently-abled people. This helps in evacuations and handling of emergency situations at hospitals.
Odisha has been training the local communities on how to deal with disasters.
The Odisha Disaster Rapid Action Force (ODRAF) has been in the forefront of rescue activities during disasters in other States. The State has so far raised 10 units of ODRAF and 10 more units will be deployed soon. About 400 multipurpose cyclone and flood shelters have been constructed and 400 more shelter buildings are set to be built. The Red Cross also built 65 cyclone shelters.
Category: SCIENCE AND TECHNOLOGY
1. ISRO abuzz over heavy-lift rocket launch on June 5
In news:
ISRO is all set to launch its indigenous built GSLV-Mark III on June 5.
A bid to breach a heavy-lift rocket club(U.S., Russia, Europe, China and Japan) that can put four-tonne satellites into space.
Advantages:
Indian communication satellites can be lofted into space from within the country.
It will also improve ISRO's ability to reach heavier satellites to both — the higher geostationary transfer orbit or GTO of 36,000 km; and to low-Earth orbit or LEO of up to 800 km.
Lowers the cost of putting spacecraft to orbit.
Category: ENVIRONMENT AND ECOLOGY
1. India to stand by Paris deal
In news: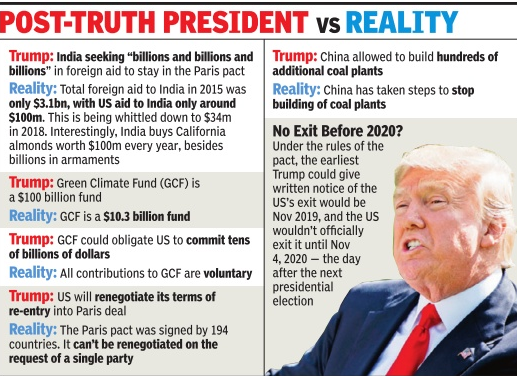 India would stand by its Paris climate treaty commitments, notwithstanding the pull out by the Donald Trump administration, which blamed India and China as the two beneficiaries of an "unfair" climate deal.
India's eight-point climate action plan to reduce carbon emission intensity by one-third and generate 40% of total electricity from non-fossil fuel sources is financially self-sufficient at the moment.
Intended nationally determined contribution (INDC)
In October 2016, in the run-up to the Paris summit, India released its intended nationally determined contribution (INDC), a set of voluntary targets to clean up the environment.
Lowering carbon emission growth rate by 33-35% by resorting to a clean and efficient energy system
Improving energy efficiency
Developing climate resilient urban centres
Promoting waste to energy conversion
Establishing smart and green transport network
Reducing the pollution load and expanding canopy cover.
Nothing here for Today!!!
E. Concepts-in-News: Related Concepts to Revise/Learn
Important concepts and topics in News
1. The Comprehensive Convention on International Terrorism:
The Comprehensive Convention on International Terrorism is a proposed treaty which intends to criminalize all forms of international terrorism and deny terrorists, their financiers and supporters access to funds, arms, and safe havens. Currently, the negotiations are deadlocked mainly because of differences over the definition of terrorism.
Key Issues
The negotiations of the Comprehensive Terrorism Convention are deadlocked because of differences over several controversial yet basic issues, including the definition of ´terrorism´.
For example:
What distinguishes a "terrorist organisation" from a 'liberation movement'?
Are the activities of national armed forces excluded, even if they are perceived to commit acts of terrorism?
If not, how much of this constitutes 'state terrorism'?"
The definition of terrorism, which was on the negotiating table of the Comprehensive Convention since 2002 is as follows:
Any person commits an offence within the meaning of this Convention if that person, by any means, unlawfully and intentionally, causes:
Death or serious bodily injury to any person; or
Serious damage to public or private property, including a place of public use, a State or government facility, a public transportation system, an infrastructure facility or the environment; or
Damage to property, places, facilities, or systems referred to result in major economic loss,
When the purpose of the conduct is to intimidate threat a population, or to compel a Government or an international organization to do or abstain from doing any act.
Proposed Exceptions to resolve the deadlock: In order to resolve deadlock the coordinator of the negotiations, supported by most western delegations, proposed the following exceptions to address those issues:
This convention will not affect other rights, obligations and responsibilities of States, peoples and individuals under international law especially for the purposes and principles of the Charter of the United Nations, and international humanitarian law.
This Convention will not govern the activities of armed forces during an armed conflict, as those terms are understood under international humanitarian law, which are governed by that law.
Even the activities undertaken by the military forces of a State in the exercise of their official duties, inasmuch as they are governed by other rules of international law, will be not governed by this Convention.
The state members of the Organisation of the Islamic Conference proposed the following exceptions instead of western delegation:
This convention will not govern the activities of the parties during an armed conflict, including in situations of foreign occupation, as those terms are understood under international humanitarian law, which are governed by that law.
The activities undertaken by the military forces of a State in the exercise of their official duties, inasmuch as they are in conformity with international law, will be not governed by this Convention.
India's stand: India has been advocating for early adoption of the CCIT and has called the global community India had called upon the worldwide community to promote the anti-terror legal framework and execute the Global Counter Terrorism Strategy in an integrated manner. India is of the view that comprehensiveness of the Global Counter Terrorism Strategy will not be concluded devoid of the conclusion of the CCIT which is at an important phase of discussion before the UN. 
2. Shangri-La Dialogue (SLD)
The IISS Asia Security Summit: The Shangri-La Dialogue (SLD) is a "Track One" inter-governmental security forum held annually by an independent think tank, the International Institute for Strategic Studies (IISS) which is attended by defense ministers, permanent heads of ministries and military chiefs of 28 Asia-Pacific states.
The forum gets its name from the Shangri-La Hotel in Singapore where it has been held since 2002.
The summit serves to cultivate a sense of community among the most important policymakers in the defence and security community in the region. While primarily an inter-governmental meeting, the summit is also attended by legislators, academic experts, distinguished journalists and business delegates.
The participants have included Australia, Brunei, Burma(Myanmar), Cambodia, Canada, Chile, France, Germany, India, Indonesia, Japan, Laos, Malaysia, Mongolia, New Zealand, Pakistan, People's Republic of China, Philippines, Russia, South Korea, Sri Lanka, Singapore, Sweden, Thailand, East Timor, United Kingdom, United States and Vietnam.
3. The Paris Agreement
The Paris Agreement or Paris climate accord and Paris climate agreement, is an agreement within the United Nations Framework Convention on Climate Change (UNFCCC) dealing with greenhouse gas emissions mitigation, adaptation and finance starting in the year 2020.
Main intention:
Agreement to slow the process of global warming by making efforts to "hold the increase in the global average temperature to well below 2 degrees above pre-industrial levels and to pursue efforts to limit the temperature increase to 1.5°C above pre-industrial levels".
Decision to limit the amount of greenhouse gases emitted by human activity to a level that can be naturally absorbed by trees, soils and oceans.
Developed countries were also told to provide financial resources to help developing countries in dealing with climate change and for adaptation measures. As part of a review mechanism, developed countries were also asked to communicate every two years the "indicative" amount of money they would be able to raise over the next two years, and information on how much of it would come from public financial sources. In contrast, developing countries have only been "encouraged" to provide such information every two years on a voluntary basis.
The language of the agreement was negotiated by representatives of 195 countries at the 21st Conference of the Parties of the UNFCCC in Paris and adopted by consensus on 12 December 2015.
As of June 2017, 195 UNFCCC members have signed the agreement, 148 of which have ratified it.
In the Paris Agreement, each country determines its own contribution it should make in order to mitigate global warming.
There is no mechanism to force a country to set a specific target by a specific date.
F. Bills/Acts/Schemes/Orgs in News
| | |
| --- | --- |
| Article in News | About the article |
G. Practice Questions for UPSC Prelims Exam
Question 1: Mixed Cropping is the practice of
Growing two or more crops simultaneously on the same piece of land.
Growing crops and rearing livestock simultaneously
Growing different crops on a piece of land in a pre-planned succession
Growing fodder crops along with livestock
See
Question 2: As per IUCN's RED DATA book Celebes crested macaque is
Critically endangered species
Vulnerable species
Least concerned species
None of the above
See
Question 3: Consider the following statement with reference to Phytorid waste water 
treatment technology:
It involves a constructed wetland exclusively designed for the treatment of municipal, urban, agricultural and industrial wastewater.
Technology developed by National Environmental Engineering Research Institute.
Select the correct answer using the code given below:
1 only
2 only
Both 1 and 2
None of the above
See
Question 4: Identify the correct statement with reference to Khurki system.
It is a irrigation system adopted in South Asia
It is a system of land revenue adopted by Mughals
It is a system used by the British planters to compel the farmers to sow indigo.
None of the above
See
"Proper Current Affairs preparation is the key to success in the UPSC- Civil Services Examination. We have now launched a comprehensive 'Online Current Affairs Crash Course'. Limited seats available. Click here to Know More."
Practice More: Enroll for India's Largest All-India Test Series