TABLE OF CONTENT
A.

 GS1 Related


B.

 GS2 Related


INTERNATIONAL RELATIONS
1. India to weather Qatar storm now
2. Nepal, China ink mega hydropower agreement
3. 'Saudi, UAE seek to isolate Qatar'


C.

 GS3 Related


ENVIRONMENT AND ECOLOGY
1. India rejects Trump's allegations on Paris pact
2. Survey puts Nilgiri tahr population at 1,420
3. India's biodiversity riches grow by 499 species
SCIENCE AND TECHNOLOGY
1. India successfully fires heaviest launch vehicle
2. IMD to give malaria, chikungunya alerts


D. 

GS4 Related




E. 

Concepts-in-News: Related Concepts to Revise/Learn




F. 

Bills/Acts/Schemes/Orgs in News


G. 

Practice Questions for UPSC Prelims Exam

UPSC Current Affairs 2017: News Analysis
A. GS1 Related
Nothing here for Today!!!
B. GS2 Related
Category: INTERNATIONAL RELATIONS
1. India to weather Qatar storm now
Context: Isolation of Qatar by the Gulf countries.
In News:
Political ties in the region
Background information:
Qatar is a part of the Islamic Military Alliance, as well as part of the Saudi coalition taking part in the Yemen intervention.
Qatar challenges the Saudi monarchy as well as the regimes in many countries in the Gulf.
Qatari Emir Al-Thani's tie with Iran is the major trigger.
There has been an increased call from the Kingdom of Saudi Arabia (KSA), as well as UAE, Bahrain and other countries for Qatar to proclaim which side it is on.
India has traditionally stayed out of the "Shi'a-Sunni", "Arab-Persian" or "Wahabbi-Salafi" divides, and maintained good ties with all.
Present scenario: fragmenting West Asia will require even more deft diplomacy from India's side to keep these ties untouched by the tensions.
Trade and manpower
India sources more than half of its energy import needs from countries in the Persian Gulf.
Six million Indians live and work in West Asia and they sent home about $63 billion last year.
Energy imports may not be affected immediately, unless the Gulf countries follow through with sanctions. However, as in the case of Yemen, Libya, Lebanon and other countries, any tensions in the region have an immediate impact on thousands of Indian workers.
Cooperation in fighting terror: The KSA and the UAE are important partners for India on counter-terrorism cooperation and intelligence sharing.
Air travel : The Saudi coalition has decided to cancel Qatar Airways flights to their countries. This will affect Indian passengers who hoped to use Doha as a hub to get to other destinations in the Gulf.
2. Nepal, China ink mega hydropower agreement
In news:
Nepal has signed an agreement with a Chinese company to build 1,200 megawatt Budhi-Gandaki hydroelectric project (the largest hydroelectric plant).
Nepal suffers from a chronic energy shortage. Water-rich Nepal has a mountain river system that could make it an energy-producing powerhouse, but instead it imports much of its electricity from neighbouring India.
Demand for electricity has long outstripped supply in Nepal due to chronic under-investment and inefficiencies in the power network. The result has been crippling for domestic industry and deterred foreign investment.
3. 'Saudi, UAE seek to isolate Qatar'
In news: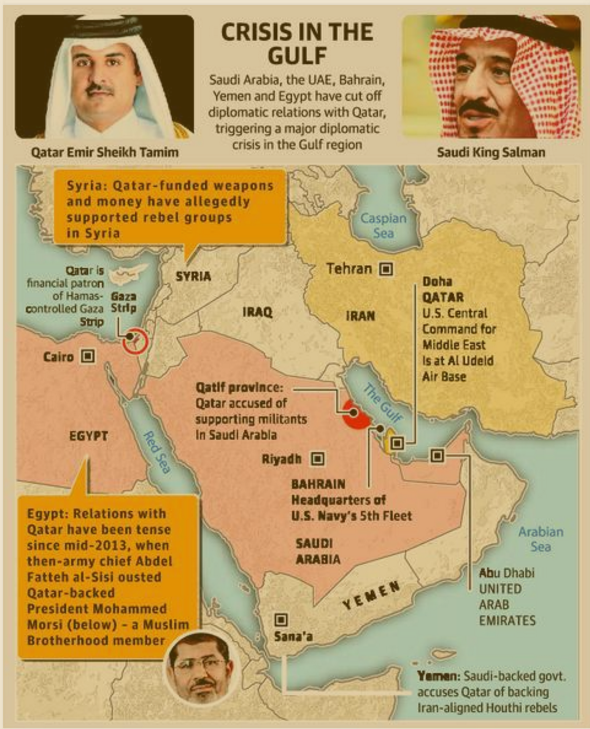 The Arab world's strongest powers cut ties with Qatar. Saudi Arabia, Egypt, the United Arab Emirates and Bahrain cut relations with Qatar in a coordinated move. Yemen, Libya's eastern-based government and the Maldives joined in later.
Reasons: Alleged support for Islamists- the Muslim Brotherhood, ISIS (Islamic State) and al-Qaeda and Iran.
Aircraft banned: Saudi Arabia and Bahrain's civil aviation bodies banned Qatari planes from landing in the kingdom's airports and banned them from crossing their airspace.
Key Fact:
Qatar meets almost a third of global LNG demand. The fuel is used largely for power generation.
India is the second biggest buyer of Qatari LNG, according to energy consultancy Wood Mackenzie, after Japan.
Qatar is also a major exporter of condensate, an ultra-light form of crude oil, as well as liquefied patroleum gas (LPG), with most supplies of the two fuels going to Japan and South Korea under long term supply contracts.
C. GS3 Related
Category: ENVIRONMENT AND ECOLOGY
1. India rejects Trump's allegations on Paris pact
Context:
S. President Donald Trump's allegation: India joined the Paris climate agreement for a large financial incentive. 
In news:
India rejected the allegations as unreal and did not join the agreement for any kind of financial greed.
India signed the agreement fort protection of climate. Worship of forests, worship of rivers, worship of mountains continue even now in India. These actions are part of India's ethos that are five thousand years old. These are all heritage of India.
India will continue to remain in the Paris agreement framework, whether the U.S. continues in it or not
2. Survey puts Nilgiri tahr population at 1,420
In news: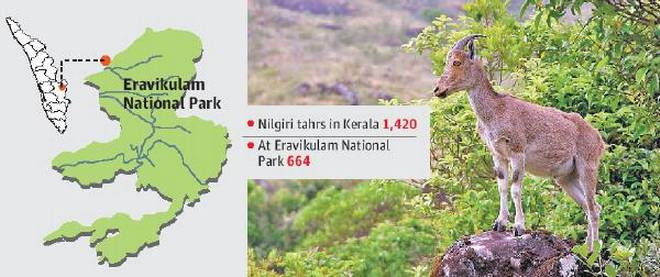 The first ever State wide population estimation of Nilgiri tahrs conducted by the Kerala Forests and Wildlife Department, using the bounded count method, has put the total population of the endangered species at 1,420, which include 664 at the Eravikulam National Park in Munnar.
Endangered: The Nilgiri tahr being confined to a narrow belt of higher elevation areas in a restricted geographical region and with specialised habitat requirement is all more threatened.
Facts Round up:
Nilgiri tahr: The Nilgiri tahr known locally as the Nilgiri ibex or simply ibex, is endemic to the Nilgiri Hills and the southern portion of the Western Ghats in the states of Tamil Nadu and Kerala in southern India. It is the state animal of Tamil Nadu.
3. India's biodiversity riches grow by 499 species
In news:
New species discovered last year: 313 species of animal and 186 of plants.
Most of the new species of animals were from the four biological hotspots of the country — the Himalayas, the northeast, the Western Ghats and the Andaman and Nicobar Islands.
India is one of the 17 megadiversity countries and it has about 6.42 per cent of the global fauna.
The geographical distribution of the new plant species reveals that most discoveries were made in the Western Ghats (17%), followed by the Eastern Himalayas (15%), the Western Himalayas (13%), the Eastern Ghats (12%) and the west coast (8%).
Category: SCIENCE AND TECHNOLOGY
1. India successfully fires heaviest launch vehicle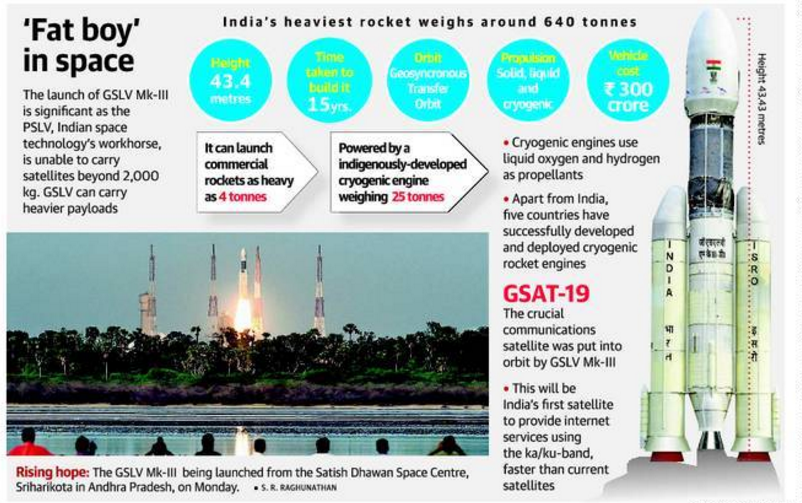 In News:
India joined a select group of nations having their own indigenous cryogenic engine technology, when the Indian Space Research Organisation (ISRO) successfully launched its heaviest launch vehicle, GSLV MkIII-D1, and placed the country's heaviest satellite till date, GSAT-19, into a precise orbit.
GSAT-19:
Communication satellite
Orbit: Geosynchronous Transfer Orbit (GTO).
The satellite weighs 3,136 kg.
This successful launch will enable India to launch 4-tonne class satellites from India
2. IMD to give malaria, chikungunya alerts
In news:
The India Meteorological Department (IMD) is working on a forecasting system to give 15-day warnings on the likelihood of a malaria or chikungunya outbreak, over different regions.
Nothing here for Today!!!
E. Concepts-in-News: Related Concepts to Revise/Learn
F. Bills/Acts/Schemes/Orgs in News
| | |
| --- | --- |
| Article in News | About the article |
G. Practice Questions for UPSC Prelims Exam
Question 1: Nilgiri tahr is declared as the Sate animal of
Tamil Nadu
Kerala
West Bengal
Andhra Pradesh
See
Question 2: Consider the following statements:
The Nilgiri tahr is endemic to the Nilgiri Hills and the southern portion of the Western Ghats.
Nilgiri tahr has been classified as critically endangered species under IUCN's Red Data book.
Choose the correct answers.
Only 1
Only 2
Both 1 and 2
Neither 1 nor 2
See
Question 3: Which state government has launched "Mahaswayam portal" for job 
seekers and employers?
Maharashtra
Uttar Pradesh
Kerala
Haryana
See
Question 4: Lion-tailed macaque is found in ______.
Eastern Ghats
Western Ghats
East Himalayas
West Himalayas
See
Question 5: Which among the following temples does not belong to the Chola Empire?
Brihadishwara
Koranganatha
Kailashanatha
Airavateshwar
See
"Proper Current Affairs preparation is the key to success in the UPSC- Civil Services Examination. We have now launched a comprehensive 'Online Current Affairs Crash Course'. Limited seats available. Click here to Know More."
Practice More: Enroll for India's Largest All-India Test Series