POLITY
1. New restrictions on cattle slaughter
2. Notification comes after SC directive
3. Glitch in govt. transfers delays ₹3045 cr in NREGA wages
4. Commercial e-vehicles won't need permits
INTERNAL SECURITY / DISASTER MANAGEMENT
1. DRDO's aero test range to be inaugurated tomorrow 
MISCELLANEOUS
1. New bridge will spur a revolution: Modi 
***********************************************************************************

.
***********************************************************************************
Useful News Articles for UPSC Current Affairs
A. GS1 Related
Nothing here for today!!
B. GS2 Related
1. New restrictions on cattle slaughter
In news:
The Ministry of Environment, Forest and Climate Change notified new rules- the Prevention of Cruelty to Animals (Regulation of Livestock Markets) Rules, 2017- that seeks to ban the sale of cattle for slaughter at animal markets across the country.
Sellers:
Those who wish to sell cattle — bulls, cows, buffaloes, steers, heifers and camels — may do so only after they formally state that the animals have not been "brought to the market for sale for slaughter".
Buyers at market: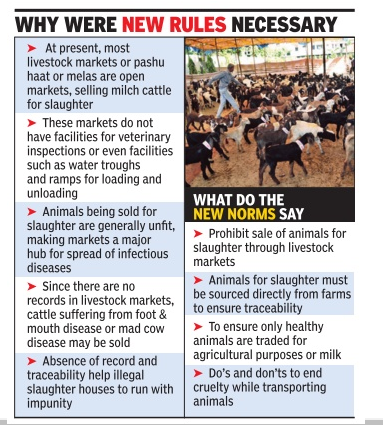 Needs to be an agriculturalists (must be verified by the concerned authority).
Resale of the animal/s for a period of six months from the date of purchase is prohibited.
Buyers should follow the State cattle protection and preservation laws" and "not sacrifice the animal for any religious purpose".
Prohibition of cattle purchased from animal markets being sold outside the State, without permission.
Implementing agency:
Monitoring committees at the State and district levels will be set up to implement the rules and monitor the functioning of animal markets.
Markets will be identified and registered
Approval of the District Animal Market Monitoring Committee, chaired by the Collector or District Magistrate is needed to set up new markets.
To inhibit smuggling, animal markets may not function within 25 kilometres of a State border and 50 kilometres of an international border.
Provisions to prevent cruel transport and treatment of animals:
Notification prohibits practices that are cruel and harmful include sealing teats of the udder using any material such as adhesive tapes to prevent the calf from suckling, putting any ornaments or decorative materials on animals, using any type of muzzle to prevent animals from suckling or eating food and injecting oxytocin into milch animals. 
Present scenario:
At present 90% of buffaloes are sourced from mandis by middlemen for sale in slaughterhouses
A mere 10% of buffaloes are sourced directly from farmers.
2. Notification comes after SC directive
In news:
Supreme Court had earlier issued directive to the government to form an inter-ministerial committee to recommend ways of preventing cattle smuggling.
Directive was in response to the 2014 writ petition filed by Gauri Mulekhi of People for Animals.
The inter-ministerial committee recommended: rules to be framed under the Prevention of Cruelty to Animals Act 1960 to regulate livestock markets. 
Impacts of the new rules framed: 
Weeds out middlemen role from the supply chain linking farm-heads to slaughter houses.
Improve traceability of zoonotic diseases
Curb illegitimate slaughter and smuggling and
Put the onus on cattle-owners to dispose of their animals responsibly.
3. Glitch in govt. transfers delays ₹3045 cr in NREGA wages
In News:
According to data collated by NREGA Sangharsh Morcha, a platform that tracks the implementation of the workfare programme.
Wage payment delays have mounted drastically in April-May 2017.
Fund Transfer Orders (FTOs) worth ₹3,045 crore are yet to be processed by the central government's National Electronic Fund Management System (NEFMS).
Processing delay was highest in the cases of Kerala and Uttarakhand.
On an average it takes up to 25 days for the payment to reach the worker even after the FTO has been signed.
What does the act say?
As per Schedule II of the Act, an NREGA worker must be paid within 15 days of completing his allocated tasks.
Compensation in case of delay: A delay in payment, for which the worker must be compensated, has to be calculated from the 16th day after task completion, till the time the money is credited in the worker's account. 
Flaw in computing compensation:
NREGA Management Information System (MIS) calculates the delay only till the second signature on the FTO from the state government, after which the pay order goes to the central government for processing.
Systemic failure: These delays and other unexpected delays are not captured in MIS.
Way forward:
The government must adopt a system for NREGA payments that is reliable and not vulnerable to gross irregularities such as repeated delays in the processing of FTOs.
Tracking at each level should be adopted. 
Basic information:
The national electronic fund management system (NeFMS):
The national electronic fund management system (NeFMS), project launched by the Central government in the State for direct and faster release of wages under the Mahatma Gandhi National Rural Employment Guarantee Scheme (MGNREGS)
It will enable direct and immediate credit of wages into the accounts within 48 hours of the issue of the order.
4. Commercial e-vehicles won't need permits
In news: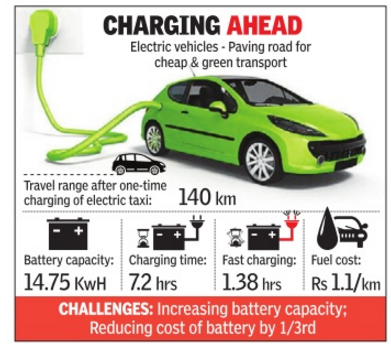 Permits not required for commercial purpose electric vehicles such as taxis, auto-rickshaws and buses.
The road transport ministry is working on this proposal in its bid to push electric vehicles across segments to check air pollution and high dependence on imported crude oil.
The ministry has already set a similar model by allowing e-rickshaws to ply without getting permit, though they have to be registered and must meet minimum safety requirement.
Union transport minister Nitin Gadkari and Maharashtra chief minister Devendra Fadnavis launched the country's first multi-modal electric vehicle project in Nagpur. The pilot project envisages a fleet of 200 electric-powered public transport vehicles which would be run on cab aggregator Ola's app platform in Nagpur.
C. GS3 Related
Category: INTERNAL SECURITY / DISASTER MANAGEMENT
1. DRDO's aero test range to be inaugurated tomorrow
In news:
Location: near Challakere in Chitradurga district, Karnataka.
The Aeronautical Test Range is a facility under the Aeronautical Development Establishment (ADE) which works on a range of UAVs (unmanned air vehicles).
It will be an integrated test centre for the DRDO's cluster of aeronautical laboratories, most of them based in Bengaluru.
DRDO used the ATR to conduct the first successful flight of the UAV 'Tapas' 201, earlier called Rustom-2.
Tapas is a MALE or medium altitude, long endurance UAV that can continuously, slowly watch over a 200-km area for 24 hours. The pictures it captures will be interpreted by the armed forces or security.
2. New bridge will spur a revolution: Modi
In news:
Prime Minister Narendra Modi inaugurated the country's longest bridge over the Lohit river in Assam .
Facts round up:
9.15 km-long bridge: Bhupen Hazarika Setu (Dhola-Sadiya), named after Dadasaheb Phalke awardee and legendary lyricist-singer Bhupen Hazarika who hailed from Sadiya .
It connects Assam (Dhola) and Arunachal Pradesh (Saidya), reduced distance by 165 km and cutting travel time by seven to eight hours. 
Basic Information:
The Bandra–Worli Sea Link, officially called Rajiv Gandhi Sea Link, is a cable-stayed bridge with pre-stressed concrete-steel viaducts on either side that links Bandra in the Western Suburbs of Mumbai with Worli in South Mumbai.
Nothing here for Today!!!
E. Concepts-in-News: Related Concepts to Revise/Learn
F. Bills/Acts/Schemes/Orgs in News
Article in News

About the article

SAMPADA (Scheme For Agro-Marine Processing And Development Of Agro-Processing Clusters)

Objective: to supplement agriculture, modernize processing and decrease agri-waste.
SAMPADA is an umbrella scheme incorporating ongoing schemes of the Ministry like Mega Food Parks, Integrated Cold Chain and Value Addition Infrastructure, Food Safety and Quality Assurance Infrastructure, etc. and also new schemes like Infrastructure for Agro-processing Clusters, Creation of Backward and Forward Linkages, Creation / Expansion of Food Processing & Preservation Capacities.
It includes new schemes of

nfrastructure for Agro-processing Clusters
Creation of Backward and Forward Linkages
Creation / Expansion of Food Processing & Preservation Capacities aim at development of modern infrastructure to encourage entrepreneurs to set up food processing units based on cluster approach, provide effective and seamless backward and forward integration for processed food industry by plugging gaps in supply chain
Creation of processing and preservation capacities and modernization/ expansion of existing food processing units.

The implementation of SAMPADA will result in

Creation of modern infrastructure with efficient supply chain management from farm gate to retail outlet.
Provides better prices to farmers and is a big step towards doubling of farmers' income.
Create huge employment opportunities especially in the rural areas.
Helps in reducing wastage of agricultural produce, increasing the processing level, availability of safe and convenient processed foods at affordable price to consumers and enhancing the export of the processed foods.
G. Practice Questions for UPSC Prelims Exam
Question 1: The "Preservation, protection and improvement of stock and prevention of 
animal diseases, veterinary training and practice" comes under which list of Constitution 
of India?
State list
Union List
Concurrent List
None of the above
See
Question 2: The State shall endeavour to organise agriculture and animal husbandry on modern 
and scientific lines and shall, in particular, take steps for preserving and improving the breeds, 
and prohibiting the slaughter of cows and calves and other milch and draught cattle is mentioned in 
which part of the constitution?
Fundamental duties
Union list
Concurrent list
Directive Principles of State Policy
See
Question 3: As per NREGA, the minimum number of days within which the workers wage 
must be paid after due completion of tasks is
30 days
25 days
15 days
10days
See
Question 4: Which bridge is expected to get the tag of the Longest Bridge in India in 
future?
Bhupen Hazarika Setu
Dhola–Sadiya Bridge
The New Ganga Bridge
Bandra–Worli Sea Link
See
Question 5: Where is the country's first multi-modal electric vehicle project launched?
Nagpur
Mumbai
Pune
Bangalore
See
"Proper Current Affairs preparation is the key to success in the UPSC- Civil Services Examination. We have now launched a comprehensive 'Online Current Affairs Crash Course'. Limited seats available. Click here to Know More."