POLITY
1. No report yet on Kanpur derailment Six months after accident that killed over 150, agencies yet to ascertain the cause
2. Cattle trade rules go against 1960 law Prevention of Cruelty to Animals Act does not impose curbs on sale of cattle for slaughter or sacrifices
INTERNATIONAL RELATIONS
1. Modi in Berlin today, says 'new chapter' in ties PM's six-day tour to Germany, Spain, Russia and France assumes added significance as all are members of the Nuclear Suppliers Group
INDIAN ECONOMY
1. Centre's spending improves after budget date advanced Disbursal of funds may have increased by 10-15% in April and May 
2. Strategic ties with foreign OEMs Indian firms will be partners in new model for defence manufacturing 
SCIENCE AND TECHNOLOGY
1. ISRO set to launch heaviest rocket GSLV Mk- III can carry up to 8 tonne 
INTERNAL SECURITY
1. Need innovations to fight dirty war: Rawat Army chief defends use of a human shield in Kashmir 
***********************************************************************************

.
***********************************************************************************
Useful News Articles for UPSC Current Affairs
A. GS1 Related
Nothing here for today!!
B. GS2 Related
1. No report yet on Kanpur derailment Six months after accident that killed over 150, agencies yet to ascertain the cause
Context
Six months after the wrecking of the Indore-Rajendranagar Express close Kanpur asserted more than 150 lives, exploring offices are yet to discover the reason for the mischance. The Commission of Railway Safety (CRS) hasn't presented its preparatory report.
On November 20 a year ago, 14 mentors of the Patna-bound prepare crashed amongst Pokhrayan and Malasa stations in Uttar Pradesh, killing no less than 152 travelers and harming 183.
What the rules say?
As indicated by the guidelines, the CRS needs to present its preparatory answer to the Chief Commissioner of Railway Safety and the Indian Railway Board Secretary inside one month of the request, and it needs to make the report open too. The CRS, under the Civil Aviation Ministry, then presents a nitty gritty report inside six months of the request to the Chief Commissioner.
2. Cattle trade rules go against 1960 law Prevention of Cruelty to Animals Act does not impose curbs on sale of cattle for slaughter or sacrifices
Key Points
Confinements put by the new guidelines of the Environment Ministry on the offer of steers in a domesticated animals showcase for reasons for butcher and religious animal sacrifices negate the very law — Prevention of Cruelty to Animals Act of 1960 — under which it has been told.
The Prevention of Cruelty to Animals (Regulation of Livestock Markets) Rules of 2017 allow the offer of cows in business sectors just to checked "agriculturists", who need to give an endeavor to experts that dairy cattle won't be sold or butchered for meat. Nor might the creature be utilized for penances. The creature will be utilized just to farm.
The tenets take away the privileges of the proprietor to try and offer the body of a creature biting the dust of "common causes" in the market. The standards endorse that the cadaver will be burned and not be sold or excoriated for calfskin.
Category: INTERNATIONAL RELATIONS
1. Modi in Berlin today, says 'new chapter' in ties PM's six-day tour to Germany, Spain, Russia and France assumes added significance as all are members of the Nuclear Suppliers Group
Context
Prime Minister Narendra Modi will arrive in Berlin on Monday beginning a six-day, four-nation tour of Europe.
Key Points
Modi will meet German Chancellor Angela Merkel for talks to tackle issues such as the impasse in the India-EU free trade agreement, as well as developing a common strategy to counter China's moves on connectivity and preserving the international "rules-based" system.
From Germany, the Prime Minister will travel to Spain (May 29-30), Russia (May 31-June 1) and France (June 2-3). His meetings at each of these countries will also be significant given that all four are members of the Nuclear Suppliers Group that will meet in June to once again consider India's membership application.
Modi is to meet all the leaders once again in July at the G-20 summit in Hamburg (Spain is not a G-20 country, but is a permanent invitee).
Both India and Germany are expected to sign a number of MoUs on trade and investment, security and counter-terrorism, innovation and science & technology, skill development, urban infrastructure, railways, civil aviation, clean energy, development cooperation, health and alternative medicine.
C. GS3 Related
1. Centre's spending improves after budget date advanced Disbursal of funds may have increased by 10-15% in April and May
Key Points
The advancement of the Budget date to February 1 had a positive effect on the pattern of government expenditure, which increased "substantially" in April and May compared to previous years, according to a Finance Ministry official.
The Budget for the financial year 2017-18 was presented on February 1 instead of at the end of the month in order to facilitate a timely disbursal of funds for various sectors.
The advancement of the Budget date to February 1 has already seen the disbursement of planned expenditure increasing in the months of April and May, instead of having to wait till the monsoon got over, as was happening earlier.
2. Strategic ties with foreign OEMs Indian firms will be partners in new model for defence manufacturing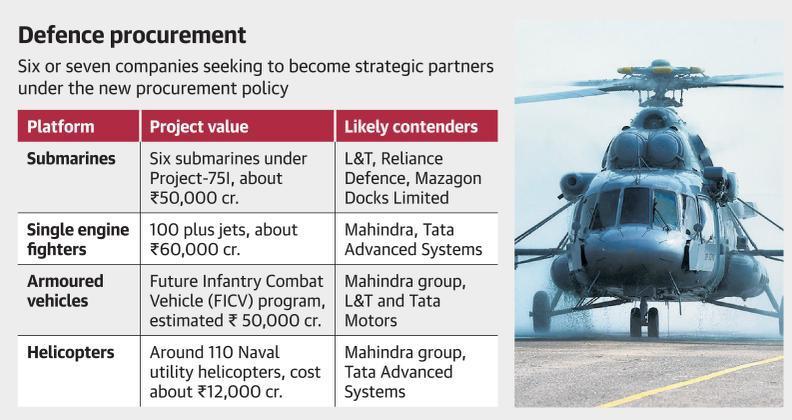 Key Points
In a few weeks, the Union government will sound out five or six private sector majors to execute mega defence deals in four key areas — submarines, single-engine fighter aircraft, helicopters and armoured vehicles.
With the Union Cabinet taking note of the strategic partnership model last week, the Defence Ministry is awaiting its formal notification.
Category: SCIENCE AND TECHNOLOGY
1. ISRO set to launch heaviest rocket GSLV Mk- III can carry up to 8 tonne
Key Points
If all goes well with the maiden launch of the GSLV-Mk III (earlier named Launch Vehicle Mark-3) and subsequent flights, this rocket could be India's vehicle of choice to launch "Indians into space, from Indian soil using Indian rockets" he said.
The heavy lift rocket is capable of placing up to 8 tonne in a low Earth orbit, enough to carry India's crew module.
ISRO has already prepared plans of hoisting a two to three human crew into space as soon as the government gives it a sanction of about $4 billion.
If the human venture materialises, India would become only the fourth country after Russia, the U.S. and China to have a human space flight programme.
Earlier India used the French Ariane-5 rocket launched from Kourou in South America to place its heavy 4 ton class of communication satellites.
2. Need innovations to fight dirty war: Rawat Army chief defends use of a human shield in Kashmir
Key Points
The Army is facing a "dirty war" in Jammu and Kashmir which has to be fought in "innovative" ways, Army chief General Bipin Rawat has said, defending the use of a Kashmiri as a 'human shield' by a young officer.
In an interaction with PTI, he said the aim of awarding Major Leetul Gogoi, when a Court of Inquiry was finalising its probe into the incident, was to boost the morale of young officers operating in a very difficult environment in the State.
The Army chief's commendation medal awarded to Major Gogoi, who had tied a man to an Army vehicle and used him as a human shield from stone-throwers last month, was criticised by human rights activists, Kashmiri groups and a few retired Army Generals. A video of the incident triggered a row.
Nothing here for Today!!!
E. Concepts-in-News: Related Concepts to Revise/Learn
F. Bills/Acts/Schemes/Orgs in News
| | |
| --- | --- |
| Article in News | About the article |
G. Practice Questions for UPSC Prelims Exam
Question 1: Animal Welfare Board of India is set up under which of the following act?
Wildlife Protection of India, 1972
Environment Protection Act, 1986
Prevention of Cruelty to Animals Act, 1960
None
See
Question 2: The G20 summit will be held in 2017 in which of the following place?
London
New York
Paris
Hamburg
See
Question 3: Which of the following is not a member of G20?
India
Spain
China
Saudi Arabia
See
Question 4: Consider the statements about GSLV Mk III:
If GSLV- Mk III launch succeds, this rocket could be India's vehicle of choice to launch Indians into space, from Indian soil using Indian rockets.
The heavy lift rocket is capable of placing up to 8 tonne in a low Earth orbit.
Which of the above statements is/are correct ?
1 only
2 only
Both 1 and 2
None
See
Question 5: Which of the following subjects are discussed in G20 meetings?
Global economic growth
International trade and financial market regulation
Ways to achieve strong, sustainable and balanced global economic growth and to boost employment
Select the correct code:
1 only
2 and 3 only
1 and 3 only
All
See
"Proper Current Affairs preparation is the key to success in the UPSC- Civil Services Examination. We have now launched a comprehensive 'Online Current Affairs Crash Course'. Limited seats available. Click here to Know More."