TABLE OF CONTENT
A.

 GS1 Related





B.

 GS2 Related


POLITY
1. Madras HC stays new curbs on cattle trade
2. Odisha extends free cancer treatment to all districts
INTERNATIONAL RELATIONS
1. UAE ready for air traffic pact
2. Farzan B gas field row: Iran threatens to replace India's OVL with Russian firms
3. Modi, Merkel nudge FTA, sign a dozen agreements



C.

 GS3 Related


INTERNAL SECURITY
1. Minesweeper deal to be inked soon
SCIENCE AND TECHNOLOGY
1. Ministry of Earth Sciences to launch 'Deep Ocean Mission' by January 2018
2. Scientists find what causes spread of cancer & new way to stop it



D. 

GS4 Related





E. 

Concepts-in-News: Related Concepts to Revise/Learn





F. 

Bills/Acts/Schemes/Orgs in News



G. 

Practice Questions for UPSC Prelims Exam

UPSC Current Affairs 2017: News Analysis
A. GS1 Related
Nothing here for today!!
B. GS2 Related
1. Madras HC stays new curbs on cattle trade
In news:
The Madras High Court Bench stayed the operation of Rules 22(b)(iii) and 22(e) of the Prevention of Cruelty to Animals (Regulation of Livestock Market) Rules 2017 notified by the Centre .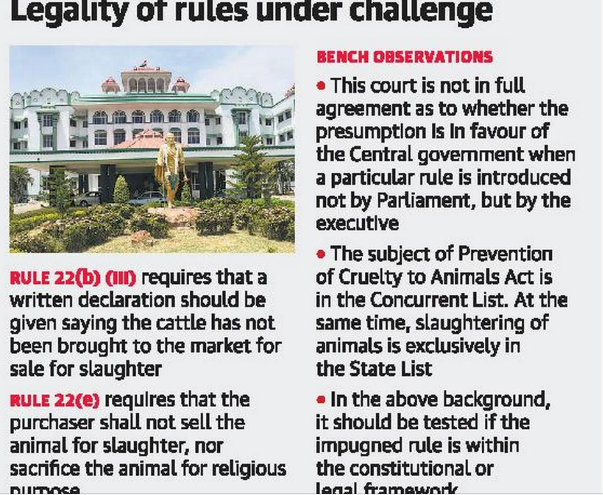 The new rules ban the sale of bulls, bullocks, cows, buffaloes, steers, heifers, calves and camels for slaughter in 'animal markets.'
Public interest litigation:
Interim stay granted for a period of four weeks on a public interest litigation petition filed by S. Selvagomathy, an activist-cum-lawyer.
Challenges posed in the PIL:
Constitutional validity of the 2017 Rules.
Legislative competence of the Centre to frame rules
Matter related to slaughter of animals is concerned, it is exclusively in the State list.
2. Odisha extends free cancer treatment to all districts
In news:
The Odisha government extended free treatment for cancer patients in the whole State.
Under the programme, all cancer patients can avail chemotherapy and consultations from oncologists free of cost at all district headquarters hospitals.
Key fact: In the first phase of the free cancer treatment programme, about 5,000 patients have been benefited.
Category: INTERNATIONAL RELATIONS
1. UAE ready for air traffic pact
In news:
Unified bilateral air traffic pact: The United Arab Emirates (UAE) is in favour of India's proposal for a unified bilateral air traffic pact provided the Gulf nation gets access to more Indian airports.
India has signed separate agreements with emirates of the UAE which is a unique arrangement as bilateral air traffic rights are generally signed between two countries.
India has an agreement each with Abu Dhabi, Dubai, Ras al-Khaimah and Sharjah.
Global Practice:
Countries sign air service agreement bilaterally which decides the equal number of flights or seats per week that can fly into each other's country depending upon their own requirements. Then, the government distributes the allocated seats to the respective airlines.
Present Scenario:
Airlines from India and UAE are entitled to fly around 1.34 lakh seats a week from both sides at present.
Airlines from India and Dubai have exhausted their bilateral entitlement.
Dubai has been constantly demanding more entitlements, where as India has refrained from renewing its present bilateral agreement due to lack of viable slots available for Indian carriers in Dubai.
2. Farzan B gas field row: Iran threatens to replace India's OVL with Russian firms
Context:
In news:
Iran has threatened to rope in Russian oil companies for developing the Farzad B gas field, replacing the consortium of Indian state-run entities (ONGC Videsh Ltd) that discovered it.
The threat comes in retaliation to New Delhi's move to cut purchase of Iranian oil over Tehran's delay in awarding the block.
Reports from Vienna quoted Iran's oil minister Bijan Zanganeh as saying that he expected Russian firms to enter the field if the Indian consortium failed to come up with a satisfactory offer.
3. Modi, Merkel nudge FTA, sign a dozen agreements
Context: Prime Minister Narendra Modi's visit to Germany
In news:
India and Germany signed a dozen wide-ranging but low-profile MoUs on the subjects of education, health, skill development and sustainability.
C. GS3 Related
1. Minesweeper deal to be inked soon
In News:
India and South Korea ready to finalise pact for 12 minesweepers or Mine Counter Measure Vessels for the Navy.
Mine Counter Measure Vessels ships would be manufactured in India under Transfer of Technol
Minesweepers are crucial to detect mines and explosives planted by the enemy targeting our ships as they enter or leave harbours
Discussions are underway between Goa Shipyard Limited, which has been nominated as the yard for construction by the government, and Kangnam Corporation of South Korea. The GSL has already created necessary infrastructure and facilities to build the vessels.
Category: SCIENCE AND TECHNOLOGY
1. Scientists find what causes spread of cancer & new way to stop it
In news:
An international team led by scientists from Johns Hopkins University has, for the first time, found what causes the spread of cancer and what could slow it down.
Important findings:
90% of cancer deaths are caused when cancer cells break off from the origin and start spreading elsewhere in the body.
There are no existing drugs for stopping this spread, known as metastasis, of cancer.
No commercial drugs are now being produced specifically to inhibit metastasis because drug companies believe the best way to stop cancer from spreading is to destroy the primary tumor from which it originates.
Findings:
When cancer cells get densely packed they secrete two proteins that deliver a stark message to other cells: go away. This causes the cancer cells to break off from the pack and float through the blood stream or lymphatic system to other sites and start growing afresh.
The team found that two existing drugs — Tocilizumab and Reparaxin — prevented cancer cells from getting their marching orders.
Tocilizumab is an approved medication for rheumatoid arthritis and is in trials for use in ovarian cancer cases. Reparaxin is being evaluated as a possible treatment for breast cancer.
2. Ministry of Earth Sciences to launch 'Deep Ocean Mission' by January 2018
In news:
Ministry of Earth Sciences, Government of India is all set to launch 'Deep Ocean Mission' by January 2018.
The program on Poly metallic nodules was initiated at CSIR-NIO with the collection of the first nodule sample from Arabian Sea on board the first Research Vessel Gaveshani on 26 January 1981.
India was the first country in the world to have been given the Pioneer Area for exploration of deep-sea mineral viz. Polymetallic nodules in the Central Indian Ocean Basin in 1987.
This was based on the extensive surveys carried out by the scientists of CSIR-NIO, on several research ships leading to the allocation of an area of 150,000 sq km to the country with exclusive rights under the UN Law of the sea.
India has now retained an area of 75,000 sq km with an estimated resource of about 100 million tons of strategic metals such Copper, Nickel, Cobalt besides Manganese and Iron.
A First Generation Mine-site (FGM) with an area of 18,000 sq km has been identified. Latest technologies for extraction of metals from the minerals have also been developed under the programme. Detailed environmental data has been collected for compliance with International Seabed Authorities requirements. Besides identifying the mineral resource and developing technologies for mining and extraction, the programme has also resulted in high impact research as well as manpower development.
Nothing here for Today!!!
E. Concepts-in-News: Related Concepts to Revise/Learn
F. Bills/Acts/Schemes/Orgs in News
| | |
| --- | --- |
| Article in News | About the article |
G. Practice Questions for UPSC Prelims Exam
Question 1: The Sakewa Festival has recently celebrated in which state?
Jharkhand
Arunachal Pradesh
Sikkim
Manipur
See
Question 2: The Navegaon National Park is located in which state?
Uttar Pradesh
West Bengal
Gujarat
Maharashtra
See
Question 3: Which of the following parts of constitution explicitly mentions that India is a secular state?
Preamble
Fundamental Rights
Directive Principles of state policy
The Union
See
Question 4: With reference to the State Legislative Council in India, which among the following 
statements is / are correct?
The Legislative Council is a continuing House & two-third of the members retire in two years.
Members of local bodies elect one-third of the total number of members of the legislative council
If a state legislative council is to be created or abolished , a resolution to that effect is to be first passed by the State legislature by a two-third majority
Choose the correct option from the codes given below.
Only 1 & 2
Only 2 & 3
Only 1 & 3
1, 2 & 3
See
Question 5: Mushroom rocks or Rock pedestals or Zeugen are one of the most striking 
manifestations of __?
Water Erosion
Wind Erosion
Gravity Erosion
River Deposition
See
"Proper Current Affairs preparation is the key to success in the UPSC- Civil Services Examination. We have now launched a comprehensive 'Online Current Affairs Crash Course'. Limited seats available. Click here to Know More."