A Day at the Beach Short Essay for Kids
Kids love visiting beaches. They enjoy playing with sand and waves. The voice of waves hitting the shores is very refreshing, and it revitalises our souls. Collecting different varieties of seashells is a hobby for many kids. Building sandcastles and decorating them with shells is one of the fun activities for kids. They declare themselves as the king or queen of their tiny sand-made castles. Watching kids enjoy their time to the fullest is a delightful sight for parents. Activities like essay writing for kids will simplify the process of Kids learning and will help them improve their thinking skills.
A beach is a wonderful gift from God. Every human being, irrespective of age, loves to visit and enjoy the atmosphere offered by beaches. Blowing winds, vast areas of sand with beautiful shells, music of waves hitting shores, and the crimson red colour of the sun and sky during a sunset aid the alluring beauty of beaches. Here is a short essay on a day at the beach for kids to refer to and exercise writing essays in English. BYJU'S a day at the beach short essay in English helps kids learn more about beaches and provides an opportunity for kids to improve their writing skills. Moreover, when kids engage in activities like essay writing, they can quickly develop their English vocabulary and communication skills.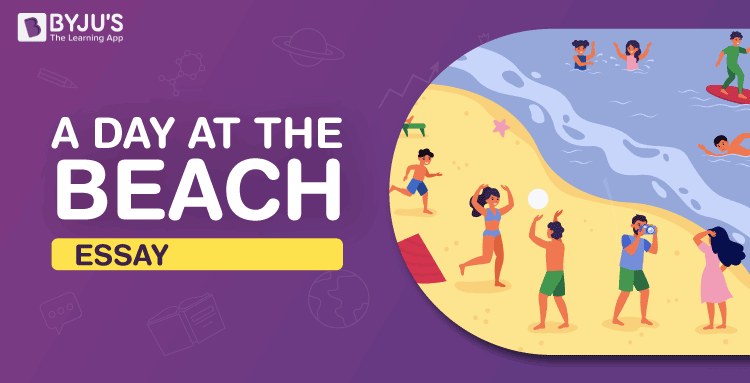 Table of Contents
Beach and My Soul
Beach is one of my favourite places to visit. I feel so refreshed after visiting a beach. It makes my body and mind active, and I think it is the best place on this planet where we can enjoy ourselves with our friends and family members. I love playing with the sand and building sandcastles with my friends. We made a huge sandcastle on our last visit to the beach and named it 'The Castle of Wonders'. My friend and I announced ourselves as the two kings of that castle and placed two flags above it. The red flag I put represented me as the king of the castle, and the blue one represented my friend. We also clicked a picture standing before our majestic sandcastle, and I consider it one of the greatest moments of my life.
The unpredictability of waves always amazes me. The way they hit the shores is magical. I love playing with waves; my friends and I run away from the waves to avoid getting our legs washed by them. We also write random names and words on the sand and watch them getting cleared away by the waves. It is an exciting game that fills my heart with bliss. If your kids are interested in writing essays and expressing their ideas, BYJU'S My Favourite Season Essay in English will be a great resource to refer to.
Essay on Beach Cleaning
Beaches are home to various creatures. By making their lands polluted, we are troubling their living habitat. Human beings pollute their land with waste materials such as plastic covers and bags, water bottles, cigarette filters, and many other items that lead to environmental degradation. Day by day, marine pollution is highly increasing and has resulted in the deterioration of the marine ecosystem.
Beach cleaning is the process of removing waste materials like litter and debris deposited on beaches brought by the tide and visitors. Social service is an excellent subject to be taught to students. It improves their social awareness and is a necessary quality that has to be transferred to the lives of youths for a better future. Conservation of natural resources is significant for the existence of human lives on Earth. Beach cleaning is one act of nature conservation that benefits the beach ecosystem.
A beach is an environment that supports the lives or varieties of plants and animals. A beach ecosystem is essential for human lives, and it plays a significant role in climatic change. It protects people's lives near the beach by serving as a shield against storms. There are a lot of marine animals that depend on the beach ecosystem for survival, and they significantly contribute to the food chain. A day at the beach essay in English will help kids realise the importance of conserving marine ecosystems. For more essays, worksheets and stories, visit BYJU'S website.
Frequently Asked Questions
Q1
What is beach cleaning?
Beach cleaning is an act of conversing marine ecosystems by removing waste materials like litter and debris deposited on beaches brought by the tide and visitors.
Q2
What all elements enhance the beauty of a beach?
A beach is a beautiful place to visit. Sea, waves, wind, vast areas of sand, tiny crabs, the crimson red colour of the sky during sunset, and coconut trees are some of the elements that give the beauty of a beach.
Q3
What do kids learn from BYJU'S a day at the beach essay in English?
BYJU'S a day at the beach essay in English helps kids learn how to write effectively and express their thoughts about the beauty of beaches. Moreover, activities like essay writing develop writing skills and vocabulary in English.
Related Links