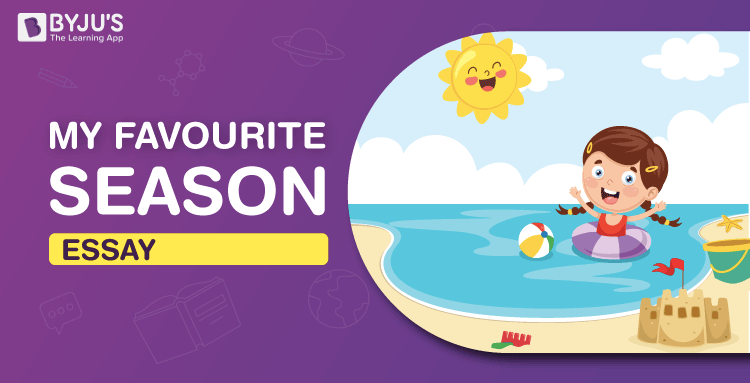 Seasons keep changing, but they always come back every year. Everyone has their favourite season of the year and in my favourite essay, let us discuss the summer season. The summer season is when people usually go on holiday and relax. Summer is traditionally the time for outdoor activities such as swimming, hiking and camping. The summer season also has a lot of vacation opportunities; people can travel and see new places. Beaches are always a popular destination during summer, but there are many other fun activities that people find enjoyable.
The summer season is filled with events like enjoying outdoor movies, barbecues and hosting pool parties. People gather in their backyards to exchange interesting stories. Mangoes and jackfruits are abundantly available during this season, and kids relish them. Moreover, giant watermelons, fresh cucumbers, sweet guavas, delicious oranges, muskmelons, and more are available during the summer season to keep us refreshed. Now, let us read BYJU'S, my favourite season essay in English.
Why is Summer My Favourite Season?
Let us read my favourite season essay, and you can engage kids in essay writing activities. Summer is my favourite season because it is the time of the year when all of my friends stay at home. It is also an excellent time for vacations and spending more time with family members. I love to swim, go on bike rides, and spend a lot outside. I like the warm, sunny weather and the swimming pool at my house. But that's not all people love about summer.
The summertime brings fun days filled with laughter and happiness back into our lives. It is also an excellent time for kids to be outside playing sports and spending time with friends.
We can do so many things during summer that we are not able to in the winter. Summer is not just about spending time outside; it's also a great time to relax and catch up. Moreover, we can engage in meaningful conversations. We can also talk about our favourite season and why we love it. It is a time for playing outdoors and making memories with friends or family. It is when everyone wants to be outside and be surrounded by the warm sun, fresh air, beautiful colours, and live music.
It's a time for vacations, to rest and get away from the hustles of school and work. The summertime is a great opportunity for fun and doing so many activities with friends and family.
To conclude, every season is beautiful. Winter has its charm and the rainy season is a lovely time. Moreover, summer is a wonderful time, and kids come outdoors and play together. This is my favourite season essay in English and for more essays, poems and other kids learning activities, visit BYJU'S website.
Frequently Asked Questions on My Favourite Season Essay
When is the summer season in India?
The summer season in India is from April to June.
Which festivals are celebrated in summer in India?
Ugadi, Holi, Ram Navami, Baisakhi, Gangaur and Hemis Festival are some of the prominent summer festivals in India.