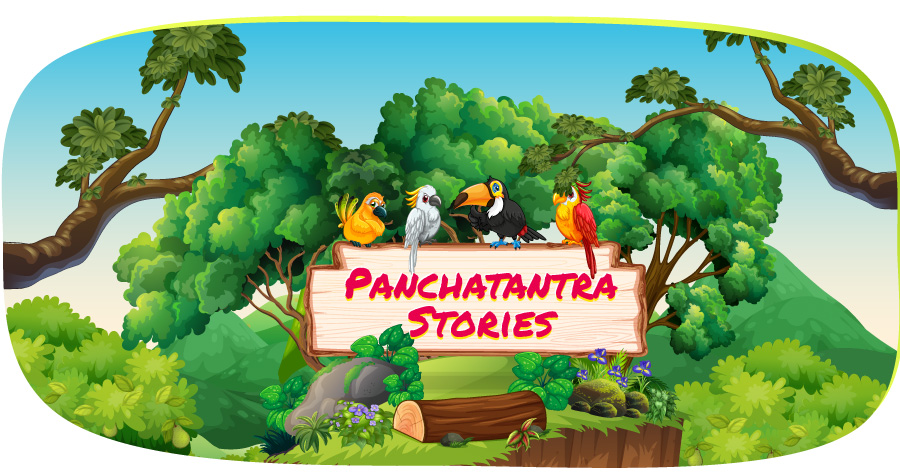 Being Indians, we have definitely come across some or the other story from the Panchatantra. Panchatantra is a huge collection of fables originally written in the Sanskrit language. Each of the Panchatantra Stories for kids has an associated moral. These morals are taught to kids through the plot and characters of the stories. The Panchatantra stories in English are a perfect blend of humour, fun, wit, emotions, life lessons, interesting facts, mystical characters, and everything else you would want in a story. Probably that's why parents and school curriculum make sure that kids are introduced to at least some of these stories.
Resources: Panchatantra Short Stories in English for Kids
You can get the best of Panchatantra Stories for kids here. You can download the stories in PDF format and read out these amazing stories to your little one. These stories amaze, educate and entertain kids of all classes. Here is the list of Panchatantra Moral Stories which we are providing you with:
Click on the images below to download Panchatantra Stories:
Panchatantra- the Etymology
The word Panchatantra comprises 2 words- Pancha and Tantra. "Pancha" means five and "Tantra" implies principles or practices.
So, Panchatantra means the 5 principles or practices. The collection thus has 5 volumes. Before revealing the names of these volumes, let's get a little history about Panchatantra.
The History of Panchatantra
As per the legend, the origin of Panchatantra dates back to the times when there lived a King called Amarasakti, who wished to teach good morals and governing skills to his 3 sons. His sons were a little dull to govern the kingdom. Thus, Amarasakti appointed a scholar Vishnu Sharma in order to make them understand the aspects of ruling a kingdom. Vishnu gathered that the conventionals tips and ways wouldn't work well with these new students. To teach them good values and governing skills, he decided to write a collection of stories in 5 volumes- thus named it as Panchatantra.
These are the names of the 5 volumes in which Panchatantra is divided:
Mitra-laabha (Gaining Friends)
It has a collection of stories which are related to winning friends.
Mitra-bheda (Losing Friends)
It has a collection of stories which are related to losing friends.
Aparīkṣitakārakaṃ (Acting without Thinking)
It has a collection of stories which are related to hasty actions or taking actions without thinking of the consequences.
Labdhapraṇāśam (Loss of Gains)
It has a collection of stories which are related to losing what you have gained.
Kākolūkīyam (Crows and Owls)
It has a collection of stories which are related to war and peace.
Panchatantra stories for kids have been translated into many languages including Hindi, English, Persian and Arabic. Many authors and translators have worked on these stories to make them accessible and understood by a layman in simple vernacular languages.
Kids Learning is a continuous concern for parents. It is crucial to provide the kids with resources which educate as well as keep them engaged and entertained at the same time. Stories for kids are loved by people of all age groups. Reciting these stories can be a great way to connect and spend quality time with your kid. Panchatantra Stories in English is a major part of the stories which are taught or read out to kids in their formative years.
For the best resources to help your kid in learning, you can download India's most loved kids learning app- Disney BYJU'S Early Learn and let your kid explore new opportunities in his/her studies.
Related Posts: