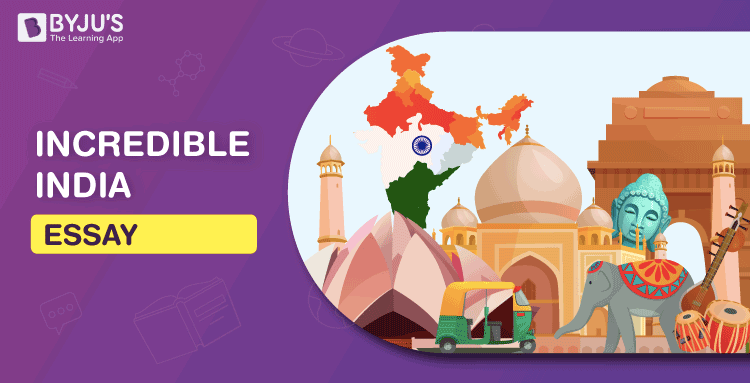 India is a culturally rich country with hundreds of languages, religions, and ethnic groups. The country has seen too many changes over the years, but it remains one of the most beautiful countries in the world. This incredible India essay strives to highlight all of its significant aspects. An incredible India essay in English tells the story of Indians and religions and explores the impact of history and geography on its arts and architecture, food and philosophy.
India's diversity is what makes India stand out from the crowd. It is a country with a rich heritage and culture. India is a land of diversities – religions, culture, languages, festivals, and ethnicity. India offers a never-ending list of possibilities to explore and experience something new every day.
India is an incredible country with a rich diversity in culture, customs, and cuisines. From the deserts of Rajasthan to the beaches of Andaman, there is no shortage of adventures people can have when coming to this beautiful nation. Bangalore, Mumbai, Delhi, Chennai, and Hyderabad are the most popular cities with tourists, and tourism is a great revenue-generating factor. One will also find Indians living in rural villages and towns, which offer a unique experience for travellers seeking a different type of adventure. Incredible India essay pdf is an excellent platform for kids to know how beautiful and incredible India is.
Short Essay on Incredible India Essay
India is a large country with many different cultures. India has 28 states and eight union territories, with each state having its own set of cultural norms. Their traditional attire and various customs can help identify Indians. In this incredible India essay, you can learn more about Indian culture.
Indian culture is very diverse. More than 1.3 billion people identify as Indians, and we speak as many as 22 major languages and use a myriad of different scripts. Indian culture is world-renowned for its diversity and integrity. The Indian population consists of numerous languages, religions, races, and ethnic groups, reflected in the country's clothing and rituals. Traditional Indian customs and traditions tend to centre around fire. Incredible India essay in English plays a vital role in assisting little ones to learn more about their country.
Frequently Asked Questions
Why is India an incredible country?
India is rich with hundreds of languages, religions, festivals, traditions and art forms. The country has seen too many changes over the years, but it remains one of the most beautiful countries in the world.
Which aspects of Indian culture are world-renowned?
Unity in diversity and integrity are two of the few aspects of Indian culture that are world-renowned.