Presenting here "My Mother Essay in English for kids". A short paragraph on my mother will enable young learners to use it as a reference while drafting an essay on this topic at school and portray their feelings and thoughts in a simple and lucid manner.
Mother is a significant member of every family. She is the female parent of a child who nurtures her baby and protects him/her from the evil gaze of society. She is an integral person in the life of every child and takes care of the entire family with utmost love, care and affection.
Here's my mother paragraph that kids can refer to while writing an essay on their own. They can also attempt writing about my mother 10 sentences to express their emotions for the person who means the world to them. Besides, writing a paragraph on my mother they can explore more interesting English essays for kids here.
My Mother Essay in English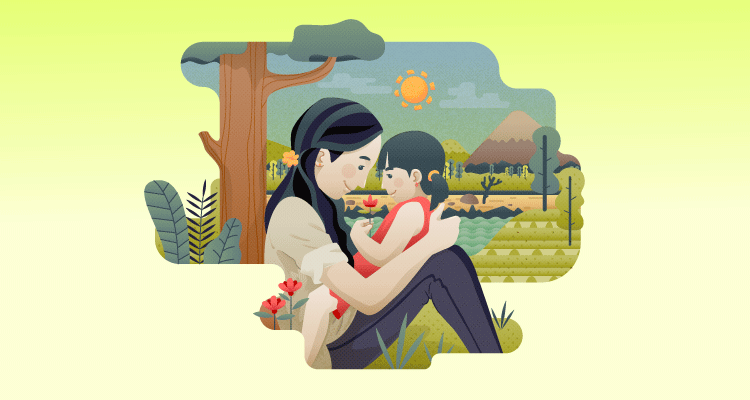 Mother is the most influential person in the life of every individual. She is a very hard-working person who holds the most honourable position next to the Almighty. She plays a crucial role in the holistic development of her child and always caters to the basic needs of her family.
The beauty of a mother-child relationship is that her love and sacrifice knows no bounds. She is like a guiding star, teacher and best friend who always stands rock solid beside her child and family in all circumstances.
My mother manages each and everything in the house and always puts her best foot forward to take care of me and other members of my family. Despite being a working woman, she cooks the most delicious dishes for the whole family regularly. She stays awake whenever I'm not keeping well and gives me company during my exams. 
In my opinion, she is the most beautiful person in the entire world and looks after the welfare of my whole family. She imparts moral values and ethics to me and shows me the righteous path of life. I love my mother very much and pray to the Almighty to always bless her with good health and happiness.
Given below are "My Mother Essay PDFs" for classes 1, 2, & 3 which you can download for FREE:
Here, we have made a modest attempt from our end to write my mother paragraph which will prove beneficial for kids who want to compose "My Mother essay in English". Your kids can refer to this above my mom essay sample to get a brief idea on how to compose a short essay on my mother during debates or competitions at school functions like "Mother's Day".  
Meanwhile, as your child starts writing an essay, this my mom essay would also help them to enhance their English writing skills too. For more such amazing children's resources, you can check our Kids Learning section and let your child enjoy learning in best and most enjoyable manner.
Related Essays: