Amongst the few changes introduced and implemented from NEET 2020 onwards, one of the changes is the admission of students to BAMS through NEET, as notified by the Ministry of AYUSH.
Trending: NEET 2023 exam
What Is BAMS? – BAMS Full Form
BAMS or Bachelor of Ayurvedic Medicine and Surgery is an undergraduate degree dealing with ayurvedic sciences incorporating modern sciences. It is a 4 and a half year course, along with a one-year compulsory internship.
BAMS – Course Overview
Bachelor of Ayurvedic Medicine and Surgery aims to familiarize students with the alternate field to medicine, Ayurvedic medicine along with amalgamating modern medicinal knowledge. It is a comprehensive study of life sciences integrating physiology, toxicology, pharmaceuticals, herbal sciences, ENT and other interesting streams.
One of the oldest systems of medicine, Ayurveda dates back to the Vedic era. It is established on the holistic approach of utilizing medicinal and therapeutic properties of herbs to extract medicinal benefits they have to offer. Ayurveda is believed to prevent and cure ailments in addition to reducing flare-ups of diseases, as it is based on the self-healing principles.
Tabulated below is the list of subjects covered in the BAMS course:
BAMS Course
Subjects
First Professional session

Sanskrit
Ayurveda Itihas (History of Ayurveda)
Rachana Sharir (Anatomy)
Padartha Vigyan (Ayurvedic Philosophy)
Kriya Sharir (Physiology)
Ashtang Hridyam (Sutrasthan)

Second Professional session

Swasthavritta
Charak Samhita (Purvardha)
Roga Vigyan Evum Vikriti Vigyan
Rasa Shastra & Bhaishajya Kalpana (Pharmaceuticals of Ayurveda)
Vyavhar Ayurved evum Vidhi Vaidyak
Agada Tantra (Toxicology)
Dravyaguna Vigyan (Materia Medica of Ayurveda)

Third Professional  session

Panchkarma
Charak Samhita (Uttarardha)
Prasuti Tantra Evum Stri Roga (Gynaecology and Obstetrics)
Shalakya (ENT, Eye and Dentistry)
Kaumarbhritya Pediatrics
Shalya (General surgery and para surgical techniques)
Kayachikitsa (General Medicine including Panchakarma, Rasayana and Vajikarana)
BAMS – Eligibility Through NEET 2023
Students aspiring to pursue a BAMS course must have completed Class 12 board exams with majors in Physics, Chemistry and Biology with a minimum of 45-50% from a recognized board. Admissions to BAMS colleges are based on the NEET score obtained.
Candidates must qualify NEET-UG entrance exams with the minimum percentile criteria mentioned below, provided category-wise.
| | |
| --- | --- |
| Category | Percentile (Minimum) |
| General (Unreserved) | 50th Percentile |
| Unreserved – PH | 45th Percentile |
| Reserved – SC/ST/OBC | 40th Percentile |
BAMS Course – Key Highlights
| | |
| --- | --- |
| Full Form | Bachelor of Ayurvedic Medicine and Surgery |
| Level | Undergraduate |
| Duration of Course | 4 and half years + 1 year internship |
| Qualifying Test | NEET (National Eligibility cum Entrance Test) |
| Exam Conducting Authority | NTA (National Testing Agency) |
| Frequency of Exam | Annually |
| NEET Exam Date | May 7, 2023 |
| NEET Admit Card Release Date | 3 days prior to the examination date |
| Eligibility | Class 12 with majors in Physics, Chemistry and Biology |
| Total BAMS Colleges | 170 |
| Average Fees | ₹20,000 – ₹3,00,000 Per Annum |
| Designation/Opportunities After Course Completion | Ayurvedic Doctor, Lecturer/Professor, Scientist, Category Manager, Pharmacist, Panchakarma Practitioner, Resident Medical Officer, Therapist, Jr. Clinical Trial Coordinator, Medical Representative, Sales Representative, Business Development Officer, etc |
Check out: NEET Admit card released
BAMS Admission Process Through NEET
NEET is a compulsory test for admissions to a BAMS course from this academic session onwards. Check out the step-by-step procedure to seek admissions to a BAMS course through NEET.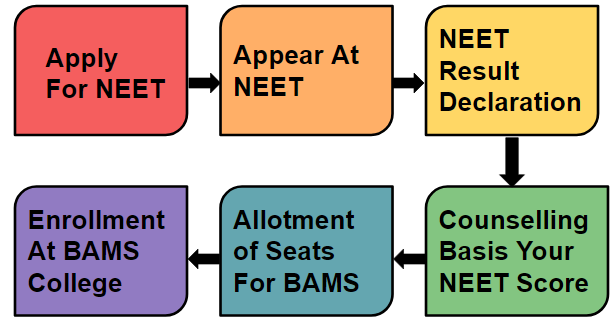 Once a candidate has appeared at NEET, qualifying it is important to proceed to the counselling round. Based on your NEET score, a list of colleges will be provided to students from which students can select a preferred college. The BAMS colleges then conduct a personal interview to screen students furthermore and hence enrollment at the college.
Top BAMS Colleges in India
Tabulated below are some of the top BAMS colleges in India that offer the BAMS course along with the fee structure. Take a look:
Institute's Name
Region
Annual Fees

(Average Fees in INR)

Institute of Medical Sciences
Varanasi
2,50,000
NTR University of Health Science
Vijayawada
1,08,000
National Institute of Ayurveda
Jaipur
1,15,000
Banaras Hindu University
Varanasi
51,845
Maharashtra University of Health Sciences
Nashik
–
Bharati Vidyapeeth Deemed University
Pune
14,25,000
Madhav University
Sirohi
1,40,000
Kerala University of Health Sciences
Thrissur
2,75,000
Gujarat Ayurveda University
Jamnagar
–
Baba Farid University of Health Science
Faridkot
1,48,000
*Fees can be subject to change
BAMS Admission Through NEET – Career Opportunities/Job Prospects
BAMS is a promising field of medicine where BAMS students, upon successful completion of the course, shall be open to a plethora of options in the fields of academics, clinical practice, research and allied sciences.
Recent developments in this field have been welcomed and acknowledged. A testimony of this is the WHO or the World Health Organization rendering a global platform to encourage Ayurveda, a traditional medicinal system, hence mirroring its scope. The field requires young minds, as the domain provides immense potential for new developments.
You just read about BAMS admissions through NEET. For more engaging content on NEET, visit us at NEET BYJU'S.
Also see: