Exam season is here, so is the exam phobia! With just one month for NEET to take place, the anxiety levels are mounting, and why shouldn't it? NEET is deemed to be one of the most challenging entrance tests with cut-throat competition for the limited seats offered. Instead of being on pins and needles at this eleventh hour, let us make the most of this last month. In this post, we enlighten students with the best approach to be adapted to crack NEET chemistry in one month. Read on.
Prepare For NEET Chemistry In One Month – Complete Strategy
The last month before NEET can be decisive, regardless of whether you spent one year or two years preparing for NEET. Hence, effective strategizing and its execution is key. The following chart can help you in chalking out a plan for NEET chemistry.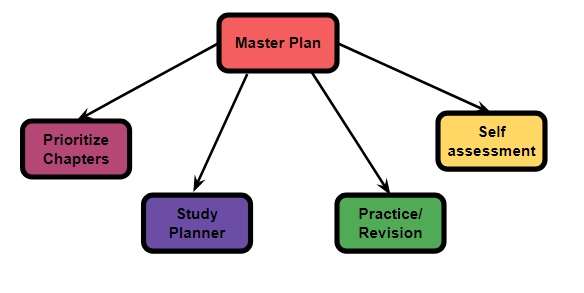 Let us look at each aspect in detail.
I. Prioritize Chapters
One must definitely list down the important chapters. To figure that out, analyze the weightage of chapters which can be obtained from previous years' trends. An average number of questions appearing from a chapter over the years can be extrapolated to understand its significance. Listed below is the list of important chapters from each of the Physical, Inorganic and Organic Chemistry sections. Remember, this is a list to prioritize, do not miss out on other chapters, questions appear from them too.
Important Chapters For Different Sections of Chemistry
Section
Topic
Number of questions
Physical Chemistry
Chemical and ionic equilibrium
3
Thermodynamics and Thermochemistry
2
Chemical Kinetics
2
Solution and colligative properties
1
Surface Chemistry
1
Inorganic Chemistry
Chemical Bonding
5
Coordination compounds
4
P and s block
2
D and f block
2
Organic Chemistry
Carbonyl compounds
4
General organic chemistry
3
Alkyl, Halide, Alcohol & Ether
2
IUPAC and Isomerism
2
Note: Do not forget to cover other chapters that are not listed here. They are equally important as well. This is just to get an idea of important ones and plan accordingly.
Also Check: NEET Chemistry MCQs
II. Study Planner
Now that important chapters are in place and sorted, design a timetable accordingly. Divide your day into 4 slots one for each of the sections – Physics, Chemistry and Biology and the last slot for practising.
When it comes to the chemistry section, we have tabulated a weekly plan for chapters to be covered in a time frame of one month, take a look.
Week 1
Hydrocarbons

General Organic Chemistry

S, p, d and f block

Structure of Atom

Alcohol, Aldehydes, Amines

Hydrogen

Week 2
Chemical Bonding

Surface Chemistry

Alkyl Halide

Periodic Table

Metallurgy

Week 3
Polymers

Thermodynamics

Solution

Equilibrium

Electrochemistry

Chemistry In everyday life

Solid states

Week 4
Coordination

Environmental chemistry

Redox

Biomolecules

Basic concepts

States of matter

Chemical Kinetics
Start your day early, with chapters requiring utmost concentration of yours or a difficult chapter
Refrain from starting a new topic at this time
Solidify chapters which you are already well-conversant with
Take up this weekly plan and cover chapters.
Read, revise and practise questions on the chapter
III. Practice/Revision
This is the most important and often underrated step. After the completion of reading and understanding chapters, one must practise as many questions possible on the chapter. A few points to remember:
Physical chemistry – NCERT is the best book for chemistry and Biology. For physical chemistry to be precise, it is the best source. In addition, NCERT exemplar is a great source too. Furthermore, maintain a formula book, in which you note all the formulae. Proves to be extremely handy for last-minute preparations.
Inorganic chemistry – exhaustive revisions are required for this section. Make self notes, visualize concepts, mind maps, colour charts for solubility and electrochemical series, important reactions.
Organic chemistry – study all the IUPAC names and naming chemical reactions every day. Master all the reactions in NCERT. Make use of charts here as well. Use flow charts and diagrams, wherever necessary.
See more: How To Score 160 plus in NEET Chemistry
IV. Self-assessment
Spend considerable time on analysing your performance in mock tests and paper-solving sessions. Identify your strengths and weaknesses.
With NEET being just one month away, make it a habit to take up mock tests every day at the same time of the day when NEET is actually conducted. Train your brain to be the most active during this time. Practise at least one question paper every day. Schedule to solve papers towards the end of your revision/practise schedule.
To Summarize
Start your day early (4/5 am) and wrap up by 7pm
Divide your day into 4 slots – Physics, Chemistry, Biology and Practice/revision slot
Jot down all chapters in descending order of their importance (as per weightage)
Design a weekly timetable, splitting all chapters of chemistry into 4 weeks, as mentioned earlier in the post
Master NCERT and exemplar
Practise and revise from all sources
Do not start a new topic. You don't want to invite confusion and lower your morale at this time. Just refer to important, recurring questions from the topic and practise them
Take up mock tests/solve previous years' papers after 7-8pm
Hope you found this article useful. For more engaging content on NEET, visit us at NEET BYJU'S.
Also See: