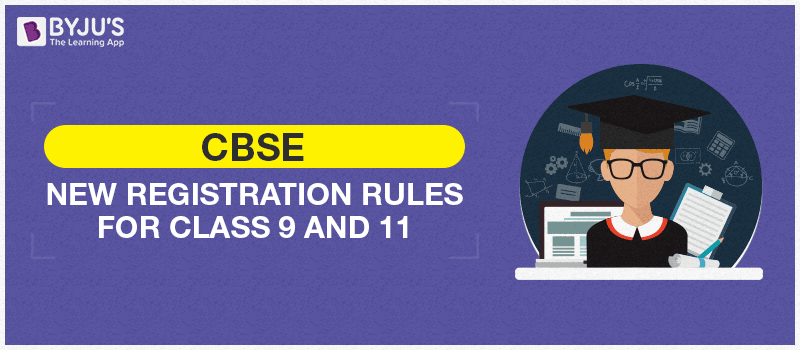 Central Board of Secondary Education has issued new rules for class 9 and 11 registration process. This has been done to advance the process of registration for class 9 and 11 regular students and streamline the process of examination in an efficient manner. The process of registration started from 8th August 2019 and will continue till October. Further, we have provided the complete details regarding the CBSE Class 9 and 11 new registration process in this article.
New Rules of CBSE Class 9 and 11 Registration
Schools need to go through the complete information issued by the CBSE in order to fill the registration data correctly. For this, the Principal should read the circular carefully and understand it thoroughly.
The board exam for class 10 and 12 in the year 2020 will be conducted through 16 regional offices. For this, new school codes have been released by the concerned regional offices. Schools have to use these codes.
Only those students will be allowed to appear for class 10 and 12 board exam to be held in Feb/Mar 2021 whose names would be submitted through the online process of registration.
It is mandatory that all affiliated schools follow the Examination Bye-Laws of the board.
Schools have to use the "Affiliation Number" as the user ID for the registration process. So, all schools must be affiliated to CBSE before proceeding with the online process.
Board has issued several exemptions/concessions for candidates with disabilities as defined in the "The Rights of Persons with Disabilities Act 2016". So, for disabled students schools must read all these guidelines before filling up the applications.
CBSE New Registration Rules for Class 9 and 11 :- Download Official PDF Here
CBSE has provided the complete details that are required before the registration and steps to be followed while proceeding for the registration. Students can get all the information in the official pdf provided above. Download it and read all the information to know more about class 9 and 11 registration process.
Registration Fees in Class 9 and 10
Fee Slab
Registration Fee per Student in INR
Date of Online Registration
Last Date of Receiving of Duly Signed Copy in Regional Office
Schools in India
Schools Abroad
Without Late Fee
300 per student
For Class 9: 500

per student

For Class 11: 600 per student

8th Aug 2019 to 15th Oct 2019
31st Oct 2019
With Late Fee
300 + 2000 = 2300
For Class 9: 500 + 2000 = 2500

For Class 11: 600 + 2000 = 2600

16th Oct 2019 to 31st Oct 2019
15th Nov 2019
We at BYJU'S provide study material for class 1 to 12 students which include CBSE textbooks, syllabus, sample papers, previous years papers, NCERT solutions, RD Sharma solutions and much more. Apart from this, students can also get free competitive exam study material for preparation. Keep learning and stay tuned for further updates on CBSE and other competitive exams.