Table of Contents:
1. Rs. 65,250 crore mopped up via new black money window
2. Bihar may implement new prohibition Act
3. U.N. panel to examine blacklisting Azhar
4. China blocks tributary of Brahmaputra to build dam
1. India to push for funds at climate talks
2. India got 3% less rain than normal
3. Centre rethinks plan to widen EPF coverage
4. New species of Pika discovered
.
+++++++++++++++++++++++++++++++++++++++++++++++
Useful News Articles
A. GS1 Related
Nothing here today folks!
B. GS2 Related
Category: Centre's programs and policies
Topic:  Black money
Key Points: 
Union Finance Minister Arun Jaitley announced that the Central Board of Direct Taxes (CBDT) had received total disclosures of 65,250 crore under the Income Disclosure Scheme (IDS) – 2016 in the form of cash and other assets.
The four-month window under the Income disclosure scheme for declaring undisclosed income or black money that had escaped assessment closed recently.
Union Finance minister further said unlike the IDS, the earlier scheme, the voluntary disclosure scheme of 1997 which mopped up Rs. 9,760 crore in taxes at an average of about Rs. 7 lakh per declarant had not penalised the declarents and allowed them to value the assets declared at the market prices of 1987 rather than current rates.
Note – In the 175 cases of black money allegedly stashed overseas in HSBC bank accounts, the CBDT has already filed 164 prosecutions following assessments of sums that add up to Rs 8,000 crore. The probe is being monitored by the Special Investigation Team (SIT), set up under the directions of the Supreme Court.
Following the leads from the investigations undertaken by the International Consortium of Investigative Journalists (ICIJ), the CBDT has detected Rs.5,000 crore of undisclosed deposits in foreign accounts made and filed 55 prosecution cases in those cases. Similarly, investigation in the Panama cases has led to 250 references being made to other countries asking for details about tax evaders, bank accounts etc. A quantum jump in the searches and survey has resulted in the seizure of Rs.1986 crore as well as undisclosed income of Rs.56,378 crore in the last two and half years.
Overview:
Income Disclosure Scheme (IDS) 2016 –
It provided a one-time opportunity to black money holders who had not paid full taxes in the past to come clean by declaring their domestic undisclosed income and assets by paying tax plus penalty at the rate of 45 per cent.
No target for disclosures or collections from the scheme had been set for theThe government stands to mop up 45 per cent of this, or about Rs 29,000 crore, in taxes and penalties. It is one of the steps taken by the centre to increase tax compliance and reducing tax avoidance in the country.
The CBDT removed the difficulties that had been expressed by those wanting to avail of the scheme, especially with respect to making the tax payment within a short span by agreeing to accept it in three instalments, the last being in September 2017. The declarents have been assured of absolute confidentiality.
The income tax and penalties collected under the scheme will be used for public welfare.
Category:  State government's policy
Topic: Alcohol prohibition
Key Points:
The State government appeared all set to implement the new stringent Bihar Excise and Prohibition Act, 2016 despite Patna High Court order which set aside the prohibition law in Bihar made effective from April 5.
The Bihar government may also file a special leave petition in the Supreme Court soon to challenge the High Court's order. State government's counsel said "The Patna High Court order has come in relation with the previous Act of prohibition made effective from April 5 in the State but the new Bihar Excise and Prohibition Act, 2016, will be implemented from October 2".
Category: International
Topic: UN panel on terrorism
Key Points:
India's efforts to isolate Pakistan globally would be tested when a United Nations Sanctions Committee takes up the proposal to put Jaish-e-Mohammad (JeM) chief Masood Azhar on the list of proscribed terrorists. China had put a technical hold on this proposal in April, 2015.
Azhar, a resident of Bahawalpur in Pakistan, has been accused by India of orchestrating several terror attacks here, the latest being the attack on an Army camp in Jammu and Kashmir's Uri. The National Investigation Agency (NIA), which is probing both the Pathankot and Uri attacks, is learnt to have given crucial points nailing Azhar's direct role in the terror attacks.
India said it would apprise the 1999 resolution – 1267 Taliban/Al-Qaeda Sanctions Committee that Azhar has close links to the Taliban and consequently to Al Qaeda.
China has three options now but they were not very optimistic. China can extend the technical hold, convert the hold to a block, or allow the designation (as a terrorist) to go through
Category: Bilateral
Topic: Indo-china
Key Points:
China has blocked a tributary of the Brahmaputra (Yarlung Zangbo) as part of a major hydro-electric project, whose construction began in 2014. The blockage is a part of China's most expensive hydro project. The Brahmaputra in its upper reaches is called Yarlung Zangbo, after it originates from the Angsi glacier in western Tibet, southeast of Mount Kailash and Mansarovar Lake.
China said the current plan falls within the parameters of the larger Lalho project that began in 2014. The project on the Xiabuqu in Xigaze, also called Shigatse (a railhead of the Qinghai-Tibet railway, very close to Nepal, Bhutan and Sikkim) involves an investment of $740 million. The multipurpose enterprise, which includes construction of two power stations with a combined generation capacity of 42 MW, was scheduled for completion in 2019. Its reservoir is designed to store up to 295 million cubic meters of water and helps irrigate 30,000 hectares of farmland.
So far, China has maintained that its dams do not restrict the flow of water towards India as they are based on run-of-the river principle. China's 13th five year plan has proposed significant hydropower expansion along rivers that also originate in the Tibetan plateau. Although the plan does not mention any river specifically, it is anticipated that the new dams are envisaged along the Yarlung Zangbo, Lancang (Mekong) and Nu (Salween), all originating in the Tibetan plateau.
Note – China's move coincides with the debate in India on the re-calibration of Indus water flows into Pakistan following a cross-border raid in Uri that killed 18 Indian troops.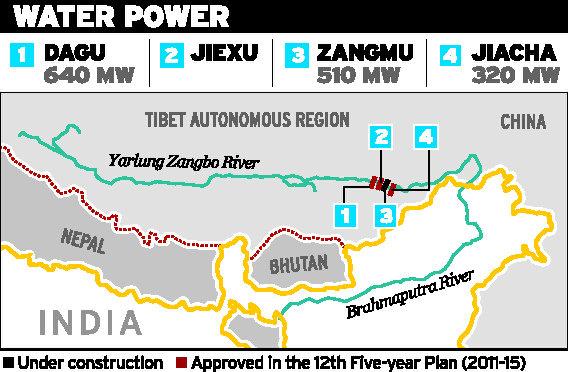 C. GS3 Related
Category: Environment
Topic: UNFCCC – Climate funds
Key Points:
A day before India ratifies the Paris climate agreement the union environment minister emphasised that India would push for finance and technology from developed countries at the climate talks (COP-22) in Morocco. The minister also confirmed that there was no link between India ratifying the deal and its membership to the Nuclear Suppliers Group (NSG).
At the climate talks in Morocco in November, 2016 India would stress most on trying to operationalise the $100 billion corpus called the Green Climate Fund committed by developed countries to aid policy, projects and technology transfer as a buffer against the impact of climate change. Unfortunately, only a fraction of it ($2 million out of $10 Billion) has been pledged so far.
The minister further said India will also set up a pavilion at the climate talks in Morocco to showcase Gandhiji's low carbon lifestyle.
On INDC's – The funds will help nations work on fulfilling their Intended Nationally Determined Contributions (INDC) which aim to reduce carbon emissions through a host of solutions. Union environment minister said that India has already completed 12 per cent of all pre-2020 Intended National Determined Contributions (INDC), or the road map by which it will make good on its commitments to reduce carbon emissions. As part of its INDC plans, India had promised to bring down its emissions intensity, or emissions per unit of the GDP, by at least 33 per cent by the year 2030 as compared to 2005 levels.
2.
India got 3% less rain than normal
Category: Environment
Topic: IMD – Weather forecasting
Key Points:
According to Indian Meteorological department (IMD), India has ended up with 3 per cent less rain than normal during the monsoon months of June to September, 2016. This is the first time since 2011 that the department was not able to forecast the overall sign of the monsoon – meaning that it expected heavy rain but ended up with less than normal. In 2014 and 2015, the India Meteorological Department (IMD) could not anticipate the severity of the droughts but had indicated that monsoon would be below normal.
In 2011, the IMD said India would get below normal (95% of the average) rain, but the country ended up with 2 per cent more rain than normal.
The Director General (DG) of IMD said the forecasting agency is not worried that we couldn't get the trend right because all monsoon models in the world had expected a La Nina to form during the end of the monsoon. Moreover there have been no reports of moisture stress from any region.
He added that through the monsoon months, there were indications that East and Northwest India would see rain deficits, but the delayed La Nina greatly affected the rains in South India, which has so far seen an 8 per cent deficit. Deficient rain over South India led to riots and violence in Karnataka and Tamil Nadu over the sharing of Cauvery waters.
On La-Nina: IMD said, activation phase of La Nina – a weather phenomenon that is the converse of the El Nino that brings good rains to India was supposed to boost rains in September. However the near normal rains have so far been well distributed and had contributed to good kharif sowing.
3.
Centre rethinks plan to widen EPF coverage
Category: Economy
Topic: EPFO
Key Points:
The centre is reconsidering a plan to widen the social security net for workers by bringing more factories under the provident fund coverage. The Labour Ministry had proposed to bring down the threshold limit for coverage of firms under the Employees' Provident Fund (EPF) to factories with at least 10 workers. At present, the EPF Act is applicable to factories with minimum 20 workers. The labour ministry said the proposal to decrease the threshold limit was found to be contradictory with another proposal in the Act to give an option to workers to switch to the National Pension System (NPS), managed by the Pension Fund Regulatory and Development Authority.
The Cabinet Secretariat has pointed out a few contradictions in the Labour Ministry's proposal to amend the Employees' Provident Fund and Miscellaneous Provisions Act of 1952
Note – In the Union Budget 2015-16 speech Finance Minister Arun Jaitley had proposed allowing EPF subscribers to opt for NPS and to make EPF contributions optional for workers below a certain income threshold. In June, 2016 Centre proposed making EPF optional for textile workers earning less than Rs 15,000 a month as a part of a special package for the garments sector. The government's proposal to bring factories with at least 10 workers under the EPF fold can bring 50 lakh additional workers under the social security coverage.
At present, 8.7 crore workers are subscribed to EPFO out of which around 3.77 crore workers made active contributions to their PF account till 2015-16.The proposal to cover factories with at least 10 workers under the EPF Act was one of the recommendations of the 44th Indian Labour Conference Session held in 2012.
4.
New species of Pika discovered
Category: Environment
Topic: Biodiversity
Key Points:
Scientists from Bengaluru based National Centre for Biological Sciences (NCBS) announced discovery of a new species of Pika, a mammal belonging to the rabbit and hare family (Lagomorpha), in the Himalayas in NCBS said discovering a new mammal in 2016 from a hotspot like the Himalayas proves that we need to conduct much more research in the region.
Note – Pikas are members of the rabbit family and live in the mountains or in temperate regions. They are keystone species and ecosystem engineers, and studying their evolution can shed more light on the Himalayan ecosystem.
D. GS4 Related
Nothing here today folks!
E. Important Editorials: A Quick Glance
Nothing here today folks!
The Hindu
Nothing here today folks!
F. Concepts-in-News: Related Concepts to Revise/Learn:
International and National counter-terrorism initiatives
National centre for biological sciences
UNFCCC – Paris pact
Intended nationally determined contributions
EPFO
IMD
El Nino and La Nina
G. BILLS/ACTS/SCHEMES/ORGS IN NEWS
H. Fun with Practice Questions 🙂
Question 1: Which of the following statements are correct regarding the Indian Individual Nationally Determined Contributions (INDCs) to combat Climate Change?
i) It aims to reduce the National Emissions Intensity by 33% to 35% by 2030.
ii) Generation of forests (Carbon Sinks) which can absorb 3 billion tonnes of carbon equivalent by 2030
iii) By 2030, 50% of our energy needs should be fulfilled by non-conventional (renewable) sources.
a) i) and ii) only
b) ii) and iii) only
c) i) and iii) only
d) All 3
Question 2: Consider the following statements about National Centre for Biological Sciences (NCBS):
It is part of the Tata Institute of Fundamental Research (TIFR) under the Department of Atomic Energy.
Its mandate is basic and interdisciplinary research in the frontier areas of biology.
Which are correct?
a) 1 only
b) 2 only
c) Both 1 and 2
d) Neither 1 nor 2
Question 3: Which of the following is a Bio-diversity Hotspot?
a) Eastern Himalayas
b) Western Himalayas
c) Sundarbans
d) Nilgiris.
Question 4: Which of the following statements are correct about Article 47 of the Indian constitution - the State shall endeavour to bring about prohibition of the consumption except for medicinal purposes of intoxicating drinks and of drugs which are injurious to health?
It is a Gandhian principle under the Directive principles of State policy (DPSP)
It is enforceable in a court of law.
a) 1 only
b) 2 only
c) Both 1 and 2
d) Neither 1 nor 2
Question 5: Which of the following statements are correct regarding the National pension scheme (NPS)?
It is administered by Pension Fund Regulatory and Development Authority (PFRDA).
It is applicable for government employees only.
a) 1 only
b) 2 only
c) Both 1 and 2
d) Neither 1 nor 2
"Proper Current Affairs preparation is the key to success in the UPSC- Civil Services Examination. We have now launched a comprehensive 'Online Current Affairs Crash Course'.
Limited seats available. Click here to Know More."