Table of Contents:
1. Two bulls die in AP jallikattu
1. Peers propose 'student-friendly' move
2. Paris hosts symbolic peace meet amid protests from Israel
1. Rawat warns of crackdown, but another video surfaces
2. Water supply hit as ammonia levels rise
3. Market regulator tightens merger norms
4. Post-demonetisation, GDP to grow at 6% for next five years, says CMIE
2. Smoking e-cigarettes is injurious to health
1. App named 'SEZ India' launched by Commerce Ministry
2. The Adoption Regulations to further strengthen the adoption programme in the country

.
+++++++++++++++++++++++++++++++++++++++++++++++
Useful News Articles
A. GS1 Related
Category: Indian Heritage and Culture
Topic: Indian Festivals
Key Points:
The cattle festival near Kuppam town ended in a tragedy on Sunday with two panicked bulls dying after a railway engine struck them.
The festival does not strictly match the Tamil Nadu version.
As per the game rules, the frenzied bulls, which were said to have been subjected to intoxication, were released into the open to be tamed by participants.
Jallikattu:
Jallikattu is a bull taming sport played in Tamil Nadu as a part of Pongal celebrations on Mattu Pongal day. It is a Tamil tradition meaning, to embrace bulls, popular amongst warriors during the Tamil classical period.
B. GS2 Related
Category: International Relations
Topic: Effect of policies and politics of developed and developing countries on India's interests, Indian diaspora.
Key Points:
Members of the House of Lords in U.K are pushing for the government to remove international students from migration figures.
The issue of whether or not students who only reside in the U.K. temporarily should be included in migration figures has been the subject of heated debate both in Parliament and in the media.
The debate happens in the context of a sharp decline in Indian students in the U.K while by contrast Chinese student numbers rose between the period 2011-2016.
The move comes in the form of an amendment to the controversial Higher Education and Research Bill
The amendment shall ensure that no student, either undergraduate or postgraduate, who has received an offer to study at such a higher education establishment shall be treated for public policy purposes as an economic migrant to the U.K., for the duration of their studies at such an establishment
The move could help halt the decline in Indian students as a result of tightening government policy both on visas and educational institutions. It will also help to ward off negative perceptions about Britain's openness to foreign students.
Category: International Relations
Topic: Effect of policies and politics of developed and developing countries on India's interests
Key Points:
Diplomats from 70 countries gathered in Paris on Sunday to try to revive Israeli-Palestinian peace efforts
Neither Israel nor the Palestinians are represented at the conference, which Israeli Prime Minister Benjamin Netanyahu has dismissed as "rigged" against the Jewish state.
Both Mr. Netanyahu and Palestinian President Mahmud Abbas have been invited to meet with President Francois Hollande to discuss the conclusions of the Paris talks. Mr. Abbas, who has backed the meeting, is expected to travel to Paris in the coming weeks but Mr. Netanyahu rejected the offer
Two state solution :
The two-state solution refers to a solution of the Israeli–Palestinian conflict which calls for "two states for two groups of people." The two-state solution envisages an independent State of Palestine alongside the State of Israel, west of the Jordan River. The boundary between the two states is still subject to dispute and negotiation, with Palestinian and Arab leadership insisting on the "1967 borders", which is not accepted by Israel.
C. GS3 Related
1.
Rawat warns of crackdown, but another video surfaces
Category: Security Challenges
Topic: Role of media and social networking sites in internal security challenges
Key Points:
Despite Army Chief Gen. Bipin Rawat sounding a warning to soldiers against using social media to air their grievances instead of going through the regular channels, a third video has surfaced
The army chief also warned that the jawan can be held guilty of a crime and get punished
The video highlight the difficulties the troops face on the border.
The first video highlighted the poor quality food offered to the jawans while the second video highlighted the jawans' grievances against the sahayak (orderly) system in the Army and spoke of soldiers being forced to "wash clothes, polish boots and walk dogs" for seniors.
The army chief said that such incidents affects the morale of the jawans and thereby the force.
The Defence Ministry had taken note of the incidents which they termed as "systemic issues".
Way forward:
The army chief announced that a "suggestion and grievance" system would be put in place through which soldiers could reach him directly without their identity being disclosed.
Category: Conservation, environmental pollution and degradation
Topic: Water pollution  
Key Points:
Water supply in north, north-west and central Delhi was affected due to high ammonia levels in the raw water supply on Sunday.
The water with very high ammonia levels cannot be treated with agents like chlorine as after coming in contact with ammonia it will produce trihalomethane, which is carcinogenic in nature.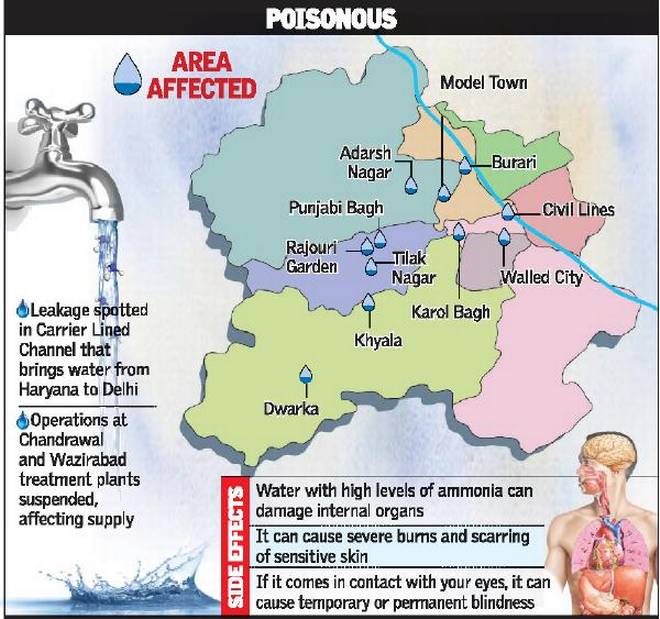 Category: Indian Economy
Topic: Mobilization of resources
Key points:
The Securities and Exchange Board of India (SEBI) has tightened the norms for merger of an unlisted company with a listed entity to safeguard the interests of the public shareholders.
The regulator was concerned because there have been instances where the route of merger was used to get an indirect listing for an unlisted company.
There was another category of misuse where under an arrangement; securities were being issued to promoter related persons only.
New Norms include:
The holding of public shareholders post the merger cannot be less than 25%.
The watchdog has stipulated a similar threshold for institutional shareholders of the unlisted entity as well, post-merger.
An unlisted company can be merged with a listed company only if the latter is listed on a stock exchange having nationwide trading terminals.
E-voting has been made mandatory in cases wherein the stake of such shareholders reduces by more than 5% in the merged entity.
The broker fees has been reduced by 25% from Rs. 20 per crore of turnover to Rs. 15 crore. This will result in reduction of overall cost of transactions and will benefit the investors and promote the development of securities market
In order to help mutual fund investors take better informed decisions, SEBI has decided that fund houses will have to include in their advertisements, the performance of the scheme in terms of CAGR for the past one year, three years and five years and since inception
Sebi also allowed mutual funds to invest in hybrid instruments like REITs and InvITs.
Category: Indian Economy
Topic: Indian Economy and issues relating to planning, mobilization of resources, growth, development and employment.
Key points:
The Centre for Monitoring Indian Economy (CMIE) has predicted The country's GDP growth rate for the current financial year is set to slow to 6% on account of demonetisation and is expected to maintain the same rate for five years.
Before the demonetisation shock, the Indian economy was expected to gradually accelerate its real GDP growth rate from 7.5% to over 8% per annum
The removal of 86% of the currency in circulation led to a sharp decline in private consumption expenditure reflected in the fall in retail inflation to 3.6% in November and the fall in sales reported by several fast-moving consumer goods companies
The dislocation of labour, due to workers having to waste productive time standing in a line at banks, and further losing out on wages because employers themselves did not have the cash to pay them, further dampened consumption expenditure.
The situation is likely to persist till liquidity and confidence in liquidity is fully restored.
D. GS4 Related
E. Important Editorials: A Quick Glance
The Hindu
Category: Environmental impact assessment Disaster and disaster management.
Topic: Disaster and disaster management
Key Points:
The boat disaster in the Ganga on Makar Sankranti day killed at least 24 people.
The immediate reason is cited as a large number of people had apparently crammed themselves into a small vessel for a free ride after witnessing a kite festival.
The incident is a reminder that safety in public transport remains a low priority for governments.
The absence of safety training for operators is painfully evident.
The Way Forward
The tragedy was obviously the result of serious neglect of safety norms for which accountability must be fixed.
A judicial commission should be constituted to inquire into the incident, to determine whether the laws on transport using inland waterways are being implemented and to issue directions for the future.
It is incumbent on the States to apply some provisions of the Motor Vehicles Act to accidents, compensation and insurance against third-party risks for powered boats.
Enforce construction standards of boats, subsidy for transport boats, passenger insurance and accident compensation
The supply problem should be tackled through provision for greater number of boats .
Category: Issues relating to development and management of Social Sector/Services
Topic: Health
Key Points:
Electronic nicotine delivery systems (ENDS), the most common prototype of which are e-cigarettes, are the new-age formula for people trying to quit smoking.
They are projected as 'tobacco cessation' products by various sellers, including tobacco giants themselves, the lack of concrete evidence in support of this claim coupled with the absence of any regulatory approval for their use make them a serious public health threat.
The increasing import of e-cigarettes into the country and Market research also projects the compound annual growth rate of the Indian e-cigarette industry at 63.38 per cent in the period 2013-2018
Concerns over e-cigarettes:
E-cigarettes contain nicotine and not tobacco, they do not fall within the ambit of the Cigarettes and Other Tobacco Products (Prohibition of Advertisement and Regulation of Trade and Commerce, Production, Supply and Distribution) Act, 2003 (COTPA), which mandates stringent health warnings on the packaging and advertisements of tobacco products.
Most e-commerce websites sell e-cigarettes as therapeutic products which enable people to quit smoking.
Easily accessible on e-commerce websites often with less appropriate health warnings which often do not display them as a part of the description of the product.
Warnings are displayed at the bottom of the web page or clubbed with the section on terms and conditions, unlikely to be noticed by a regular buyer.
The possibilities of the product explodingand accidental consumption of the liquid inside the e-cigarette, which leads to death.
It increases the possibility of e-cigarettes becoming a gateway for smoking by inducing nicotine addiction and perpetuating smoking by making it more attractive, thereby encouraging persons to become users of tobacco as well as e-cigarettes.
The way forward:
In the absence of clearer evidence on the effect of e-cigarettes on tobacco cessation, it is imperative that their sale be accompanied by accurate health warnings.
A uniform approach in dealing with this public health problem across states rather than different State governments adopting different routes Ex:Punjab has classified nicotine as a poison, while Maharashtra treats it as an unapproved drug.
The Indian government should impose appropriate restrictions on the sale and advertisement, online and otherwise, of e-cigarettes, including proper health warnings, in order to plug the existing regulatory vacuum
Simultaneously the government should also commission independent scientific research on the benefits and risks posed by these products in the Indian context.
The government may then make an informed decision regarding their regulation as tobacco imitation products or as therapeutic products.
Category: e-governance
Topic: e-governance- applications
Key Points:
The App would help the SEZ Units and Developers to find information easily and track their transactions
Now the SEZ Developers & Units can file all their transactions digitally through SEZ Online system and track the status on the go through the SEZ India mobile app.
The app has four sectionse. SEZ Information, SEZ Online Transaction, Trade Information, and Contact details.
Category: Vulnerable sections
Topic: mechanisms, laws, institutions and Bodies constituted for the protection and betterment of these vulnerable sections
Adoption Regulations, 2017 framed by 'Central Adoption Resource Authority' (CARA) as mandated by the Juvenile Justice (Care and Protection of Children) Act, 2015
The Adoption Regulations have been framed keeping in mind the issues and challenges faced by CARA and other stake holders including the Adoption Agencies& Prospective Adoptive Parents (PAPs). This will further strengthen adoption programme in the country by streamlining the adoption process. Transparency, early deinstitutionalisation of children, informed choice for the parents, ethical practices and strictly defined timelines in the adoption process are the salient aspects of the Adoption Regulations.
Salient features of the Adoption Regulations, 2017:-
Procedures related to adoption by relatives both within the country and abroad have been defined in the Regulations.
Validity of Home Study Report has been increased from two to three years.
The time period available to the domestic PAPs for matching and acceptance, after reserving the child referred, has been increased to twenty days from the existing fifteen days.
District Child protection Unit (DCPU) shall maintain a panel of professionally qualified or trained social workers.
There are 32 Schedules annexed to the Regulations including model adoption applications to be filed in the Court and this would considerably address delays prevalent in obtaining the Court order.
CARA shall be facilitating all adoptions under the JJ Act, 2015 through Child Adoption Resource Information & Guidance System (CARINGS) and all kinds of adoptions, including adoptions by relatives shall be reported to CARA which would enable safeguards for all adopted children by maintaining their record and ensuring post adoption follow up.
Central Adoption Resource Authority (CARA) is a statutory body of Ministry of Women & Child Development, Government of India. It functions as the nodal body for adoption of Indian children and is mandated to monitor and regulate in-country and inter-country adoptions.
F. Concepts-in-News: Related Concepts to Revise/Learn:
Israel Palestine conflict.
Non Communicable diseases.
G. BILLS/ACTS/SCHEMES/ORGS IN NEWS
The Juvenile Justice (Care and Protection of Children) Bill, 2014
H. Fun with Practice Questions 🙂
Question 1: Consider the following statements regarding the Juvenile Justice (Care and Protection of Children) Bill 2014:
A Special Juvenile Police Units (SJPU) will be established in each district, consisting of a police officer and two social workers.
A single or divorced person cannot adopt a girl child.
States shall constitute one or more Child Welfare Committees (CWCs) for each district for dealing with children in need of care and protection.
Which of the above statements are true?
a) Only 1
b) Only 1 & 2
c) Only 1 and 3
d) All of the above
Question 2: Consider the following statements regarding ammonia
Water with high levels of ammonia can cause blue baby syndrome.
High levels of ammonia in water can be removed by treating it with chlorine and made safe for human consumption.
Which of the above statements is/are correct?
A) Only 1
B) Only 2
C) Both 1 and 2
D) Neither 1 nor 2
Question 3: Which of the following statements are true with respect to the incentives to the units in SEZs
Exemption from Central Sales Tax.
Exemption from Service Tax.
Exemption from State sales tax and other levies as extended by the respective State Governments.
A) Only 1
B) Only 1 and 2
C) Only 2 and 3
D) All of the above
Question 4: Which of the following countries do not border with Israel?
A) Jordan
B) Egypt
C) Iraq
D) Syria
Question 5: Which of the following statements is true with respect to SEBI?
It is a non statutory body.
It is the regulatory authority for commodity futures market.
A) Only 1
B) Only 2
C) Both 1 and 2
D) Neither 1 nor 2
"Proper Current Affairs preparation is the key to success in the UPSC- Civil Services Examination. We have now launched a comprehensive 'Online Current Affairs Crash Course'.
Limited seats available. Click here to Know More."