Table of Contents:
POLITY AND GOVERNANCE
1. Government Aims To Make India A Global Biotech Hub By 2020
2. Filling HC vacancies on war footing: Khehar
3. Poll panel backs life ban on convicts
INTERNATIONAL RELATIONS
1. Modi to fast-track his visit to Oman
2. New Delhi, Kabul talks soon to boost trade
ECONOMY
1. The GST law will be the biggest reform in the area of Indirect Taxes in the history of independent India
2. Review of implementation of SEZ Policy
3. Reliance Communications, Aircel merger gets CCI nod
4. NPCI denies loophole in BHIM app
ENVIRONMENT AND ECOLOGY
1. Graded Action Plan to reduce Urban Air Pollution
3. Green nod for Neutrino project suspended
4. Bear cubs sighted at Daroji sanctuary
5. Efforts at sparrow conservation pick up pace across Odisha
6. Ganga, Yamuna termed 'living persons'
MISCELLANEOUS
1. Sign language dictionary to release in India soon
1. Range State
************************************************************************************************************

.
************************************************************************************************************
Useful News Articles for UPSC Current Affairs
A. GS1 Related
Nothing here for today!!!
B. GS2 Related 
Category: POLITY AND GOVERNANCE


1. Government Aims To Make India A Global Biotech Hub By 2020
Key Points
The Minister of State for Science and Technology and Earth Sciences, has said that biotechnology will be the pioneer among the information based enterprises of the 21st century.
Ministry called for endeavors to set up an appropriate biological community with supportable frameworks, especially in center points of rustic India.
Research and development has been one of the key ranges stressed by the Prime Minister.
Comprehensively, BIRAC has been hailed as a standout amongst the best government measures to make an empowering situation for innovative work to prosper in a nation.
We intend to form India into a worldwide development center point by 2020 and BIRAC has prepared to convey on that order.
The fifth Foundation Day themed 'Affecting the Biotech Innovation Ecosystem' was directed by and gone to by countless from the logical and industry parts both from inside the nation and supervises.
BIRAC bolsters business people and new companies at various phases of advancement – from the ideation stage to overseeing protected innovation rights lastly to the commercialization of items. Diverse activities of BIRAC target distinctive phases of the advancement biological system from ideation stages to verification of-idea and late stage approval to item improvement.
Since its origin in 2012, BIRAC has made about two dozen hatcheries the nation over and bolstered more than 350 new businesses. We solidly trust that social business is the way to making a comprehensive society and our administration is focused on giving all the fundamental support.
The science and innovation area will assume a key part in the administration's Start-Up India Action Plan.
The DBT, in accordance with the Start-Up India Action Plan has attempted various activities fixated on the three mainstays of a perfect development biological community – subsidizing, tutoring and limit building, and the framework to make an interpretation of logical research into business items.
BIRAC executes its order through an extensive variety of high effect activities, giving access to hazard capital through focused financing, encouraging innovation exchange, and supporting protected innovation administration and handholding plans for biotech firms to make them comprehensively aggressive.
Government is introducing steady approaches and evacuating administrative boundaries to make an environment of advancement and business enterprise in the nation.
2. Filling HC vacancies on war footing: Khehar
What's in news?
Against the sanctioned strength of 1079 High Court judges, around fifty percent is vacant.
Chief Justice J.S. Khehar– Filling of judicial vacancies in the High Court is progressing on a war footing.
Memorandum of Procedure for Appointment of Judges (Tussle between government and Judiciary)
National Security Clause– Controversial- Government reserves the right to reject the name suggested by the collegiums if the person was found to be a national threat.
Right to reiterate– The collegiums has reserved the right to reiterate a judicial name in case it is not satisfied with the government's reason for vetoing.
Key Facts
Total sanctioned strength of judicial officers in district and subordinate courts-21,320, filled posts- 16,383, Vacant – 4,937 (Facts not important).
National Judicial Data grid –
Pendency of cases in district court- 2.7crore
Pending cases for over 10years- 10% of 2.7 crore.
Basic Information
National Judicial Data grid:
NJDG will work as a monitoring tool to identify, manage & reduce pendency of cases.
The Supreme Court of India launched a public access portal of the National Judicial Data Grid (NJDG) for district courts to demystify the judicial process for the ordinary citizen.
The public access portal will disseminate national, state, district and court-wise information about institution and disposal of cases on a monthly basis.
The NJDG will also provides daily statistics on case pendency before the courts under the e-courts projects. 
3. Poll panel backs life ban on convicts

What's in news?
Public Interest Litigation Petition was filed in Supreme Court – "championing the cause of decriminalisation of politics,"
The Election Commission has endorsed a public interest litigation petition in the Supreme Court seeking life-long bar on convicts from contesting polls and entering the legislature.
The Election Commission – uniform ban would be in the spirit of fundamental rights of the Constitution, including the right to equality.
Present Scenario:
Person, who is convicted, is debarred from contesting any elections for the period of his or her prison sentence and six years thereafter.
Other reformative suggested by Election Commission :
De-criminalisation of politics.
Making bribery a cognisable offence.
Prohibition on advertisements 48 hours before elections.
A strict ban on paid news – recommended by the Law Commission in its 244th and 255th reports.
Fixing the maximum age criteria and minimum educational qualification- Election Commission said the issue was in legislative domain and would require amendments to the Constitution.

Category: INTERNATIONAL RELATIONS


1. Modi to fast-track his visit to Oman
Key Highlights
India had set up the first bilateral infrastructure fund with Oman, but the project has not moved as fast as expected.
MoU on food security -for assured supplies of wheat, rice and sugar.
2. New Delhi, Kabul talks soon to boost trade
What's in news?
India will soon hold talks with Afghanistan on ways to boost bilateral trade and investment.
Key Point
The first such meeting since January 2014, is aimed at mounting pressure on Islamabad to facilitate trouble-free transit of goods from India to Afghanistan through Pakistan (Wagah-Attari route).
This is to help in the development of Afghanistan which is a land-locked and Least Developed Country (LDC) as well as to boost trade and investment in South Asia through better regional connectivity.
The United Nations TIR (Transports Internationaux Routiers or International Road Transport) Convention facilitates trade and international road transport by permitting customs-sealed vehicles and containers to transit nations without them being generally inspected at border crossings. The Union Cabinet chaired by Prime Minister Narendra Modi had earlier this month granted its nod for India's accession to the TIR Convention. Pakistan and Afghanistan are also 'contracting parties' to the TIR Convention.
Thanks to the Afghanistan-Pakistan Transit Trade Agreement (APTTA), Afghanistan can use Pakistan's territory for transit trade while Pakistan's goods can move through Afghanistan to nations bordering Afghanistan. However, Islamabad has not agreed to allow using APTTA for goods to be transported from India to Afghanistan through Pakistan's territory (via the Wagah-Attari route).
India is keen to join APTTA and Afghanistan has backed India's readiness to be an APTTA member but Pakistan has so far rejected such a proposal.
Why India wants this?
In the absence of transit route through Pakistan, India depends on other countries, including Iran, to send goods to Afghanistan even though it increases time and costs for Indian exporters.
India is also planning to strengthen air cargo links with Afghanistan as well as help expedite the development of Chabahar Port in Iran to bypass the Pakistan route to increase trade relations with Afghanistan, Iran and Central Asian countries.
The India–Afghanistan trade and investment meeting will also consider more support from India to Afghanistan through Line of Credit, especially the Buyer's Credit for project exports by Indian companies to Afghanistan.
C. GS3 Related
Category: ECONOMY


1. The GST law will be the biggest reform in the area of Indirect Taxes in the history of independent India
      1. The Central Goods and Services Tax Bill 2017 (The CGST Bill)
The CGST Bill makes provisions for levy and collection of tax on intra-state supply of goods or services for both by the Central Government.
     2. The Integrated Goods and Services Tax Bill 2017 (The IGST Bill)
IGST Bill makes provisions for levy and collection of tax on inter-state supply of goods or services or both by the Central Government.
     3. The Union Territory Goods and Services Tax Bill 2017 (The UTGST Bill)
The UTGST Bill makes provisions for levy on collection of tax on intra-UT supply of goods and services in the Union Territories without legislature. Union Territory GST is akin to States Goods and Services Tax (SGST) which shall be levied and collected by the States/Union Territories on intra-state supply of goods or services or both.
      4. The Goods and Services Tax (Compensation to the States) Bill 2017 (The Compensation Bill)
The Compensation Bill provides for compensation to the states for loss of revenue arising on account of implementation of the goods and services tax for a period of five years as per section 18 of the Constitution (One Hundred and First Amendment) Act, 2016.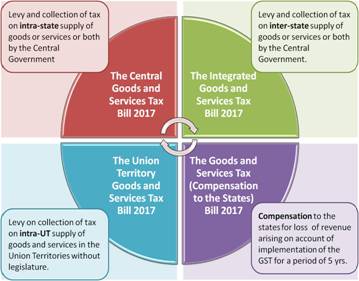 Advantages of GST
By amalgamating an expansive number of Central and State charges into a solitary assessment, it would moderate cascading or double taxation collection significantly and prepare for a typical national market.
The Goods and Services Tax will in this manner help in the acknowledgment of the goal of "One Nation, One Tax" and enhance the Ease of Doing Business atmosphere in the nation.
It will likewise in a roundabout way advantage the normal man by decreasing the taxation rate particularly on the day by day buyer things of the regular man.
Presentation of GST would likewise make Indian items focused in the local and universal markets.
Thinks about demonstrate this would have a boosting sway on monetary development. It is normal that the usage of the Goods and Services Tax law will prompt an expansion in Gross Domestic Product (GDP) of the nation by 1-2%. This thus will prompt the making of greater work and increment in efficiency.
2. Review of implementation of SEZ Policy
Key highlights
The Government, on the premise of sources of info/recommendations got from partners on the approach and operational system of the SEZ Scheme, occasionally surveys the strategy and operational structure of SEZs and takes essential measures in order to encourage expedient and viable usage of SEZ arrangement.
The accompanying activities have been taken as of late for usage of the SEZ arrangement in the nation and resolve the issues in that:
1. Min Land Area prerequisite for setting up of new SEZs has been diminished to half for Multi-item and Sector-particular SEZs.
2. Sectoral expansive banding has been acquainted with envelop comparable/related territories under a similar Sector.
3. Another part 'agro-based sustenance preparing' division has been acquainted with support agro-based enterprises in SEZs.
4. Double utilization of offices like Social and Commercial framework by SEZs and non-SEZs elements has been permitted keeping in mind the end goal to make SEZ operations more feasible.
5. Web based preparing of different exercises identifying with SEZ Developers and Units has been presented for enhancing simplicity of working together.
What are SEZ's?
A special economic zone (SEZ) is an area in which business and trade laws are different from rest of the country.
SEZs are located within a country's national borders, and their aims include: increased trade, increased investment, job creation and effective administration.
To encourage businesses to set up in the zone, financial policies are introduced. These policies typically regard investing, taxation, trading, quotas, customs and labour regulations.
Additionally, companies may be offered tax holidays, where upon establishing in a zone they are granted a period of lower taxation.
The creation of special economic zones by the host country may be motivated by the desire to attract foreign direct investment (FDI).
The benefits a company gains by being in a special economic zone may mean it can produce and trade goods at a lower price, aimed at being globally competitive
In some countries the zones have been criticized for being little more than Chinese labor camps, with workers denied fundamental labor rights.
3. Reliance Communications, Aircel merger gets CCI nod
Why in news ?
Reliance Communications on Monday said it had received the approval of the Competition Commission of India (CCI) for the demerger of its wireless division into Aircel Ltd. and Dishnet Wireless Ltd.
Basic Information:
Competition Commission of India is a body of the Government of India responsible for enforcing The Competition Act, 2002 throughout India and to prevent activities that have an appreciable adverse effect on competition in India. It was established on 14 October 2003.
The idea of Competition Commission was conceived and introduced in the form of The Competition Act, 2002. A need was felt to promote competition and private enterprise especially in the light of 1991 Indian economic liberalization.
The Competition Act, 2002, as amended by the Competition (Amendment) Act, 2007, follows the philosophy of modern competition laws. The Act prohibits anti-competitive agreements, abuse of dominant position by enterprises and regulates combinations (acquisition, acquiring of control and Merger and acquisition), which causes or likely to cause an appreciable adverse effect on competition within India.
4. NPCI denies loophole in BHIM app
What's in news ?
National Payments Corporation of India (NPCI), which developed the application for the Unified Payment Interface (UPI), has denied reports about technical malfunction or vulnerability of the app.
NPCI has done intensive testing, robust design of security controls and continuous monitoring of its UPI infrastructure. The environment in which BHIM or UPI is run by NPCI is highly secure and certified with best global practices like PCI DSS ISO 27001. The packages have also been audited by reputed IT security firms. NPCI has put in place adequate governance mechanism for banks to report any fraud or system issues and its redressal.
While the there was 19.16 million downloads of the BHIM app, only 5.1 million customers were able to link to it their bank accounts.
Basic Information:
BHIM is a biometric payment system app using Aadhar platform, and is based on Unified Payment Interface (UPI) to facilitate e-payments directly through bank. It was launched to stress on the importance of technology and digital transactions. It can be used on all mobile devices, be it a smartphone or a feature phone with or without internet connection.
The payments through the new system (BHIM App) can be made by just a thumb impression after the bank account is linked with Aadhaar gateway. Indeed, the technology through BHIM will empower poorest of the poor, small business and the marginalised section.
Key Points
The Asia Pacific Trade Agreement (APTA, formerly the Bangkok Agreement) is an Agreement signed since 1975.
The current membership of APTA consists of six countries, namely, Bangladesh, China, India, Lao PDR, Republic of Korea, and Sri Lanka.
Three Rounds of tariff concessions have already been exchanged among the member countries till 2003.
The tariff concessions being granted to APTA member States, on Margin of Preference basis, are being expanded under the fourth round of exchange of tariff concessions.
The APTA Ministerial Council has formally approved the implementation of the fourth round of exchange of tariff concessions.
APTA is a preferential treaty based on Margin of Preference. Concessions on tariff lines offered by China and Korea, inter-alia, cover certain textiles and chemical products, which are likely to benefit the Indian exporters.
Some of items on which concessions have been offered by China and Korea include certain organic and inorganic chemicals, knitted and crocheted fabrics, and articles of apparel and clothing accessories etc.

Category: Environment and Ecology


1. Graded Action Plan to reduce Urban Air Pollution
Key Points:
The Government has informed a Graded Response Action Plan for Delhi and NCR, which contains measures, for example, forbiddance on section of trucks into Delhi; restriction on development exercises, presentation of odd and even plan for private vehicles, closing of schools, conclusion of block furnaces, hot blend plants and stone crushers; closing down of Badarpur power plant, prohibition on diesel generator sets, junk consuming in landfills and employing of obviously contaminating vehicles and so forth.
The nature, extension and thoroughness of measures to be taken is connected to levels of contamination viz. Serious + or Emergency, extreme, Very poor, Moderate to poor and Moderate, after due thought by specialists concerned.
Significant systems/ventures to handle expanding air contamination in Indian urban communities and urban regions incorporate control and relief measures identified with emanations from autos, mechanical exercises, warning of National Ambient Air Quality Standards; plan of natural controls/statutes; setting up of observing system for appraisal of encompassing air quality; presentation of cleaner/substitute powers like vaporous fuel (CNG, LPG and so forth.), ethanol mixing; advancement of cleaner generation forms; propelling of National Air Quality Index; universalization of BS-IV by 2017; jumping from BS-IV to BS-VI fuel benchmarks by first April, 2020; extensive revisions to different Waste Management Rules and notice of Construction and Demolition Waste Management Rules; restriction on copying of leaves, biomass, city strong waste; advancement of open transport and system of metro, e-rickshaws, advancement of auto pooling, Pollution Under Control Certificate, path train, vehicle upkeep; establishment of on-line ceaseless (24×7) checking gadgets by real businesses; prohibition on blasting of sound transmitting saltines between 10 PM to 6 AM and so on; other than issuance of bearings under Section 18(1)(b) of Air (Prevention and Control of Pollution) Act, 1981 and under Section 5 of Environment (Protection) Act, 1986."
Key Points
Emission Intensity is calculated by dividing 'Total greenhouse gas (GHG) emissions' by 'Total Gross Domestic Product (GDP)' of a country. India has committed to reduce emissions intensity of its GDP in its Nationally Determined Contribution (NDC) submitted to the United Nations Framework Convention on Climate Change (UNFCCC).
Objective of decreasing Emissions intensity of GDP permits a nation to lessen its outflows even while its GDP develops.
The NDC was surrounded by embracing a comprehensive procedure of counsels with key Ministries, State Governments, common society associations, think-tanks, and specialized and scholastic foundations. Every nation has picked its own metric for atmosphere activity.
Every Mission under the National Action Plan on Climate Change (NAPCC) is freely tied down by individual Ministries accountable for executing the Mission.
Taking after the Paris Agreement, the Missions keep on contributing to the proclaimed objective of lessening of emanations power of GDP as additionally other supportable advancement objectives delineated in the NDC.
3. Green nod for Neutrino project suspended
What's in news?
Environmental Clearance granted to the India-based Neutrino Observatory(INO) –Theni by ministry of Environment has been suspended by National Green Tribunal.
INO was granted environmental clearance as a Category B projects which required no Environmental Impact assessment studies.
However, under the guidelines laid down by the Ministry, any project that falls within 5 km from an inter-State boundary or within a notified national park or a sanctuary has to be considered a Category 'A' project that involves a number of processes before an Environmental Clearances is granted.
Madhikettan Shola National Park in Idukki district of Kerala was just about 4.9 km from the proposed project site and the Tamil Nadu-Kerala border was just a kilometre away, making it a Category 'A' project.
INO should get clearances from the National Board for Wildlife as it was nearer to National Park
Basic Information
India-based Neutrino Observatory (INO)
The India-based Neutrino Observatory (INO) Project is a multi-institutional effort aimed at building a world-class underground laboratory with a rock cover of approx.1200 m for non-accelerator based high energy and nuclear physics research in India.
The initial goal of INO is to study neutrinos.
Neutrinos are fundamental particles belonging to the lepton family. They come in three flavours, one associated with electrons and the others with their heavier cousins the muon and the Tau.
According to standard model of particle physics, they are mass less. However recent experiments indicate that these charge-neutral fundamental particles, have finite but small mass which is unknown.
Determination of neutrino masses and mixing parameters is one of the most important open problems in physics today. The ICAL detector is designed to address some of these key open problems in a unique way. Over the years this underground facility is expected to develop into a full-fledged underground science laboratory for other studies in physics, biology, geology, hydrology etc.
Mathikettan Shola National Park
Mathikettan Shola National Park is a 12.82 km² national park in Poopara village of Udumbanchola taluk in Idukki district of Kerala state, South India.
National Board for Wild Life
Statutory Organization constituted under the Wildlife Protection Act, 1972.
Theoretically, the board is "advisory" in nature and advises the Central Government on framing policies and measures for conservation of wildlife in the country. However, it is a very important body because it serves as apex body to review all wildlife-related matters and approve projects in and around national parks and sanctuaries.
Composition
The National Board for Wildlife is chaired by India's Prime Minister and its vice chairman is Minister of Environment. Further, the board is mammoth body with 47-members including Parliament Members, NGOs, eminent conservationists, ecologists and environmentalists, Government secretaries of various departments, Chief of the Army Staff, Director General of Forests, tourism etc. etc.
Functions & Importance
Primary function of the Board is to promote the conservation and development of wildlife and forests.
It has power to review all wildlife-related matters and approve projects in and around national parks and sanctuaries.
No alternation of boundaries in national parks and wildlife sanctuaries can be done without approval of the NBWL.
4. Bear cubs Sighted At Daroji Sanctuary
Key Facts
Daroji Sloth Bear Sanctuary is located in Ballari district in Karnataka.
It is spread over 82.72 km2 (31.94 sq mi), biggest in Asia
The sanctuary was created exclusively for the preservation of Indian Sloth Bear.
It is about 50 km from Ballari and about 15 km from the World heritage site Hampi.
5. Efforts at sparrow conservation pick up pace across Odisha
Key facts:
Coastal Village – Purunabandh near Rushikulya rookery, where sparrow conservation efforts were taken up by locals way back in 2007.
Successful experiments in sparrow conservation at Purunabandh have been replicated at several other places in Odisha .
Local villagers involved in the protection of olive ridley turtles during their mass nesting at the coast were involved in the sparrow conservation activity.
Methods used– With drastic reduction in the number of thatched houses, sparrows were not able to build nests.
Specially-designed earthen pots, plywood boxes and coconut shells were made use of in order to build artificial nest for them.
Basic Information
Olive ridley sea turtle: The olive ridley sea turtle (Lepidochelys olivacea), also known as the Pacific ridley sea turtle, is a medium-sized species of sea turtle found in warm and tropical waters, primarily in the Pacific and Indian Oceans. They can also be found in warm waters of Atlantic ocean.
The olive ridley is classified as Vulnerable according to the International Union for Conservation of Nature and Natural Resources (IUCN), and is listed in Appendix I of CITES. These listings were largely responsible for halting the large scale commercial exploitation and trade of olive ridley skins.The Convention on Migratory Species and the Inter-American Convention for the Protection and Conservation of Sea Turtles have also provided olive ridleys with protection, leading to increased conservation and management for this marine turtle.
Convention on the Conservation of Migratory Species of Wild Animals
Also known as the Bonn Convention — "Conservation and effective management of migratory species of wild animals require the concerted action of all States within the national jurisdictional boundaries of which such species spend any part of their life cycle."
It is an intergovernmental treaty, concluded under the aegis of the United Nations Environment Programme, concerned with the conservation of wildlife and habitats on a global scale.
The CMS is the only global and UN-based intergovernmental organization established exclusively for the conservation and management of terrestrial, aquatic and avian migratory species throughout their range
CITES (the Convention on International Trade in Endangered Species of Wild Fauna and Flora, also known as the Washington Convention) is a multilateral treaty to protect endangered plants and animals. It was drafted as a result of a resolution adopted in 1963 at a meeting of members of the International Union for Conservation of Nature (IUCN).
Its aim is to ensure that international trade in specimens of wild animals and plants does not threaten the survival of the species in the wild, and it accords varying degrees of protection to more than 35,000 species of animals and plants.
6. Ganga, Yamuna termed 'living persons'
What's in news?
Uttarakhand High Court-declare that the rivers Ganga and Yamuna were living persons with all corresponding rights, duties and liabilities of a living person in order to preserve and conserve river Ganga and Yamuna.
Facts: New Zealand River Whanganui became the first in the world to be granted a legal human status.
Judgment -"To protect the recognition and the faith of society, rivers Ganga and Yamuna are required to be declared as legal persons [or] living persons".
The court ordered that the Director of the Namami Gange programme, the Uttarakhand Chief Secretary, and the Advocate-General of Uttarakhand would serve as "parents" for the rivers and would be the human faces to "protect, conserve and preserve" the rivers and their tributaries.
Category: MISCELLANEOUS


1. Sign language dictionary to release in India soon
Key Facts:
The Indian Sign Language (ISL) dictionary, which is being developed by the Indian Sign Language Research and Training Centre (ISLRTC) graphic representations of signs.
It is a project under National Mission on Library under the aegis of Ministry of Culture.
The dictionary is being developed in both print and video formats.
Contains graphic representations of popular signs used by the hearing impaired.
It will have legal, technical and medical term.
D. GS4 Related

Nothing here for today!!!
Range state is a term generally used in zoogeography and conservation biology to refer to any nation that exercises jurisdiction over any part of a range where certain species, taxon or biotope dwell, or cross or fly over at any time during its normal migration route.
Range state concept is often used by international conservation organizations in formulating their conservation and campaigning policy.
F. BILLS/ACTS/SCHEMES/ORGS IN NEWS
| | |
| --- | --- |
| BILLS/ACTS/SCHEMES/ORGANISATIONS IN NEWS | About the Article |
|   |   |
 


G. Fun with Practice Questions 🙂



Question 1: Consider the following statements: 
BHIM(Bharat Interface for Money) is a biometric payment system app.
BHIM is linked using Aadhar platform.
It is developed by Google.
Which of the above statements is/are correct ?
1 and 2only
2 and 3 only
1 and 3 only
All of the above
See
Question 2: Consider the following statement with reference to Daroji sanctuary:
The sanctuary was created exclusively for the preservation of Indian Sloth Bear.
It is located in Bellari district in Karnataka.
Both A and B
None of the Above
See
Question 3: Consider the following statement with reference to India-based 
Neutrino Observatory (INO):
India-based Neutrino Observatory (INO) located in Theni, Tamilnadu .
Main aim of the project is to determine the neutrino mass
Both A and B
None of the above
See
Question 4: Consider the following with respect to the "National Mission on 
libraries":
It is an initiative under the ministry of Human resource development.
National Virtual Library is the new project under this mission.
Identify the incorrect statements
1 only
2 only
Both 1 and 2
None of the above
See
"Proper Current Affairs preparation is the key to success in the UPSC- Civil Services Examination. We have now launched a comprehensive 'Online Current Affairs Crash Course'. Limited seats available. Click here to Know More."
H. Archives