Economy is an important part of the UPSC prelims and mains exams; this series titled 'Economy This Week' has been initiated to address the need to read and analyse economic articles in various business-related newspapers. The round-up of the Economy/Business section news for 4th Sep to 10th Sep 2021 is given below. Business news is essential for IAS exam preparation.
ETW 4th Sep to 10th Sep 2021:- Download PDF Here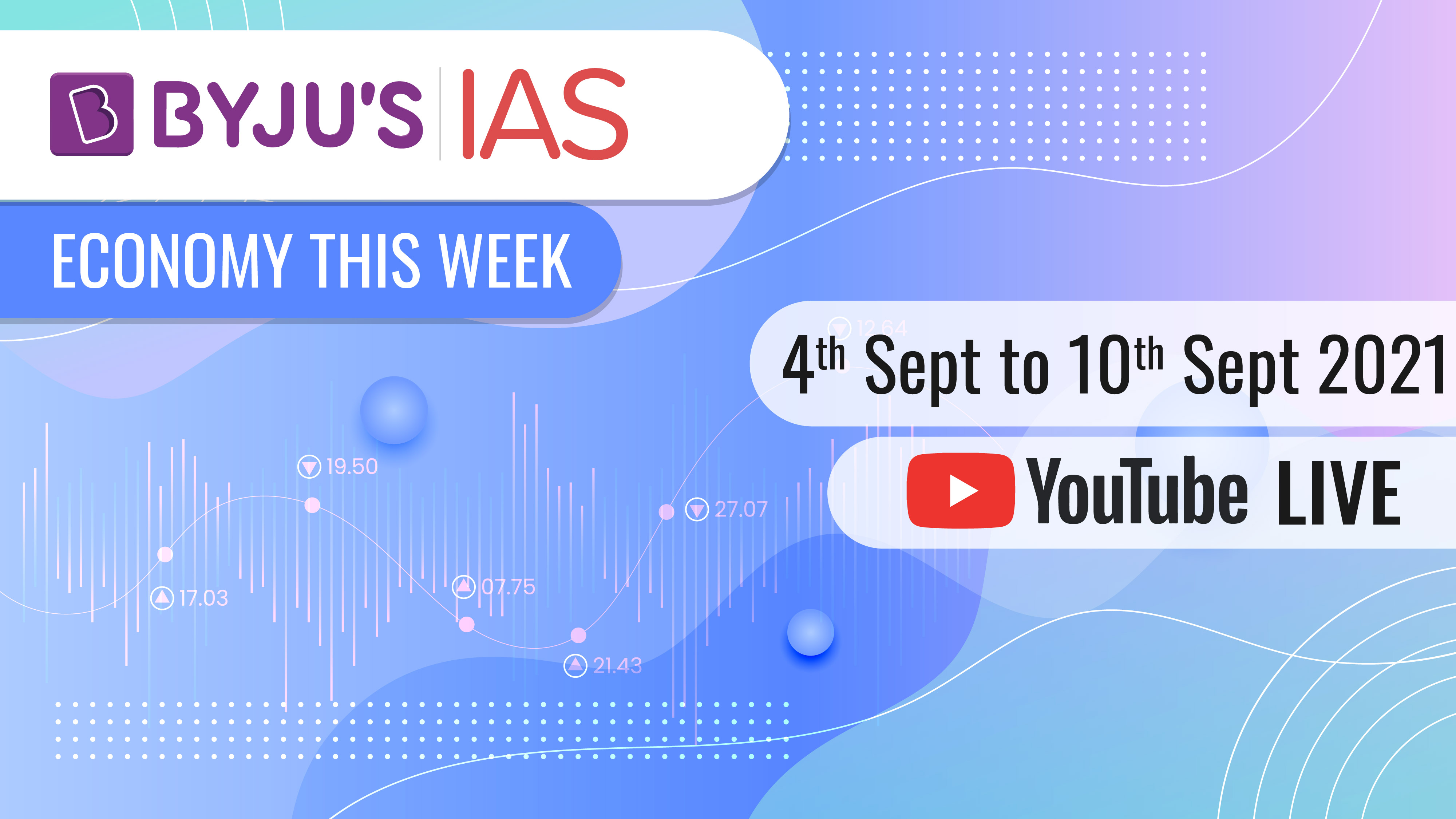 TABLE OF CONTENTS
1. Account aggregators (IE 6/9/21)
2. Ford exits India (LM 10/9/21)
3. Ministries to meet industry on high foreign rates, container shortage (ET 6/9/21)
4. New code for CoCs to bring in discipline (FE 7/9/21)
5. RIL bets big on green energy (FE 4/9/21)
6. Voda, Cairn flag terms for settling retro tax cases (ET 7/9/21)

1. Account aggregators (IE 6/9/21)
Account Aggregator (AA) is a financial utility for the secured flow of data controlled by individuals.
On 2nd September, eight of India's major banks joined the Account Aggregator (AA) network.
These banks are SBI, ICICI, HDFC, Kotak Mahindra Bank, IndusInd Bank and the Federal Bank.
This will help the customers easily access and share their financial data.
This framework was in discussion since 2016.
AA was created through an inter regulatory decision by RBI and other regulators such as IRDA, PFRDA, through an initiative of FSDC.
The license for setting up an AA will be issued by RBI and the financial sector will have many AAs.
AA is an NBFC that is engaged on contract and provides the services of –

Retrieving and collecting financial information pertaining to customers
Consolidating, organising and presenting such information to the customer or any other financial information user as may be specified by the bank

AA has a three-tier structure.

Account aggregators
Financial Information Provider (FIP)

Is a data fiduciary, holding the customer data
It can be a bank, NBFC, mutual fund, insurance repository or a pension fund repository

Financial Information User (FIU)

Consumes the data from FIP to provide various services to the customer
Is a lending bank that wants access to the borrower's data to determine if the borrower qualifies for a loan
Banks will play a dual role – FIP and FIU

Benefits

Physical collateral is usually required for MSME loans, with secure data sharing through AA, information collateral (or data on future MSME income) can be used to access a small formal loan
HDFC and Axis Bank have been using the AA from auto loans
LendingKart has been using the AA for MSME loans
IndusInd has been using for personal finance management
2. Ford exits India (LM 10/9/21)
Ford Motor Co will be shutting its car manufacturing factories in India and the manufacturing of cars for sale will be stopped immediately. This will affect 4000 employees.
The company has incurred losses to the tune of $2 bn in the past decade and the demand for newer models has been weak.
The company has been signalling that it wants to invest in markets where its returns are higher. It has wound up its manufacturing early this year in Brazil and is pushing more into the Chinese market.
Foreign manufacturers have found it difficult to gain a foothold in the Indian market which is flooded with Maruti's cheaper cars and the consumer is very value-conscious. In addition to this, the govt has imposed a GST of 28% on gasoline vehicles, which has been a major roadblock.
Toyota Motor Corp announced that it would not be expanding its operations any further in India due to higher tariffs, while Harley Davidson exited the market, General Motors pulled out in 2017.
Ford India had a market share of just 1.42% in August compared to 1.9% a year ago.
Suzuki and Hyundai put together control more than 60% of the market share.
The exit of the company is a blow to the govt's ambitious call for manufacturing promotion in India.
Ford was one of the companies which entered India after the reforms of 1991 (it had entered earlier in 1926 but had to close the operations in the 1950s).
3. Ministries to meet industry on high foreign rates, container shortage (ET 6/9/21)
The ministers for railways; ports and shipping; and commerce will be meeting industry representatives to discuss the issues related to export logistics, container shortages and skyrocketing freight rates.
This meeting is scheduled amidst a time when the container prices have shot up 300 to 500%. Exporters have raised concerns regarding this.
China manufactures 85% of the containers. The Chinese ports are either closed or working at a much lower capacity because of the covid situation. This has led to a severe shortage of containers around the world.
The charges for carrying a container to the east coast of the US has jumped up from $ 6000 to $ 7000 three months ago to $11000 now.
This may lead to a jump in the prices of exports by 5 to 8%, slowing the exports from the Indian market.
4. New code for CoCs to bring in discipline (FE 7/9/21)
The Insolvency and Bankruptcy Board of India (IBBI) has proposed a code of conduct for the committee of creditors (CoC).
This is expected to:

Instil discipline into the members
Make them more accountable
Lend transparency to the resolution process

The experts have warned that the unscrupulous elements should not be allowed to delay the resolution process by resorting to frivolous litigations which will be questioning the CoC's compliance.
IBBI has floated two discussion papers to take the stakeholders' views.
Earlier the parliamentary standing committee had recommended the code of conduct for the CoCs.
The CoC comprises the financial creditors who have to approve a resolution plan for a stressed asset before it goes to the NCLT for clearance.
The proposal given by the IBBI suggests:

CoC members maintain integrity and ensure that the decisions are made without any bias, favour, fear, coercion, undue influence or conflict of interest.
They must not misrepresent facts or influence the decision making of the CoC to benefit the related parties.
If any conflicts of interest are there then they must be disclosed.
They or their relatives would not be buying the assets of the corporate debtor directly or indirectly, without disclosing to stakeholders.
They must adhere to the timelines prescribed by the IBC.
They should ensure complete confidentiality of information that they receive or come across as a part of the process.
5. RIL bets big on green energy (FE 4/9/21)
Reliance will focus on bringing down the cost of green hydrogen to below $ 2 per kg before the end of this decade.
Currently, the cost of production of green hydrogen comes to around $ 3.6 to 5.8 per kg.
If done, then it can reduce the import dependence on oil, help reduce the import bill and have an effect on the current account.
India consumes about 6 MT of hydrogen annually. Govt is looking into ways through which the penetration of green hydrogen into the industries may be increased, as these currently import natural gas and ammonia to produce hydrogen.
RIL has set a target of becoming net carbon zero by 2035 and has announced an investment of ₹ 75000 Cr from its internal resources in clean energy.
Hydrogen produced with electrolysers through electricity generated from renewable sources is called green hydrogen.
6. Voda, Cairn flag terms for settling retro tax cases (ET 7/9/21)
Vodafone and Cairn Energy have raised concerns regarding the provisions for the purpose of settling retrospective tax disputes.
The proposal of the government requires declarations from all the stakeholders or interested parties that they will not press any claims after the disputes are resolved. These companies have sought the removal of this clause.
The clause, they believe will put the onus of settlement on the company, which would include avoiding the filing of any frivolous litigation by a third party.
The companies believe that for a global company it will be difficult to get such a large number of approvals and to foresee if any third party will raise a claim in the future will be a tough ask.

The company will have to take waivers from affiliates, predecessors, successors, parents, direct and indirect subsidiaries, assignees, agents, present and future shareholders, owners, directors, those providing finance and employees.
ETW 4th Sep to 10th Sep 2021:- Download PDF Here
Download the PPT of the video lecture from the link below:
ETW (4th Sep to 10th Sep 2021):- Download PPT Here
For more business news videos and PDFs, keep visiting the 'Economy This Week' segment regularly.