Pradhan Mantri Jan-Dhan Yojana (PMJDY) was launched by Narendra Modi on 28th August 2014. It is a national mission with an aim to provide access to various financial services including Remittance, Credit, Insurance, Pension, Banking Savings & Deposit Accounts in an affordable manner. Prime Minister Narendra Modi first announced this scheme during his Independence Day speech on 15th August 2014.
Pradhan Mantri Jan-Dhan Yojana (PMJDY) – National Mission for Financial Inclusion, completed its six years of successful implementation in August 2020. 
Financial Inclusion is the delivery of financial services at an affordable cost to the vast sections of the disadvantaged and low-income groups, providing them with timely and adequate access to financial products and services. You can know further about financial inclusion on the linked page.
With the outbreak of Covid-19 in India, the Finance Minister of India, Nirmala Sitharaman made an announcement to provide Rs. 500 per month to every Women Jan-Dhan Account Holders for the next three months.This announcement was made on 26th March 2020 as an initiative towards the loss caused by the outbreak.
A relief package worth Rs 1.70 lakh crore will also be provided by the government to tackle the financial difficulties arising from Covid-19 outbreak under the PM Garib Kalyan Scheme. The 21 days lockdown is expected to cost the Indian Economy a cost of around 9 lakh crores.
As of 3rd August 2020, it was reported that more than 40 crore bank accounts have been opened under the government's flagship financial inclusion drive
Candidates can know the detailed information about the Pradhan Mantri Jan Dhan Yojana on the Official Website.
To know more about PM Garib Kalyan Yojana, refer to the linked page.
Pradhan Mantri Jan Dhan Yojana is a financial inclusion campaign which provides universal access to banking facilities. It also ensures to provide financial literacy with at least one basic banking account for every household in India.
The highlights of this scheme have been mentioned in the table below:
| | |
| --- | --- |
| Name of the scheme | PMJDY |
| Full-Form | Pradhan Mantri Jan-Dhan Yojana |
| Date of launch | 28th August 2014 |
| Government Ministry | Ministry of Finance |
PMJDY scheme is an important topic for the IAS Exam. Candidates appearing for the exam this year can also download the notes PDF at the end of this article.
Candidates can find more articles related to the various schemes launched by the Government of India by visiting the Government Schemes page now!!
Strengthen your preparation by checking the following links as well:
What are the benefits of the PMJDY scheme?
Pradhan Mantri Jan Dhan Yojana (PMJDY) was introduced with a target of opening bank accounts for around 7.5 crores uncovered households in India by 26th of January, 2015. This scheme was successful in opening around 12.54 crore accounts by 31st January 2015 with deposits exceeding Rs. 10,000 crores. PMJDY scheme is also certified by the Guinness World Records for its achievements which states that most bank accounts opened in one week as part of the Financial Inclusion Campaign is 18,096,130 and was achieved by the Department of Financial Services, Government of India.
Some of the benefits provided under this scheme are mentioned below:
The scheme covers both the urban as well as rural areas and provides an indigenous Debit Card (RuPay card) to each of its account holders.
No minimum balance is required for opening an account under this scheme. The beneficiary can open his/her account in any bank branch or Business Correspondent outlet at zero balance.
It ensures to provide on Core Banking System (CBS) along with mobile banking using USSD facilities. A facility of call center and a toll-free number is available nationwide.
Pradhan Mantri Jan Dhan Yojana provides each beneficiary with basic banking accounts with a debit card with inbuilt accident insurance.
Rs. 5,000 overdraft facility for Aadhar-linked accounts as well as a RuPay debit card with inbuilt Rs. 1 lakh accident insurance cover is one of the main features provided by this scheme.
For accounts that are opened between 15th August 2014 and 26th January 2015, a Life Insurance cover of Rupees 30,000 is provided to the eligible beneficiaries. Also after remaining active for 6 months, the beneficiary will be eligible for an overdraft of up to Rs 5,000.
Implementation of Pradhan Mantri Jan Dhan Yojana
The implementation of Pradhan Mantri Jan Dhan Yojana (PMJDY) occurred in three phases:
Phase I: 15 August 2014 – 14 August 2015
PMJDY scheme was implemented during this period with an aim to provide universal access to banking facilities for all the household families across the country with at least one basic banking account with RuPay Debit Card which had an inbuilt accident insurance cover of Rs 1 lakh.
It provided a financial literacy program to the villages.
Issuing of the Kisan Credit Card was also proposed during this period.
Phase II – 15 August 2015 – 14 August 2018
It aimed at providing microinsurance to the people and pension schemes like Swavalamban to the unorganized sector through the Business Correspondents.
Phase III – after 14 August 2018
PMJDY focused on opening accounts for every household with an existing Overdraft (OD) limit of Rs 5,000 to be raised to Rs 10,000. No conditions were attached for OD up to Rs 2,000.
The age limit for availing the OD facility was revised from 18-60 years to 18-65 years.
Under this expanded coverage, an accidental insurance cover for new RuPay card holders has raised from Rs. 1 lakh to Rs. 2 lakh if the accounts were opened after 28.8.18.
Achievements under PMJDY –
Total Number of PMJDY Accounts (as of 19th August 2020) is 40.35 Crore; Rural PMJDY accounts 63.6%, Women PMJDY accounts 55.2%. Out of the total of 40.35 crore PMJDY accounts, 34.81 crores (86.3%) are operative.
Total deposit balances under PMJDY Accounts stand at Rs. 1.31 lakh crore.
During the first year of the scheme 17.90 crore PMJDY accounts were opened.
Deposits have increased about 5.7 times with an increase in accounts 2.3 times between 2015 to 2020.
A mobile application named Jan Dhan Darshak App was launched to provide a citizen-centric platform for locating banking touchpoints such as bank branches, ATMs, Bank Mitras, Post Offices, etc.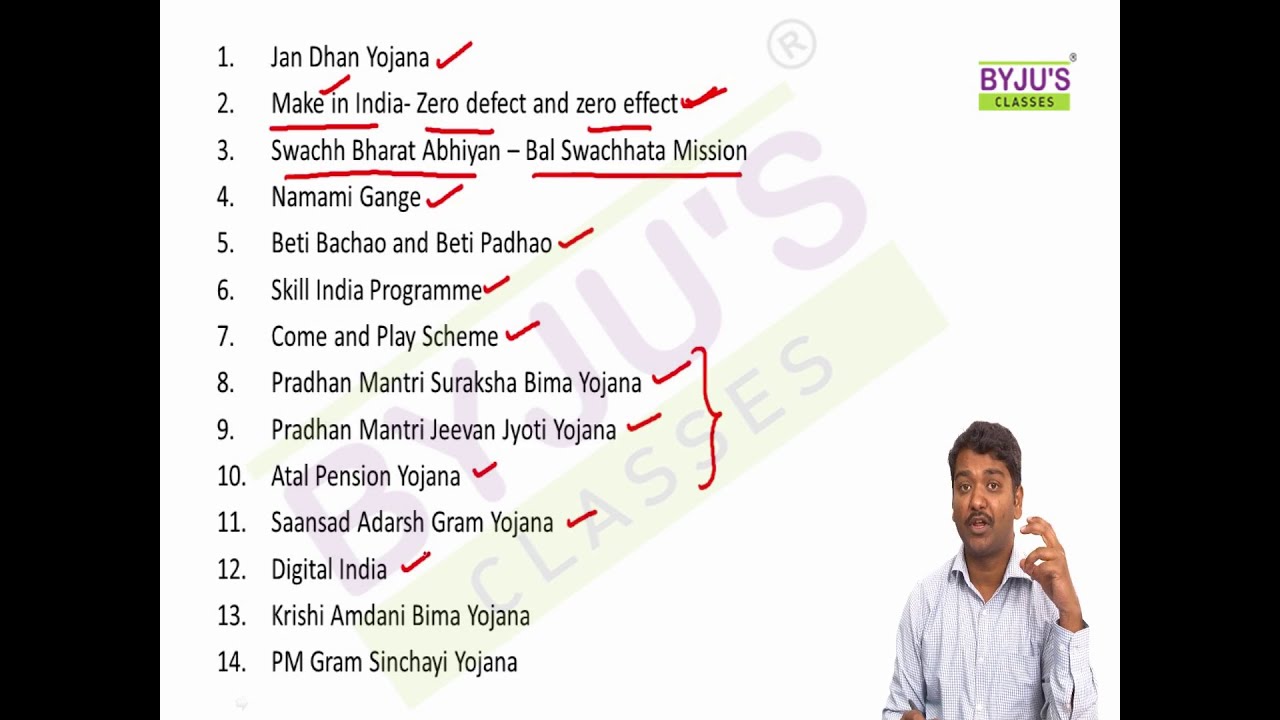 Pradhan Mantri Jan-Dhan Yojana (PMJDY):- Download PDF Here
For more UPSC- related preparation articles visit the links given in the table below. Candidates can find more about the general pattern of the UPSC Exams by visiting the UPSC Syllabus page.
Related Links