Foreign direct investment (FDI) is an investment made by a company or an individual in one country into business interests located in another country. FDI is an important driver of economic growth. This is an important topic for the Indian economy segment of the UPSC syllabus.
The 
Current Affairs page will help you keep track of the latest events both in the national and international sphere. Visit the page now!!
The following links will further help their candidates in their exam preparation:
Foreign Direct Investment (FDI)
Any investment from an individual or firm that is located in a foreign country into a country is called Foreign Direct Investment. 
Generally, FDI is when a foreign entity acquires ownership or controlling stake in the shares of a company in one country, or establishes businesses there.

It is different from foreign portfolio investment where the foreign entity merely buys equity shares of a company.

In FDI, the foreign entity has a say in the day-to-day operations of the company.

FDI is not just the inflow of money, but also the inflow of technology, knowledge, skills and expertise/know-how.

It is a major source of non-debt financial resources for the economic development of a country.

FDI generally takes place in an economy which has the prospect of growth and also a skilled workforce.

FDI has developed radically as a major form of international capital transfer since the last many years.

The advantages of FDI are not evenly distributed. It depends on the host country's systems and infrastructure. 

The determinants of FDI in host countries are:

Policy framework

Rules with respect to entry and operations/functioning (mergers/acquisitions and competition)

Political, economic and social stability

Treatment standards of foreign affiliates

International agreements

Trade policy (tariff and non-tariff barriers)

Privatisation policy
FDI in India
The investment climate in India has improved tremendously since 1991 when the government opened up the economy and initiated the LPG strategies.
The improvement in this regard is commonly attributed to the easing of FDI norms.

Many sectors have opened up for foreign investment partially or wholly since the economic liberalization of the country.

Currently, India ranks in the list of the top 100 countries in

ease of doing business

. 

In 2019, India was among the top ten receivers of FDI, totalling

$49 billion inflows

, as per a UN report. This is a 16% increase from 2018.

In February 2020, the DPIIT notifies policy to allow 100% FDI in insurance intermediaries.

In April 2020, the DPIIT  came out with a new rule, which stated that the entity of nay company that shares a land border with India or where the beneficial owner of investment into India is situated in or is a citizen of such a country can invest only under the Government route. In other words, such entities can only invest following the approval of the Government of India

In early 2020, the government decided to sell a 100% stake in the national airline's Air India. Find more about this in the video below: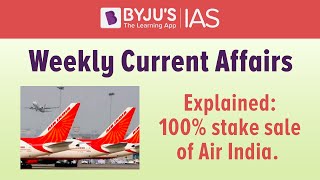 FDI Routes in India
There are three routes through which FDI flows into India. They are described in the following table:
Category 1
Category 2
Category 3

100% FDI permitted through

Automatic Route

Up to 100% FDI permitted through

Government Route

Up to 100% FDI permitted through

Automatic + Government Route
Automatic Route FDI
In the automatic route, the foreign entity does not require the prior approval of the government or the RBI.
Examples:
Medical devices: up to 100%

Thermal power: up to 100%

Services under Civil Aviation Services such as Maintenance & Repair Organizations

Insurance: up to 49%

Infrastructure company in the securities market: up to 49%

Ports and shipping

Railway infrastructure

Pension: up to 49%

Power exchanges: up to 49%

Petroleum Refining (By PSUs): up to 49%
Government Route FDI
Under the government route, the foreign entity should compulsorily take the approval of the government. It should file an application through the Foreign Investment Facilitation Portal, which facilitates single-window clearance. This application is then forwarded to the respective ministry or department, which then approves or rejects the application after consultation with the DPIIT.
Examples:
Broadcasting Content Services: 49%

Banking & Public sector: 20%

Food Products Retail Trading: 100%

Core Investment Company: 100%

Multi-Brand Retail Trading: 51%

Mining & Minerals separations of titanium bearing minerals and ores: 100%

Print Media (publications/printing of scientific and technical magazines/speciality journals/periodicals and a facsimile edition of foreign newspapers): 100%

Satellite (Establishment and operations): 100%

Print Media (publishing of newspaper, periodicals and Indian editions of foreign magazines dealing with news & current affairs): 26%
Sectors where FDI is prohibited 
There are some sectors where any FDI is completely prohibited. They are:
Agricultural or Plantation Activities (although there are many exceptions like horticulture, fisheries, tea plantations, Pisciculture, animal husbandry, etc.)

Atomic Energy Generation

Nidhi Company

Lotteries (online, private, government, etc.)

Investment in Chit Funds

Trading in TDR's

Any Gambling or Betting businesses

Cigars, Cigarettes, or any related tobacco industry

Housing and Real Estate (except townships, commercial projects, etc.)
Read more on FDI in retail here.
Benefits of FDI
FDI brings in many advantages to the country. Some of them are discussed below.
Brings in financial resources for economic development.

Brings in new technologies, skills, knowledge, etc.

Generates more employment opportunities for the people.

Brings in a more competitive business environment in the country.

Improves the quality of products and services in sectors.
Disadvantages of FDI
However, there are also some disadvantages associated with foreign direct investment. Some of them are:
It can affect domestic investment, and domestic companies adversely.

Small companies in a country may not be able to withstand the onslaught of MNCs in their sector. There is the risk of many domestic firms shutting shop as a result of increased FDI.

FDI may also adversely affect the exchange rates of a country.
Regulatory Framework for FDI in India
In India, there are several laws regulating FDI inflows. They are:
Securities and Exchange Board of India Act, 1992 and SEBI Regulations

Foreign Trade (Development and Regulation) Act, 1992

Civil Procedure Code, 1908

Indian Contract Act, 1872

Arbitration and Conciliation Act, 1996

Competition Act, 2002

Income Tax Act, 1961

Foreign Direct Investment Policy (FDI Policy)
Important Government Authorities in India concerning FDI
Department for Promotion of Industry and Internal Trade (DPIIT)

Reserve Bank of India (RBI)

Ministry of Corporate Affairs, Government of India

Income Tax Department

Several Ministries of the GOI such as Power, Information & Communication, Energy, etc.
FDI UPSC Notes:- Download PDF Here